Interested in surfing, swimming in clear blue water, relaxing under the sun, or tasting delicious seafood? The 2,414 km long coastline of Peru has several unique beaches to offer.
Here's a list of the 10 best beaches in Peru that we have prepared just for you!
Southern beaches
If you are staying a little longer in the southern part of Peru, and wish to visit nice beaches along your journey, check out this list of
6 remarkable beaches on the Peruvian shore
. But, there are even more beaches you can explore in the south of the country!
1.Puerto Inca – The little Peruvian Paradise off the tourist trail
If you are planning on traveling in the south of Peru, take a few days to stop at the beautiful and calm beach of Puerto Inca, about three hours south from Nazca on the way to Arequipa/Puno/Bolivia. After relaxing on the beach for a few hours, take a 15-minute walk where you can enjoy incredible sights of red valleys and rocks as well as crystal clear water, without bumping into tourists every 5 meters.You can also rent kayaks and paddle boards to explore the waters in various ways. But Puerto Inca is not only about enjoying the coast. This unique beach is also home to the ruins of the principal port of the Inca Empire, which gives you the possibility to have a little historical experience as well, far from the big crowds of tourists.[caption id="attachment_158404" align="aligncenter" width="624"]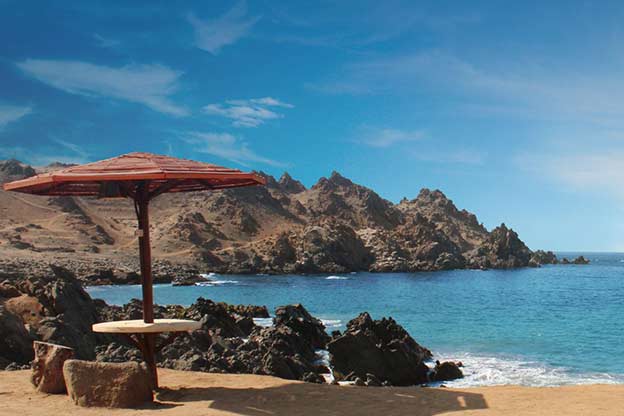 Puerto Inca[/caption]
2.Playa de la Mina – Clear turquoise water in Paracas
Playa de la Mina, located in the National Reserve of Paracas, is ideal if you want to take a swim during a hot summer day in the desert. This incredibly beautiful beach offers powdery hot sand and sparkling turquoise-green water, which of course attracts a lot of tourists. If you're lucky and visiting Paracas during the low season, you might have the beach for yourself, and could even spend the night on it in a tent. During the high season, however, make sure to keep your belongings in sight: pick-pockets have often been reported. Moreover, try to reach the beach before late afternoon: as it is located between cliffs, the sun disappears quickly, and the water is often cold.[caption id="attachment_158571" align="aligncenter" width="624"]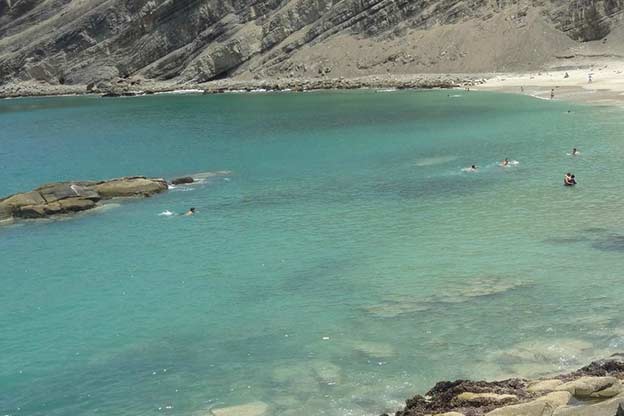 Playa de la Mina[/caption]
3.Playa Roja – Amazing red sand beach in Paracas
Playa Roja, also located in the National Reserve of Paracas, takes its name from the amazing color of the sand. The volcanic activity in the area is the reason why the sand is left incredibly vivid red, and it also makes the surroundings very fertile. Located between Punta Santa María and Playa Lagunillas, this unique beach amazes visitors who pass by it and is also full of birds and wildlife that find sanctuary in the national reserve. If you're planning on visiting the reserve, it is recommended to do it by bike or quad rather than by bus. You could then take a little hour to relax on the red beach, enjoy the incredible view and the amazing wildlife. If you're lucky, maybe you could even witness the passing by of dolphins and/or wales![caption id="attachment_158406" align="aligncenter" width="624"]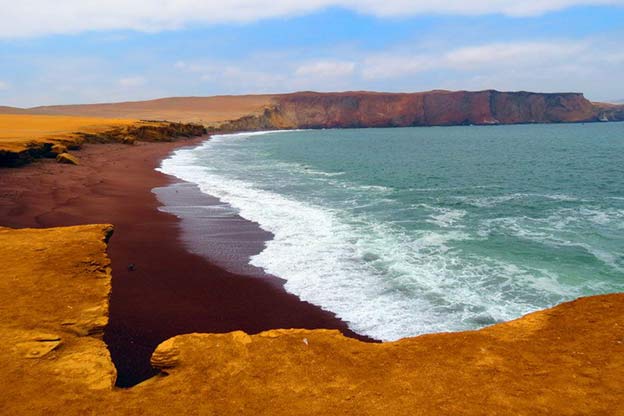 Playa Roja[/caption]
Beaches around Lima
If you are staying in Lima for a few days, and want to enjoy a nice day on the beach, even the capital of the country has a lot to offer in "beach material"! Here are just two of the many beaches surrounding Lima, but on this
video
, you have a list of 10 unknown beaches around the capital!
4.Punta Hermosa – A popular surfing spot close to the city
This popular beach is located 42 km south from downtown Lima, and is easily accessible by the Pan-Amercian Highway, using your own car or a local bus. The best way to spend a day on this beach is arriving in the morning and leaving right after a breathtaking sunset. Punta Hermosa is popular among surfers for its big waves, but it is also very appreciated by tourists who simply want to enjoy a relaxing day at the beach, with the possibility to swim in calmer water. The beach is full of local restaurants that offer delicious fresh seafood, caught nearby during the day, and bars where you can sit and enjoy a cold drink during a hot summer day. If you're looking for a more private beach during the high season, however, Punta Hermosa might not be the best option, as it is very crowded during summer.[caption id="attachment_158572" align="aligncenter" width="624"]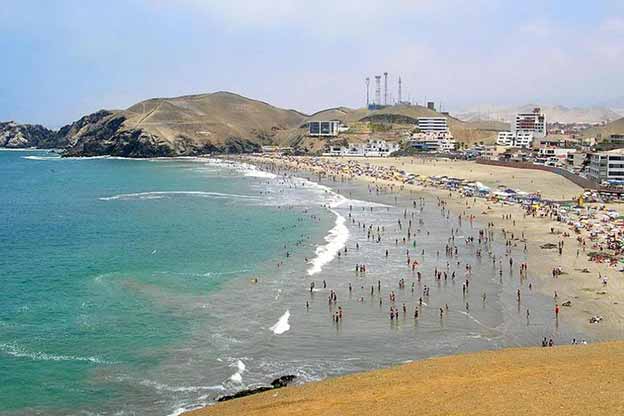 Punta Hermosa[/caption]
5.Pucusana – An authentic quiet fishing town near Lima
If you are looking for something a little more private where you can live an authentic experience in a small Peruvian village while enjoying the beach, Pucusana is the place to go to. Located just a couple hours south of Lima and very easily accessible by car or bus, this little fishing town is known for offering the experience of a typical Peruvian village and has a lot to offer.Enjoy an excellent and fresh local ceviche, join a fisher on his boat to eventually see sea-lions, and take the time to visit the Devil's Mouth (El Boquerón del Diablo): what used to be a solid rock but turned over the years into the form of a mouth. If you're feeling a little energetic, hike up the hill to reach El Mirador, where you can enjoy an incredible panoramic view of the town and the ocean.[caption id="attachment_158408" align="aligncenter" width="624"]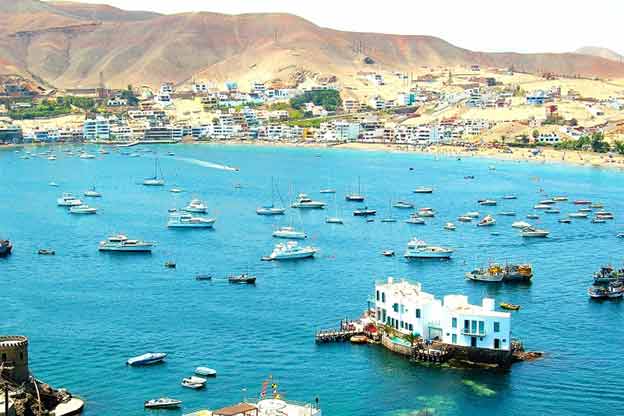 Pucusana[/caption]
Northern beaches
The northern beaches of Peru are very famous, as they offer something that suits every taste. Whether you just want to relax in a
luxurious and comfortable hotel to enjoy the paradisiacal beach
or you want to
find the best surfing spots
, you'll find your happiness in one of the many beaches along the north coast of Peru.
Here are the 5 best:
6.Huanchaco – The perfect surfers' beach
This beautiful beach, located 20 min by bus or car from the center of Trujillo, is a very good place to be if you are a keen surfer. Even if the beach is quite rocky in parts, it is also recommended if you just want to spend a day tanning on the beach and swimming in wavy waters. Huanchaco is often a place where visitors sop when exploring the many historical sites in the area when they want to take a little relaxing break from their cultural trip.This beach also has a good reputation for the many watersports it offers and is known for the unusual style of fishing the local fishermen use: the Caballos de totora, or "little reed horses", are small woven boats that the fishermen use to catch their fish, riding over the waves. Nowadays, there are more surfboards than reed horses surfing on the waves, but you might be lucky and see the tradition being carried out during your stay there, and maybe even taste their catch in a local restaurant![caption id="attachment_158409" align="aligncenter" width="624"]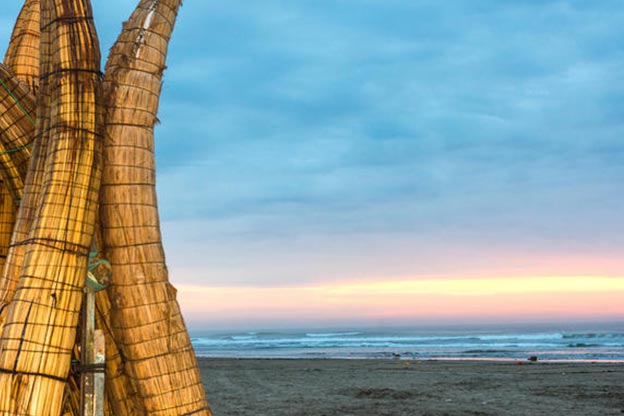 Huanchaco[/caption]
7.Lobitos – Best surf spot in Peru
This beach is located in one of the six districts of the province of Talara in Peru, 70 km south from Máncora. If you are a surfer - beginner, amateur or pro - this beach is a destination you need to get to, as it is labeled as "best surf spot in Peru". Due to a confluence of currents, this beach offers incredible waves, and you can find a large number of surfing schools in the area.A British Oil Company once owned this town, and the relics of the oil industry are still a little bit everywhere in the town, leaving an interesting architecture, which adds a strange twist to this unique seaside town. Lobitos is also recommended for families that are looking for a nice sandy beach-town to spend a week swimming, surfing, doing water sports and relaxing on the beach.[caption id="attachment_158410" align="aligncenter" width="624"]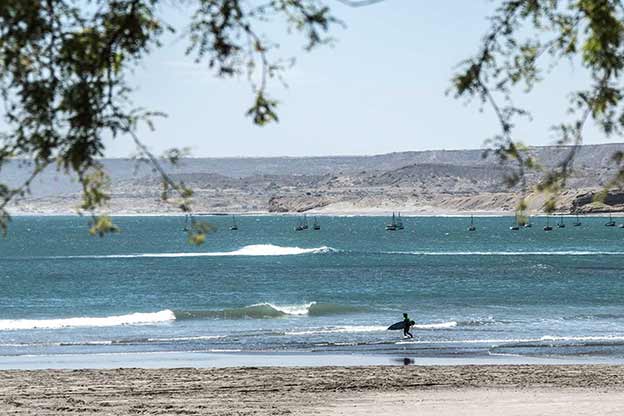 Lobitos[/caption]
8.Cabo Blanco – Hemingway's inspiration
Have you ever read Ernest Hemingway's novel The Old Man and the Sea? If you want to see from your own eyes what inspired him to write that worldwide known novel, you need to visit the beach of Cabo Blanco, the little fishing village in the north of Peru, situated 34 km south of Máncora, in the region of Piura.During the 50s and 60s, this area was especially popular because of the big-game fishing that attracted a lot of people. This beach is nowadays known among surfers all around the world: the very energetic waters offer big waves for good surfers. Be careful if you're just a beginner in surfing, as the waves can be dangerous if you don't have solid experience in the sport. Many surfers visit Cabo Blanco for the famous "Peruvian pipeline", which offers a very nice spectacle to watch when drinking a cold beer in one of the bars of the beach.https://www.youtube.com/watch?time_continue=23&v=6nsaGd4w8mA
9.Los Organos – The quiet beach south of Máncora
Are you looking for a beautiful, calm, hot and dreamy town to spend a few days relaxing on the beach? Los Organos is the perfect place, especially if you want to be away from the crowd: this beach is not very known among tourists, and if you visit it during the low season, you might even have it entirely for yourself! The beach is located in a sleepy small seaside town, which means you can try delicious fresh seafood, enjoy the sunset over the fisher boats, and have a cold drink in one of the bars of the town.Los Organos is also very popular for the stunning marine life it offers: watch sea turtles looking for food around the dock, and keep an eye out on the horizon, you might be lucky and see the majestic whales that pass by the waters along this part of the coast.[caption id="attachment_158573" align="aligncenter" width="624"]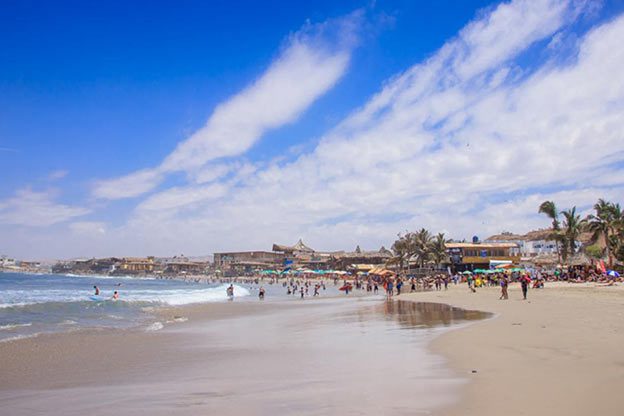 Playa Los Organos[/caption]
10.Punta Sal – The paradise beach of Tumbes
Situated in the north of Peru, in the region of Tumbes, Punta Sal is often called a "first-class" beach, and commonly considered one of the most beautiful in the country. Sandy white beaches, lush palms, blue skies and warm calm water are what to expect: perfect for a romantic get-away, or simply a peaceful retreat in a sandy paradise. If you're not a fan of coldish water, Punta Sal is the place to be: thanks to its location, very close to the equator, the current flowing through the sea water heats it up to 24 degrees all year round!As this beach is the longest on the northern part of the coast, and very popular among tourists, finding an accommodation and restaurants that suits you should not be a problem since there is a large number of offers.[caption id="attachment_158414" align="aligncenter" width="624"]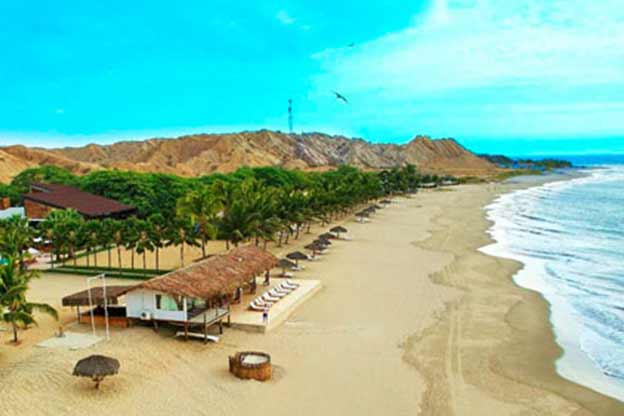 Punta Sal[/caption]
By Julia Natri