After hearing all of the fuss surrounding the break-through cuisine delivery startup Bocadio, a group of us got together at the Living in Peru office (including some Bocadio staff) and decided to see what the hype was all about. We are, after all, their target group! Here is what we thought…
Lima is a large city with sizable needs like transport and food for the over 10 million residents who dwell here. In just the financial area alone, there are thousands of workers who are looking for somewhere to eat during lunch time. A menu lunch can only meet so many needs; an alternative was bound to happen.
Since 2016, Bocadio has offered a practical, healthy and exquisite alternative for those of whom prefer to stay in the office and enjoy one of the more than ten alternatives of the day that the company delivers.
They have made the system seamless, keeping in mind all of their busy customer's needs.  All you have to do is go on the website, select your favorite option and the meal is delivered to you. And it couldn't be easier to choose a dish because they all come from the recipes of prestigious chefs. The container that the food is delivered in is ecological and made of bamboo remains. It is also microwave-safe, which was necessary seeing that they deliver the food cold so that you can heat it up fresh when you are ready to eat. Just take a peek at the "preparation" instructions that come ever so sweetly with the container. Hurray for no more soggy, lukewarm delivery food!
The portions come in an exact size and the combinations are designed for a balanced diet.
For instance, every day you can choose between meat, chicken, fish or a salad. We ordered the 'Anticuchero' chicken (S/ 22.90), made from the recipe of the chef Alejandro Mayer. It comes with roasted Andean potatoes and the typical anticucho sauce, rice and balsamic vinaigrette for the tomatoes, mushrooms, white onions, and carrots. And to all of our surprise, everything tasted fresh in spite of it being precooked.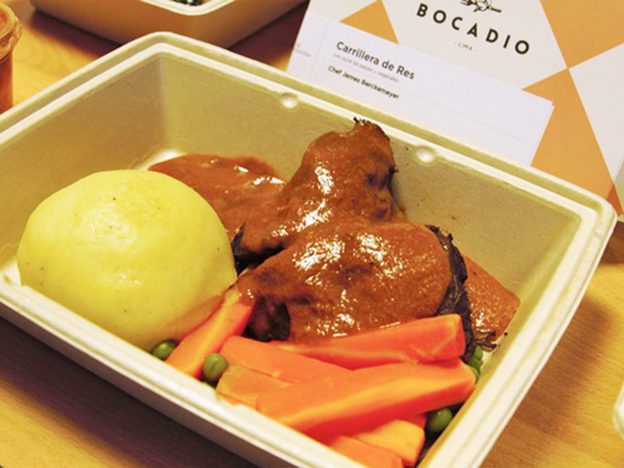 Carrillera de Res (Photo: Caroll Ortiz/Living in Peru)
If you try the Carrillera de Res (S/ 29.00), a creation of the chef James Berckemeyer, you will understand why the food at Bocadio could be compared to the best dishes of restaurants in Lima. Soft and juicy because of the long and slow cooking with caramel onions in a reduction of red wine, it comes with respectable mashed potatoes, carrot sticks, peas and an extra sauce to bathe all of it in. You only need a spoon.
The third plate was more in the line of the author's kitchen: the Honey Baked Pork Loin (S/ 29.00) is a collaborative creation of Bocadio's team. They mixed spices and fresh herbs, making the pork very aromatic and tasty. The dish also has a cassava puree and sauteed vegetables that come with a chimichurri sauce (made with parsley, garlic, oil, oregano and white vinegar), ideal for grilled meat and very common in Peruvian barbecue because of the taste contrast.
The fish couldn't have been more right and it was definitely an office favorite.
Roasted salmon with mashed potatoes and succotash (S/ 36.00), by Alex Reccio. The fish, marinated in herbs and olive oil, is wrapped in corn leaves before entering into the oven to give it a more intense flavor. Mustard vinaigrette, mashed potatoes, and sauteed vegetables complete the experience.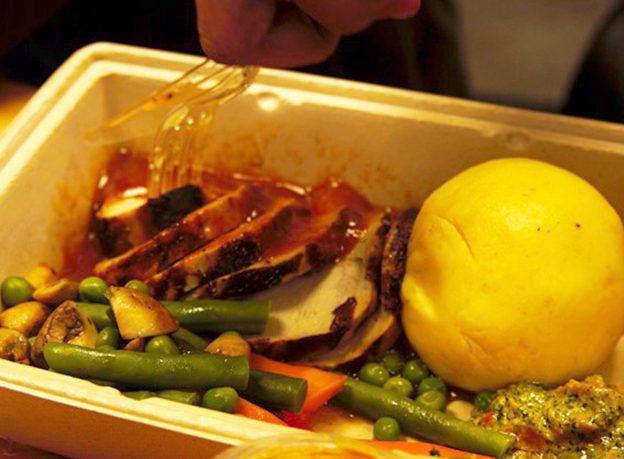 Honey Baked Pork Loin (Photo: Caroll Ortiz/Living in Peru)
There are more than a hundred recipes at Bocadio.
You can find typical Peruvian dishes (tacu tacu, huatia, ají de gallina), sushi, pasta, veggie alternatives and international options.
Currently, Bocadio attends every day (including holidays), during the day and at night, serving nineteen districts of Lima. In your order, you can also ask for the beverages (juices, sodas or beer), desserts (chocolates, ice creams and more) and other cravings. The desire of the company is to venture into neighboring countries where Peruvian cuisine is admired and introduce this system that has improved classic food delivery.

www.bocadio.com
Monday to Friday – Order online: 6.00 – 22.00. Delivery, 11.00 – 23.00.
Sunday and holidays – Order online: 8.00 – 20.00. Delivery, 11.00 – 21.00.
Now that you're here:
We're asking you, our reader, to make a contribution in support of our digital guide in order to keep informing, updating and inspiring people to visit Peru. Why now? In our near 20-year journey as the leading English-language source on travel in Peru, we've had our fair share of ups and downs-but nothing quite like the challenges brought forth in the first quarter of 2020.
By adapting to the changing face of the tourism and travel industry (on both local and international levels), we have no doubt we will come out stronger-especially with the support of our community. Because you will travel again, and we will be ready to show you the best of Peru.
Your financial support means we can keep sharing the best of Peru through high-quality stories, videos and insights provided by our dedicated team of contributors and editors based in Peru. And of course, We are here to answer your questions and help whenever you need us.
As well, it makes possible our commitment to support local and small businesses that make your visit an unforgettable one. Your support will help the people working in these industries get back on their feet once the world allows us to make our dream of enjoying everything Peru has to offer a reality again-from its mouthwatering gastronomy, thriving Amazon and archaeological wonders such as Machu Picchu.
Together, we will find a way through this. As a member of our community, your contribution, however big or small, is valuable.
Support Traveling & Living in Peru from as little as $1 - and it only takes a minute. Thank you!