Between the artisanal coffee and exquisite dishes, Colonia & Co. satisfies all your wishes.
A few weeks ago I wrote an article focusing primarily on the wide variety of coffee beverages served at Colonia & Co., the majority which is prepared using their Slayer espresso machine. Besides their coffees, Colonia also serves breakfast, sandwiches, soups, and sweets from their all-day cafe menu as well as starters and main dishes from their seasonal menu. If I were to describe the food at Colonia Co., I would say it leans towards a lighter-style comfort food.
The emphasis is on serving healthy, flavorful and artisanal cuisine for a decent price.
Colonia & Co. opened early in 2016 in this charming colonial-style renovated home in Barranco. For solely reference purposes, it's next door neighbor is the popular restaurant, Isolina. The Colonia & Co. logo is a colony of bees and not surprisingly, touches of honey are used in many of their dishes and recipes. Jacqueline Becker is the owner of the building and the business. Jackie is an entrepreneur as well as an admitted coffee fanatic and food enthusiast.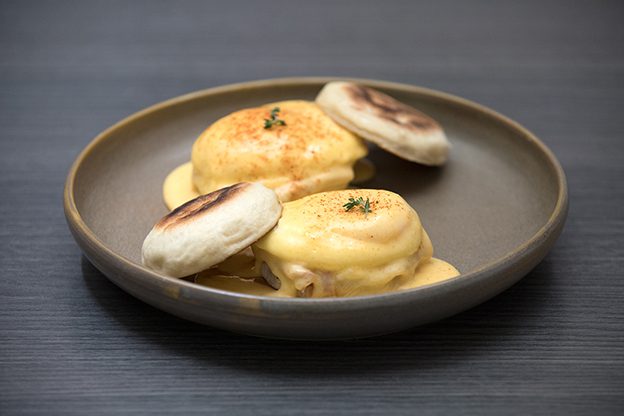 Eggs Benedict (Photo: AmaraPhotos) 
Colonia & Co. caters to a wide variety of people.
The food is nourishing and the beverages are caffeinated. The employees at Colonia are genuinely friendly and it's always an extra plus for me that many of them are bilingual. Many tourists, neighborhood "regulars", and area artists can often be found here. I consider myself a "regular", but I'm not a neighborhood "regular" since I live all the way on the other side of town in La Punta. More on this later in this article. I have many friends that live in Barranco and Colonia is a perfectly peaceful spot to meet up and enjoy some coffee, a meal, and conversation. In the 10 years I have lived in Lima, Barranco has always held a special place for me with its bohemian vibe, wonderful eclectic cafes, and a variety of restaurants and shops.
From the breakfast menu we shared the Eggs Benedict (S/. 24)….two homemade artisanal English muffins with your choice of either smoked trout or ham (in our case it was the trout) placed on top of the English muffin, with two perfectly poached corral (cage-free) eggs resting on top and all bathed in a well-prepared, slightly creamy hollandaise sauce. If you prefer your eggs to be poached a bit more on the firm side, you must indicate that when ordering. Eggs Benedict is one of my favorite breakfast items and this did not disappoint at all. If you are not in the mood for eggs, Colonia also offers other breakfast options such as oatmeal with coconut milk, Greek yogurt with fruit and granola or perhaps pancakes.
Breakfast is served from 9:00 a.m.-11:30 a.m., Tuesday thru Friday. On the weekends the breakfast items are served from 9:00 a.m.-1:00 p.m.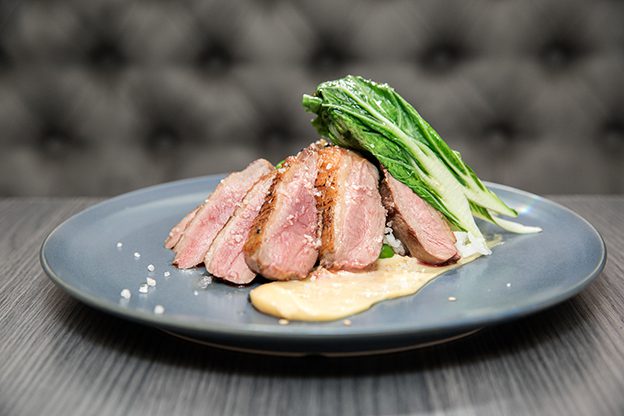 Pato Wasabi con Shari (Photo: AmaraPhotos)
There are currently five starters and five main dishes on the seasonal menu at Colonia & Co. We sampled two starters and three main dishes from this menu. The ensalada de rábano (S/. 18) was the first starter we sampled from this menu. This radish salad was a pleasant surprise and perfect if you enjoy lighter dishes. The baby radishes were sliced wafer thin and presented in a circular pattern on the plate with a light sauce of Greek yogurt, mint, olive oil and feta cheese underneath. Next came the slices of pickled radish (also in a similar overlapping circular form). On top of the pickled radish slices were stacked and overlapping slices of avocado which were topped off with a generous amount of arugula and accented with alfalfa sprouts.
One of the main dishes I fell a little in love with was the gnocchi de camote con chorizo (S/. 28). These tender gnocchi were prepared with purple sweet potato which imparted some sweetness in the dish. A very light tomato sauce along with red bell peppers and spinach was tossed with the gnocchi and these wonderful artisanal meatballs prepared with pork, cognac, and peppers. I enjoyed every bite of this wonderful dish.
The risotto de 3 zapallos (S/. 24) from the starters section was the perfect dish for this chilly weather. Three kinds of squash were used in this risotto: butternut squash (sweet, nutty flavor, smooth and moist texture and a oblong shape similar to a bell); macre squash (sweet flavor and slightly fibrous texture similar to acorn squash, dark green skin, popular in baking); and loche squash (only exists in Peru, delicate flavor, creamy texture, intense orange color and pricey). These three squash varieties were incorporated into the arborio rice along with thyme and goat cheese. This dish was both creamy and comforting.
New on the Colonia menu is the trout with salsiki (S/. 30). The fillet of trout is grilled with the skin on one side and served on top of cubed cucumbers which have been mixed with mint, yogurt, parsley (similar to tzatziki sauce) and accented with feta. This special trout comes from glacial waters in the region of Huancayo located at approximately 5,200 meters above sea level. Great flavor combination.
One of the table favorites was the pato wasabi con shari (S/.38). Grilled duck breasts (magret), sautéed bok choy, sticky rice (shari) with black & white sesame seeds and accented with an addictive Japanese wasabi mayonnaise sauce. The duck was prepared perfectly rare, but not too rare like I find at times. I loved every component of this dish.
A great option if you are not in the mood for meat is the lentejas con camote y feta (S/. 22). This lentil salad was served warm and the combination of lentils, cubed sweet potato and carrot, arugula, and feta cheese was nourishing and flavorful. The generous drizzle of balsamic vinegar with honey added a touch of sweet acidity that highlighted this dish.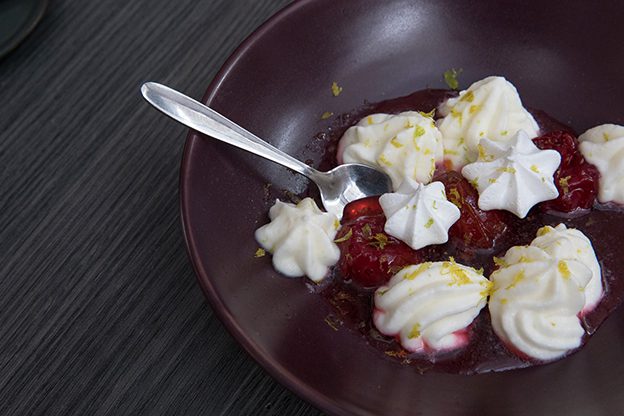 Eton Mess (Photo: AmaraPhotos)
The dessert portion of the seasonal menu currently offers three options. We sampled the Eton mess (S/. 16). A bowl arrived with meringues interspersed with generous dollops of cream and a plum fruit compote. It doesn't sound that special in writing, and I am typically not a fan of meringue, but I have to admit that I really enjoyed this dessert. It was a light, yet a slightly decadent option. Colonia offers two other desserts on their seasonal menu as well….the poppy seed cakes a la mode or your choice of 2 scoops of Bosco Magico's ice cream.
Bosco Mágico has an adorable shop situated in the front of the Colonia & Co. entrance where they sell their popular artisanal gelato as well as some stunning gifts.
A brief disclaimer. I have been an occasional customer at Colonia & Co. since it first opened in 2016. Besides being a writer, I am also a passionate, artisanal baker and lover of all things food. I am currently also a provider of some of the sweets currently being sold at Colonia for the past 3 months. Jackie was looking for some desserts that were artisanal in nature and reminiscent of desserts she enjoyed in her past when living in the U.S. A mutual friend mentioned his love for my carrot cake and that got the ball rolling. This is a small scale baking business adventure for me that I am enjoying very much.
I have been selling my desserts for several years (in the U.S. and in Lima). Currently, I am providing the blueberry buttermilk muffins, my lemon (sometimes lima fruit or lime when I don't have access to American lemons) poppy seed yogurt cake, and carrot cake. Some of my desserts originated from some family recipes as well as vintage classic desserts that I have revised over the years. All of my desserts are made from scratch using high-quality ingredients.
Prolongacion Av. San Martin 131
Barranco
Phone:  987 761 231
Hours:  Tuesday-Sunday:  9:00 a.m.-6:00 p.m.
            Closed Monday
Cafe/All Day Dining Menu:
    Breakfast:  S/. 12-24
    Breakfast Combo Specials:  S/. 15-36
    Sandwiches:  S/. 16
    Half sandwich & soup:  S/. 18
    Sweets:  S/. 8-10
    Beverages:  S/. 5-10
    Beer & Wine:  S/. 16-18
    Coffee menu:  S/. 7-15
    Teas:  S/. 10
Seasònal Menu:
    Starters/Entrees:  S/. 15-24
    Main dishes:  S/. 22-38
    Desserts:  S/. 12-16
Comments
comments