If you're in the hunt for a great instrument at a great price, then you've come to the right place. Find out about some of Cusco's most skilled and lesser-known luthiers.

Tunquipa instruments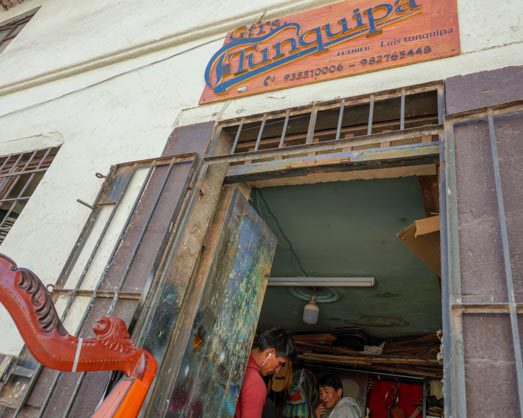 Tunquipa instruments is a great shop located on Bellavista street, where the weekly Saturday baratillo market takes place. This small shop is always bustling with the commotion of musicians and luthiers coming and going. When visiting their shop, it's very likely you'll stumble-in on an impromptu jam session.
Luise Tunquipa, owner of Instrumentos Tunquipa told me,
"It's more art than anything. I can invest my energy into making a beautiful instrument for the love of making a piece of art. What I want to do is make great instruments. It's not to make money and throw things together. Everything we make goes for providing our families and making a basic living. "
Maque Guitars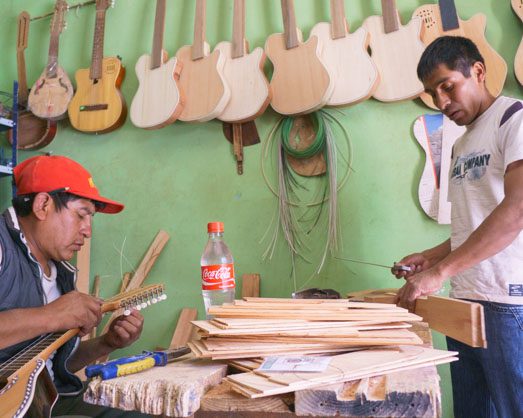 Guitarras Maque (Maque Guitars) is a reputable family run luthier shop, located on Bellavista street, which has been in business for over a hundred years. The family specializes in guitars, charangos, bandurias, and drums. They can whip you up a custom-made instrument in a few day's time.
"I've been working on instruments from when my heart started beating. My dad made instruments, and in that way, I continue making instruments. I play music, and I love art, and so I build instruments."
Sabino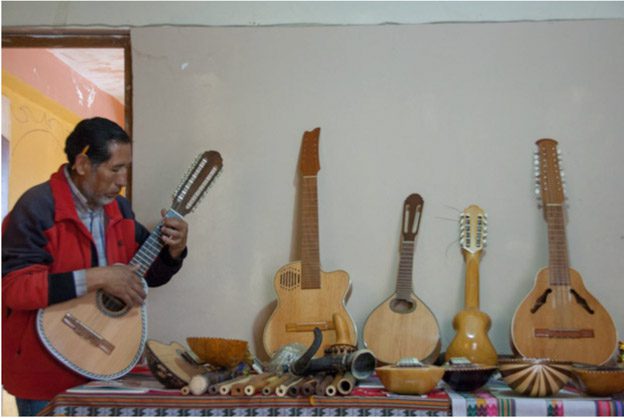 Without a doubt, Sabino is Cusco's most well-known celebrity luthier. City tours make a point of visiting his shop on their trips through Cusco, because of his reputation, and his charming personality. You find his shop in the neighborhood of San Blas, in the street of Carmen Alto.
Daniel Puma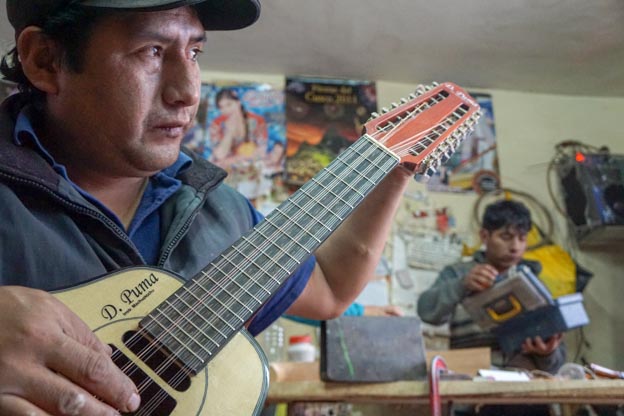 He is known as one of the best luthiers for the banduria and the mandolin. He is known around the world for his work. His instruments don't come cheap though; expect to pay at least twice as much for an instrument as other luthiers are charging.
How to purchase an instrument from one of these luthiers, even if you don't live in Peru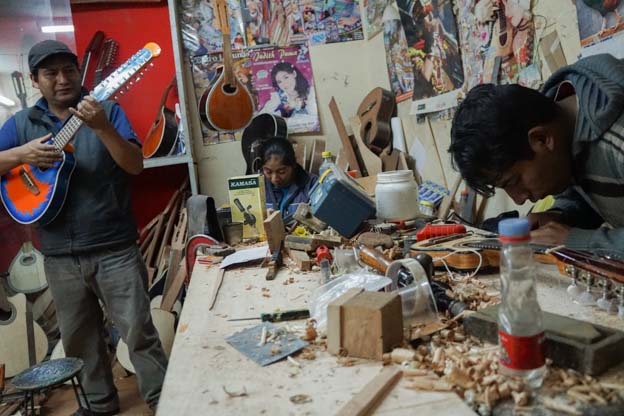 Even if you can't make it yourself to Cusco in order to buy an instrument,
If you are able to visit Cusco
With the exception of Sabino, whose shop is located in San Blas, almost all of Cusco's artisan luthiers can be found in the neighborhood of Santiago, on Bellavista street. This is the same street that is taken over on Saturdays by the Baratillo flea market. During the rest of the week, you'll find a quieter environment where the sound of live music and the whine of carpentry tools can be heard.
If you live somewhere else in the world
If you can't visit the shops in person but still are interested in purchasing a musical instrument from one of these luthiers, fret now. I can help you to find the instrument of your dreams, or better yet, to help you to connect with and communicate with a luthier in order to custom build the instrument of your dreams.
If you have any questions about luthiers of Cusco and their shops, feel free to reach out to me at [email protected]
YOU MIGHT ALSO LIKE
Now that you're here:
We're asking you, our reader, to make a contribution in support of our digital guide in order to keep informing, updating and inspiring people to visit Peru. Why now? In our near 20-year journey as the leading English-language source on travel in Peru, we've had our fair share of ups and downs-but nothing quite like the challenges brought forth in the first quarter of 2020.
By adapting to the changing face of the tourism and travel industry (on both local and international levels), we have no doubt we will come out stronger-especially with the support of our community. Because you will travel again, and we will be ready to show you the best of Peru.
Your financial support means we can keep sharing the best of Peru through high-quality stories, videos and insights provided by our dedicated team of contributors and editors based in Peru. And of course, We are here to answer your questions and help whenever you need us.
As well, it makes possible our commitment to support local and small businesses that make your visit an unforgettable one. Your support will help the people working in these industries get back on their feet once the world allows us to make our dream of enjoying everything Peru has to offer a reality again-from its mouthwatering gastronomy, thriving Amazon and archaeological wonders such as Machu Picchu.
Together, we will find a way through this. As a member of our community, your contribution, however big or small, is valuable.
Support Traveling & Living in Peru from as little as $1 - and it only takes a minute. Thank you!