The lord of Iquitos, Father Joaquin García Sánchez, on the other hand, is a man who lives with both legs and above all with all his heart in this world. In this vast primeval nature, in the middle of the Peruvian jungle, there is no need of a priest chanting about paradise or hell, when paradise can be found outside the door, and hell only two blocks away.
No doubt, Joaquin García, this shepherd in the testamentary sense of the word, fits in with this city. He is far away from superficial bustle and voracious consumption of the commercial world. In fact, in order to find him you have to hop on a plane, because there are no roads in this part of the jungle.
In order to get a sense of who he is, imagine a kind grandpa in the black gown, but rather as a guy in the middle of life, actually a guy like you and me. The priest of the Order of the Augustinians is highly educated, open, and is a philanthropist.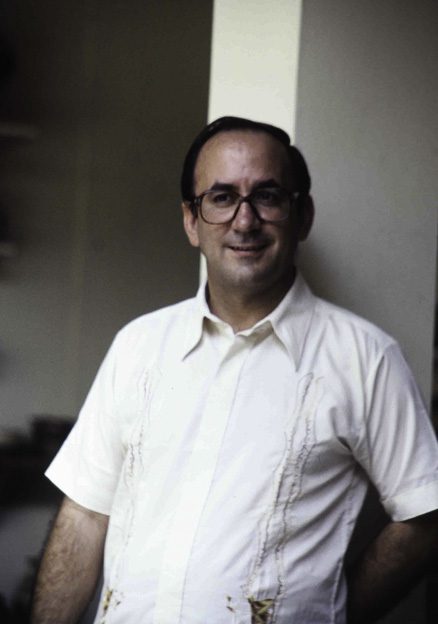 Through his organization named CETA, he helps make sure that indigenous people get a voice and their history and language are recorded. He keeps an eye on the fact that the indigenous, if they cannot get justice, then at least they should get respect. And fortunately he has received recognition. From the media, from the Spanish royal family and above all from the local people.
It should be noted that this priest rules the most beautiful church house far and wide. La Iglesia Matriz , built in 1919. It stands majestically in the midst of the sweltering primeval forest, with the bright church spire stretching like a raised finger into the tropical sky.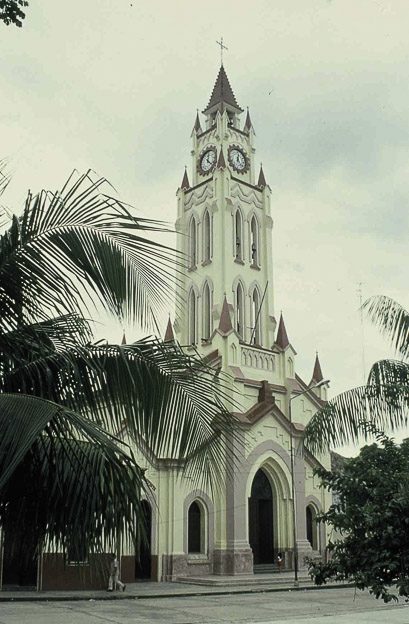 It is the most imposing among all simple houses of worship. So clear, so graceful and so immaculate. No false pomp that can be found here, and no bloated splendor, but a white pointer in a green maw pointing to the sky.
And Joaquin also turns out to be an architectural expert of this city. He knows every building, every inhabitant, every anecdote and wants to share it with the world in fervor. Godfather and his Roman Curia would find it easier in today's modern world to have more padres of the caliber of Joaquin García in his bodyguard.
Let's get to the church tower, the highest part of the city, I ask before taking a few photos. No problem, gladly, says my favorite priest. It would probably not have occurred to us in the Rhineland to ask the Cardinal of Cologne whether we should climb to the top of the Cologne Cathedral.
Incidentally, the steeple is the one Jason Robards, Mick Jagger, and Klaus Kinski scrambled on, back in the early 1980s, when Werner Herzog made the film Fitzcarraldo here in Iquitos. It's a key scene in this movie as the actors hit the church bell vigorously.
Now it is up to us. Joaquin unlocks the church tower and we climb into the bell tower of the church, up to the top. Up, to the sky over Iquitos.
Do you want to explore more about the world's strangest and most fascinating destinations? Do you want to read more about my decades of experiences while traveling the world? Then maybe you're interested in checking out my blog Notes and Notes from the Road.
Editor's note: this article previously appeared on Notes and Notes from the Road.
Cover photo: Wikimedia
Now that you're here:
We're asking you, our reader, to make a contribution in support of our digital guide in order to keep informing, updating and inspiring people to visit Peru. Why now? In our near 20-year journey as the leading English-language source on travel in Peru, we've had our fair share of ups and downs-but nothing quite like the challenges brought forth in the first quarter of 2020.
By adapting to the changing face of the tourism and travel industry (on both local and international levels), we have no doubt we will come out stronger-especially with the support of our community. Because you will travel again, and we will be ready to show you the best of Peru.
Your financial support means we can keep sharing the best of Peru through high-quality stories, videos and insights provided by our dedicated team of contributors and editors based in Peru. And of course, We are here to answer your questions and help whenever you need us.
As well, it makes possible our commitment to support local and small businesses that make your visit an unforgettable one. Your support will help the people working in these industries get back on their feet once the world allows us to make our dream of enjoying everything Peru has to offer a reality again-from its mouthwatering gastronomy, thriving Amazon and archaeological wonders such as Machu Picchu.
Together, we will find a way through this. As a member of our community, your contribution, however big or small, is valuable.
Support Traveling & Living in Peru from as little as $1 - and it only takes a minute. Thank you!