These very small and large-eyed monkeys can be found across Central and South America, and have a very distinctive call which makes them easily recognizable those who hear it.
Natural History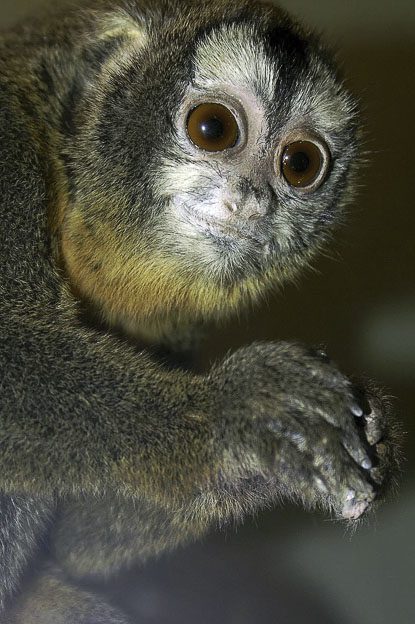 This is the only nocturnal monkey in the world. During the day they sleep in hollows of trees and dry palms, usually in transitional environments between the mature forest and the flood areas with dense undergrowth. They prefer the middle and high levels of the forest, between ten and twenty meters. You can recognize their call by the sound of soft clicks, often accompanied by a low-pitched, resonant sound of low frequency, like that of two heavy pieces of metal hitting each other.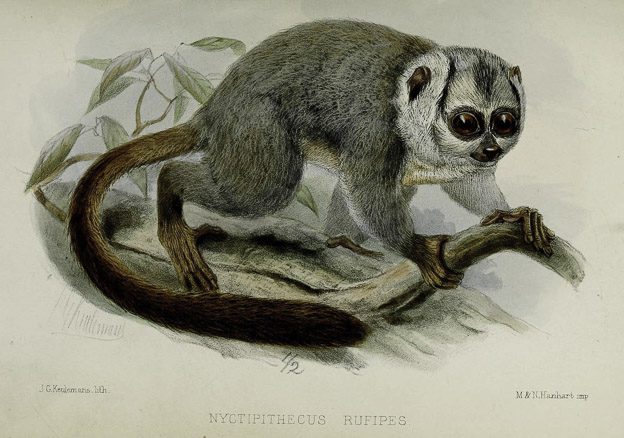 On moonlit nights a single animal emits a series of shouts of one to three low-frequency whistles similar to those of an owl. For sleeping, they use holes in the trunks, as well as nests made with abundant foliage that provide shelter and protection. They live in groups of two to five individuals. They feed on fruits, insects and flower nectar. They are monogamous and, often, it is the father who raises the offspring.
Current status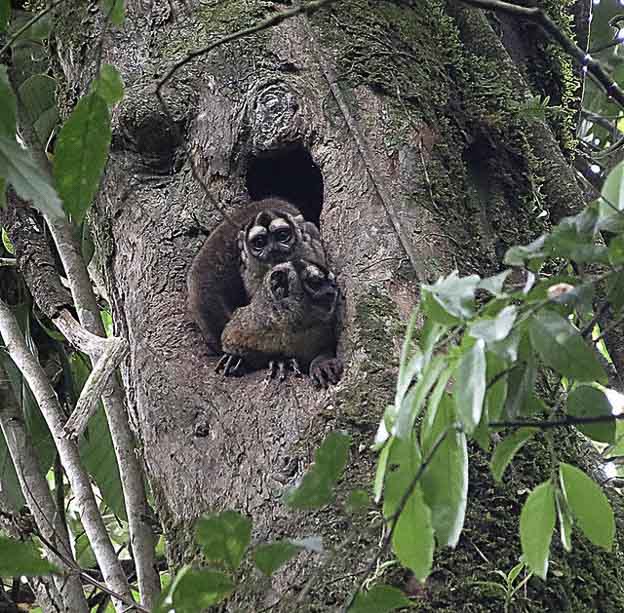 In Peru there are two species of nocturnal monkeys, both are in a complicated situation. Many Amazonian people hunt this species for its meat, and the jibaros of the northeastern jungle use their teeth and fangs to make necklaces for ritual use.
Where they roam
Night monkeys live in Central and South America, from Panama to El Chaco (Argentina). A close relative, the brown nocturnal monkey (Aotus miconax) is endemic to Peru and is distributed in the high jungle (valleys of the Maronony Huallaga rivers) up to 3,200 meters.
Source: Guia de Identificacion de Especies de la Flora y la Fauna del Peru
Cover photo: Flickr
Now that you're here:
We're asking you, our reader, to make a contribution in support of our digital guide in order to keep informing, updating and inspiring people to visit Peru. Why now? In our near 20-year journey as the leading English-language source on travel in Peru, we've had our fair share of ups and downs-but nothing quite like the challenges brought forth in the first quarter of 2020.
By adapting to the changing face of the tourism and travel industry (on both local and international levels), we have no doubt we will come out stronger-especially with the support of our community. Because you will travel again, and we will be ready to show you the best of Peru.
Your financial support means we can keep sharing the best of Peru through high-quality stories, videos and insights provided by our dedicated team of contributors and editors based in Peru. And of course, We are here to answer your questions and help whenever you need us.
As well, it makes possible our commitment to support local and small businesses that make your visit an unforgettable one. Your support will help the people working in these industries get back on their feet once the world allows us to make our dream of enjoying everything Peru has to offer a reality again-from its mouthwatering gastronomy, thriving Amazon and archaeological wonders such as Machu Picchu.
Together, we will find a way through this. As a member of our community, your contribution, however big or small, is valuable.
Support Traveling & Living in Peru from as little as $1 - and it only takes a minute. Thank you!