Master chef Mitsuharu "Micha" Tsumuras from restaurant Maido visited restaurant LLama, Copenhagen and conquered hearts with his delicious Nikkei Japanse Peruvian fusion.
I had just arrived in Copenhagen to visit my parents, when my friend Karim with eagerness called me to tell me about the visit of Master chef Mitsuharu "Micha" Tsumuras to restaurant Llama, who were celebrating their 4th-anniversary dinner. Micha in Copenhagen????
I'm a big fan of Micha and his delicious food, so of course, I wondered what the Danish people would think of his cooking and flavors and used all my connections to get myself a table for this completely sold out event. I was successful and counted the days to attend this Pop-Up Dinner at LLama.

 For those of you who don't know restaurant Maido and Micha, allow me to give you a short introduction:
Maido means "Welcome" in Japanese and is also the name of the here.
Micha was born in Lima, Peru and always had a passion for Nikkei cooking which he inherited from his family. After having worked in the hotel industry in Lima, his father encouraged him to follow his passion for food so Micha went first to the U.S. and later to Osaka, Japan to learn from the masters there. Then, in 2009 Micha opened up Maido in Lima and it quickly became the "talk of the town" and very successful.
My friend Martin Morales from London visited Micha some time ago and published this video:
Enough history. Let's talk about my visit to restaurant LLama in Copenhagen and the Pop-Up dinner by Master chef Micha.
When arriving at the restaurant, a long line waited for me. All guests showed up at 7 pm and were ready to meet the master.
The Evenings Menu:
Snacks
Patacon
black cracker, plantain, amazonic chorizo and sacha tomate emulsion
Sushi
rice cracker, wild salmon tartare and ponzu jelly
2nd
Poda Ceviche
mackerel, aji amarillo sauce, shallots, aji Limo and Nikkei leche de tigre
3rd
Sansei Ceviche
langoustine, scallops, razor clams and nitro aji amarillo leche de tigre
4th
Fish Sandwich
monkfish chicharron, steam bun, and kimchee emulsion
5th
Cau Cau Dumpling
calamari, octopus and crispy quinoa
6th
Sudado
cod, seaweed, and mushrooms
7th
Nitsuke Short Rib
50 hours, netsuke sauce and native potato cream
8th
Amador
chocolate savayon, plantain with soy ice cream, bauhuaja nuts, cocoa nibs and mochi.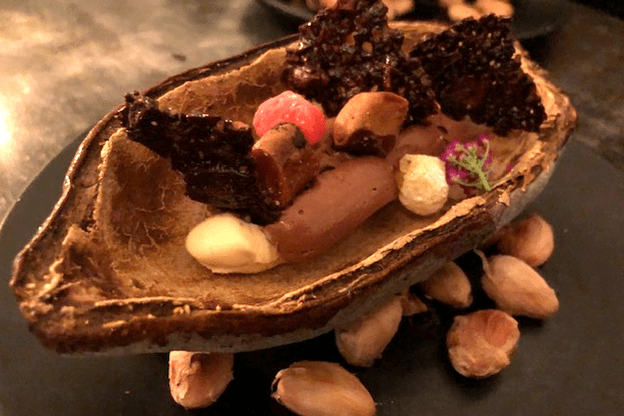 Which was paired with the following wine menu:
Pisco Sour
Pisco, Lime juice, Egg White and Angostura bitters (Peru´s National Drink)
Stein, "Alfa Höller"
Riesling
Mosel, Germany
Fred Cossard, Bigotes
Chardonnay
Bourgogne, France
Tom Shobbrook, "Something Else"
Shiraz
Barbossa, Australia
Kizan Zake
Junmai Nama
Chiguma Nishiki Brevery
The menu and wine pairings worked out perfectly for me, but what did the Danish Foodies think?
The people around me all found the food to be delicious, interesting, and new. Some even went as far as to call it the menu of the year. I continued my search around the 75 tables that were set up for the event to find out more answers and my conclusion was that everyone despite a few people, who were not crazy about seafood, loved the food that Micha and his team from Peru prepared for us that evening.
What I found most interesting was, when asking if they would consider visiting Peru in the near future, they all declared that with this kind of delicious food, they were ready to explore both the Peruvian gastronomy and the Inca culture in the near future.
During the dinner, Micha met up with most of the guests to explain a little about what the dishes consisted of and when he saw me, he looked confused and came over to figure out "What are you doing here?" to which I could only answer – "As it is impossible to get a reservation at your restaurant in Lima, I thought I'd fly to Copenhagen to see what you're up to here, before leaving again tomorrow morning". He shook his head and kept serving and then shook his head again. Later he shook his head again and smiled and it was time to explore the nightlife of Copenhagen.
As more and more tourists find their way to Peru, they will without a doubt discover the delicious Peruvian cuisine. Want to be one of them?
For more information about opportunities to visit Peru check out  www.PeruExperience.com
(Photos: Carsten Korch/ Traveling & Living in Peru)
Comments
comments