Many people call Choquequirao "the other Machu Picchu". It was built for political and military purposes and one of the most demanding and unforgettable of treks.
To get there:
You start from Cachora (2903 m.a.s.l.), a village in Apurimac, on the road from Cusco to Abancay. Choquequirao ("golden cradle") is the name of the hill on which this citadel was discovered, at 3033 m.a.s.l.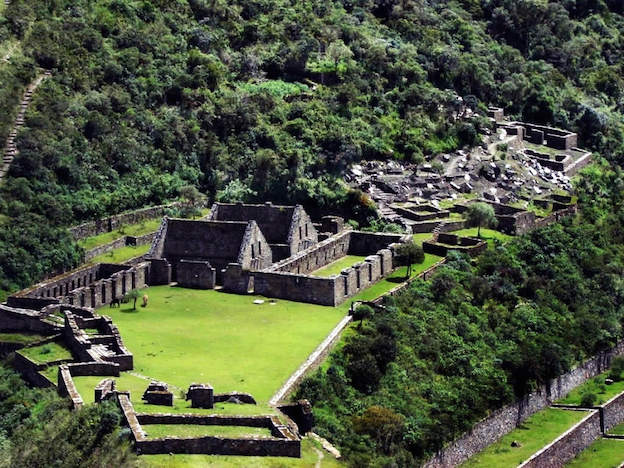 The route starts with a walk and descent to Cocamasama (2100 m.a.s.l.) to the first campsite at Playa Rosalina (1750 m.a.s.l.) The following day takes you to the hamlet of Santa Rosa (2100 m.a.s.l.), Marampata and finally Choquequirao. This archaeological site was also one of the secret places of the last Incas as they were threatened by the Spanish Conquistadors. These included Vilcabamba, Machu Picchu and Espiritu Pampa, bastions of the Inca resistance, which can also be reached on a twelve-day trek. A trip for warriors only.
Tips:
Despite the distance on the map from Choquequirao to Cachora it is only 30 kilometres, but the route is difficult and the return trip can last as long as four days, so you should be in good physical shape before you start.

The route is part of the Royal Inca Road or Qhapac Ñan, recently declared UNESCO World Heritage Site. PureQuest, the adventure travel brand of LimaTours, is sponsoring a research expedition to identify and develop rural tourism projects to benefit the communities along the Ecuador-Peru section on the
Qhapac Ñan.
You May Also Like:
7 REASONS WHY YOU SHOULD NOT HIKE THE CHOQUEQUIRAO TREK AND STAY HOME TO WATCH TV INSTEAD
PERU LAUNCHED AN APP TO VISIT INCA RUINS FROM CHOQUEQUIRAO
5 THINGS TRAVELERS NEED TO KNOW BEFORE COMING TO PERU
Now that you're here:
We're asking you, our reader, to make a contribution in support of our digital guide in order to keep informing, updating and inspiring people to visit Peru. Why now? In our near 20-year journey as the leading English-language source on travel in Peru, we've had our fair share of ups and downs-but nothing quite like the challenges brought forth in the first quarter of 2020.
By adapting to the changing face of the tourism and travel industry (on both local and international levels), we have no doubt we will come out stronger-especially with the support of our community. Because you will travel again, and we will be ready to show you the best of Peru.
Your financial support means we can keep sharing the best of Peru through high-quality stories, videos and insights provided by our dedicated team of contributors and editors based in Peru. And of course, We are here to answer your questions and help whenever you need us.
As well, it makes possible our commitment to support local and small businesses that make your visit an unforgettable one. Your support will help the people working in these industries get back on their feet once the world allows us to make our dream of enjoying everything Peru has to offer a reality again-from its mouthwatering gastronomy, thriving Amazon and archaeological wonders such as Machu Picchu.
Together, we will find a way through this. As a member of our community, your contribution, however big or small, is valuable.
Support Traveling & Living in Peru from as little as $1 - and it only takes a minute. Thank you!