Mangroves support entire ecosystems on the North coast of Peru. Find out more about this important plant, and what makes it so unique.
Characteristics of the tree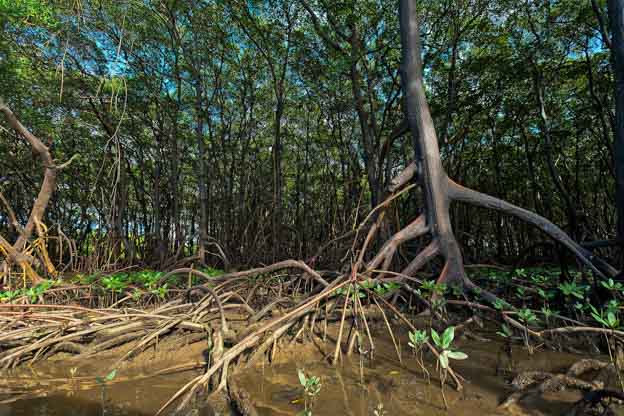 The mangroves are trees endowed with an extensive radicular system and an extraordinary tolerance to salt. These trees have roots fasteners, which act, at the same time, as respiratory and filtering structures for the exchange of gases in anaerobes (of little oxygen), and embryos capable of floating. Penetrate the soil, branch and emit a series of aerial roots in the form of stilts, which have a series of pores that allow them to incorporate nutrients and perform the exchange of gases. Its leaves are simple, elongated and coriaceous in consistency.
Natural history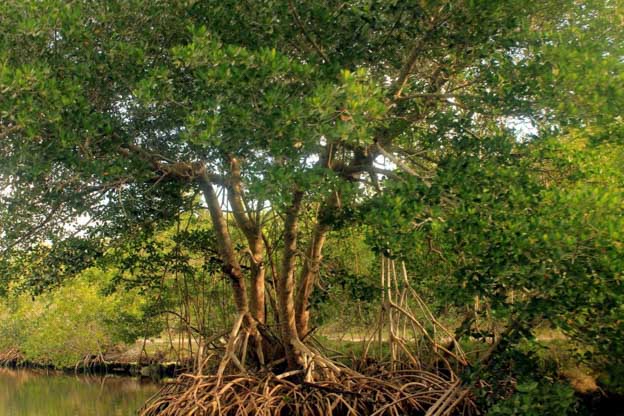 Mangrove trees and mangrove forests thrive in areas that are close to the sea, and within the range of coming and going tides. They live in two worlds at the same time, acting as a point of contact between the sea and the land. Mangroves act as a buffer and fence to capture sediments and alluvial material thus stabilizing the elevation of the land and promoting the construction of sediments in the tidal areas. It reproduces mainly through its roots which, when they reach the ground, give bloom into new stems and new branches which eventually become new plants. In this way, they can take over entire areas within an estuary. The plant can also reproduce with its seeds which germinate in muddy areas below the plants.
A plant that supports an ecosystem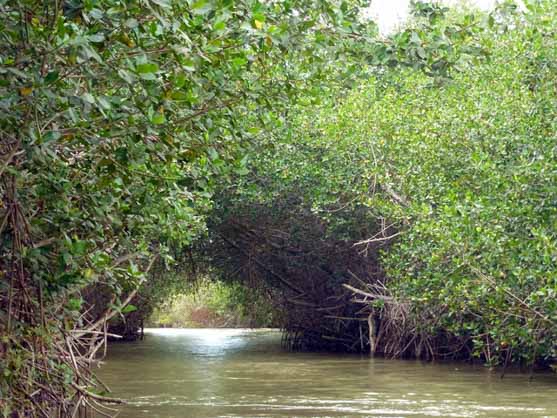 It is a wild tree that constitutes in itself a habitat for hundreds of species of birds, mammals, reptiles, fish and a great variety of marine creatures. Mangroves support extensive coastal food webs, provide stability on the shoreline, prevent erosion and protect against storms. The rapid expansion of the shrimp farming industry poses a threat to the mangroves of Tumbes. Despite this, the tree is still abundant within Peru.
Where it grows
Mangroves are distributed across the Americas from Florida in the United States to the northern tip of Peru. On the west coast of South America it grows as far south as Piura.
YOU MIGHT ALSO LIKE
Now that you're here:
We're asking you, our reader, to make a contribution in support of our digital guide in order to keep informing, updating and inspiring people to visit Peru. Why now? In our near 20-year journey as the leading English-language source on travel in Peru, we've had our fair share of ups and downs-but nothing quite like the challenges brought forth in the first quarter of 2020.
By adapting to the changing face of the tourism and travel industry (on both local and international levels), we have no doubt we will come out stronger-especially with the support of our community. Because you will travel again, and we will be ready to show you the best of Peru.
Your financial support means we can keep sharing the best of Peru through high-quality stories, videos and insights provided by our dedicated team of contributors and editors based in Peru. And of course, We are here to answer your questions and help whenever you need us.
As well, it makes possible our commitment to support local and small businesses that make your visit an unforgettable one. Your support will help the people working in these industries get back on their feet once the world allows us to make our dream of enjoying everything Peru has to offer a reality again-from its mouthwatering gastronomy, thriving Amazon and archaeological wonders such as Machu Picchu.
Together, we will find a way through this. As a member of our community, your contribution, however big or small, is valuable.
Support Traveling & Living in Peru from as little as $1 - and it only takes a minute. Thank you!