Though it is slowly disappearing from the landscapes of the Peruvian Andes, you can easily find this plant in many parts of the Andes, especially in the regions of Arequipa, Maquegua, Tacna, and Puno.
Scientific name: Azorella yareta
Yareta belongs to the umbelifera family, whose stems, leaves and inforescence are so dense that they form convex pads, which are very hard and compact; some people compare it to something of a giant broccoli. The stems and the leaves secrete a resinous substance that allows them to self-heal after being freshly cut. When the plant is full of vitality, its color is emerald green and is earthy gray when it dries. They reach up to one meter in height and grow into wider diameters as they slowly grow.
Natural History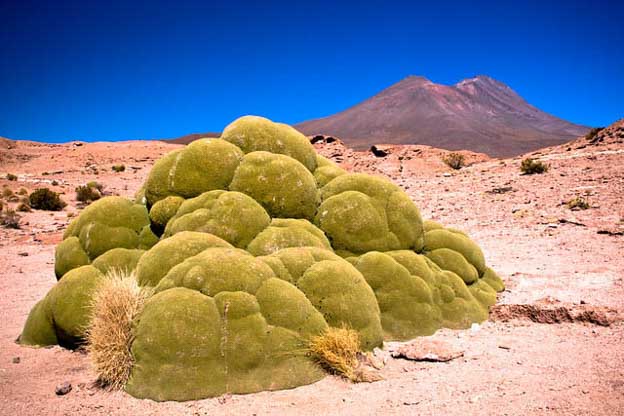 The yareta grows at an extraordinarily slow rate: one millimeter per year(!) in semi-desert places at altitudes higher than 4,000 meters (and sometimes up to 5,000). It almost always grows in places that are hit by the morning sun, preferring floors covered with large stones that serve as protection against the wind. They support temperatures of less than 25 degrees below zero and can remain covered by snow for a long time. The stumps that remain after people have cut down the plant do not regrow. Also, be aware that should not be confused with yaretilla (Azorella sp.), which is similar to yareta, but smaller in size. Its stems secrete a resin that indigenous people have traditionally used as a scalp tonic. It has a great caloric power and is a product high in concentration of oils.
Current status
The yareta is sought as fuel especially in the rural areas of the Andean south, so its population has been drastically reduced. Its use became so widespread that at the beginning of the 20th century it was used as fuel for the operation of the Arica-La Paz railway. Despite the intense pressure it receives from man, they are not threatened to extinction.
Where yareta grows
This plant grows in Andean highlands of Arequipa, Moquegua, Tacna and Puno over 3000 meters.
Cover photo: Flickr
Source: Guia de Identificacion de Especies de la Flora y la Fauna del Peru
Don't Miss:
Ichu in the Andes: A Widespread and Important Plant
Plants of Peru: Meet the Ceiba Tree