Traveling back in time often brings back pleasant memories to most of us. I remember my school days, the books I used to read, and popular TV shows such as Wonder Woman, the Six Million Dollar Man, Fantasy Island, and Happy Days with Fonzi showing up at Arnold's Drive-in for some meet up with friends. If this popular show was one of your favorite´s and you want to travel back in time, then you should pay a visit to the new Arnold's Drive-In in the Costa Verde.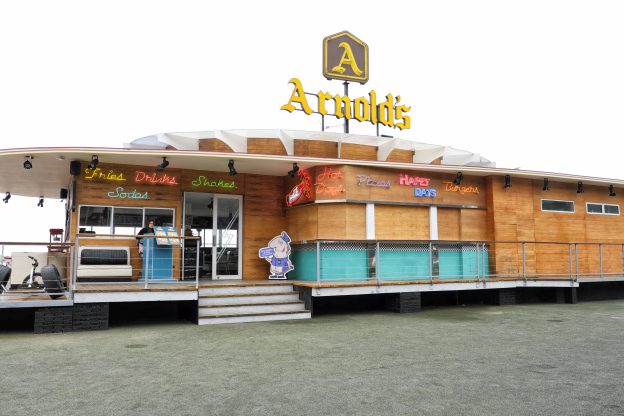 Arnold's opened just over a month ago, and is having great success amongst fast-food lovers who love immersing themselves in old-time atmospheres. Classic car lovers, Harley Davidson bikers, and others are also frequent visitors at Arnold's. To see the marks left by past customers, just check out the stickers they leave on the flashy red refrigerator at the entrance. Other visitors come for the drive-in movie theater in order to watch classic movies. Mind you, you don't have to be the owner of a flamboyant convertible Chevrolet or a fancy Cadillac to come and enjoy the movie; just come with your car, order some food, tune in to the set-frequency, sit back, and enjoy the movie. This is a welcome revival of the old days when Lima used to have drive-in movie theaters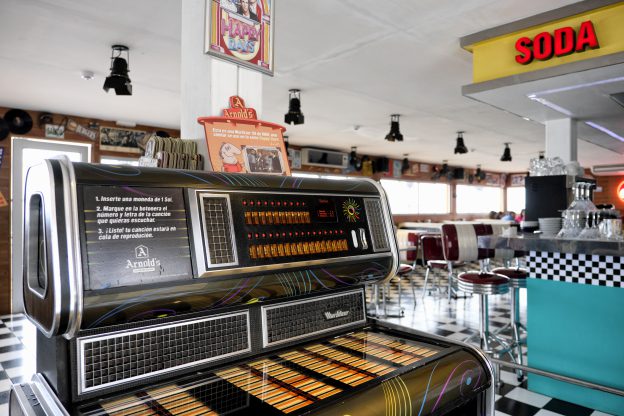 Stepping a foot into Arnold's feels as if you are entering the Happy Days TV set. You might get this sensation from the rocola with music from the 50s, the black and white floor tiles, the round white sofa compartments, the old LP records on the walls, and the antique photos. On entering the restaurant, be ready to be greeted by waiters and hostess dressed in outfits of the old days. Don't be surprised to see customers dressed up as well. You might find men dressed in their black-leather jackets wearing stylish hair-dos with abundant gel, or Grease Sandy-type ladies with long skirts and classic sweaters. If you feel like it, you can dress up too.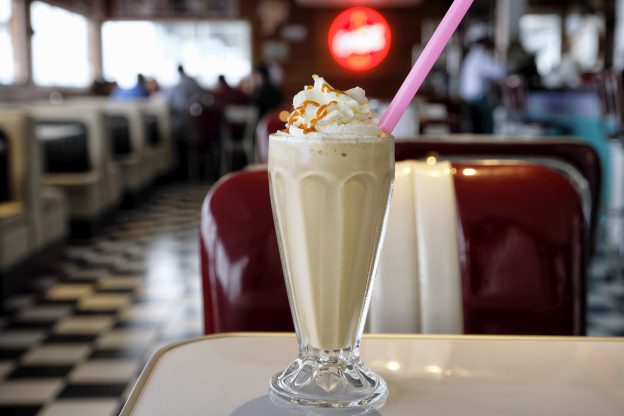 You can find all of the classic food options of an American fast food stop at Arnold's: hot dogs, hamburgers, pizzas and shakes. We started with a Salted Caramel Shake (s./20) that was fabulous. I loved that pinch of salt that that is added to this vanilla ice cream shake. We then had the Arnold's Hot Dog (s./24), a Frankfurter with relish, onions, and plenty of chips on the side. After that we moved on to the Chicken Tenders (s./20), breaded chicken pieces that come with abundant chips. There is also a Veggie Pizza (s./20) that comes with with mushrooms, zucchini, mozzarella, tomato, and pesto sauce.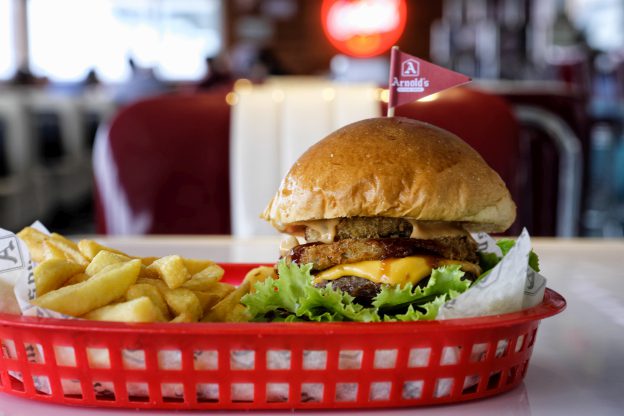 However, what we liked the most were the burgers. We tried all seven types of burgers that the restaurant offers. We had the Fonzie Hamburger (s./27) with regular meat, bacon, cheddar cheese and a house- BBQ sauce. The verdict? We loved it. We also tried the Veggie Hamburger (s./25), a solid and tasty black bean burger, with onion rings, red peppers, and arugula. Another great option is the Caleta Hamburger (s./27), a shrimp and crab burger in ciabatta bread. All burgers are decently sized, and come with crunchy and tasty French fries.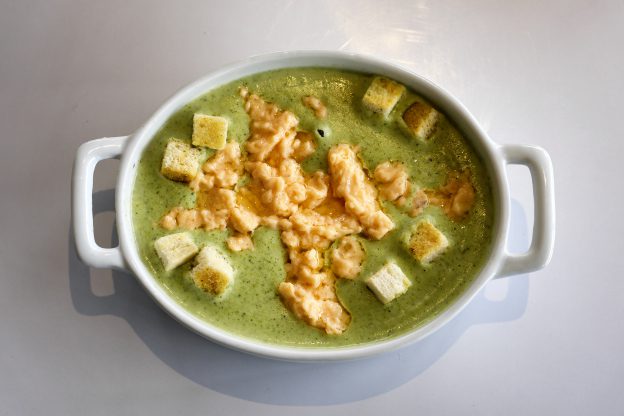 To our surprise, the menu also has hot soups and hot chocolate for winter cold days. We tried the Green Cheddar Soup (s./18), a broccoli creamy soup that was quite nice, and had a remarkable Expresso (s./6) just before ending our visit.
You may want to know that on Wednesdays evenings they usually host a live band, and on Sundays they offer kids removable tattoos. Do you want to know more about what the restaurant offers? If so, just look them up on your favorite social media platform to find out about upcoming events, and what movies they'll be showing. Get your motors ready, pack the family, and enjoy the show!
Boulevard Bordemar – Barranco
Tel. 963 805 591
Opening hours – Sunday to Wednesday 12.30 – 12 pm, Thursday-Saturday 12.30 – 02 am
Menu
Shakes – s./ 20 -23
Beers – s./ 13 -20
Cocktails – s./ 25-32
Hot beverages – s./ 6 – 10
Hot dogs and hamburgers – s./ 24 – 30
Pizzas – s./18-22
Soups – s./ 18
Salads – s./27-29
Desserts – s./ 18-25
Comments
comments