Conchas de Altiplano (Photo: Marco Simola/Living in Peru)
Take a seat at the bar and take part of the chef's daily production or strike up a conversation with one of the well-informed wait staff, either way, you won't leave Barra Lima without a deeper appreciation for their food.
Barra Lima is the proposal and concept of chef John Evans, in partnership with Erick Hartmann. This bustling cevicheria/fusion restaurant opened in February of this year and has quickly become popular. The menu is small with 18 dishes total (including desserts), but it's also innovative, creative, and offers a fresh perspective.
"Barra Lima is the perfect place to share unique plates. I most definitely will include it on my list when guests come to visit. The food is pleasing to the eye and the palate. It was a wonderful experience. You can expect to spend 75 soles per person for lunch, not including alcohol. Recently Barra Lima opened in the evenings for tapas and cocktails. Those items are not included in this article."
Peru is rich and diverse in its ingredients and Barra Lima takes advantage of this. They utilize local ingredients from the jungle, coast, and mountains and incorporate them into the dishes in creative ways.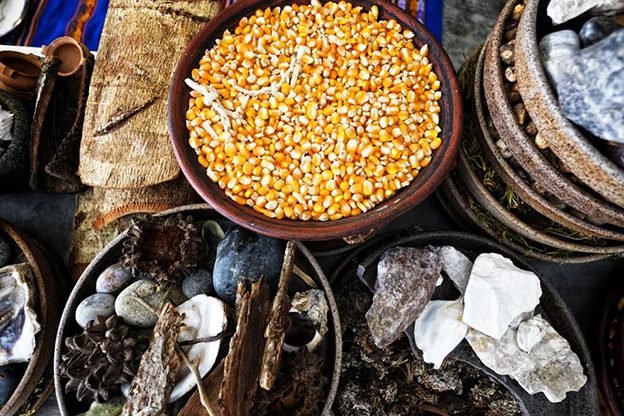 You will find flowers, fruits, herbs, grains, algae and plants incorporated into many of the dishes at Barra Lima. They even take trips on days off to forage for herbs and flowers. You will see the results of their foraging in their dishes with ingredients or decorations using elderflowers, or the white flower, Flor de Sauco as a decorative accent. Other exotic-sounding Peruvian ingredients such as kushuro (known as "Andean caviar", a freshwater alga that grows at altitudes above 3,000 meters), asparagus de mar, kiwicha, huacatay, quinua, cocona, aguaymanto, charapita, sacha culantro, mashua, coca, olluqo, and many more are incorporated into the dishes.
The menu at Barra Lima is primarily focused on seafood. They use sustainable and less utilized fish.
The restaurant itself is casual and small, the decor is cool and minimalistic with an open kitchen and with a few indoor tables as well as a few street-side tables. On the dining room wall, you can enjoy the graffiti artwork of artist, Angel Morales.  Many diners opt to sit at the long bar/counter to catch all the action of the chefs. During my initial visit, I sat at the bar for the first few dishes and was fascinated watching all the final decorative details. Once we had more people joining us we sat at a table.
The presentation here is as important as the quality and flavor of the food.
Barra Lima experiments with flavors and textures in original presentations. There is detail-oriented precision in every dish which you can observe if you sit at the counter and watch the chefs in action. The product knowledge of the entire staff is excellent. The dishes are not huge here, but definitely satisfying. This was my second visit to Barra Lima and once again I was very pleased with the overall experience.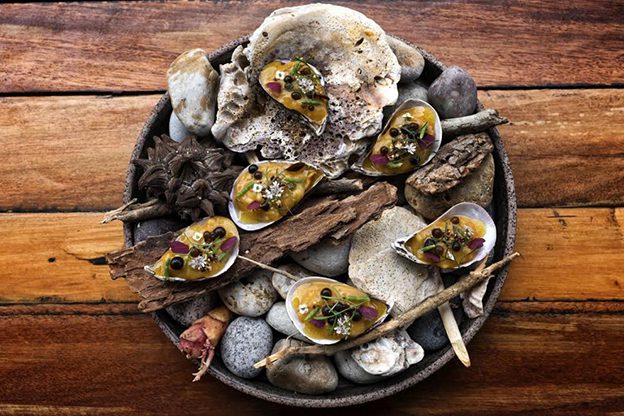 We began with two dishes from the "Los Populares" section of the menu, all three of these starters were gorgeously presented, creative and delicious. The first starter was the Choritos a la Chalaca Di (S/. 24). This was a modern version and reconstruction of the classic Peruvian mussels dish, choros a la chalaca. The onions and tomatoes were replaced with a series of Amazonian touches and ingredients such as cocona, aji charapita, sacha culantro and kushuro. This was an interesting modern result.
One of the table favorites were the Conchas de Altiplano (S/. 32 ), a special presentation of six sea scallops in their shell, along with a combination of  Andean cheese, herbs, Andean sauces prepared with ocopo, ajíes, and huacatay, and native potatoes. Many accents/enhancements as well such as a quinua and kiwicha.
From the "Los de Huarique" section we sampled the Causa Andina de Pulpo (S/. 32)  This dish had many ingredients, too many to mention all of them here, but included octopus, shrimp, and chicken, various sauces (olive, anticucho), quail eggs, avocado, Andean potato chips, etc. The presentation was colorful, stunning to the eye and a creative and flavorful rendition of causa.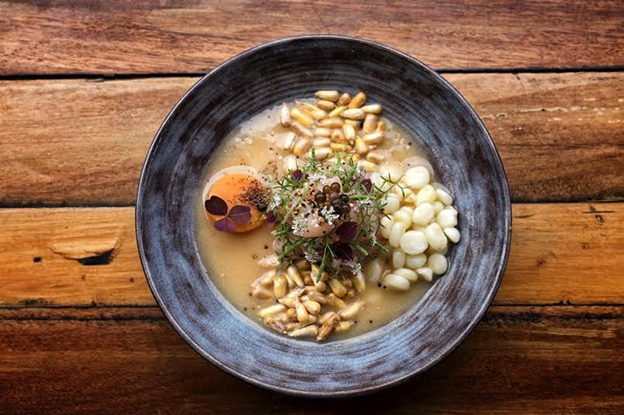 After eating the Ceviche Carretillero (S/. 36), we all agreed it was spectacular and fresh. Truly it was a masterpiece. Barra Lima used the fresh catch of the day which on the day of our visit was Lisa de Huarmey Norteña. This fish is abundant in the Ancash province and is a species of fish free from the danger of extinction. The ceviche was accompanied by sweet potato, choclo and canchita and was accented creatively with sea asparagus, kushuro (high altitude algae), quinua, and edible flowers. This ceviche oozed freshness in every bite. The quinua was not only incorporated as an element of decoration but also added texture to this dish. Instead of using the traditional yuyo (seaweed), kushuro (the protein-packed high altitude algae) was used. The tiny white flower, Flor de Saúco, was used for decorative touches.
This ceviche is one of the most popular dishes at Barra Lima as well as their trout ceviche and mixed seafood ceviches.
The main dish we sampled was the Pulpo Enyucado (S/. 38). Unfortunately, this dish fell short for us due to a miscommunication. For the purpose of the photos, the octopus was purposely not grilled thoroughly to retain color for the photo. And instead of going back to the kitchen for the final grilling, etc. it came to our table. This caused our octopus to be much too soft and had a slightly mushy texture. This dish was prepared with an Andean chimichurri, anticucho sauce and accompanied by puréed yuca. I really love octopus and may give this dish another chance during my next visit.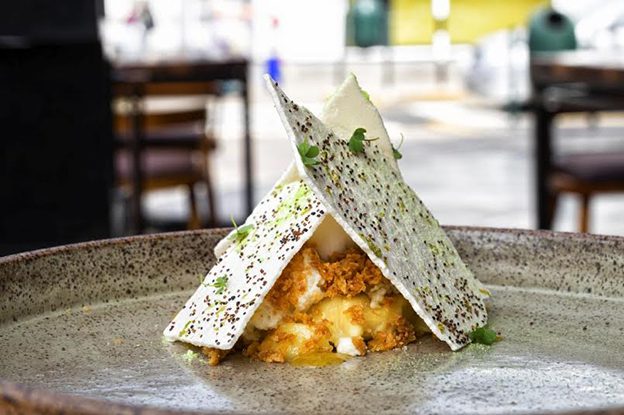 We moved on to the desserts and were amazed at the creativity and wonderful flavors and textures of all three.
The first dessert was all about textures and citrus flavors. The Lima Limón (S/. 20) consisted of several sheets of meringue and hidden below them were a creme brûlée of the lima citrus fruit, a lime foam, a sauce made with the lima fruit, and a lime ice cream. This dessert is ideal if you are a citrus lover.
The Chape de Moza Callejero (S/. 18) was impressive from the beginning to the end. A slightly egg-shaped sphere arrives on top of chocolate crumbs. The sphere is made of white chocolate and looks like it has been splashed with various paint colors. In order to enjoy this dessert, you first must break the sphere in the middle by tapping it with a spoon. Once broken, a pumpkin (zapallo loche) cream mixed with a variety of seasonal fruits flows out of the sphere. This dessert had sweetness from the white chocolate, creaminess from the pumpkin cream, acidity and freshness from the fruits and a crunchiness from the chocolate crumble. This was a very interactive and fun dessert experience.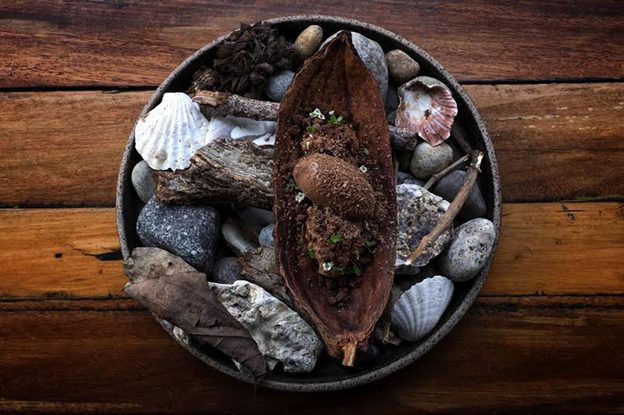 I am still dreaming about the last dessert we sampled, named Cacao (S/. 22). The dessert was served in a large cacao pod and consisted of five textures: on the bottom was a moist chocolate cake, followed by an organic chocolate mousse, "gomitas" of chocolate, chocolate crumble and an artisanal chocolate ice cream. The chocolate was from Piura and 70% cacao. This dessert was outstanding and quite frankly I hated that I had to share it with Carsten and Marco. This was a celebration of chocolate and by far, one of my favorite chocolate desserts in Lima.
Do not pass up this dessert. I hope this dessert will remain on the menu forever.
And don't skip the chance to sample some of their refreshing cocktails such as the Lima Mule or Emoly Punch or one from their new cocktail menu.
Barra Lima is the perfect place to share unique plates. I most definitely will include it on my list when guests come to visit. The food is pleasing to the eye and the palate. It was a wonderful experience. You can expect to spend 75 soles per person for lunch, not including alcohol. Recently Barra Lima opened in the evenings for tapas and cocktails. Those items are not included in this article.
Av. Conquistadores 904
San Isidro
Phone:  993 296 845
Hours: Tuesday-Saturday:  12:00 p.m.-4:00 p.m. and 7:00 p.m.-11:00 p.m.
          Sunday:  12:00 p.m.-5:00 p.m.
Closed Monday
Almuerzo/Lunch:
Los Populares/Starters:  S/. 18-32
Los de Huarique (ceviches, causa):  S/. 32-39
Los Taypa/Main Dishes:   S/. 36-44
Desserts/Dulces de Cajón:  S/. 18-22
Non-alcoholic beverages:  S/. 6-8
Cocktails:  S/. 22-32
Beer:  S/. 10-18
Wine:  S/. 26 (by the glass)
Comments
comments