With so many comments about this quaint cevicheria, we just had to check it out!
The name caught my attention and I had read positive reviews about Barra Sullorqui, a small casual and typical seafood restaurant hidden in the middle of Surquillo, not far away from the financial business center in San Isidro.
Gabriel O'Donnel, an Executive Chef with years of experience gained in Perth and Melbourne, Australia and owner of Chicha– a Peruvian restaurant in the faraway Commonwealth country- decided to come back to his motherland with the idea of opening up a seafood establishment that will keep things simple, fresh, and abundant at an affordable prices.
This idea materialized itself with the support of Juan Carlos Arnaiz that brought his own experience after working with restaurants such as Osaka. On February this year, Barra Sullorqui opened and since then, Gabriel wakes up very early each morning to go to the fish market himself and choose the best produce you can find.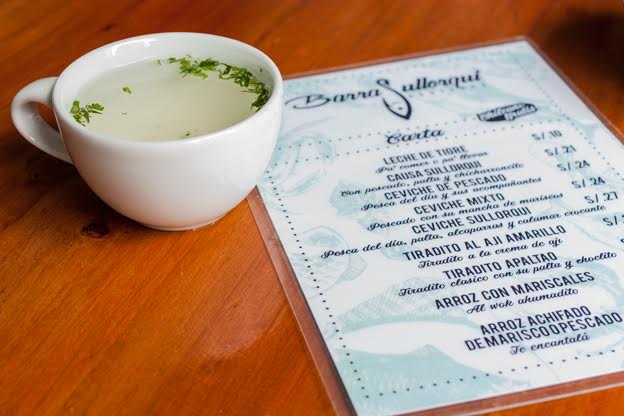 After this brief story, the Living in Peru team was eager to taste what this simple and very busy restaurant had to offer. As you sit at a table  –that is if you are lucky not to cue waiting for one– a hot fish broth is brought to you along with the traditional canchita.
Now don't expect to find any cocktails or drinks of any kind as this restaurant serves none except for beer, so we ordered a chicha morada (s./3) which was pretty nice.
Their menu is small and quite traditional as they have the typical dishes you will find in any seafood restaurant– leche de tigre, tiraditos, causa, ceviche, chicharrones, parihuela and rices.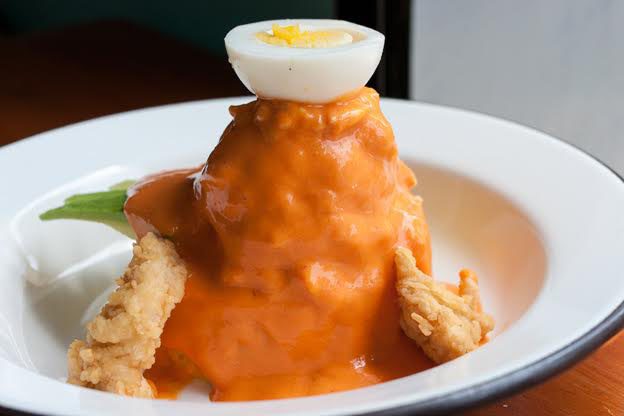 We started by ordering a Causa Sullorqui (s./21) that was well served, the typical smashed yellow potatoes filled in with fresh ground swordfish, avocado and a creamy spicy orange sauce that was pretty yummy. This was a good and promising start.
Then came the Tiradito Apaltado (s./23), the Reyneta fish as the star, again generously served along with several slices of avocado and that pinch of spice that meant everything and was not too much.
The same I can say for the Ceviche Mixto (s./24) which was pretty fresh and one of the most popular dishes, we were told. I do have to say that I was impressed by the size and freshness of the seafood and the generosity with which every dish is served. I would even say each dish can be easily shared between two or more hungry foodies.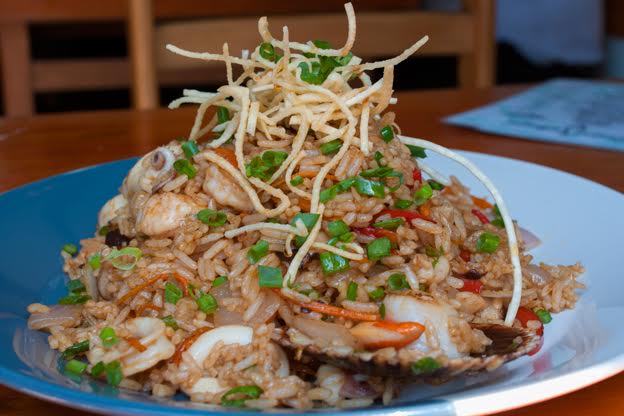 We also had the Arroz Achifado de Mariscos (s./24), a generous and very colorful mountain of rice mixed with abundant fresh seafood and topped with finely fried potatoes that were awesome. I can easily say this was the best arroz achifado I have ever had. The flavors of each ingredient were authentic, coming together in that wonderful wok and finally on to your plate. It was definitely LiP's favorite and I will certainly come back for this dish and if I am lucky, for their Arroz a la Chiclayana that also sounds promising and promoted as one of their specials.
From Monday to Thursday they have (for s./40) a cold dish, a warm dish you can choose from their menu, and two chichas as refreshments.
Prices at Barra Sullorqui are unbeatable and the freshness of their products can be easily recognized.
Service is fast and no wonder this small place gets filled up quickly with customers from all walks of life. Rumor has it that you can easily bump into one of your favorite football players or your favorite fashionista. Business is going well and in less than a year since their opening, a second establishment will be opening up in Surquillo this December 16. For now, they are happy to be among the 10 best barras cevicheras, we were told.
Barra Sullorqui
San Lorenzo 1058 Surquillo
Opening hours – Monday to Thursday 11.30-16.00, Friday-Sunday – 11.30 to 17.00
Prices
Cold dishes – s/. 10 – 27
Warm dishes – s./ 24
Refreshments – s./3 -10
Ceviche mixto (Main photo: Maria Alejandra Baraybar/Living in Peru)
Comments
comments