Inspired by a trip to a region near the border of France and Italy, Bisanti is an ode to eternally fresh food.
This ambitious project, created by founder Karina Olcese, started as a catering business and has grown to include a café and restaurant in its repertoire. While still providing its signature catering services, the location we visited boasts a bright and airy café, featuring an assortment of pastries, and a restaurant that features the winning Lomo Saltado of the 2017 Festival of Lomo Saltado.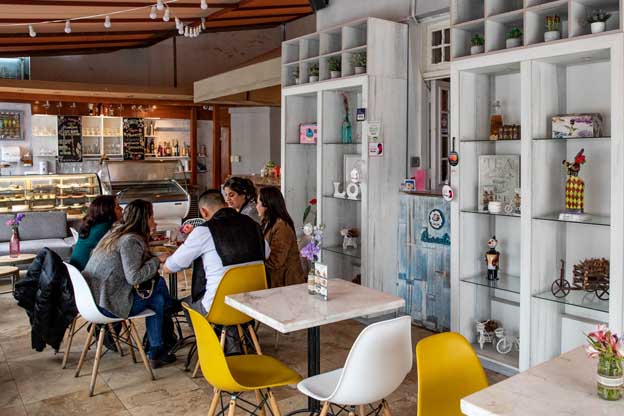 In the back of the restaurant you'll find a great place to dine under cozy lighting, and with relaxing background music. There is also a TV on the wall, but it's not distracting. We particularly liked how the rooms, similar to a house, can offer visitors a private dining experience if they need it. And if there is a football game, people can gather in the backroom without disturbing the cafe's other guests.
If you're looking for quality service in Peru, Bisanti is a good start. Despite having several different rooms, the staff is attentive. They do everything they can to make sure your needs are met, no matter what those needs might be.
The Drinks
You can get a wide assortment of drinks, from natural juices to coffees, and teas. The lemonade (S/6.00) is tasty. If you're a little more adventurous, try the exotic blueberry and mint lemonade (S/9.50). (Limonada de arandano con menta). You can also order the Bisanti Coffee (S/18.00), which is Bisanti's special take on an Irish Coffee.
The Food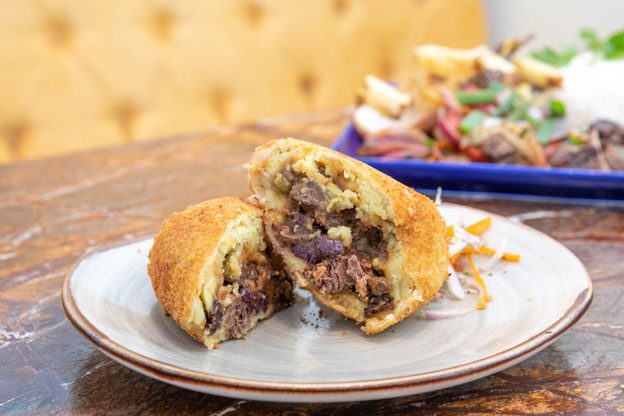 Papa Rellena Crunch (S/22.00)
At some Peruvian restaurants, we're left wanting more crunch in our Rellena, but at Basanti, our desires for crunch were more than satisfied. Their papa rellena (stuffed potato) which comes stuffed with meat, sauce, vegetables, and raisins, is great to order for yourself or to share with a friend. There is a little wine on the veggies to give a little more flavor.
Locro Con Caigua Rellena (S/30.00)
The second most popular dish at Bisanti, the Locro, features corn, pumpkin, fresh mountain cheese, and green pepper stuffed with meat and vegetable sauce. For us, the pumpkin and corn sauce makes the plate. And don't be turned off by the pepper: it's not spicy, and the meat inside mixes superbly with the cream.
Pure De Espinacas Con Albondigas (S/31.00)
With three balls of ground beef stuffed with vegetables, this delicious dish is smaller portioned but is great with rice. Despite being a meatball dish, the meat is not too heavy. Make sure you mix the mild creamy spinach puree with the meatballs. Our favorite part was the zing of the delicious red sauce. We also liked the perfectly cooked and seasoned meat.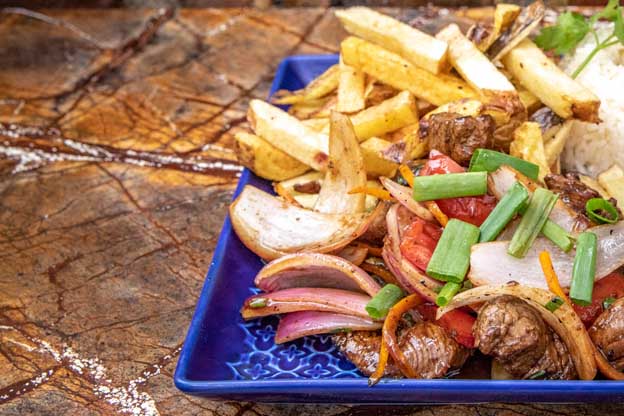 Lomo Saltado (S/39.00)
And now the famous dish we had been waiting for: The Lomo Saltado won the award for Best Lomo Saltado in Lima at the Festival of Lomo Saltado in 2017. And despite our expectations, it did not disappoint us. Though the meat was tender and chewy, the best part was the delicious sauce. Lomo sauce generally consists of Peruvian sillao style soy sauce with aji, which tends to be bland and salty. This is not the case for Basanti's Lomo Saltado: the sauce was not too salty, and it soaked finely into the meat. This dish is also served with crispy onions, tomatoes, rice, and fries. The delicious fries are made from native potatoes, and they resemble great diner fries from the United States; they're a little bit crunchy, and not soggy.
Dessert
There are lots of dessert options. We were lucky enough to try two of Bisanti's most popular desserts: The Lemon Pie and Crème Brulee, but our favorite was the Lemon Pie (S/12.00). This pie is visually appealing with little bits of lemon peels in the whipped cream. Like all good pies, the crust was not overcooked and you could cut it without causing a Jenga-like destruction. It's creamy and not too acidic. Cream Volteada (S/12.00) was soft and creamy. It cut beautifully and wasn't too dry.
The Verdict
The restaurant is a great choice for a family and guests; the great food, good service, and clean bathrooms allow the diners to focus on the things that matter: great meals and great company. Generally speaking, the food at Bisanti does not commit the common faux pas of being overly salty. It is also not so heavy.
To sum-up our experience, when travelers ask where they should go to try some great Peruvian food, we will recommend Bisanti. The service, the bathrooms, and style of cooking are all well aligned to make a good impression.
Bisanti 
Phone:
3938700 – 955779560
Calle Enrique Palacios 900, Miraflores
Hours 9:00 AM – 10:30 PM
The Prices
Appetizers
S/18 – S/25
Sandwiches & Burgers
S/12 – S/17
Salads
S/20 – S/25
Soups
S/19 – S/22
Main dishes
S/26 – S/39
Desserts
S/6 – S/18
Drinks
S/4 – S/20
MENU S/19.00
Changes daily but includes:
Choice of 3 Entrees
Choice of 3 Mains
Drink
Comments
comments