This small establishment within Mercado 28 runs by the name of a word way too familiar to Peruvians and other Latinos: Huevón, meaning silly or lazy. However, Palmiro Ocampo, owner, and acclaimed chef, is far from being either.
Palmiro is not only a successful chef, but has been involved in multiple activities including having his own fine-dining restaurant, managing Mistura -the huge annual food fair- for a year, hosting his own show on national TV, giving inspiring Ted talks, teaching at prestigious universities and research centers, and since 2014, running together with his wife, an NGO that combats hunger by building women's capacities to transform waste products into nutritious and delicious food. It is all about making good use of what mother-nature gives us and use every bit of it, he says.
At Huevón, the menu is small but with the advantage that you will always find attractive food options at any time of the day, be it breakfast, lunch, dinner or a snack in between. Not surprising eggs presented in different shapes and forms will probably be part of your meal.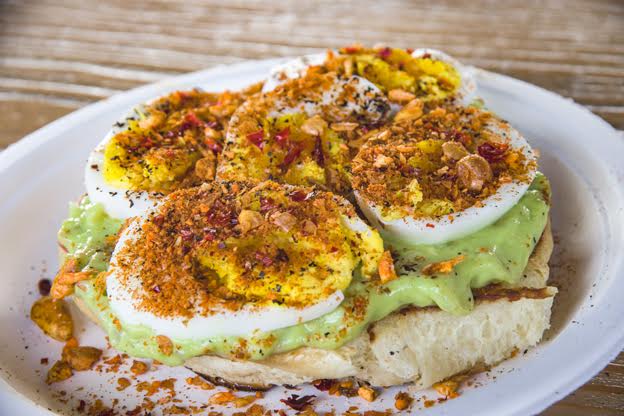 We started our Huevón experience with the No te paltees (s./8.50), a soft warm bread loaf loaded with a delicious creamy avocado spread and topped by boiled eggs and a wonderful cocona (Amazonian acid fruit) chalaquita (a mix with onions, lime, and spices). The flavors were fantastic and we all loved that pinch of spice at every bite we had.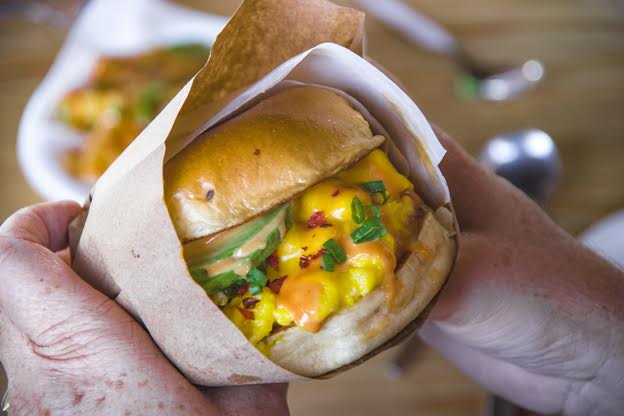 We then tried the Huevón (s./15), a sandwich with plenty of scrambled eggs mixed with cecina (Amazonian bacon), avocados, cheddar cheese, and spicy flakes. The sandwich was full of color and tasty as you cannot imagine. Since that day, I cannot stop dreaming about having another one, this time all for myself. No wonder it is one of the most demanded dishes and we totally understand why.
We also tried their Huevón Hamburger (s./18), a good-sized burger with cheddar cheese, a fried egg, and tomatoes. We were surprised by the size and quality of the meat, and we certainly enjoyed the burger.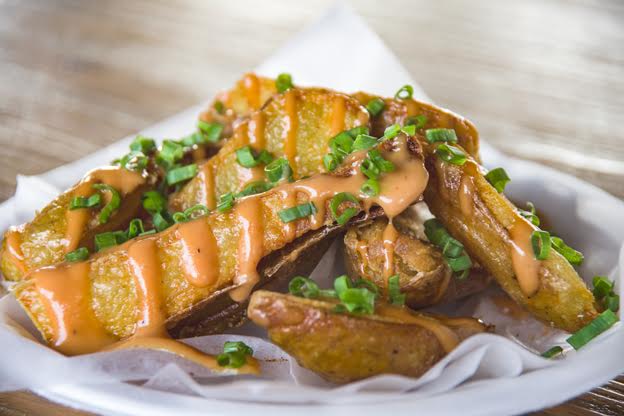 We also had the Papas Chicharrón (s./ 10), Andean fried potatoes with skin that were so tasty that you forget about the sauce. They were soft as cotton, full of flavor, and incredibly crunchy; certainly, worth a try. These potatoes got me thirsty, so we tried their beverage of the day (s./3) that was a nice lemon balm and mint drink.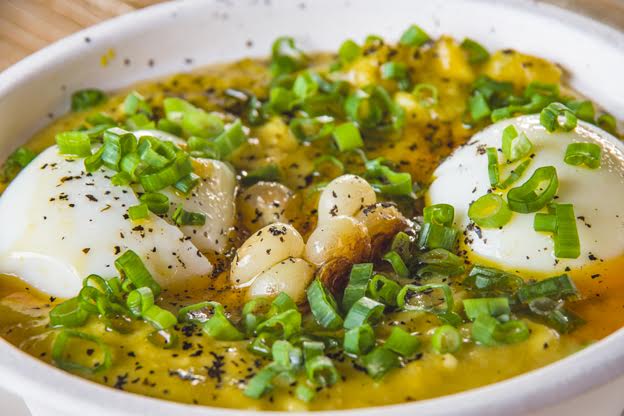 Fooled by the weather, several of us did not dress appropriately and it was getting a bit chilly. We found the perfect dish that would comfort us: El Locro (s./19.50), a hearty pumpkin squash stew with fresh cheese, potatoes, onions, corn, and eggs. It was delicious, filling and slightly spicy. It immediately became the team's favorite. Plus, if you order it, 70% of the price will benefit a community in Puno according to a joint initiative with the NGO Action against Hunger.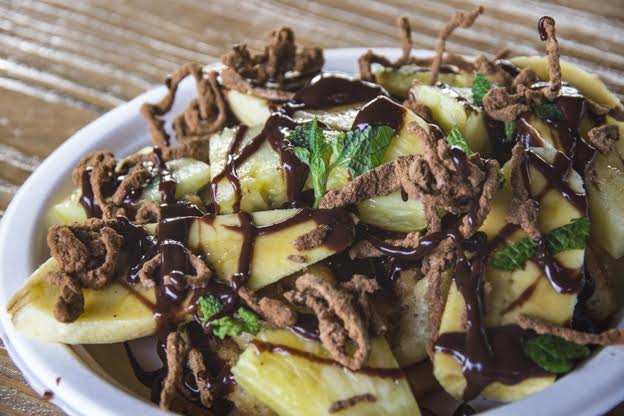 Our last dish was a dessert, La Nueva Huevona (s./16.50), a waffle with chopped bananas and pineapples, chopped mint leaves, and a wonderful chocolate and almond sauce.
Huevón deserves a comeback as we enjoyed this playful offer. I am sure our readers will enjoy it too.
Huevón
Mercado 28 Balboa Strip Mall
Vasco Nuñez de Balboa con 28 de Julio – Miraflores
Opening hours – Monday to Thursday 8 am – 9 pm, Fridays and Saturdays 8 am to 10 pm, Sundays 8 am-6 pm
Menu
Beverages and beers – s./3 -10
Warm dishes – s./8.50 – 16.50
Comments
comments