Stepping inside Kañete, the new project of well-known chef, Israel Laura, was a refreshing experience. Not only does he redeem much of Peruvian culture through his culinary art, but he rescues ingredients, products and recipes from across the country, too.
To achieve this level of cuisine takes years of experience, investigation, travel, commitment, a love for what you do and an innovative spirit. Israel has all of that. His studies and experience acquired in Barcelona and Lima (difficult moments included), travels around the country, visits to all kinds of markets, eating in food stands and keeping his ears, eyes, and mouth open, have all paid off. Israel has put his heart into Kañete and he wants to surprise and amaze his customers, and that is exactly what happened to us.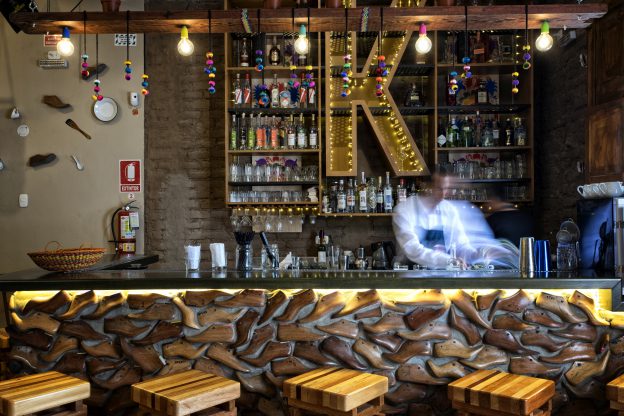 The Location and Ambiance
Kañete is located in an old house, not far from the Surquillo Market no. 1, in an area known for its gastronomy. Its eclectic décor reveals a mix of carefully chosen vintage elements, including family photos, an incredibly personal collection of old records, Peruvian art crafts and a lot of shoe molds due to the fact that, in a previous "life," the house was a shoe factory.
One thing that definitely caught my eye was the beautiful hand-painted mural that stretches across the wall of the open kitchen and dominates a large part of the restaurant. The painting, made by the Oré Landeo brothers from Ayacucho, depicts scenes from rural life in the Andes, to which we owe so much to and Chef Israel rightly redeems. The high ceilings and large wooden tables give the restaurant the appearance of a tavern, where you can enjoy a good selection of appetizers, wine, or beer with friends.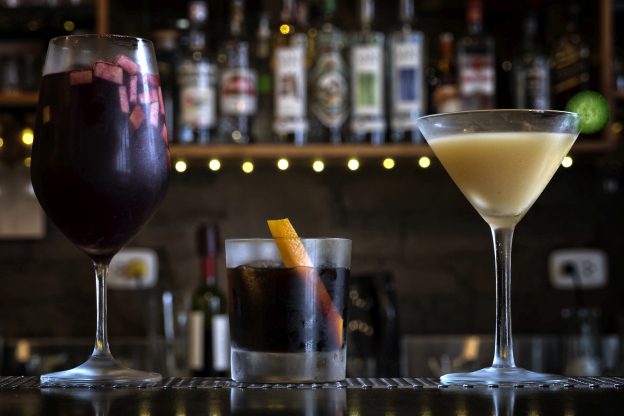 After appreciating all of the collectibles and artwork displayed, we sat down to wait for the food and drinks to arrive. In the meantime, we very much enjoyed the canchita, which is not the classic, but had all kinds of peppery ingredients to make it special and delightful.
The Drinks
The Lemongrass Lemonade (S/ 10) arrived, and soon after that, a Pisco Sour (S/ 25). I tend to be picky with my pisco sours, but this one was just perfect—nothing more to say.
We then tried a Chicha Su Mare (S/ 25), a drink with chicha de jora (of course), pineapple honey, and pisco Cholo Matías. I normally do not like chicha de jora, as it is bitter in taste, but this cocktail was simply fabulous. We also tried the Café del Diablo (S/ 28), a mix of coffee, pisco, and cynar; it was strong in flavor. Finally, we had the Sangría Kañete (S/ 28), a mix of pisco, Malbec, and Inca Kola that did not quite make it for me.
The Starters
The food arrived and we started with a Ceviche Kañete (S/ 35), several pieces of beautifully sliced bonito fish—pretty much like a sashimi—and the classic ingredients: cancha serrana, maize, and onions. Instead of the traditional sweet potatoes, some wonderfully tasty, crunchy and warm patacones (banana fritters) were used in this dish. The ceviche was as fresh and tasty as it could be. It had that perfect mix of ají and lime juice that only a few achieve. It was a brilliant start.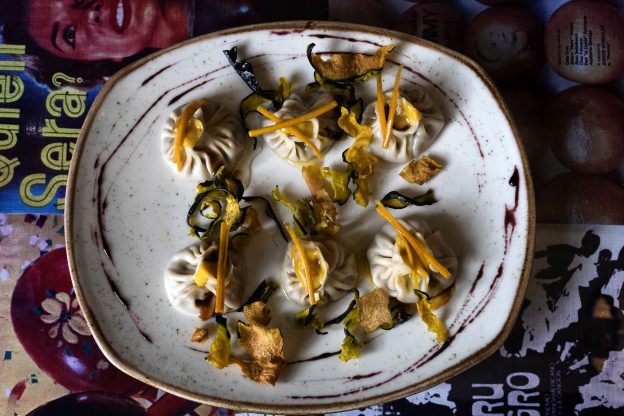 Then came Las Sorpresitas de Pato (S/ 37), a duck-based starter that managed to surprise us. These were beautifully presented dumplings filled with duck meat and cooked in black beer and a puree of northern squash. The result was memorable and we all loved it.
Another starter that pleasantly surprised us was the Jamón Carhuacino (S/ 35). This dish included several pieces of beautifully curated ham mixed with amazing Andean native potatoes. It was presented on a solid wooden tray along with some zarsa, onion, and mint mix salad. This is a dish that can be shared and will never disappoint.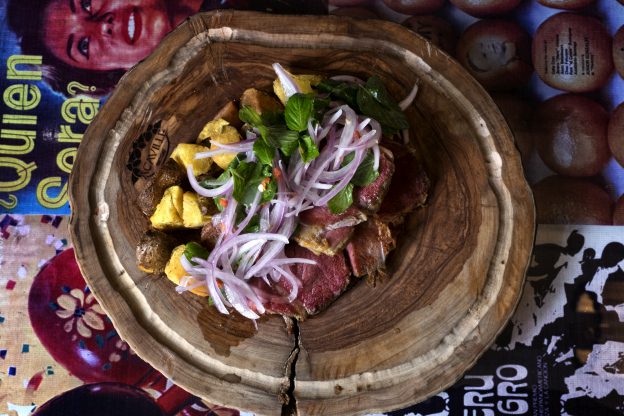 The Main Dishes
We then passed on to the main dishes. We tried the Pasadito, which is basically an entire fish that can be cabrilla, chita or cachema. It is served and priced according to weight and cooked mildly in seawater, lime and vegetables. Along with it comes a bowl of rice and some sarza criolla, a mix of crunchy onions and mint. The taste of the cabrilla and the juices were very delicate and subtle, while the meat was very tender indeed.
Our last dish was the Enrollado de Cabrito (S/ 60), which consisted of several pieces of goat meat cooked with chicha de jora on top of a bed of lightly spiced lima beans. Like all the dishes we had, this one was full of flavor, with the meat basically melting in your mouth.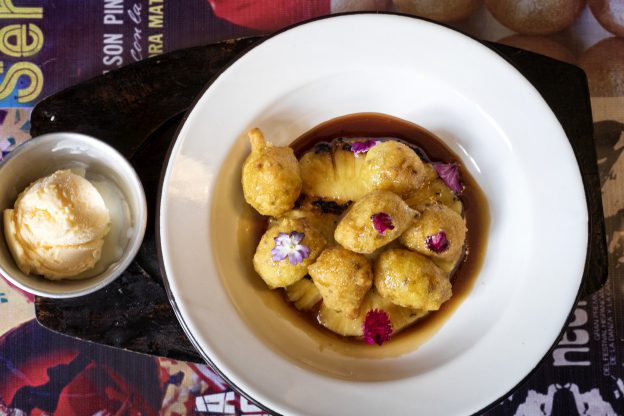 The Desserts
It was then time for some desserts, so we tried the Buñuelos de Picarones (S/ 25)—a twist on the classic Peruvian dessert presented with a delicious fig honey that we loved. We also tried the Suspiro Kañete (S/ 22), another classic from Lima that I would normally never order as it tends to be overly sweet; however, this one was not and the meringue top had a slightly purplish color, which I had never seen before. Going through the ingredients with our host, it was the Oporto that gave it that special color. We enjoyed it all the way around.
To be honest, there was nothing we did not like during our visit. The décor, service, excellent food, vibe within the team operating in Kañete, passion behind the stories we heard that day, and the commitment to make it work all seemed to be a good recipe for success and there is no reason for it to be otherwise.
Kañete
Calle Santa Rosa 345, Surquillo
Tel. 455 6095
reservas@kañete.com
Hours
Monday, Tuesday, Wednesday and Sunday: 12:30 to 5 p.m.
Thursday, Friday and Saturday: 12:30 to 4 p.m. and 7:30 to 11:30 a.m.
Prices
Cocktails – S/ 25-35
Beer and Refreshments – S/ 5-19
Starters – S/ 26-48
Main Dishes – S/ 40-56
Desserts – S/ 22-30
Comments
comments