After first opening its doors in October of 2017, Kinjo Ramen is a welcome new addition to the streets of Barranco, Peru and the first restaurant in the area to have a menu dedicated to ramen.
We sat down with one of the owners and chef, José Chenchin Arakawa, to discuss this creative new restaurant concept as well as the tasty food it serves.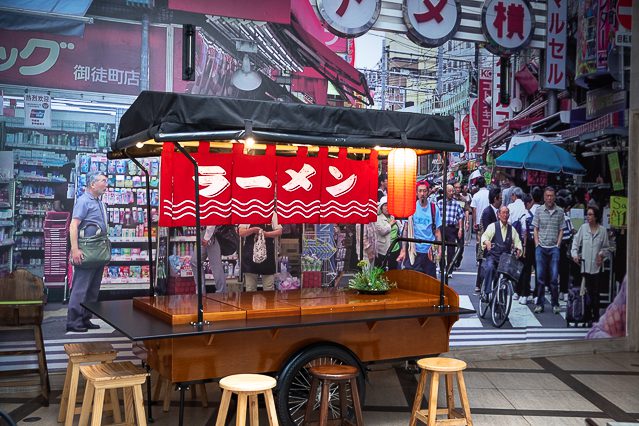 The Meaning of 'Kinjo' and Its Role in the Decor
I asked what was the significance of the word "kinjo". In Japanese, it signifies "neighborhood" or the place you grew up. The owners at Kinjo desired to recreate a Japanese neighborhood. It took them two years of renovations to transform the building.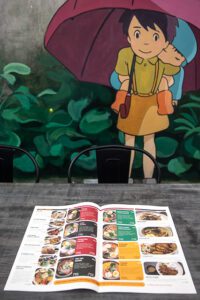 They accomplished this with their decor, murals, Japanese street scenes and lots of hard work. When you walk in the front door, you are immediately transported into an urban Japanese street. Everywhere you look, there are vibrant colors, from the multi-hued umbrellas hanging from the ceilings to the hand-painted murals on the walls. The ambience is colorful and whimsical.
We especially enjoyed the hand-painted Totoro mural by local artist Jade Rivera (a Totoro is a mystical forest spirit that looks like a cross between a giant rabbit, raccoon, cat and owl). This mural was inspired by Hayao Miyazaki's 1988 Japanese animated fantasy film and has become a cultural icon. The back area of the restaurant is much more private and quiet and has seating as well.
The Menu
The menu at Kinjo is approachable, straightforward and budget-friendly. There are also plenty of options to satisfy vegetarians. The day of our visit, the place was full of neighborhood folk—families, kids and office workers.
The Ramen
We enjoyed all of the various ramen dishes that we sampled. Ramen is composed of a number of elements:
Stock or broth, typically meat-based and occasionally fish-based

Wheat noodles

One, or a combination of four, primary flavors

Meat, seafood or poultry ingredients

Toppings and condiments
Something many people may not know is that the broth used to prepare some of the ramen dishes, can take anywhere from 6 to 12 hours to make.

Kinjo has four main ramen dishes:  shoyu, miso, tonkotsu and tan tan. The shoyu and miso ramen also have vegetarian versions. Each of the ramen versions has its own distinct flavor. For a few extra soles, you can add extra pork, ramen noodles, egg or vegetables to any of the ramen dishes on the menu.

The Tan Tan Ramen (regular portion S/. 19, large portion S/.  27) launched our ramen experience at Kinjo. The broth in this ramen dish was spicy and consisted of a pork and chicken broth that takes up to 12 hours to prepare. Besides the broth, there was also chopped pork, ramen noodles, bean sprouts, scallions and ajitsuke tamago, an egg that has been soft boiled before being marinated in a sweet and savory broth.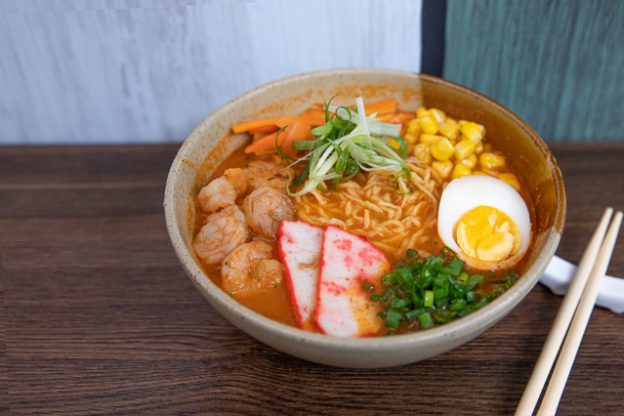 We also sampled the Chupe Kinjo (regular portion S/. 26, large S/. 35), which was more of a fusion soup than a traditional ramen. This version had a shrimp broth concentration which was a bit creamier due to the added coconut milk. Additionally, the ramen included sautéed shrimp, ramen noodles, American corn, carrots, the ajitsuke tamago (boiled egg) and kamaboko (cured surimi fish cake, slightly similar in flavor to imitation crab). This dish had a slightly smoky aftertaste that I enjoyed as well.
The Tonkotsu Ramen (regular S/. 19, large S/. 27) had a more concentrated flavor and was prepared with a pork and chicken broth. It was served along with ramen noodles, Chasu (roasted pork belly), bamboo shoot, scallions, ajitsuke tamago and kamaboko.
The Other Items On the Menu
Besides the ramen and soup dishes, Kinjo also has approximately 16 other Japanese dishes to choose from. We sampled a decent version of Gyoza (S/. 16)—six Japanese dumplings filled with a mixture of pork, chicken, Chinese garlic, vegetables, and sesame seeds, steamed and served with a special soy dipping sauce. These are also available in a vegetarian version. The gyoza is one of the most popular starters on the menu.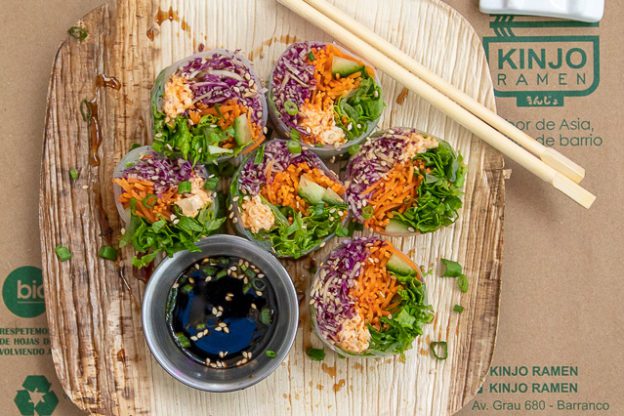 The Summer Rolls (S/. 18) were one of the lighter versions in the appetizer section. These six rolls wrapped in rice paper were filled with lettuce, purple cabbage, carrot, Japanese cucumber and chicken. We loved the sauce that accompanied these summer rolls.
We shared the Katsu Kare (S/. 27) from the main dish section of the menu. This consisted of thickly sliced chicken breaded in panko and cooked until crispy. The dish was accompanied by sticky rice with sesame seeds, salsa kare (Japanese curry sauce) and a small cabbage salad. This is one of their most popular main dishes.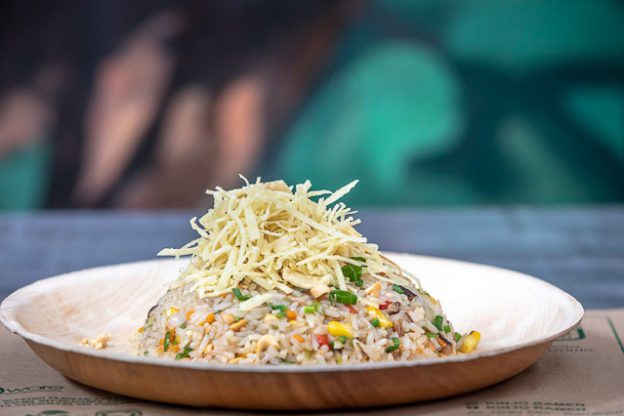 The Arroz Tropical (S/. 24), which was our final dish from the rice and pasta section of their menu, was a pleasant surprise. Peas, carrots, onions, pineapple syrup, toasted peanuts, American corn, bell pepper, shiitake mushrooms and toasted sesame seeds were all sautéed in a wok along with white rice and topped off with crispy fried wonton strips. If you enjoy sweet and salty dishes, this one will not disappoint.
An executive menu for 18 soles is offered Monday through Friday during lunch hours (12:00 p.m. to 4:00 p.m.). On the day of our visit, this included your choice of 1 of 4 starters and 1 of 5 main dishes plus a cup of the delicious mugicha (roasted barley beverage).
What Else?
Kinjo has a few friends and partners with shops and businesses on their premises. One of them is Il Mondo Coffitalia del Caffe, a brand new coffee shop. We ended our visit to Kinjo Ramen by enjoying a quick espresso, cappuccino, and one of their hot chocolates, which we all found to be quite good. They, of course, use Peruvian coffees and cacao. The coffee shop also had some impressive looking pastries and other sweet treats that I will be sure to check out next time I am in the area.
Another friend of Kinjo Ramen has their store on the premises as well. It's called Bioware and it is focused on sustainable dinnerware. They sell and distribute eco-friendly, 100% natural and biodegradable foodware, such as plates and utensils. This foodware is prepared using palm leaves and other 100% natural fibers, which are free of chemicals and friendly to the environment. Kinjo Ramen serves some of their dishes on these plates as well and they can be purchased at their store. Kinjo Ramen and its business partners are committed to protecting and respecting the environment.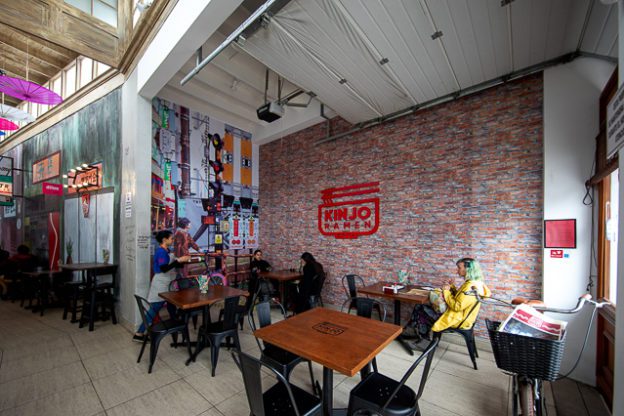 Kinjo is the ideal place to eat if you are craving comfort food in this chilly winter weather; however, I can eat ramen all year round, no matter what the weather.
I most definitely will be returning very soon to explore more of their menu, and of course, enjoy some delicious ramen. Kinjo is a worthwhile destination in Barranco.
Kinjo Ramen
Av. Miguel Grau 680, Barranco
Phone:  558-5406
kinjoramen@gmail.com
Delivery possible
The Hours
Tuesday to Saturday: 12 p.m. to 4 p.m. / 7 p.m. to 11 p.m.
Sunday: 12:30 p.m. to 5 p.m.
Closed Mondays
The Prices
Starters/Appetizers: S/. 16-22
Soups/Ramen: S/. 19-35
Main Dishes: S/. 23-27
Rices & Pastas: S/. 6-25
Domestic Beer: S/. 7-9
Japanese Beer: S/. 16-25
Sake: S/. 25
Sodas/Water: S/. 5
Aloe Vera Beverages: S/. 7
Bottled Iced Teas: S/. 8
Mugicha (cold roasted barley beverage): S/. 8
Teapot of Ochoa Green Tea: S/. 10
Kid's Menu: S/. 18
Comments
comments