Located in the heart of downtown Arequipa, La Despensa offers a place for travelers and locals to get a taste of home with local ingredients and a European/Peruvian twist.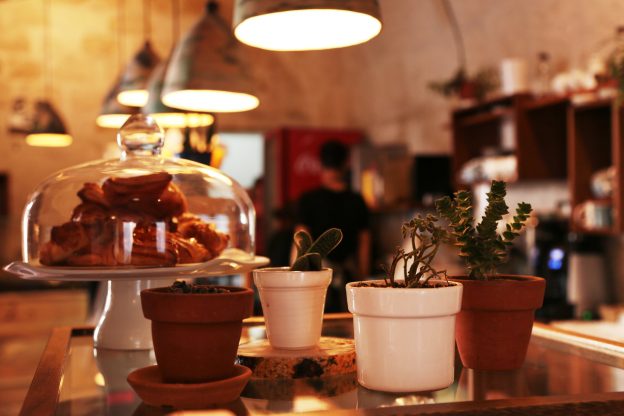 We were joined by Juan Carlos and María, two of the three co-owners of the restaurant. Absent was Adriana, who is the lead cuisine innovator of La Despensa. Adriana began her culinary journey at a large catering firm in Lima, but after 10 years, she decided to return to her home city of Arequipa. 12 years ago, Adriana started her own catering business, Adriana Agramonte Catering, which provides high-quality food and beverage services to events, such as business meetings to weddings.
About three years ago, Adriana, her brother, Juan Carlos, and their good friend María decided to open a brick-and-mortar restaurant, in the bustling city center of Arequipa. La Despensa translates to "The Pantry", which is a play on Peruvian culture in which all of the good food is kept in the pantry, guarded by lock and key.
Adriana is passionate about finding the right ingredients to make sure that La Despensa continues to deliver a quality product. She travels all over the world to sample foods, select special ingredients, and make sure her creations achieve the highest standards.
Visitors to La Despensa will notice warm familial and friendly touches around the restaurant, and within each dish. Passionate about serving locals and tourists alike, the restaurant has put together a diverse menu that gives guests a taste of home, and they even offer delivery. La Despensa has a reputation for high-quality bread, pastries, sandwiches and pizza.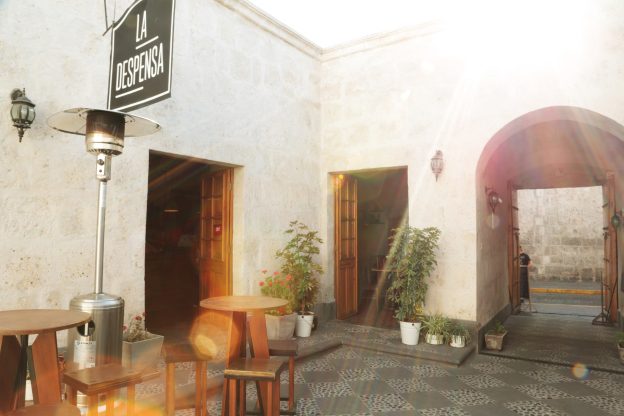 Atmosphere
Located in el Cercado on Calle Santa Catalina, perfectly located across the street from the lovely Santa Catalina Monastery, La Despensa is easily accessible, and close to many historic sites. The restaurant is in one of the city's picturesque, iconic buildings made of the white volcanic rock that's given Arequipa it's nickname as The White City. The décor inside the restaurant is simple and chic. The gorgeous white walls contrast with the greenery of plants which are dotted throughout the room. The high, arched ceilings provide unique lighting that makes the space feel open and warm. La Despensa has a shared courtyard with other shops, and there are tables and chairs for travelers to sit under the Arequipeño sun.
The staff are very professional and offer helpful recommendations, providing a thoughtful presentation to a well-crafted meal. As a popular destination amongst tourists, many of the staff speak English as well.
The Food
First to arrive was a basket of assorted homemade house breads, including pesto, purple corn, olive, and ciabatta breads served with butter, extra virgin olive oil, and salt and pepper. The bread was super fresh, light, and a great starter.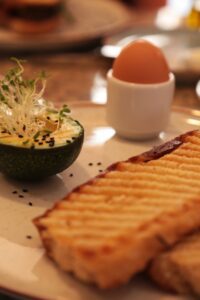 Next to arrive was the Poached Egg with Avocado (S/20), which featured a poached egg served in the British style with homemade bread flavored with rosemary and a grilled avocado, topped with alfalfa sprouts and garnished with sesame seeds. This plate also came with a choice of tea, coffee, or juice. The homemade passion fruit juice that we ordered balanced this dish perfectly, making it a truly complete meal.
The Roast Beef Sandwich (S/16) boasts tender, juicy slices of roast beef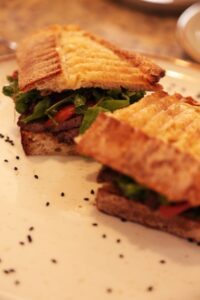 with dried tomato and delicious, earthy arugula, all nestled between two big slices of La Despensa's signature homemade bread. For you gluten avoiders out there, this dish is readily made without the bread.
La Despensa seriously has some of the best pizza in the city. Their dough is homemade, and they have a special fermentation process that gives the crust just the right taste and consistency. We ordered a pizza with half Margarita (S/25 for a whole pizza) and half 4 Seasons (S/30 for a whole pizza). Both pizzas feature an incredible sauce from Italy, and flavorful artisanal mozzarella cheese from Lima. The Margarita showcases fresh basil and tomatoes from local farms, and the 4 Seasons is a vegetarian wonder that has artichokes, mushrooms, red peppers, zucchini, olives.
The Desserts
The deserts and pastries at La Despensa are truly an artform. All of their pastries, chocolates, cake, and cookies are made in their off-site kitchen in Cayma, Arequipa, and none of them will disappoint.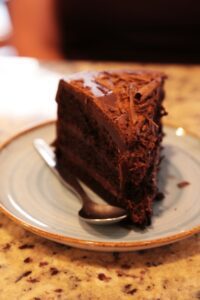 Adriana's Chocolate Cake (S/8) is a creation of love and will straight up change your life. There are at least three different types of chocolate harmoniously brought together in this tall and imposing dessert, dusted with cinnamon. This cake truly left me speechless attempting to appreciate every glorious bite.
La Despensa's mini Pecan Tart (S/12) is the unique recipe of Adriana and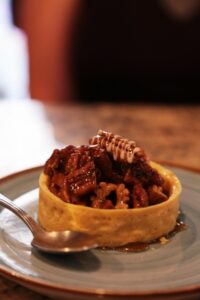 Juan Carlos' mother. It was filled to the brim with pecans and sugary syrup, and the crust had just the right flakiness. Served warm, this dessert was delicious and reminded me of my sister's pie from home.
The Drinks
La Despensa has a wide variety of drinks for any time of day and any occasion from homemade fresh juice, to coffee, to wine and beer.
Throughout our meal, we tried two teas, the Frutos Rojos and the black Chai de los Apus (S/5 per cup). These teas were a great pair with the meal and were of very high quality produced locally in Peru.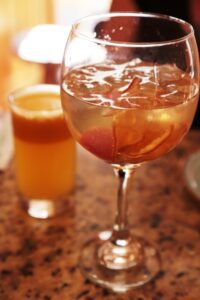 Their beautiful, homemade White Sangria (S/15 per glass) is María's touch on La Despensa. It combines white wine and apple juice, and they add dried orange slices and cherries to complete and compliment the flavor of the wine. This is a perfect refreshing drink to pair with your lunch or tapas.
We greatly enjoyed our visit and recommend that if you find yourself strolling the narrow historic streets of central Arequipa you take a moment to rejuvenate yourself at La Despensa.
Santa Catalina 302, Cercado, Arequipa, Perú
Phone: (054) 222104
Adriana Agramonte Catering
Instagram
Hours
Monday – Friday: 8:00 a.m. – 10:00 p.m.
Saturday: 10:00 a.m. – 10:00 p.m.
Sunday: 9:00 a.m. – 9:00 p.m.
Menu
Breakfast: S/16 – S/25
Quiche: S/12
Extras: S/6 – S/10
Sandwiches: S/7 – S/16
Salads: S/15 – S/22
Pizzas: S/25 – S/30
Homemade Pasta: S/25 – S/35
Homemade Pastries: S/2 – S/12
Drinks: S/4 – S/70
Comments
comments