Terraces, there are so few and yet, they are so desired, in particular during this time of the year when the sun starts to appear and the weather is pleasant.
This slideshow requires JavaScript.
Once you find your terrace spot, you just want to go there every day, whether to have an early wake-up coffee and a croissant, have a business meeting over lunch, chill out with some drinks or dine with your better half with the breeze caressing your face.
La Terraza, El Pardo in the DoubleTree by Hilton is the perfect place to have all of the above and more.
They opened up in September and very quickly it has become a popular hot spot for Limeños and
tourists alike. The décor is very stylish, the ambiance is very pleasant, service is excellent, and the drinks and food will leave you more than satisfied. Portions are generous and the prices are unbeatable. Corporate Chef, Mariano Lopez, wants to make sure La Terraza becomes your favorite place. I can already tell you, it is certainly one of my favorites and you will soon know why.
"Portions are generous and the prices are unbeatable."
The Drinks
We were thirsty and ordered something to drink. I asked for a Chicha Morada (s./7) as I had one before and found it incredibly good, perhaps the best in town. As they ran out of it, we had a Lemongrass lemonade (s./ 9). It came in a big glass and it did not disappoint us, quite the contrary, as it was flavorful as it could be, yet again, the best I ever had.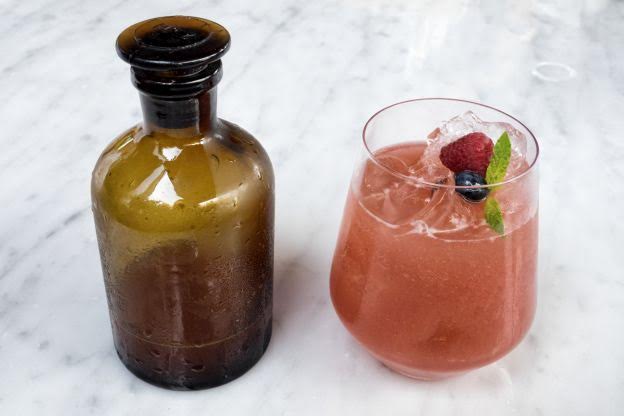 We also ordered some cocktails. We started with a Manzaginado (s./25), a mix of gin, pisco, peach tree, and a chamomile ice cube that made the cocktail incredibly refreshing and pleasant. We also had the Terraza Punch (s./22), the house drink made of pisco Italia, triple sec, pineapple juice, lemon, bitters and syrup and the Potion D'amour (s./24), a mix of pisco and Grand Manier that came in a lovely old medicinal jar ready to be poured into your glass. All three cocktails were very refreshing and tasty. We loved them all.
The Food
With the drinks in our system, it was time for food. Going through the menu, one could recognize several Peruvian dishes along with a few international options as well. For starters, we chose a Rocoto Relleno (s./22) as we remembered well the time we came to the Lobby del Pardo of the DoubleTree by Hilton and were swept away by it. The rocoto was just as good as we remembered it: incredibly tasty, moist, with plenty of meat, potatoes, cheese and some nuts. Not to be missed for sure.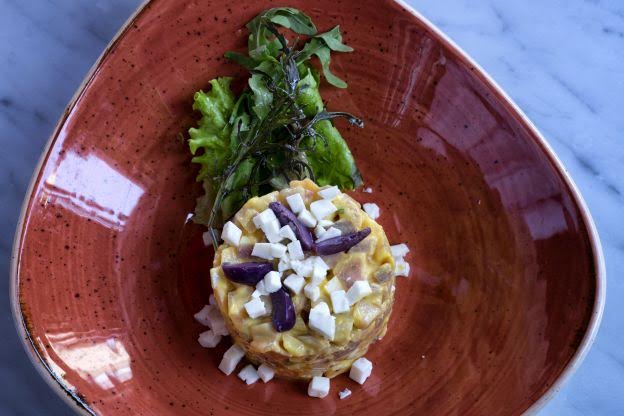 We then had a Huancaina Potato Salad and Trout (s./ 18). The presentation was nothing we expected as it was a round shaped sort of pie with chopped potatoes, trout, fresh cheese and black olives laying in a bed of huancaina sauce. I am afraid the potato flavor was overwhelming without leaving too much space for the other ingredients.
A starter I particularly like in this restaurant is the Classic Papa Rellena (s./19) which I have had in other opportunities when I visited La Terraza. Full of flavor, this traditional Peruvian dish is large enough to share if you want, before ordering the main course.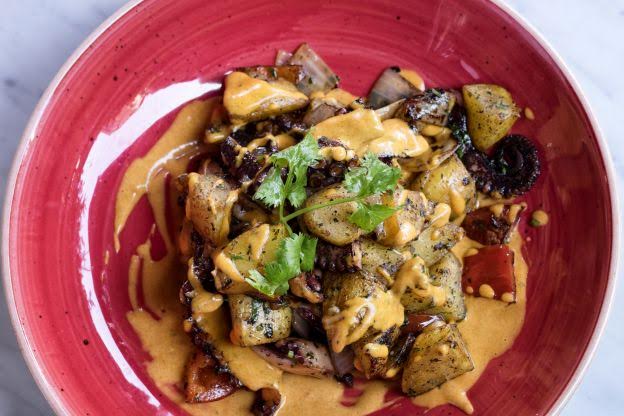 As the main course, we had the Grilled Octopus with Fried Potatoes and Anticuchera sauce (s./ 34). The octopus was tasty and had the right texture. Along with it came a mix of vegetables that resembled the flavors of 'lomo saltado' while the yummy anticuchera sauce wonderfully played its part.
We also tried the Old English Company Casserole (s./28), a beautifully baked lasagna with Italian canutos (small pasta) rather than the classic pasta layers, plenty of tomato sauce, cheese, black pepper, and oregano. The taste was okay and I did enjoy the crunchy crust.
We then tried the Pork with Thyme Polenta Aroma and Sugar-Coated Garlic (s./32): a beautiful piece of pork cooked for hours with pineapple and oranges peels, brown sugar and Cointreau laid in a bed of delicate polenta. The pork was crunchy and tasty as it could be while the polenta was soft and savory. The brown sauce that came along completed this fantastic dish which turned out to be the TLiP Team's favorite.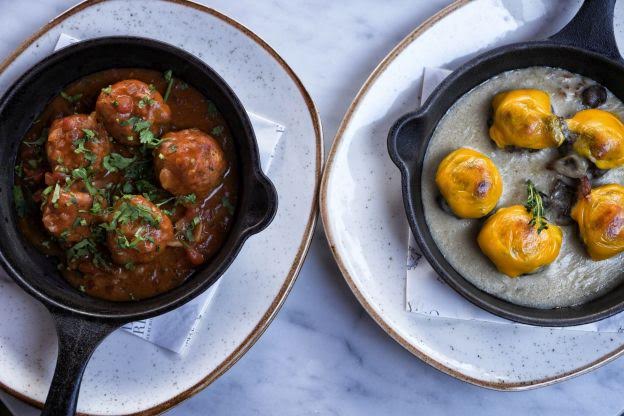 La Terraza offers an interesting selection of Meatballs (s./ 25) –chicken, lamb, meat, fish, and duck- five in each plate that comes along with a small fresh salad, rice, well-made smashed potatoes or bread according to your own choosing. We tried them all.
We started with the chicken meatballs; very tasty chicken meatballs cooked in a delicate Napolitano sauce and grated cheese on top. We loved them. We then had the New York meatballs which resembled a classic American hamburger with cheddar cheese, bacon and mushrooms served in a white creamy sauce. They were nice too.
The duck meatballs came with an enjoyable oriental mild spicy sauce, Chinese onion and lots of seaweed on top. We enjoyed them. We then tried the fish meatballs with parihuela sauce which we found a bit strong in flavor and particular. Finally, we got to the lamb meatballs that came in a brown tandoori sauce evoking flavors from faraway India. These were definitely the team´s favorite along with the chicken ones.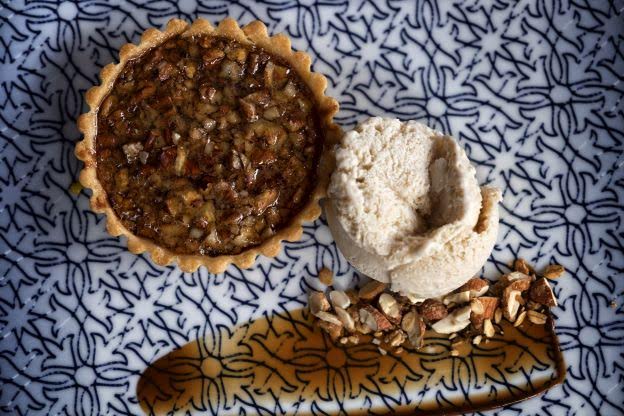 The Desserts
It was time for desserts. We started with the Chocolate Cake (s./16), a huge portion of several layers of intense dark chocolate, berries, and pecans that with every spoonful you feel you are going straight to heaven.
We also had the Pecan Maple Pie with Ice-Cream (s./15) that was also to die for and I simply could not stop eating it. Unlike other pecan pies I have had before, this was not overly sweet or heavy, it was delicate and flavorful, and the ice-cream was simply a delicious addition.
Another amazing dessert was the Carrot Cake (s./18). It was a big portion of moist carrot cake with several layers of cream cheese, and delicate whipped-cream on the side. It was superb, easily the best carrot cake in town.
Our final dessert was the Lucuma Mousse, a good-sized portion of eggfruit mousse covered in fine chocolate that was delicious as well.
La Terraza offers lunch menus (s./19) which consist of a main dish, dessert, and refreshment that are highly recommendable. We still have to explore their Breakfast Buffet (s./55) and Tea Time (s./45) which I am quite sure are excellent options.
La Terraza – El Pardo DoubleTree by Hilton
Jr. Independencia 141 Miraflores
Telf. 617 1000
www.lima.doubletree.com
Parking – yes
Menu
Lunch menu – s./19 (Monday to Friday)
Breakfast buffet – s./55
Tea Time – s./ 45
Sandwiches, wraps – s./ 17- 42
Bites – s./17-70
Starters – s./ 12-22
Salads – s./ 14-19
Soups and creams – s./12 -19
Pasta and rice dishes – s./23-39
Fish and seafood – s./25-34
Meat and poultry – s./28-39
Desserts s./ 4-17
Refreshments, juice, and smoothies – s./6- 14
Hot beverages – s./7-22
Pork with thyme polenta aroma and sugar-coated garlic (Cover photo: Marco Simola/Living in Peru)
Comments
comments