Las Tres Suecas is a wonderful cafe to share food and drink, to spend time with friends and colleagues you care about, and to connect and relax. Displayed high on the counter are two Swedish words… "Fika" and "Lagom", terms which happened to perfectly describe my experience at Las Tres Suecas.
Gravlax

Kanel Bullar/ Rollo de Canela

Baked au gratin potatoes

Details

Details

Dill Vodka

Exterior

Cod paste

Hot Sauce products

Interior

Interior

Las Tres Suecas

Pesto Pasta Salad

Cafe products

Cafe products

Quiche de salmon and quiche de espinaca and blue cheese

Coffee and Swedish desserts
About the words Fika and Lagom

"Fika" is the cozy version of a coffee break to meet up and have a chit-chat. In offices within Sweden, people always enjoy coffee breaks in the morning and afternoon. The idea of "Lagom" is a combination of harmony, balance, and just enough (not too little, not too much).

About the cafe

Las Tres Suecas is also a small gourmet store. The store offers a large amount of imported European gourmet products and snacks, in particular from Sweden as well as many Peruvian artisanal gourmet products (honey, teas, infusions, marmalades, award-winning chocolates, coffee, salt, pepper, etc.). The owners have also selected high-quality products which lean towards healthier and more natural and organic products. They also offer gluten-free, diabetic and organic products as well as natural Peruvian supplements. They have a decent and selected variety of beer, sodas, waters, wines, and vodka available for sale as well. Plus other gifts for the home such as napkins, mugs, and serving ware.

Ownership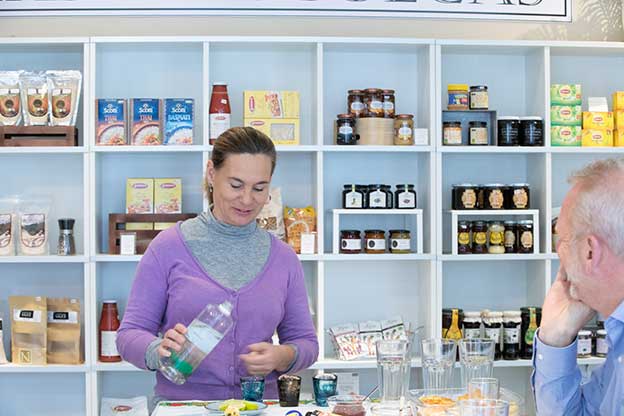 The three women owners and forces of Las Tres Suecas are 3 Swedish friends: Gabriella Enigk, Veronika Mau, and Sandra Sotero. Good things come in threes. All three women also have 3 children each. They all met and became friends here in Lima between 6 and 12 years ago. They did not know each other while living in Sweden. The three are and/or were married to Peruvians. What a wonderful pleasure that they have brought a bit of Sweden to Lima. On the day of Traveling and Living in Peru's visit we met with Gabriella and Veronika. We chatted about food, Sweden, life in Lima, kids, and much much more.

The cafe's setting

This modest locale has been open for less than a year and is situated on the corner of Cordova and Calle Jorge Polar in a light yellow building. This quaint location also has a small outdoor patio with a place to park your bikes and even two parking spaces for cars on their property. There are also parking spaces located across the street.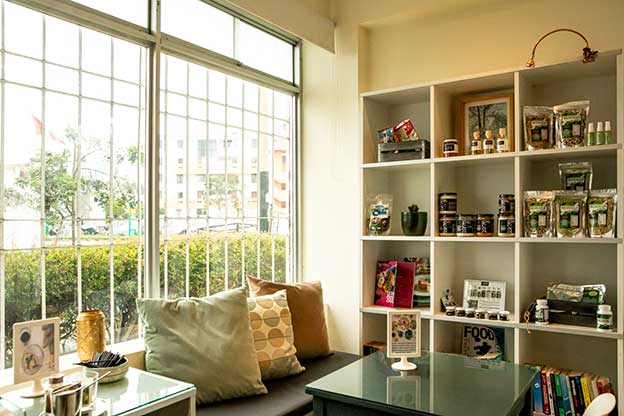 Stepping inside the premises of Las Tres Suecas you immediately feel at ease in this intimate and cozy cafe/store. It has a cheery and comfortable vibe. There are discreet personal touches throughout. I especially liked the inviting window seats with comfortable pillows which are situated off to the side with a nearby bookcase filled with books and a variety of magazines.

The food

The team of Traveling and Living in Peru enjoyed a variety of delicious and simple food, beverages and desserts the afternoon of our visit. We enjoyed this Smorgasbord, a type of buffet meal which originated in Sweden which typically offers various foods on the table such as appetizers, hot and cold meats, smoked and pickled fish, cheeses, salads, and relishes. Here's a recap of what we enjoyed below.

We began with a glass of their homemade and refreshing cedron (lemon verbena) iced tea. It was refreshing and just barely sweetened. Just the way I feel iced tea should be.

We moved onto their two homemade quiche selections, Quiche de Salmon (S/. 12) and Quiche de Espinaca y Blue Cheese (S/. 11). Both quiches were well prepared. The dough/crust was excellent and they were generous with the fillings. For an extra 3 soles, you can enjoy your slice of quiche with a small fresh side salad.

One of the more popular dishes at Las Tres Suecas is traditional gravlax (S/. 18 per gram) which is prepared on the premises. This salmon is cured in the Swedish style with thin slices of raw salmon which are cured in salt, sugar and lots of dill. The gravlax was served with hearty Finn Crisp crackers and whole grain rye bread along with an excellent quality Swedish mustard and a homemade mustard sauce with dill which elevated this to another level. The gravlax was the "star" dish for me.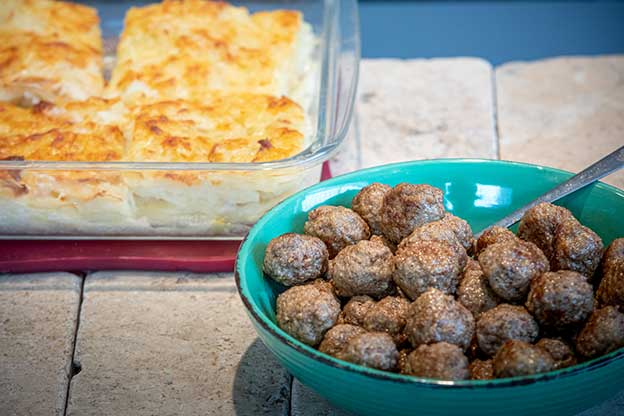 We were excited to sample their homemade Swedish meatballs (S/. 15 for 8 meatballs and S/. 19 for 12) which are accompanied by a slice of their amazing au gratin potatoes and served with lingonberry jam. The au gratin potatoes are also available sold by themselves in large individual portions for 11 soles. Swedish meatballs are traditional old-world Smorgasbord fare. Typically they are prepared with a combination of different ground meats, some type of breadcrumbs, onions and vibrant spices (allspice, cloves, nutmeg). The ones served at Las Tres Suecas are prepared with beef. These Swedish meatballs were delicious and the perfect comfort food.
A wonderfully smooth vodka infused with dill from Finland (Gustav Arctic Dill Vodka) was served in colorful shot glasses and took the winter chill off of us. It was the perfect accompaniment with the gravlax and Swedish meatballs.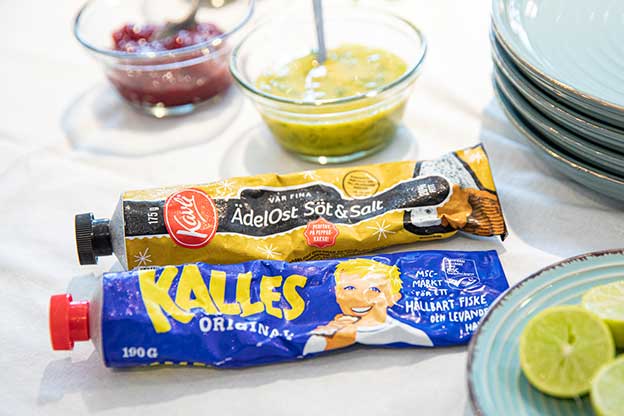 We also sampled a couple of Swedish products, a very popular salted cod roe caviar-style fish paste in a tube (Kalles Original) and a creamy blue cheese paste in a tube (Kavli AdelOst Sot & Salt). These were ideal spread on crackers or on the dense bread. I enjoyed them so much that I purchased a tube of both.

At Las Tres Suecas they prepare their own artisanal, traditional Swedish desserts. Don't miss them! The three we sampled were the Toscakaka/Keke Tosca con Almendras) (S/. 7), a very popular and delicious cake with caramelized almonds. This was my personal favorite of the cakes we sampled. The Keke de Manzana de Canela (S/. 7), a sponge cake with apple and cinnamon was also very well made. Their Kladdkaka/Torta Húmeda de Chocolate (S/. 5), was a wonderfully dense, moist Swedish cake similar to a brownie (a lightly crisped and cracked top) which has a slightly soft and gooey center. This was served with whipped cream. In Sweden, it is known as "chocolate mud cake". The word "kladdkaka" literally translates as "sticky cake".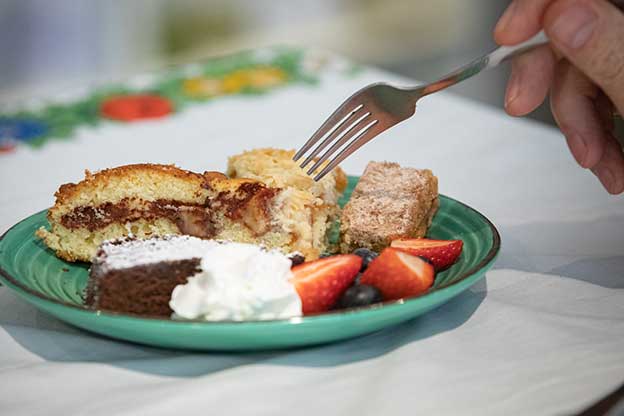 I really can't express enough positive comments about the Swedish desserts we sampled. They had the perfect touch of sweetness (were much less sweet than Peruvian desserts we are accustomed to) and were incredibly delicious. I am not a fan of very sweet desserts so these were ideal in my opinion. Las Tres Suecas also offers desserts such as blueberry pie, blondies, and pie de Limón, as well as ice cream.

Las Tres Suecas also offers a couple of versions of homemade lasagna on a daily basis as well as soups (mushroom, potato, squash). We observed a couple of people enjoying one of their standard lunches of a big bowl of pesto pasta salad (S/. 11) with tomato and mozzarella as well.
Hopefully coming up in the future at Las Tres Suecas, will be Korv, which is an extremely popular Swedish street food prepared with sausage, mashed potatoes, and shrimp salad all served on a hotdog bun. It sounds like a crazy combination, but surprisingly good.
Las Tres Suecas was the perfect representation of the simplicity of homemade, straightforward food and attention to detail that their shop and cafe embodies. Not only is it cozy and inviting, but a highly recommended destination for those who want to try some new flavors. I am looking forward to returning very soon.
Las Tres Suecas
Avenida General Cordova 1193, Miraflores
Phone: 981 520 707
Hours: Monday-Friday: 10:00 a.m.-7:30 p.m.
Saturday: 10:00 a.m.-6:00 p.m.
Closed Sunday
Parking: 2 spaces located on the side of their building & parking spaces across the street
Instagram

Savory dishes: S/. 11-19
Gravlax: S/. 18 per gram and S/. 180 for 1 kilo
Desserts: S/. 4-10
Full desserts: S/. 32-49
Ice Cream: S/. 4-7
Hot beverages: S/. 4-6.5
Cold beverages: S/. 4.5-10

Cover photo: Swedish meatballs/ AmaraPhotos

Now that you're here:
We're asking you, our reader, to make a contribution in support of our digital guide in order to keep informing, updating and inspiring people to visit Peru. Why now? In our near 20-year journey as the leading English-language source on travel in Peru, we've had our fair share of ups and downs-but nothing quite like the challenges brought forth in the first quarter of 2020.
By adapting to the changing face of the tourism and travel industry (on both local and international levels), we have no doubt we will come out stronger-especially with the support of our community. Because you will travel again, and we will be ready to show you the best of Peru.
Your financial support means we can keep sharing the best of Peru through high-quality stories, videos and insights provided by our dedicated team of contributors and editors based in Peru. And of course, We are here to answer your questions and help whenever you need us.
As well, it makes possible our commitment to support local and small businesses that make your visit an unforgettable one. Your support will help the people working in these industries get back on their feet once the world allows us to make our dream of enjoying everything Peru has to offer a reality again-from its mouthwatering gastronomy, thriving Amazon and archaeological wonders such as Machu Picchu.
Together, we will find a way through this. As a member of our community, your contribution, however big or small, is valuable.
Support Traveling & Living in Peru from as little as $1 - and it only takes a minute. Thank you!