New flavors, new recipes, new plates and great ambiance. That is what is to be expected at the recently revamped Los Bachiche.
It was five years ago when Los Bachiche first opened its doors and I made my first visit with the team of Living in Peru. At that time it was owned and managed by the Acurio Group. In January of this year, Los Bachiche moved into "new hands" and perhaps better hands, in my personal opinion. Don't get me wrong. I'm a fan of several Gastón Acurio's restaurant ventures. I just felt that after dining at Los Bachiche several times over the past few years, it was just a bit too much fusion (Peruvian with Italian, but leaning more towards Peruvian).
It could not make up its mind.
The three of us representing Living in Peru all agreed that this was a new and improved version of Los Bachiche. This was a more authentic Italian experience with barely any fusion. Under this new management, the menu and the restaurant decor has undergone substantial changes and has been revamped.
Pasquale Imparato is the man behind many of the changes and new concepts to make Los Bachiche a more authentic Italian dining experience. He is a well-experienced gastronomic entrepreneur and is of Italian descent (his father hails from Rome and his mother is Neapolitan).
Pasquale is attempting to offer and preserve the essence of Italian cuisine by exclusively using the highest quality imported Italian products (cheeses, olive oil, wheat flour, sausages and more). He stressed the importance and time he took to select the perfect flour for the pizzas and pastas. He is dedicated to getting very close to a more traditional Italian cuisine by conducting research, through travel and through his selection of products as well as incorporating and perfecting family recipes.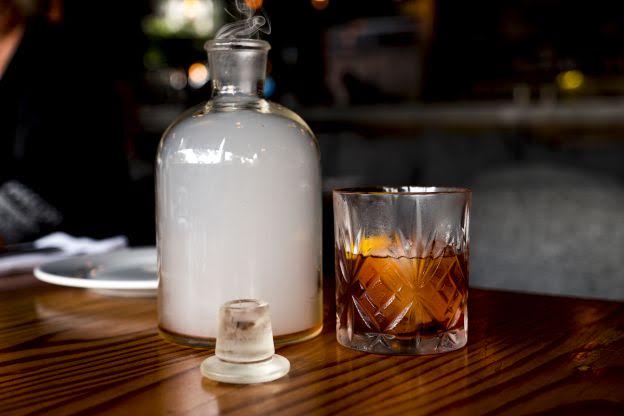 Smoked Negroni (Photo: Marco Simola/Living in Peru)
Besides the food, the folks at Los Bachiche are proud to also promote their bar inside the restaurant, La Bottiglieria Barra Italiana, which offers a wide selection of notable  Italian-influenced cocktails, digestives and classic alternatives, as well as appetizers and other fares.
The bar stays open until 2:00 a.m. on Friday and Saturday and usually offers live music on one of those evenings.
We sampled several Italian inspired cocktails during our visit. Their Negroni menu offers 5 options. Typically the Negroni is a big personality cocktail with intense flavors and a characteristic bitterness. It has become quite popular in Lima over the past year. We enjoyed the intense Smoked Negroni (S/. 25), a combination of Beefeater Gin, Campari, and Cinzano Vermouth Rosso. The cocktail arrived at the table in a glass decanter which had been injected with smoked cinnamon. This mixture was then poured over ice and served in a classic carved old-fashioned rocks glass with an accent of orange peel. If you lean more towards robust cocktails, this most definitely is a great option.
I personally enjoyed two of the house specialty Limoncello-infused cocktails. The Bachiche Mule (S/. 24) is a wonderful option if you are a fan of the trendy and popular Moscow Mules. This "mule" combines Absolut Vodka, Limoncello, fresh lime juice, and ginger beer all served in a hammered copper mug along with sprigs of fresh mint. The Cellolime (S/. 24) I enjoyed for its citrusy flavors. The combination of Absolut Citron Vodka, Limoncello, lime juice, and a syrup infused with rosemary and lima fruit, all served in an old-fashioned carved glass with crushed ice and a rosemary sprig was perfectly refreshing.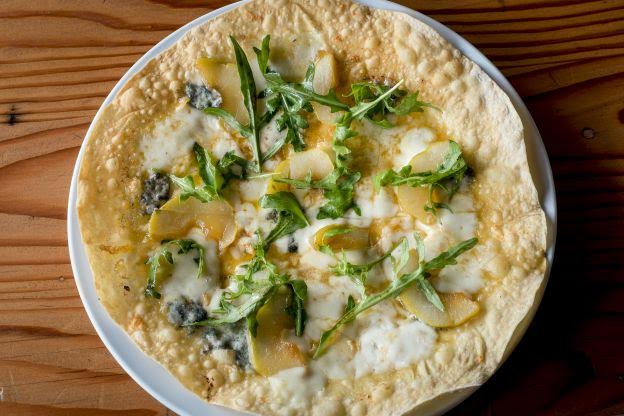 Gorgonzola and Pear Pizzetta (Photo: Marco Simola/Living in Peru)
The day of our visit we were fortunate to sample nine different dishes from their revamped menu. We began with an excellent pizza and one of their pizzettas. The Parmigiana pizza (S/. 58)……. a generous amount of imported Italian Prosciutto di Parma, tomato, mozzarella, arugula and Parmesan cheese on a wonderful crispy, thin crust prepared in a stone oven was a perfect way to begin our dining experience at Los Bachiche.
I really enjoy Neapolitan style pizza and theirs competes with my current favorite pizza at Spizza. In fact, it may be even better.
The pizzettas served here are a smaller version of their pizzas, a much lighter version, and the crust is actually paper thin, almost like a cracker. We sampled the Gorgonzola e Pera (S/. 28). I adored the combination of the slightly salty and slightly intense Gorgonzola along with the pears. For me, this salty/sweet pairing worked perfectly.
One of the table favorites was the Polpo Affogato (S/. 45). Pieces of tender octopus stewed together in a cast iron skillet along with tomatoes, onion, celery, carrot, garlic, basil, cilantro, dried aji limo and red wine for approximately 1 ½ hours was a marvel.
This is a "must order" starter
The accompanying toasts were used as the perfect "vessels" to get every last bit of the addictive sauce.
From this amazing starter, we moved on to the favorite main dish of our table, the Canilla de Cordero al Barolo con Polenta (S/. 69). This updated version far surpasses the one Los Bachiche served in the past. I found this lamb shank to be one of the best preparations I've had of this dish since I arrived in Peru 10 years ago. The lamb shank was slow cooked for 8 hours in a red wine concoction and was so tender I ate it with my spoon. The polenta which accompanied the lamb shank was perfect in texture, creamy and thick, but not too dense. The sauce was exquisite as well. This dish could easily be shared between two people.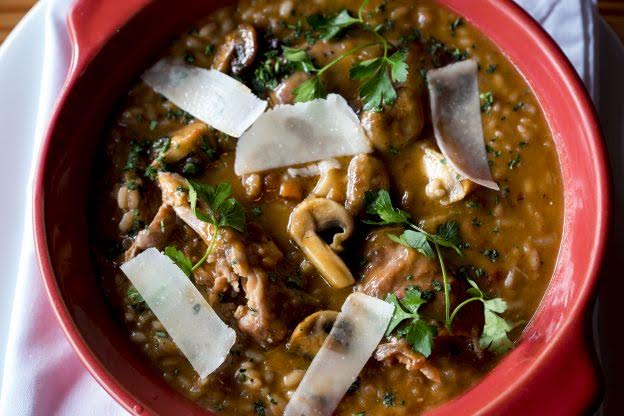 Risotto con Coniglio (Photo: Marco Simola/Living in Peru)
Next up was the Risotto con Coniglio (S/. 61). I am typically not a fan of rabbit. The rabbit dish served at Los Bachiche has converted me. So much so I would return and order this again. A generous amount of meat from the rabbit was integrated with butter, Parmesan, tomatoes, red wine, port wine, and star anise between 6 to 8 hours at low heat. The Arborio rice used for the risotto was perfectly prepared as well. Comfort food at its best. This dish could easily be shared as well.
Our last main dish was the Pappardelle allá Genovese Napolitano (S/. 38). Perhaps I over indulged a bit too much with our previous dishes, but I did not enjoy this plate as much as I wanted to. The large, very broad homemade flat pasta was tossed with a ragu de carrillera (meat sauce cooked for several hours at low heat).
There are approximately 23 pasta dishes on the Los Bachiche menu. All of the pastas are prepared fresh daily.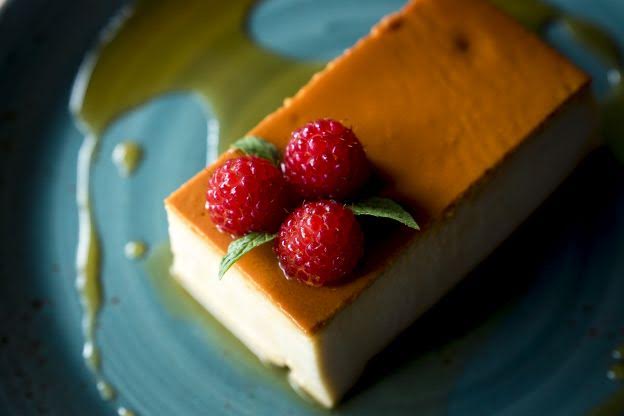 Flan Napolitano (Photo: Marco Simola/Living in Peru)
We shared three desserts…..the Cinque Gianduia (S/. 23), perfect for any lover of this chocolate and hazelnut combination with the gianduia served in five different forms (brownie, ice cream, whipped, sauce and a cookie wafer). The Flan Napolitano (S/. 22), was one of their more traditional desserts. This super creamy flan prepared with cage-free eggs, ricotta cheese, and vanilla drizzled with a caramel sauce and accented with Frangelico liqueur was a hit at our table. My personal favorite was the Panzerotti de Nutella y Gianduia (S/.22). The three fried mini empanadas filled with a Nutella and chocolate/hazelnut mixture were good on their own, but the incredible panna (cream) ice cream elevated this dessert for me.
All three desserts could easily be shared between 2 or 3 people.
New flavors, new recipes, new plates and great ambiance. There are approximately 103 dishes offered at Los Bachiche, ranging from lighter fare to more substantial comfort food. I am looking forward to returning soon to explore more of their varied menu. Many thanks to both Pasquale Imparato and Mauricio Gamero for your hospitality during our visit.
Av. La Paz 1025
Miraflores
Phone: 221-9283
Reservations: [email protected]
Capacity:  155 people
Valet parking, street parking and validated garage parking
Hours:  Monday-Thursday:  12:30 p.m.-3:30 p.m | 7:00 p.m.-11:30 p.m.
Friday:  12:30 p.m.-3:30 p.m. | 7:00 p.m.-2:00 a.m.
Saturday:  12:30 p.m.-3:00 a.m. (Open all day/evening)
Sunday: 12:30 p.m.-5:00 p.m.
Menu:
Starters:  S/. 19-53
Piadinas:  S/. 23-36
Cheeses/Sausages/Meats:  S/. 24-88
Pizzas & Pizzetas: S/. 23-58
Calzones:  S/. 31-40
Pasta:  S/. 32-69
Stuffed Pasta:  S/. 33-59
Pasta w/Meats & Risotto:  S/. 48-139
Oven & Grilled main dishes:  S/. 56-149
Risottos:  S/. 56-61
Soups:  S/. 24-69
Lasagna:  S/. 25-39
Desserts:  S/. 22-26
Non-alcoholic beverages:  S/. 8-18
From the Bar:
House cocktails:  S/. 24-35
Classic Italian cocktails:  S/. 24-25
Negronis:  S/. 25-35
Other classic cocktails:  S/. 24-28
Distilled (grappa/gin/rum/vodka/tequila/mezcal):  S/. 21-62
Piscos:  S/. 29-51
Whiskey:  S/. 26-50
Liqueurs:  S/. 18-38
Beer (imported/national/artisanal):  S/. 10-24