Rumor has it that former USA President Obama's favorite meal is the poke, and I can see exactly why. This traditional Hawaiian meal is not only nutritious and wonderfully tasty, but it is full of color, fresh ingredients and, certainly, a make-you-feel-well dish.
A small but pleasant establishment has opened up in La Mar waiting for hungry customers to come and enjoy their poke bowls. Actually, we noticed that many also prefer to have their delicious and healthy meal delivered to their place, as the delivery orders were non-stop during the two hours or so that we stayed in for the review.
At Pacifiko Poke Bar, a small five table establishment, you will have the chance to make your own poke bowl Open Poke (s./28) by choosing the ingredients and sauces you would like best. Poke bowls usually have rice as their base –white or whole grain, to which fresh raw fish meat in cubes is added, along with fresh raw vegetables, algae and it is usually topped with plenty of seaweed.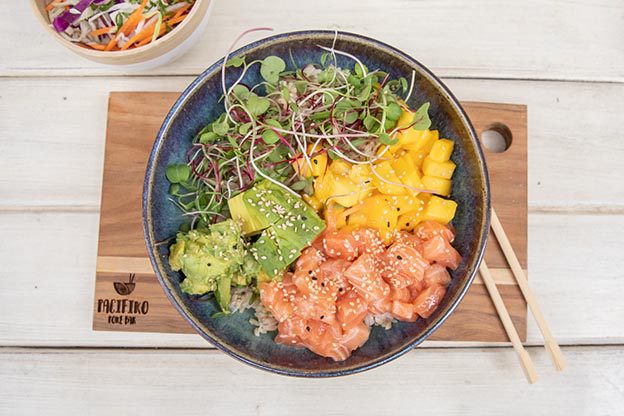 At Pacifiko Poke Bar, besides the Open Poke, there are five poke bowl options, including a veggie
version. This time we tried the Aloha Poke (s./25), a good-sized bowl –lovely plates by the way- that had whole grain rice as the base, pieces of salmon, wonderful mangoes, sprouts and plenty of sesame seeds. It looked wonderful and full of color. We added some Sweet Shoyu sauce and on to our mouths. It was certainly yummy, and we did not stop until we saw the end of the plate.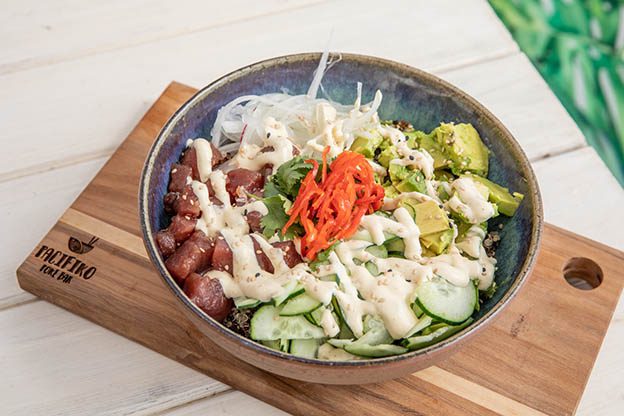 We also liked the Lima Poke (s./25) which is served with a quinoa base, nicely chopped avocado pieces, onions, and cucumbers. This one came with the acevichada sauce with a mayonnaise base. As I am no mayonnaise-lover, I preferred having one of the other five sauces they have in stock. I enjoyed this poke bowl too, but I guess the mangoes on the first one totally did it for me.
We also tried their Asian Coleslaw (s./7). Since it comes as a side dish, it is small in size. It consists of purple and white thinly sliced cabbage, cilantro, carrots, turnip, and sprouts. All of the ingredients were fresh and certainly crunchy. Once you pour in the peanut-based sauce that accompanies the dish, you will certainly enjoy it all the way.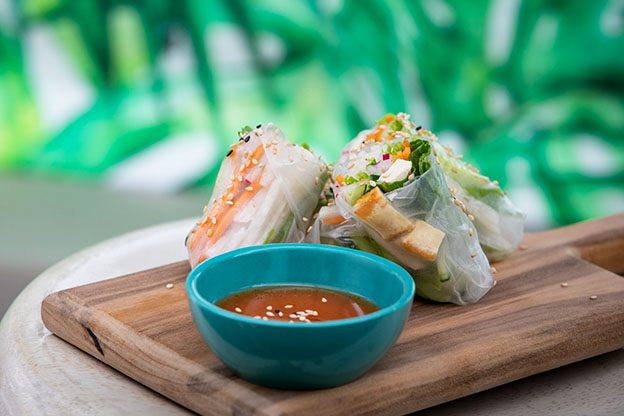 The Pacífiko Rolls (s./12) were also great, and they look similar Vietnamese rolls. These are small in size and are filled with fresh cucumbers, carrots, turnips, and tofu, all of which is rolled in a transparent roll. The sauce that comes along is spicy, so be warned. They were enjoyable.
Although we did not try their sandwiches that day, I noticed they had some crab filled sandwiches that seem very attractive; one more reason to return.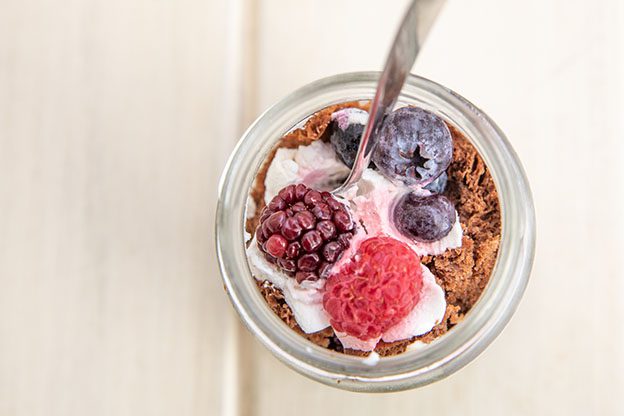 Desserts at Pacifiko are serviced by Dulces Mica and they all come in jars. We tried the Dulce de Cacao (s./12), a chocolate cake base with blueberries and not enough cream. The desserts are gluten-free and sugar-free.
Lastly, be warned that there are no parking places, so consider walking or biking, and you may bring in your four-legged friend along. Enjoy the Hawaiian vibe!
Pacifiko Poke Bar
Av. Mariscal La Mar 552 Miraflores
Tel.777 5188
Opening hours – Monday to Saturday 12 – 9 pm, Sunday – 12 -5
Poke bowls – s./28
Sides – s./ 7 -12
Sandwiches – s./22
Desserts – s./ 12
Refreshments, beer and wine – s./5 – 20
Comments
comments