High up in the sun-scorched foothills of the Arequipa valley, in the shadow of Chachani, Picantaría Pata'ccala offers traditional Arequipeño dishes with a view that you won't soon forget.
A family-run restaurant, Pata'ccala, which is named after the field workers of times past from Arequipa who worked barefoot, has been serving the quintessential favorites of Arequipa for more than five years.  We were told the story of Pata'ccala by the owner's son, John, and about the early modern history of the Andean treasure that is Arequipa. In order to build its first railroad, many workers came from the United States to help out. This influx of immigrants brought stress to a fledgling restaurant market that struggled to meet the needs of the workers after they finished their workday. This created a culture from catering to diverse crowds with varying tastes. That's where one of Pata'ccala's signature plates, the Americano, came from. For those who haven't heard of it, the Americano is a large plate with various Arequipeño favorites, from Rocoto Relleno to Chicharron, a fried pork delicacy, to Torrejas. Pata'ccala has been serving various signature dishes by woodfire, using local ingredients, which often are harvested from fields right below the restaurant.
Atmosphere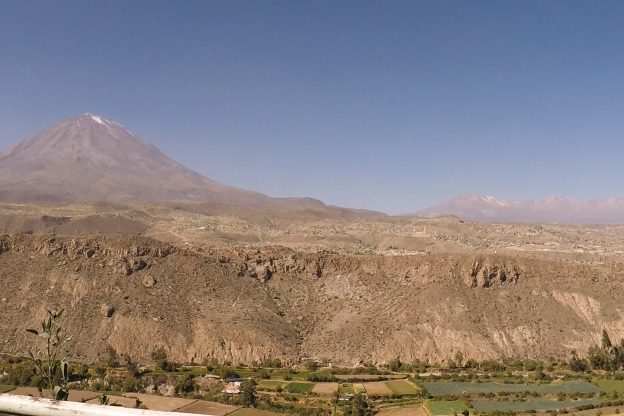 Located in upper Cayma on Avenida Arequipa, past Carmen Alto (a hot tourist spot), Picantería Pata'ccala truly gives visitors a sense to the diverse topography of Arequipa. As you walk into the restaurant, the décor is homey, rustic and of true Arequipa charm: wood details and traditional clay pots warm the interior of the restaurant. All of the tables are set with clean white linens with deep maroon accents, which are the colors of Arequipa's flag. The staff of Pata'ccala wears traditional Arequipeño clothing: wide-brimmed hats to keep the sun from their faces, and crisp white shirts that reflect the sun's rays. From first impressions, you can tell that this restaurant is family-run, through and through. On some Sundays, you'll find the local band Matices de Cayma playing typical Arequipeño music.
Most of all, Pata'ccala is known for it's spectacular panoramic view of Misti Volcano and the valley below. From the outside seating area, we saw a green oasis amidst farms and fields with horses frolicking and sheep grazing below. From Misti to Picchu Picchu, the mountains frame this beautiful scene, giving Pata'ccala a unique draw for locals and travelers in Peru. Then, once the harsh Arequipa sun goes down, the evening view at Pata'ccala displays the city awash in a warm glow of lights.
The Food
Picantería Pata'ccala showcases a variety of traditional plates that are unique to the region of Arequipa. As we've mentioned, Pata'ccala is family-owned and frequented by locals, so their sizable portions are budget-friendly.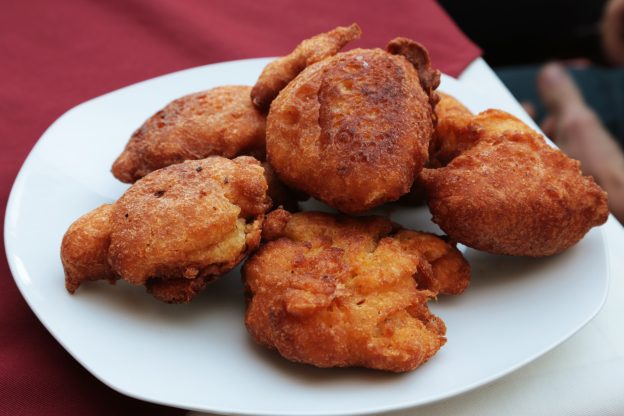 Our meal started with a popular Pata'ccala appetizer, Torrejas (S/15), a breaded, fried fritter made with carrots. Imagine a savory carrot cake, fried to make a fritter, and I can promise that your imagination does not do them justice! These were a favorite of the entire table.
The second dish that we tried was the classic Soltero de Queso (S/20), which is a heaping salad of fresh Andean cheese, choclo (corn), carrots, and peas, piled on top of a baked potato.On top of this: a slice of rocoto and a perfect balsamic vinaigrette dressing that balances the flavors. While some think you can't fill yourself on a salad, I can promise that this huge dish is positively satisfying.
Cauche de Queso (S/20) is an Arequipeño creation that features indigenous Peruvian potatoes with a creamy, mild pepper sauce, paired with warm cheese, and a rocoto slice for a garnish.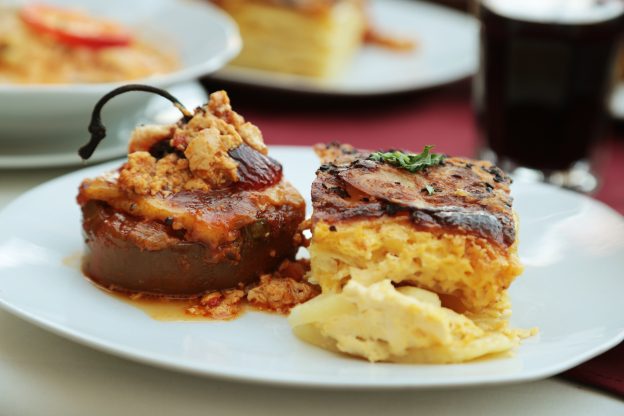 Our main dish is Arequipa's most famous – Rocoto Relleno con Pastel (S/20), which is a spicy pepper stuffed with tender beef, combined with a hearty, nutty sauce, and topped with a slice of fresh, lightly crisped Andean cheese and accompanied by aPastel de Papa, a layered potato cake. Our host, John, commented on this dish's representation of Misti Volcano as having a fiery inside with a white cap, to represent the snow that occasionally appears on the mountain.
The Drinks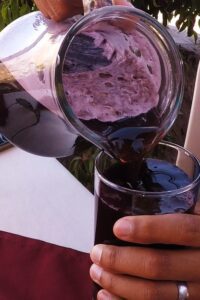 Pata'ccala has a wide variety of drinks available, from teas and soda, to wines and beers. There's something for everyone. Chicha Morada (S/10 per pitcher) is popular  throughout Peru.
This sweet purple drink is made from a Peruvian variety of purple corn, which is boiled with pineapple, quince, cinnamon, and cloves. We also tried a different version of chicha called Chicha de Jora (S/10 per pitcher), which is fermented with a very low alcohol content and a little zip. Finally, after our very large and tasty meal, we tried a small shot of Anis Najar. This clear licorice flavored liquor is flavored with anis seed. It's a typical Peruvian custom to sip a small shot after dinner to help with digestion.
We had a lovely afternoon at Picantería Pata'ccala, and if you find yourself in Arequipa, be sure to check it out. You will get to try the great dishes of Arequipa in a friendly place with a view that is to die for.
Picantería Pata'ccala
Av. Arequipa B-63, Villa el Mirador Cayma, Arequipa, Perú
Phone: 960 658 573 or 054 658 461
Email: picanteriapata'ccala@gmail.com
Hours
Friday – Sunday: 12:00 p.m. – 6:00 p.m.
Menu
Caldos and Sarzas: S/17 – S/18
Appetizers: S/7 – S/20
Main Dishes: S/20 – S/40
Extras: S/3 – S/25
Sampler Platters: S/30 – S/120
Drinks: S/2.50 – S/12
Comments
comments