After making many walks past
Popular de aquí y de alla
, located in Larcomar, we finally made the decision to stop and have a meal. Just like its name expresses, t
his busy restaurant offers the most popular dishes that you'll find here in Peru, or elsewhere in the world.
Popular has no shortage of clientele, quite the contrary. The different times I´ve passed by, it has always been busy with clients having a drink or a meal while watching the ocean and the great view of the bay. Since the sunsets are spectacular during this time of the year, the terrace and the indoor seats facing the ocean get filled up quickly. The restaurant's casual ambiance is brought out by the many hanging plants, as well as by the memorabilia decorating the walls. With these touches, the establishment makes you feel as if you were in a market.
After asking our server for the menu, we were surprised when he brought out a big book with Bob Marley in the cover. But what surprised us more was the large choice of dishes that it offered. We were told that there are more than one-hundred and twenty dishes selected by chef Carlos Testino –the same chef from Lima 27, Mangos, 27 Tapas, Isidro Bistró, and others. The dishes appear on the menu according to the degree of heat used to prepare them. For example, in the section ¨3 to 5 degrees,¨ you'll find cold dishes such as ceviches or tiraditos; in the 90 to 100 degrees, you'll find dishes that require the use of an oven, such as the Peruvian Stuffed Potato, or the Parmesan Scallops; in the 180 degrees you'll find fried dishes like a jalea, their famous English Fish and Chips, or the Japanese tempura.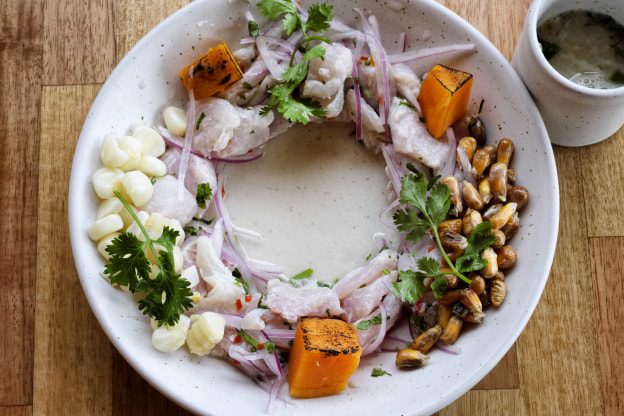 During this visit, we tried four dishes. We started with a Traditional Ceviche (s./46), one of their most popular dishes, we were told. The ceviche was made with flounder, an amazing chalaquita, glazed and smoked sweet potatoes, as well as crunchy canchita chullpi –  Andean typical corn. A jar of white tigers milk, a highly intense citric juice made with chopped onions and herbs, is served alongside this dish and is great for pouring on top of your meal. With this touch, I loved the dish's wonderful citric flavors.  It is highly recommended.
We then tried the Popular Parmesan Scallops (s./39). These six big scallops were served on a plate with hot black stones underneath. The scallops, previously soaked in white wine, English sauce, and brandy, are put in the oven for some minutes with plenty of cheese, butter, and lime. Boy, did we suck those shells: they were simply delicious.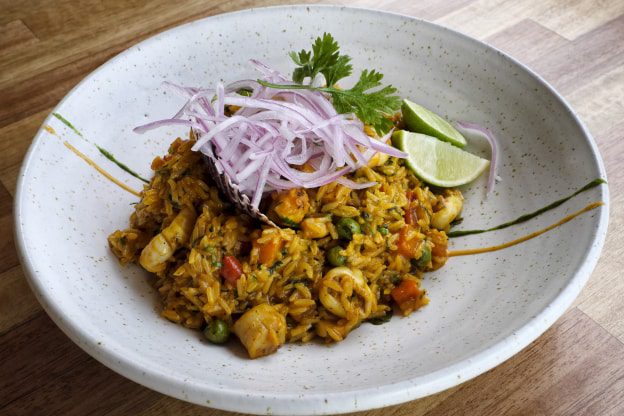 We then passed on to one of their 90 to 100-degree dishes: the Arroz con Mariscos (s./49). This classic of the Peruvian cuisine came with lots of octopus, calamari, and shrimps, and the portion was quite generous. The rice was moist and flavorful, and with a pinch of hot chili and salt (Malden), it rose up to another level. We loved it!
Another popular dish are the makis. We tried the Tiradito Maki (s./35), which consisted of ten shrimp, crab meat, avocado and chalaquita makis topped with a yellow chili cream sauce. The makis had fresh citric notes and were slightly spicy. They were quite enjoyable.
Along with our food, we had some Chicha morada (s./12), the Peruvian purple corn-based drink, and a Lemon Verbena lemonade (s./14). Both were fantastic and very refreshing.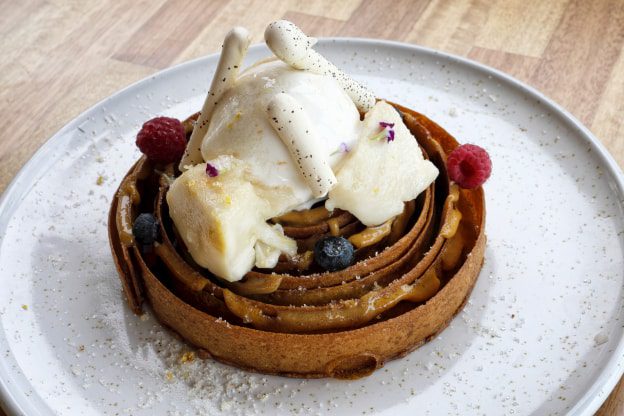 Looking at the choice of desserts, we opted for one that is hard to find in menus: the old-time Lima classic Ponderación XXL (s./ 26). This dessert pretty much looked like a cinnamon roll (for the shape, not the texture), filled with manjar blanco (sweet condensed milk), scattered pieces of fresh chirimoya fruit, blueberries, and raspberries, and a scoop of vanilla ice cream in the middle. The crunchy layers were delicate and nice, but somehow the different elements did not quite mix well; perhaps it simply needed more ice-cream or manjar blanco, or to reduce its size, since it was a big enough to be shared amongst two people.
All in all, we largely enjoyed our experience, the meal, and the great view. If you happen to visit in the evening in order to take advantage of the view, you might also be lucky enough to find a singer performing. There is also a jazz band that plays on Wednesdays at 7 pm. An After Office runs every Monday to Friday from 5 to 7 pm where you can have 2 drinks for the price of one in certain cocktails. A Tea Time event happens every Monday to Friday from 4 to 7 with small sandwiches, pastries and desserts served in a charming box and brought to your table. So plenty of choices in this very popular spot. It is now for you to decide.
Malecón de la Reserva 610, Miraflores – Larcomar
Telf. 444 5070
Opening hours – Sunday to Thursday 8 am to 12 pm, Friday, Saturday and festive days 8 am to 1 am
Menu
Breakfast – s./ 9 – 45
Sandwiches – s./21 39
Snacks – s./15 – 55
Salads – s./ 27 -39
Soups – s./ 25-62
Sushi – s./ 19–35
Main course – s./ 33–59
Desserts – s./ 16-28
Hot and cold beverages– s./ 8 -16
Beer and cocktails – s./ 13 -26
Wine by the glass – s./ 18-28
Kids menu – s./ 22-37
Comments
comments