Langostino Fusion (Photo: Marco Simola/LIving in Peru)
During the winter months here in Lima, I seem to navigate towards steaming bowls of soup and comfort food. You can find both at Tokio Ramen!
This winter, in particular, has seemed to be a bit more dreary and cold than previous years here and I've been craving soup. For quite a long time I had been wanting to dine at Tokio Ramen. Many friends and family members of my husband who live in the Jesus Maria and San Felipe areas have been raving for years about their ramen. Finally, I made it to Tokio Ramen with the team of Living in Peru to find out for myself.
In the middle of the residential district of Jesus Maria, you will find Tokio Ramen. Open for 6 years, this casual, modest and quaint locale has become one of the most celebrated restaurants to eat authentic style ramen. You will find it packed with people not only at lunch but also during the evening hours. Approximately 70% of their customers are Peruvian-Japanese. It also enjoys popularity due to the three "B's", Bueno-Bonito-Barato (good food, nice locale and cheap/modest prices). Tokio Ramen enjoys a surge in popularity especially during the winter months in Lima.
Juan Carlos Tanaka Saito is the chef and owner of Tokio Ramen. He is the grandson of Japanese immigrants and was born and raised in the same Jesus Maria neighborhood that Tokio Ramen is currently situated in. His passion for ramen is evident and he is a walking encyclopedia of all things ramen. He is humble, charming, ultra-energetic, and hard-working. When Chef Tanaka was 23 years old he moved to Japan and spent 15 years there, his last 7 years working in various traditional Japanese restaurants, 4 of those last years working in ramen-ya (ramen restaurants). He has earned the designation of "sensei del ramen". The term "sensei" is basically a reference to showing respect to someone who has achieved a certain level of mastery in a specific skill…..a master, a teacher.
In Japan, ramen chefs typically train for many years. Ramen is ubiquitous in Japan and is seemingly around every corner. It's a beloved Japanese food. There are well over 100,000 ramen restaurants all over Japan…be it street carts, stands, dives or at the ramen-ya restaurants where the best quality ramen are sold. Regional styles and specialties abound with broths, noodles, and toppings and are all varied according to local tastes, ingredients, and cultures.
When some people hear the word "ramen" they automatically think of the cheap instant noodles that were found inside styrofoam containers, along with a flavor packet of dry ingredients which you poured hot water into. It was a quick and easy fix, especially for some of us when we were penny-pinching college students. If you think this is ramen you have assumed wrong. This is NOT ramen.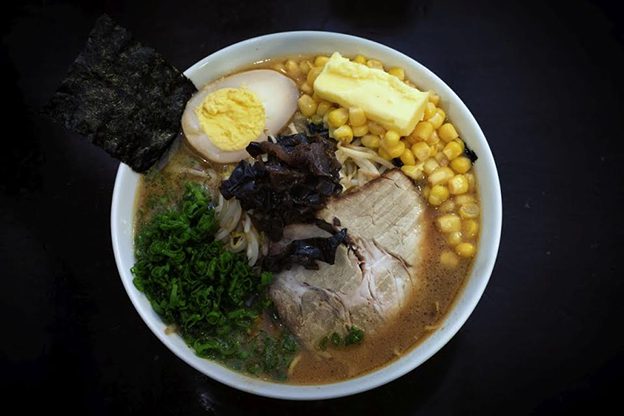 Two of the main ingredients in ramen are the noodles and the broth made from scratch. A true or authentic ramen should have hand-pulled noodles and slow-cooked broth. The noodles at Tokio Ramen are typically prepared using wheat flour, egg, salt and hot water. The select noodles are based on their bounciness, their ability to cling to the broth and their texture in the mouth. The noodles are supposed to interact harmoniously with the other ingredients in the bowl. The broth or stock prepared at Tokio Ramen is labor-intensive and takes approximately 12 hours or more from start to finish. Some of the stock is based on chicken or pork combined with a variety of ingredients. There are typically four categories for the broth base:  soy sauce (Shoyu), salt (Shio), miso (fermented bean paste) and pork (Tonkatsu). The noodles are cooked separately from all the other ingredients and added to the broth and toppings last.
Another component of ramen are the toppings. These usually involve proteins and vegetables such as roasted pork, chicken, shrimp, eggs, corn, butter, bean sprouts, spinach, scallions, seaweed, etc. The final touch to the ramen are the various condiments available that you add yourself that are on all of the tables such as togarashi, a Japanese chili powder, as well as rayu, a spicy oil. There are also sesame seeds, black pepper, and white vinegar. You can customize/request the amount or level of spice and salt as well.
Chef Tanaka has adapted the Japanese traditional flavors for the Peruvian tastes. There are many classic Japanese ramen dishes as well as some fusion plates on the menu at Tokio Ramen. He incorporates Peruvian ingredients and also uses imported Japanese ingredients. It would be very cost-prohibitive to purchase and use only the imported Japanese ingredients.
The day of our visit to Tokio Ramen we sampled four different ramen dishes as well as a couple appetizers and a couple main dishes. We began with the Chicken Teriyaki (S/. 29), one of the popular dishes on their menu. The chicken breast is first fried and then Tokio Ramen's special teriyaki sauce is slathered on and the chicken is sliced and all is topped off with sesame seeds. This dish is accompanied by rice and a simple tossed salad. It was a decent version of chicken teriyaki, but not my favorite dish.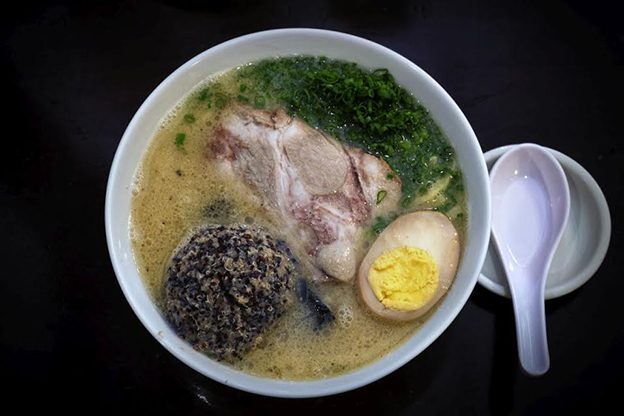 Next, we moved on to our first ramen…..the Tokio Punche (Stamina Ramen) is quickly becoming a popular item due to the ingredient of quinoa. This ramen starts with a pork and chicken based broth, ramen noodles, roasted pork, egg, dried seaweed, quinoa and sliced green scallions. Normal size, S/. 28-34, large sizes, S/. 32-40. At this point, Chef Tanaka advised us it is better to eat the solid foods in the ramen bowl first (pork, egg, vegetables, and noodles) and drink the broth last so you don't fill up on the broth.
Next up was the Tokio Shoyu, a pork and chicken based broth with soy, ramen noodles, roasted pork, spinach and dried seaweed. Normal sizes, S/. 27-32 and large sizes, S/. 32-37.
One of the more unique ramens was the Miso Chasu Ramen with corn and butter. You can find this ramen and several others in the "Ramen Especiales" section of the menu. We found out that corn is a popular addition in Japan. The simmered corn (small, sweet corn not Peruvian corn) and a large pat of butter are used to top bowls of miso-based ramen. Roasted pork, scallions, bean sprouts and other vegetables were also in this ramen bowl. Normal sizes, S/. 34-38, large, S/. 40-43.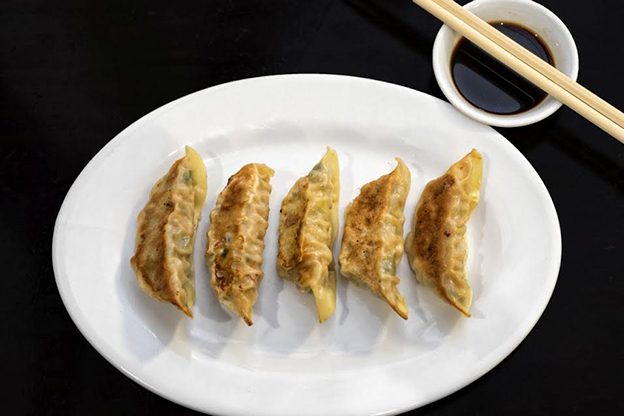 One of my personal favorites were the Gyozas (S/. 14) from the starter section of the menu. You can order them fried or steamed. These dumplings are one of their more popular starters and are filled with pork and vegetables and served with a special soy sauce (mixes soy with an oil).
The Chicken Karaage (S/. 19) is another dish I enjoy due to the texture. This fried chicken dish has an extra crunchy texture/crust created by using chuño (a Peruvian dried potato flour) without any grease. The dish is accompanied by a Japanese-style salad. This dish is perfect for sharing as a starter or as a main dish for one person.
The Langostino Fusion was a table favorite. This ramen dish had a soy-based broth and included shrimp, roasted pork, ramen noodles, egg, vegetables, bean sprouts, and dried seaweed. Normal sizes, S/. 24-30 and large sizes, S/. 30-38.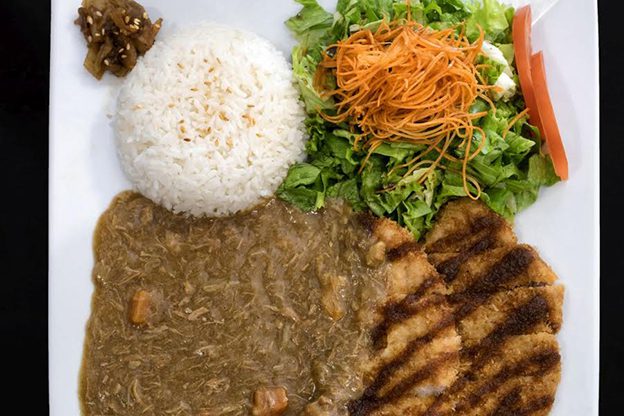 Our last main dish was the Tonkatsu Kare (S/. 32). This curry dish was a pleasant surprise. Pork loin coated with panko (Japanese breadcrumbs) and bathed in a Japanese curry sauce and served with white rice and a salad. If you enjoy curry, this is a must.
To accompany your food, you might want to consider ordering one of their imported Japanese beers or perhaps sake. Another unique option could be their non-alcoholic and refreshing aloe vera beverages.
We enjoyed a few refreshing and surprisingly good desserts. The Mr. MatCha brand ice creams prepared with matcha come in four flavors: kion (ginger), lychee, vanilla and ajonjoli (sesame seed). The favorite and most refreshing was the ginger flavor. But the black sesame seed flavor was unique and excellent as well. I was pleasantly surprised to find out that the creator of this ice cream is the brother of the owner of Yogashi Patisserie (one of my favorites) in San Borja.
I checked out Chef Tanaka's small, impeccably pristine new store located next door at Jr. Tizon y Bueno 667. It was filled with a bevy of Japanese products such as beverages, crackers, cookies, snacks, juices, ice creams, and desserts. I bought more of the wonderful ice cream I mentioned above as well as Mochi frozen desserts. Also my all-time favorite Japanese candy, Pocky Sticks (cracker sticks covered with chocolate). I also purchased these unique snacks called Los Onigiris, rice triangles wrapped in a dried seaweed leaf and filled with either salmon or tuna in the center. The store has the same hours as the restaurant.
Our visit to Tokio Ramen was both a wonderful learning and dining experience. I observed that perhaps it might not be the ideal place to go on a first date since eating ramen can be a little messy. Fortunately, they offer bibs to protect your clothing.
Jr. Tizón y Bueno 663
Jesus Maria
Phone:  262-4666
tokioramenperu@hotmail.com
Hours:  Tuesday-Saturday:  12:30 p.m.-3:00 p.m.
                                             6:30 p.m.-10:30 p.m.
           Sunday/Holidays:      1:00 p.m.-4:00 p.m.
                                             6:30 p.m.-10:30 p.m.
Closed Monday
Limited parking in front of restaurant and street parking
Starters/Piqueos:  S/. 14-23
Main Dishes:  S/. 23-37
Ramen:  S/. 19-45
Special Ramens:  
   Normal size:  S/. 23-38
   Large size:  S/. 28-45
Special Daily Menu (Tuesday thru Friday, 12:30 p.m.-3:00 p.m.)
   S/. 18-28
Cold Beverages:  S/. 3-6
Hot Beverages:  S/. 3-4
Beer:  S/. 15
Sake:  S/. 20
Comments
comments