Here at Toshi, all you'll find is excellent quality food in a nice ambiance so you cannot go wrong.
What does it take to be a good chef? Surely it implies to have multiple qualities such as creativity, dedication, ability to multi-task and even stay fit, among many others. A very important one, no doubt, is to know your products well.
Back in the seventies, an eighteen year old youngster by the name of Toshiro Konishi left his native Japan and settled in Lima at the invitation of another young compatriot of his by the name of Nobu Matsuhisa –a chef trained in Japan and Peru who is now world famous, and owns a chain of high-end restaurants and hotels all over the world.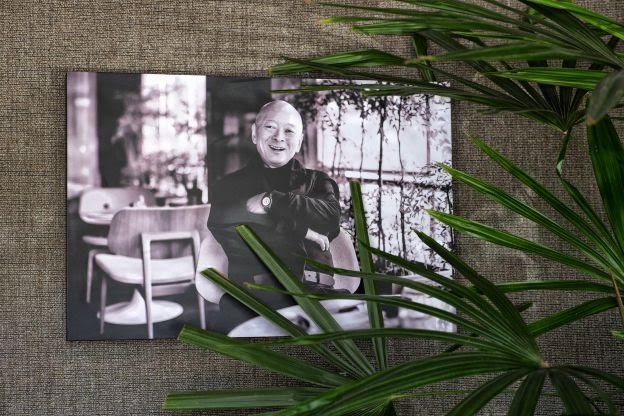 Together they brought to Peru the concept of kaiseki cuisine, a sophisticated type of Japanese cuisine which was a novelty in Peruvian lands.
Toshiro was fascinated with the South American country as he traveled extensively discovering an incredible diversity of goods, and a land where almost everything could be grown due to its multiple micro-climates. He knew about the importance of traveling, trying things here and there, and living the experience.
He opened up his first restaurant in San Isidro, another one in Asia, and inside the elegant Miraflores Park Hotel.
After a brief recess, Toshiro made a comeback and opened Toshi (formerly named Oishii) in 2015 just a couple of blocks away from the Malecón in Miraflores. The success was immediate, and two other locales were opened last year in Camacho and San Isidro. Although the itamae (Japanese Chef) Toshiro passed away in 2016, he did leave behind a legacy of solid teachings and standards by which staff in all three restaurants, has to abide by.
Toshiro said he would not leave this world without sharing his knowledge with Peruvian chefs and that is exactly what he did. Chef Santiny de los Santos who spent fourteen years working side by side with the itamae, has a big responsibility as the Chef of Toshi Restaurants of making sure the benchmarks set by his professor are always met.
The Decor
We visited the establishment in Miraflores. The décor is sober and elegant with black and beige colors predominating throughout. There is a Japanese bar where you can sit on your own and enjoy watching the barmen and the chefs preparing their orders. Among them was Chef Santiny who came out to meet us. We were in his hands.
The Drinks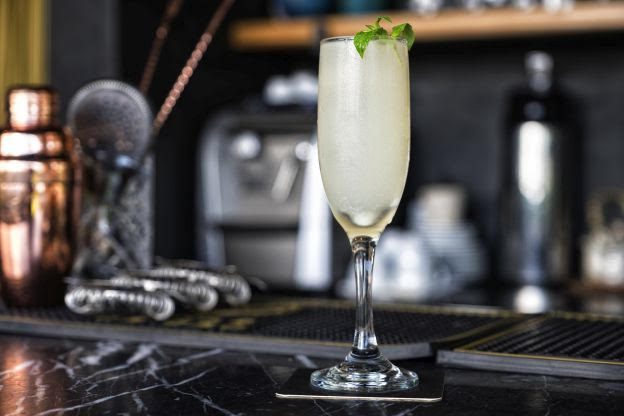 Chef Santiny had prepared a menu for us which we were eager to try. It started with the house drink, the Oishii (s./40), a very interesting drink as it mixed pisco with sake –the Japanese rice wine -, lychee and mint ginger ale. The result was a very refreshing and enjoyable drink. We then had a Geisha (s./35), another refreshing drink with the same mix of pisco and sake, but with an addition of kiuri (Japanese cucumber), ginger, ginger ale, and wasabi.
We all liked this drink. A third drink was the Shoga Golden (s./38), made with Gin Citadel, lime, tonic water and pineapple juice, with the latter coming out strongly. And the last one was the Takeshi (s./40), a rum-based cocktail with pitahaya, lime and ginger beer where we all agreed that something was missing.
The Food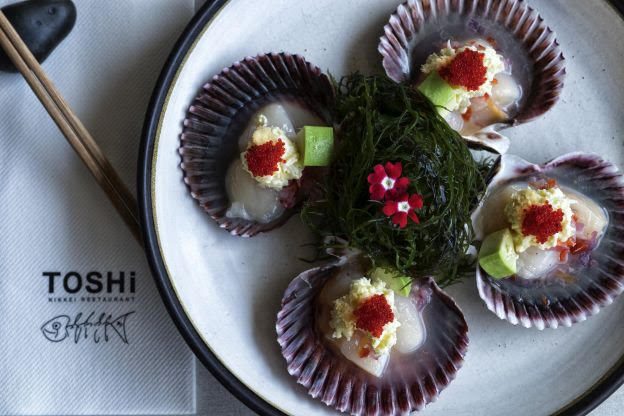 As starters, Chef Santiny chose for us a few dishes. We had the Scallops-Maca- Tobiko (s./35) which consisted of four scallops, some grated maca, topped with red caviar eggs and bathed in tiger's milk. We all loved the freshness of this dish and the slightly hot spicy flavors, making it a succulent start.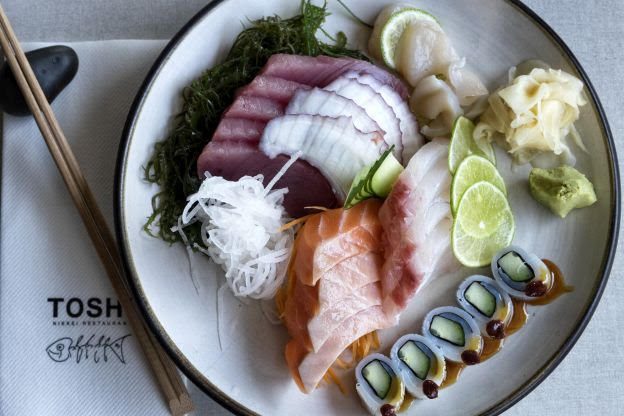 We then tried the Sashimi Moriawase (s./120), a big plate with a mix of fresh raw tuna, salmon, bonito fish slices, scallops, octopus, and algae ready to be eaten plain, with some wasabi if you wish, or dipped into the soy sauce. This dish is good for two to three people. My colleagues loved it more than I did.
The next one was the Japanese Tiradito (s./35), several slices of fish with some chalaquita and hot peppers on top. This Peruvian-Japanese dish was fresh and delicious, slightly hot but full of flavor.
There is no Japanese meal without nigiris. We had some shrimp Nigiris (s/9 the unit) flambéed and with spices on top that were pretty good, no doubt.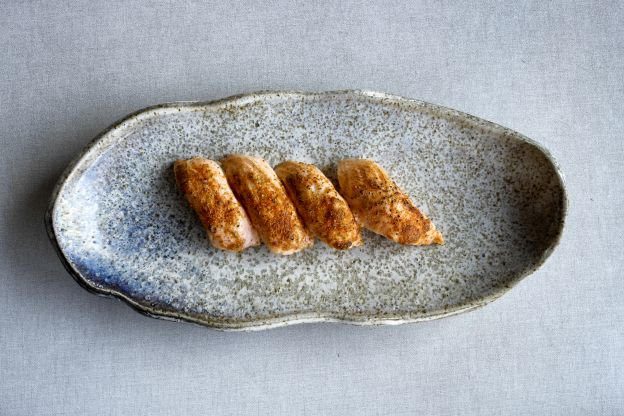 We then tired the Aburi Salmon Belly (s./12 per unit), a good-sized piece of salmon belly flambéed in garlic sauce and lemon butter. Boy, it was yummy and certainly one of my favorites that day.
I also enjoyed the Nasu Gyoza (s./38), small rolled fried eggplant pieces stuffed with pork meat and shrimps. They are served warm and were savory.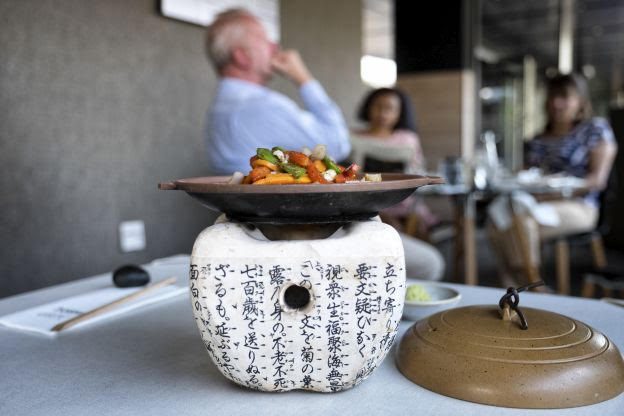 We also had the Ika Toban Yaki (s./42), a squid and vegetables sautee, nicely presented in a Sonia Céspedes ceramic piece. I enjoyed the smoky flavors, the garlic, and butter that came out strongly.
Our final dish was the Arroz con Pato Nikkei (s./40), the traditional northern rice with some duck slices served in a lovely casserole. The rice was moist and tasty while the duck was soft and enjoyable. It was a good end to our visit.
After trying all these dishes, I still think that the Oriental Duck (s./40) which we did not have this time, beats all of them and remains my favorite at this place. The duck is succulent and tender and mixes well with the marvelous sweet potato mash that comes along with it. I will also recommend their makis which are quite a hit.
The Extras
Toshi in Miraflores and Patio Panorama have live music on Friday evenings, and in their Patio Panorama establishment, an After Office from Monday to Sunday, from 6 to 8 pm where they serve makis and cocktails with 50% discount. In Miraflores, they also have a 50% discount on makis during lunchtime on Mondays and Tuesdays. Toshi has catering, delivering and take away services.

Toshi
Av. Armendariz 480 Miraflores
Tel. 444 2634
Parking – yes
Opening hours – Monday to Saturday 12.30 – 15.30, 19 -23 and Sundays 12.30 -18
Delivery – yes
Menu
Salads –s./18-48
Makis – s./25 (5 pieces) – 39 (10 pieces)
Warm and cold dishes – s./ 35 -45
Desserts – s./ 20
Kids menu – s./35
Now that you're here:
We're asking you, our reader, to make a contribution in support of our digital guide in order to keep informing, updating and inspiring people to visit Peru. Why now? In our near 20-year journey as the leading English-language source on travel in Peru, we've had our fair share of ups and downs-but nothing quite like the challenges brought forth in the first quarter of 2020.
By adapting to the changing face of the tourism and travel industry (on both local and international levels), we have no doubt we will come out stronger-especially with the support of our community. Because you will travel again, and we will be ready to show you the best of Peru.
Your financial support means we can keep sharing the best of Peru through high-quality stories, videos and insights provided by our dedicated team of contributors and editors based in Peru. And of course, We are here to answer your questions and help whenever you need us.
As well, it makes possible our commitment to support local and small businesses that make your visit an unforgettable one. Your support will help the people working in these industries get back on their feet once the world allows us to make our dream of enjoying everything Peru has to offer a reality again-from its mouthwatering gastronomy, thriving Amazon and archaeological wonders such as Machu Picchu.
Together, we will find a way through this. As a member of our community, your contribution, however big or small, is valuable.
Support Traveling & Living in Peru from as little as $1 - and it only takes a minute. Thank you!