As we start the New Year Belmond would like to tell you a little more about some of the special activities that you can enjoy at two of their very remarkable hotels.
Located in the breathtaking Colca Canyon in Arequipa, Belmond Las Casitas offers a variety of unique activities to enjoy while taking the time to unwind and reconnect with nature.
Horseback Riding:
If you're more of an adventurous soul, then riding Peruvian Paso horses around the Colca Canyon is a must! Journey through the Colca Valley and admire the inspiring views while the horses stop to drink water from the free-flowing river.
Fishing:
Belmond Las Casitas also has their very own trout pond, where guests are welcome to try their luck at fishing to later enjoy their catch at the renowned Curiña restaurant.

Alpaca Feeding:
For a fun activity for the kids, you can help the farm staff bottle-feed young alpacas, one of Peru's most adorable camelids, at various times throughout the day. Who wouldn't want to make a daily habit of this?
Peruvian Cooking Classes:
A Peruvian journey isn't complete without a cooking class! Belmond Las Casitas' very own expert chef teaches you about the textures and flavours that make Peruvian cuisine truly unique at their Curiña restaurant.
If you're traveling to Cusco, Belmond Hotel Rio Sagrado, located in the peaceful Sacred Valley, is a haven of indulgence with breathtaking views!
When you start your journey be sure to take part in the following unforgettable experiences.
Picnic Rendez Vouz or Garden Lunch with a View:
Enjoy an unforgettable dining experience with astounding views of the Urubamba River.
Choose between these two guest favourites: A beautiful picnic that starts off with a tantalizing Pisco sour, snacks and dishes made with vegetables hand-picked from their organic garden, or experience an outstanding garden lunch with majestic views of the Sacred Valley mountains that includes a 3-course meal consisting of a garden salad, a variety of home-made breads, a main dish of trout, meat or chicken and a pumpkin cheesecake delight!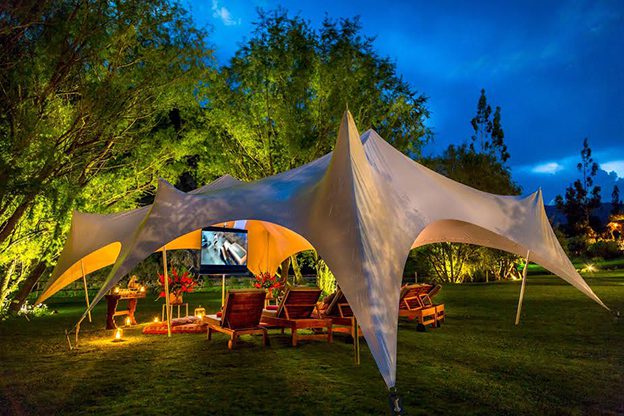 Movie Under the Stars:
Experience a movie night like no other! Watch a classic movie with breathtaking views of the Sacred Valley sky in this fun activity that will create unforgettable memories. Popcorn, snacks, and Muña (Andean mint) tea are also available!
Spa day:
Last, but certainly not least, disconnect and take the day to visit their tranquil Mayu Willka Spa. Enjoy a relaxing Andean massage and afterward unwind in their half indoor, half outdoor whirlpool while feasting their eyes on the spectacular view of the Sacred Valley.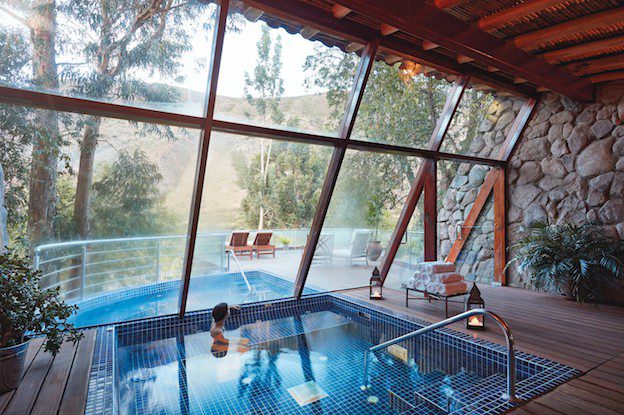 To book your next Peruvian journey with Belmond, click here!
(Cover photo: Picnic in the garden/Belmond Hotel Rio Sagrado)
This article is sponsored by Belmond Hotel.
Now that you're here:
We're asking you, our reader, to make a contribution in support of our digital guide in order to keep informing, updating and inspiring people to visit Peru. Why now? In our near 20-year journey as the leading English-language source on travel in Peru, we've had our fair share of ups and downs-but nothing quite like the challenges brought forth in the first quarter of 2020.
By adapting to the changing face of the tourism and travel industry (on both local and international levels), we have no doubt we will come out stronger-especially with the support of our community. Because you will travel again, and we will be ready to show you the best of Peru.
Your financial support means we can keep sharing the best of Peru through high-quality stories, videos and insights provided by our dedicated team of contributors and editors based in Peru. And of course, We are here to answer your questions and help whenever you need us.
As well, it makes possible our commitment to support local and small businesses that make your visit an unforgettable one. Your support will help the people working in these industries get back on their feet once the world allows us to make our dream of enjoying everything Peru has to offer a reality again-from its mouthwatering gastronomy, thriving Amazon and archaeological wonders such as Machu Picchu.
Together, we will find a way through this. As a member of our community, your contribution, however big or small, is valuable.
Support Traveling & Living in Peru from as little as $1 - and it only takes a minute. Thank you!