Have you been to Paracas Bay on a warm summer day and seen swarms (better known as blooms) of these magnificent gelatinous creatures?
Or have you seen the jellyfish swimming around while you were kayaking, or even clunked into one while kitesurfing? Have you ever wanted to know more about these magnificent creatures? Then, allow me to explain.
I didn't know jellies until I came to Peru.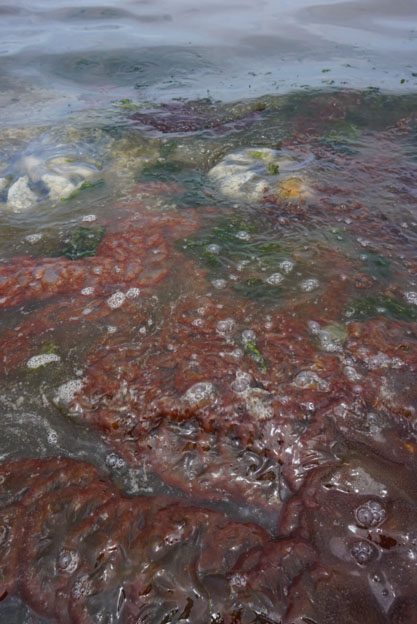 Being a Pennsylvania girl, I didn't grow up with these jellies while I spent my yearly summer vacation at Cape May Point, NJ. Maybe that's why they fascinate me so much, and what inspired me to learn more about them. After living in Lima for over 20 years, I've seen the jelly blooms come and go.
About the jellyfish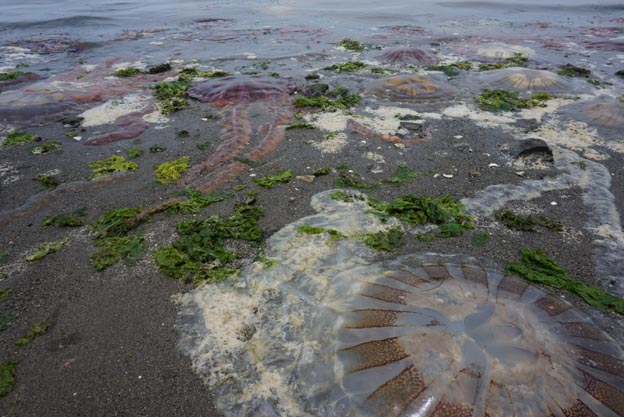 They are called Chrysaora Plocamia, or commonly known as Sea Nettles, and they belong to the Pelagiidae family. In Greek mythology, Chrysaor was the brother of Pegasus, son of Medusa. In 1830, the French surgeon, botanist and naturist Rene Primervere Lesson discovered the species.
You can find them along the coasts of Peru, Chile, Brazil, and in some areas of the US. Since they have few natural predators and increasing food sources, their populations are on the upswing. Warming waters is a possible cause for these changing conditions. Interestingly, they are carnivours, eating other jellyfish, ctenophores (comb jellies), zooplankton, and the occasional crustacean. Less common food for the nettles are mosquito larvae and minnows.
These creatures are generally about 30cm or a foot in diameter but can grow to be more than 2 feet. Their glorious, lay-like tentacles can be up to 2 – 3 meters (6-9 feet) long. If you're lucky enough to see them swimming instead of being washed-up on shore, you'll probably marvel at these magnificent, majestic animals painted with beautiful reds and yellows.
Watch out for the Tentacles (ouch, that burns).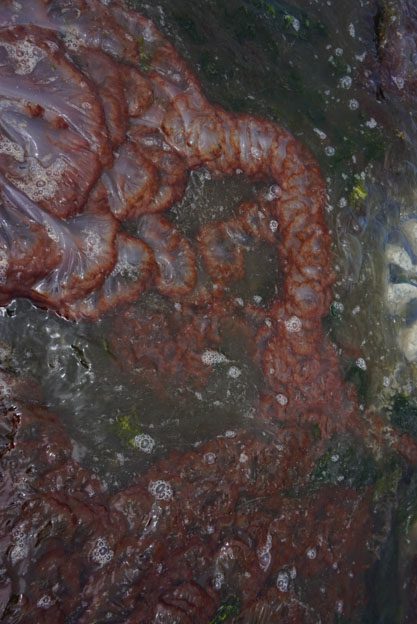 Their tentacles are covered in nematocysts. These needle-like spikes stick in your skin if you are unlucky enough to brush up against one, or if you happen to be dinner for the day, they will paralyze you. Although the poison is not enough to kill humans, it can burn. If you are stung, the Mayo Clinic recommends rinsing the affected area first with seawater, not fresh water, and don't use vinegar. Apply shaving cream or a mix of seawater with baking soda or sea water with talcum powder and let dry. After the compound dries, scrape it off. To complete the sting treatment, apply calamine lotion as the final step.
If you were curious about these creatures, I hope that you learned something. If you travel to Paracas frequently, as the water temperatures cool, their population should subside.
Written by: Carol Updegrave
Cover photo: Carol Updegrave
YOU MIGHT ALSO LIKE
Now that you're here:
We're asking you, our reader, to make a contribution in support of our digital guide in order to keep informing, updating and inspiring people to visit Peru. Why now? In our near 20-year journey as the leading English-language source on travel in Peru, we've had our fair share of ups and downs-but nothing quite like the challenges brought forth in the first quarter of 2020.
By adapting to the changing face of the tourism and travel industry (on both local and international levels), we have no doubt we will come out stronger-especially with the support of our community. Because you will travel again, and we will be ready to show you the best of Peru.
Your financial support means we can keep sharing the best of Peru through high-quality stories, videos and insights provided by our dedicated team of contributors and editors based in Peru. And of course, We are here to answer your questions and help whenever you need us.
As well, it makes possible our commitment to support local and small businesses that make your visit an unforgettable one. Your support will help the people working in these industries get back on their feet once the world allows us to make our dream of enjoying everything Peru has to offer a reality again-from its mouthwatering gastronomy, thriving Amazon and archaeological wonders such as Machu Picchu.
Together, we will find a way through this. As a member of our community, your contribution, however big or small, is valuable.
Support Traveling & Living in Peru from as little as $1 - and it only takes a minute. Thank you!