Have you ever had that feeling that you're experiencing something you might have lived through before? Déjà vu I think they call it. And perhaps too, a feeling that you are in some way returning to a place you've never visited?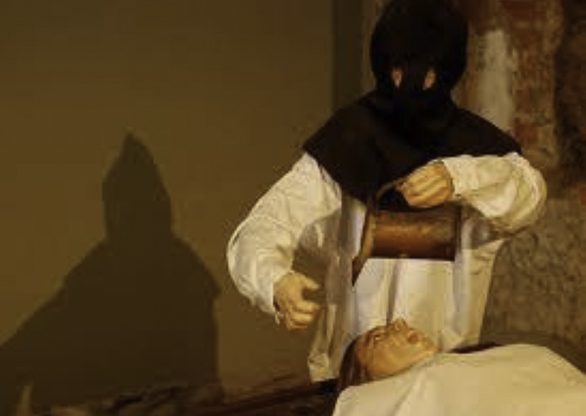 During a recent visit to Lima I'd been encouraged by some mischievous friends – they know I shy away from the darker sides of life – to pay a visit to the 'Museum of Congress and Inquisition'. Never one to resist a challenge, I duly turned up late one Friday afternoon in late January and soon found myself, along with three inquisitive Americans, down amongst the dungeons and all the paraphernalia of forced confessions and torture.
As we walked silently around the exhibits, I knew for certain that I had never, ever set foot in there before, but had the strangest feeling that in fact I had. That I was, in some way, returning.
A helpful attendant at the entrance had informed us that the place would close in about thirty minutes, but that if we were quick, we could see all the rooms before they locked up for the night. He also added that the place would be closed to visitors for renovation soon, so this was a last chance to enjoy some of the darker aspects of the country's history.
Enjoy? He must have been reading my mind, for he quickly went on to tell us that it wasn't all doom and gloom. Some of the rooms had served as the National Senate, others as the location of the National Library, and in one room, archaeologists had unearthed an ancient Spanish aqueduct.
We descended the steps towards the rooms in the basement. The more enjoyable rooms could wait, with only 30 minutes to spare we decided what took priority were the last two rooms in the deepest part of the building, the room of the 'Auto-de-Fe' where confessions were extracted, and the final dungeon room, the 'Chamber of Tortures' in which the condemned had been punished. Perhaps it was my imagination, but as I walked into that final room, I felt a distinct chill, as if a window had been left ajar, perhaps to let a soul fly free, or worse, some demon to enter. I looked at the leaflet the attendant had given me.
On the 23rd January 1639 in the very room where I now stood – and coincidentally on the same January date - 72 prisoners had been condemned to a variety of punishments, twelve eventually being burnt at the stake, one of whom who'd had the consolation of being dead by his own hand before his appointed time of execution. Not to be outdone the Inquisitors had apparently burnt an effigy of the poor man in his place.
It was then that I began to feel that I had in some way visited this place, this room before.
Most of the exhibits were what I expected, cliched and not particularly interesting. It was in this final dungeon though – it contained two figures, a torturer in a black mask pouring water into the mouth of a tied victim – waterboarding I think they call it now – that I experienced a stronger, distinct feeling of déjà vu, or more precisely a sensation that I had already lived through the experience I now saw depicted in front of me. Looking more closely at the victim I couldn't help but notice a slight similarity with myself, the shape of the head, the mouth gaping open not unlike mine, the long slender fingers tied to the table. But worse was the feeling, the sensation, that this was just the beginning, the start of some infernal game that would never end, that I would be returning, forever.
Ridiculous, I know but...
I turned to leave and suddenly found myself alone in the room. I must have been there for at least thirty minutes, and so if I wasn't quick, I'd find myself locked in. But where were the Americans, and shouldn't the attendant have been down here ushering us along? Time to leave this damned place and re-join the land of the living, and more importantly, a stiff drink at my hotel just off the Malecon.
It was then that I heard a voice. It was quiet, like a rasp and it seemed to be coming from the robed torturer standing over his victim. I moved a little closer.
My Spanish is poor at the best of times, but it wasn't difficult to understand.
Bienvenido senor, bienvenido. And then …regresar es mucho más dulce.
Returning is so much sweeter? What the hell did that mean? Hell indeed, and time to leave.
I turned and stumbled up through the gloom, praying that I wasn't alone, and more importantly, not locked in.
At the top of the stairs, the attendant glanced up as I walked quickly towards him. He seemed unperturbed at my dishevelled appearance and incoherence.
Are you alright senor? No rush, we close in ten minutes…
Ten minutes? I had been down in those dreadful rooms for just twenty minutes. No sign of the Americans, but at least I had made it out more or less in one piece. Once on the pavement, I took a deep breath and allowed myself a quick smile. Enjoyable? No, but now at least I understood something of the fear and terror the poor souls must have experienced in the final weeks of their lives. I looked around for a taxi to take me home. I was in luck.
To my left stood a cab with its rear passenger door open. I jumped in and shouted to the driver to take me to my hotel. Fast. He looked straight ahead, locked the doors, and nodded.
It was then that I had my second feeling of déjà vu. Perhaps it was the shape of his head or his hands that seemed in some way familiar? Hands that could grasp a steering wheel as firmly as they could pure water down an unfortunate's throat. Without turning, he said to me in a low whisper, more like a rasp,
Si senor.
And then added quietly.
…Bienvenido senor … más dulce … más dulce.

Cover photo: Needpix