Is it possible to see the best of Peru by bus? Yes, if given a month's time and following these tips for traveling in Peru.
This is the second of a four-part series of tips for traveling in Peru. After you've been to Lima, which you can read in the first part of this series, it's time to move on to Huaraz by bus. In fact, all of the top destinations in Peru can be reached by bus, as seen in the following itinerary:

Fly into Lima
Bus to Huaraz
Bus back to Lima
Bus to Paracas
Bus to Huacachina
Bus to Arequipa
Bus to Puno
Bus to Cusco
Fly back to Lima
Fly Home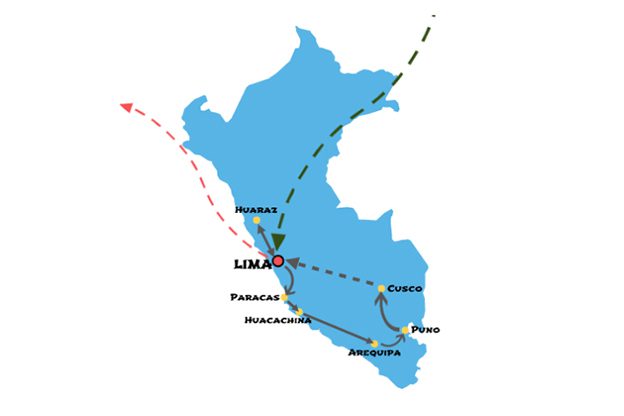 Huaraz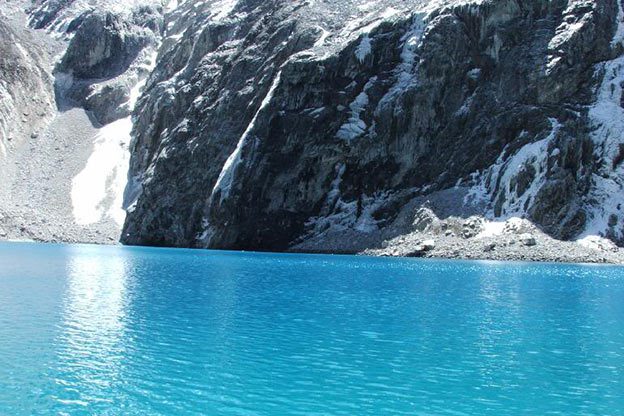 What to do
Laguna 69 trek

Unfortunately, due to a strategically-timed migraine, I chickened out of this hike, but from what I hear, it's absolutely stunning. The full-day hike is very long and quite challenging – not from the actual incline, but from the altitude itself (the lagoon sits at 4500m above sea level). However, the view from the top is breathtaking (get it? Altitude joke). Laguna 69 is a Gatorade-blue lake that sits at the base of a glacial mountain peak. The water that drips off the glacier in the warmer months feeds the lake and keeps it blue with glacial minerals. I hear it's completely worth it, but be sure to prepare yourself for a long and strenuous day.

That's about it – most people come to Huaraz specifically for the Laguna 69 trek.
Where to stay
Alpes Huaraz – This hostel was awesome because it's designed in a pretty funky way. They have a really nice boutique-feeling breakfast and community space, a second-story kitchen for you hostel chefs, and some pretty comfortable and warm dorms, with private bathrooms. Plus, when I got a migraine and had to cancel my Laguna 69 booking, they were happy to refund me even though it was last minute.
What to eat
I bought local groceries and cooked at my hostel because I was sick here, so I'd say have some pasta.
Paracas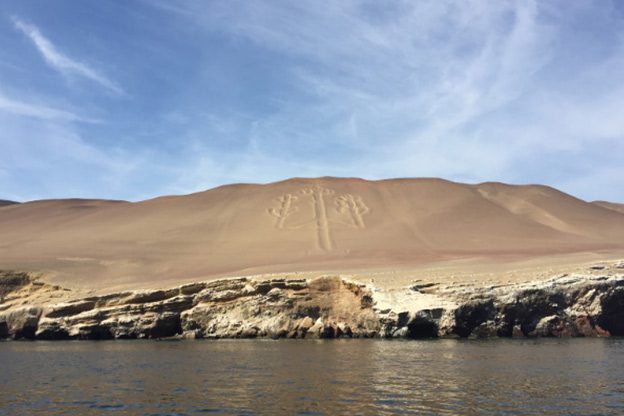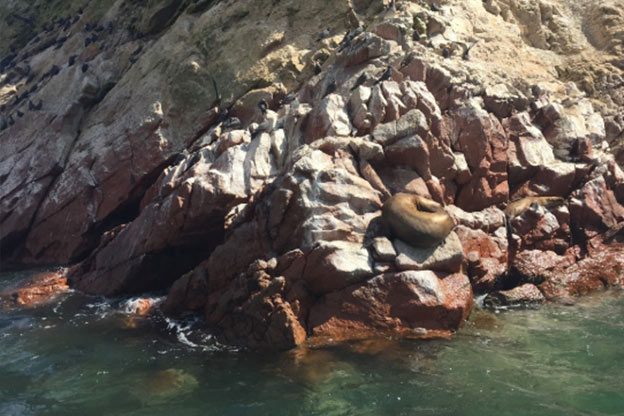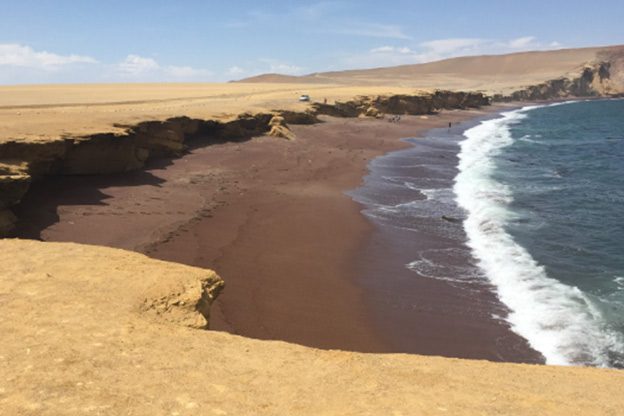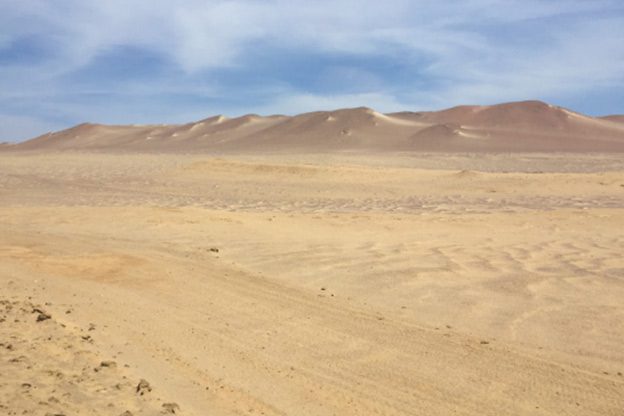 What to do
Islas Ballestas

They call it the Poor Man's Galapagos, but from what I hear, it's really quite different. On the half-day tour, you'll be able to see a variety of seals and sea lions lounging around the beaches, as well and coming up for air all around your boat. They heavily advertise the penguins on this trip, but (at least when I was there) there were only a few. There are, however, quite a few spectacular marine birds and some really fascinating rock formations. The tour is quite impressive, but be wary about comparing it to the Galapagos – if you go into it with that mindset, you may be setting yourself up for disappointment.

Paracas National Reserve

This half-day tour will take you around the protected desert coast of Paracas, and it will show you some incredible views. From black and red sand beaches, to sweeping cliffs, and fluffy sand dunes, it's really quite incredible to see how the desert comes right up and touches the beach.
Where to stay
Icthus Paracas – I stayed here because of the price, and because I was craving a quiet night's sleep. It was complete with all the basic amenities – dorm rooms, private bathrooms, a lounge-type communal space. It was definitely somewhat bare-bones, but it did the trick for sure, and I slept like a baby.
Kokopelli Paracas – I opted not to stay here just because I wasn't in the mood for a party hostel at the time. I'm a big fan of the Kokopelli franchise in general, and I hear that their Paracas location is really quite fun, so if you're in the mood to sip some Pisco Sours and chat with some travelers, this is probably your best bet.
What to eat
A bit difficult to say, because Paracas has quite a lot of Western-style options that I'm not much of a fan of. However, we somehow managed to get a recommendation from a local who worked at the hostel to try this mom & pop restaurant way on the other side of town. It was hands-down the best Caldo de Gallina (chicken soup) I've ever had, and I genuinely hope you manage to find it.
Tune in next week for part three of this series!
Who is Gilad?

Gilad is a traveler in his 20's who takes advantage of every opportunity to travel. He has Hypochondriasis, OCD and moderate anxiety, but doesn't let it stop him from experiencing the world, and in fact, has managed to turn his mental shortcomings into positives. His website Anxious & Abroad aims to show other nervous travelers and first-timers that travel isn't just for the carefree nomadic types, but can be fun and rewarding for any kind of person — neurotic, meticulous, anxious or organized. Follow his adventures on Instagram and Facebook!

By Gilad.
Cover Photo Christian Cruzado.
Now that you're here:
We're asking you, our reader, to make a contribution in support of our digital guide in order to keep informing, updating and inspiring people to visit Peru. Why now? In our near 20-year journey as the leading English-language source on travel in Peru, we've had our fair share of ups and downs-but nothing quite like the challenges brought forth in the first quarter of 2020.
By adapting to the changing face of the tourism and travel industry (on both local and international levels), we have no doubt we will come out stronger-especially with the support of our community. Because you will travel again, and we will be ready to show you the best of Peru.
Your financial support means we can keep sharing the best of Peru through high-quality stories, videos and insights provided by our dedicated team of contributors and editors based in Peru. And of course, We are here to answer your questions and help whenever you need us.
As well, it makes possible our commitment to support local and small businesses that make your visit an unforgettable one. Your support will help the people working in these industries get back on their feet once the world allows us to make our dream of enjoying everything Peru has to offer a reality again-from its mouthwatering gastronomy, thriving Amazon and archaeological wonders such as Machu Picchu.
Together, we will find a way through this. As a member of our community, your contribution, however big or small, is valuable.
Support Traveling & Living in Peru from as little as $1 - and it only takes a minute. Thank you!