If you make a visit to Ozu, you're in for a complex and wonderful experience. As a top restaurant that blends Japanese and traditional Peruvian cuisine, Ozu brings smiles to those who visit. The restaurant is renowned for its aesthetics; not just for the food, but also for the atmosphere.
Having lived for half of a decade in a Japanese city renowned for its cuisine, I was excited to try out this newer Nikkei establishment.  Ozu is a Peruvian-Asian Fusion restaurant that serves several sensory satisfying plates in a relaxing atmosphere. On entering the restaurant, you will probably first notice its unique design. The ground floor is decorated with cascading wooden walls, just like the wooden windows of traditional Japanese tea houses. On the second floor is a minimalist sushi bar. And on the third floor, you'll find three Izakaya-esque private dining areas that are perfect places for you and your friends or co-workers to unwind. 
The Drinks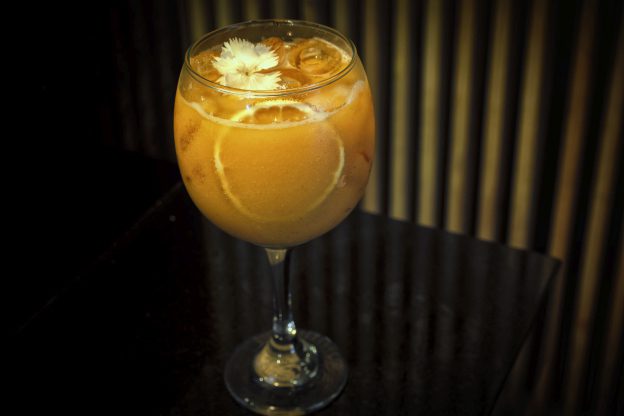 Ozu offers refreshing non-alcoholic and alcoholic beverages. The cocktails we tried were excellent, and they were well-presented. My favorite was the Gold Plantation (S/.29), a delightful mix of rum, pineapple, Ecuadorean orange juice, and lemon.  Of the non-alcoholic cocktails, I recommend the Heian (S/. 19), a subtly sweet mix of kombucha tea, camu camu cherries, handmade sugar, and ginger.
The Food
Ozu features assorted dishes ranging from Peruvian to Japanese, to Asian/Peruvian Fusion. Since the chef lived in Japan for 10 years to learn his trade, he's well versed in Japanese aesthetics and subtlety. He and his kitchen crew do a great job of applying Japanese traditions to bring new life into Peruvian ingredients and flavors.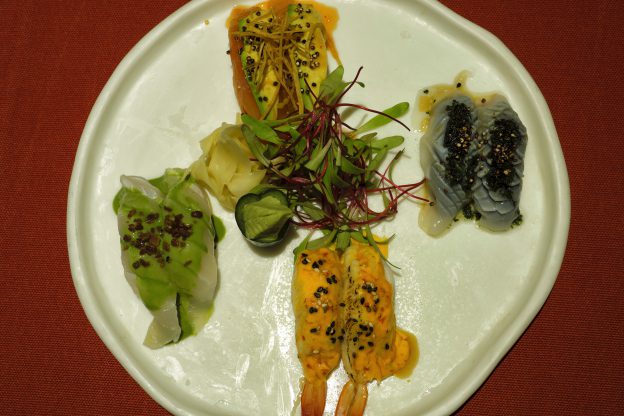 Niguri 2 pieces S/.18
We started off with the subtle flavors of Sushi and Niguri. My expectations were high, and I wasn't sure what to expect since I once lived in Japan. But I have to say that I was pleasantly surprised. The Natsumi salmon niguri, which I tried with sake, garlic mayonnaise, wasabi, chalaquita of the house, and quinoa pop, was soft, fatty, and delicious. However, I recommend the Mar & tierra, Ozu's fish of the day, which is flavored with tiradito sauce, rocoto, and turkey bacon.
Maki 10 pieces S/.38 5 pieces S/.22
The Maki specials also featured a Mar & Tierra with the fish of the day. The Maki version is accompanied with fried shrimp, avocado, pepper green sauce, powdered bacon, and quinoa pop. We also tried the Andino, a cream cheese, avocado, fried ebi (shrimp) roll that was flavored with Andean chimichurri, teriyaki, and quinoa pop.  I particularly liked the combination of teriyaki and chimichurri. I also recommend The Katsuo and Maki Shipibo.
Entre Fria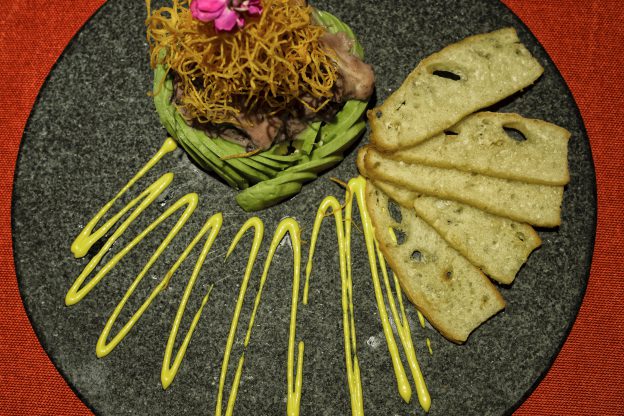 For the main courses, you have a choice between cold (Entre Frias) and warm dishes (Entre Calientes). I recommend starting cool and working your way up. The creamy Tako Olivio S./36 looks like a piece of modern art with the  Octopus in Olive with togarashi, wrapped with avocado, and accented in focaccia, pickled radish, and yellow pepper. I don't have a particular liking for octopus or olive, so the fact that I enjoyed this speaks volumes. The ingredients were fresh, and the flavors complimented each other in powerful ways.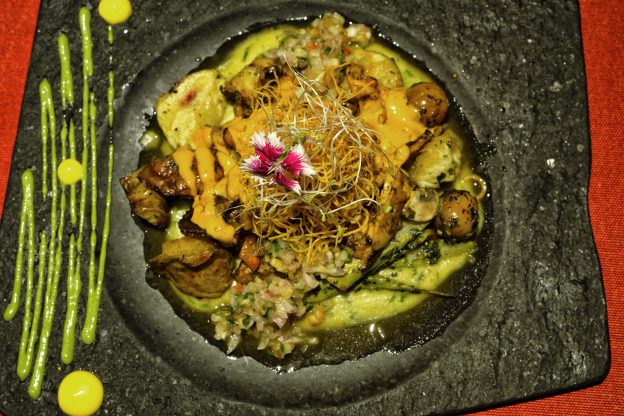 The Tako Anticuchero  S/.39 is a Peruvian fusion of  Octopus on potato, crispy yucca al chimichurri sauce, cucumber of tender corn, and cilantro with anticuchera mayonnaise. The many flavors combine in unique ways that leave you wanting more.
Rondo Ozu S/.60 is a sampler of a few of Ozu's dishes, such as the Pato Gyoza (confit), Kani- Cha Spring Roll, which is filled with crab, pork, Japanese vegetables in Ozu sauce and, spicy mayonnaise. There is also the Capricho De La Selva, a mini-brochette of pork belly, jungle sausage, and fried plantain maduro, crowned with chalaquita of cocona and kiuri.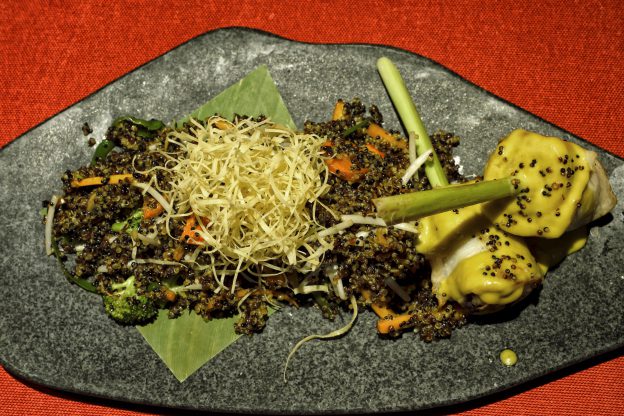 The Paiche Amazonico S/.54 is one of Ozu's most popular dishes. This popular Amazonian dish is smothered in green curry sauce and shiitake mushrooms, wrapped in bijan leaves, and accompanied with quinoa, which is sauteed with hearts of palm. It had a salty and earthy taste that I much enjoyed with the quinoa.
Lomo Saltado Ozu (S/.54) is Ozu's take on the Peruvian classic, sirloin steak cooked creole-style, with fries. However, Ozu adds scias mushrooms, bacon, tomatoes, onions, shallots, and glaceado to create a unique variation. 
Dessert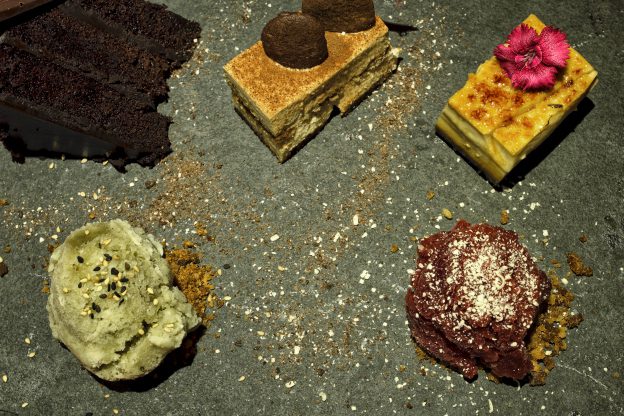 To finish things off, we sampled a variety of mini desserts Variedad de postres mini (S/.30). The desserts were good, but don't come to Ozu for this reason.  It's best to fill up on the delicious entrées, and use the dessert as the Japanese do: A little goodbye kiss from the meal.
Av. Benavides 4862, Santiago De Surco
Phone: +51 -01- 497-5918
Hours
Monday – Saturday: 12:00 PM – 4:00 PM, 7:30 PM – 11:30 PM
Sunday: 12:00 p.m. to 5 p.m.
Prices
Sashimi 5 Cortes S/.25
Niguiri 2 Piezas S/.18
Maki
10 Piezas S/.34
5 S/.20
Maki Especiales 10 Piezas S/.38
5 Piezas S/.22
Cold Plates
Ceviche Clasico S/.44
Ceviche Senshi S/.49
Ceviche Nikkei S/.47
Tako Al Olivo S/.36
Hot plates
Tako Anticuchero S/.39
Kani-cha Spring Roll S/.39
Ronda Ozu S/.60
Ravioles Asado De Tira  S/.39
Dessert
Variedad de postres mini S/.30
Yucamochi Ozu S/.26
Cover art: Living and Traveling in Peru Archives
Comments
comments