Move over, Nazca Lines. The Palpa geoglyphs are the lesser known lines in the desert of Ica, which is just one reason why you should visit.
Located about 14 kilometers north of Nazca, the geoglyphs of Palpa recently received a facelift. The Ministry of Culture presented the newly renovated touristic circuit created in Palpa, Ica, which will allow visitors to see the awe-inspiring geoglyphs.
Improvements were overlooked by the Ministry's Nazca-Palpa management sector, and included: cleaning the area and the enhancement and conservation of the geoglyphs. The creation of additional activities around the geoglyphs will help promote the area and benefit the local population.
The geoglyphs of Palpa
There are the three main geoglyph groups in Palpa. The first, the "Orca", is a representation of what is believed to have been the most important mythical creature for the Nazca and Paracas cultures.
The orca figure is typically portrayed with human attributes. The orca geoglyph in Palpa has a human arm carrying a trophy above its head. You can also see a fish in the mouth and human heads inside its body. The geoglyph is 65 meters wide and height of 25 meters.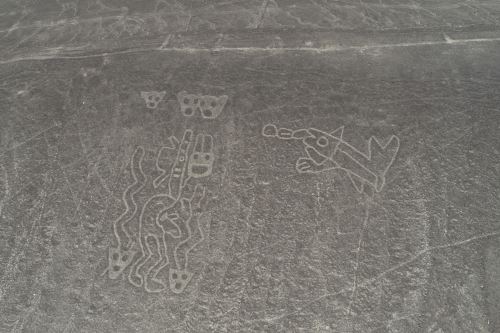 Second, the "Shaman and allies", shows a shaman-like character believed to have supernatural attributes surrounded by a whale, monkey and other animals attributed to fertility and water.
In the third group of the Palpa geoglyphs, the "desert animals", you will see figures of an owl, two camelids, a feline and other anthropomorphic figures. This group occupies a width of 165 meters, and height of 20 meters.
Source: Andina
Photos: Andina

Now that you're here:
We're asking you, our reader, to make a contribution in support of our digital guide in order to keep informing, updating and inspiring people to visit Peru. Why now? In our near 20-year journey as the leading English-language source on travel in Peru, we've had our fair share of ups and downs-but nothing quite like the challenges brought forth in the first quarter of 2020.
By adapting to the changing face of the tourism and travel industry (on both local and international levels), we have no doubt we will come out stronger-especially with the support of our community. Because you will travel again, and we will be ready to show you the best of Peru.
Your financial support means we can keep sharing the best of Peru through high-quality stories, videos and insights provided by our dedicated team of contributors and editors based in Peru. And of course, We are here to answer your questions and help whenever you need us.
As well, it makes possible our commitment to support local and small businesses that make your visit an unforgettable one. Your support will help the people working in these industries get back on their feet once the world allows us to make our dream of enjoying everything Peru has to offer a reality again-from its mouthwatering gastronomy, thriving Amazon and archaeological wonders such as Machu Picchu.
Together, we will find a way through this. As a member of our community, your contribution, however big or small, is valuable.
Support Traveling & Living in Peru from as little as $1 - and it only takes a minute. Thank you!