In a corner of an important avenue in San Isidro stands 500 Grados, the most recent restaurant of Chef Jaime Pesaque. Day or night, the place is packed with people who seem to be having a good time.
I was determined to find out the reason for such success. Chef Jaime Pesaque is well known in the industry, so my expectations were running high.
The restaurant is located in the open basement of a modern building, dominating the busy street corner. You walk a few steps down and you find yourself immersed into this cozy, relaxed, and trendy place that customers seem to really enjoy. Two big round ovens from which many of the dishes (and even some of the drinks) on the menu are produced occupy a large part of the restaurant space. I enjoyed watching the waiters go back and forth with their dishes and hearing the commands coming straight out of this area.
The Drinks
From the bar that stands in one corner of the restaurant came our first round of drinks. We started with a Carambola Soda (S./9), a nice and refreshing drink with star fruit flavors that are mixed with soda. It was lovely, quite light and very refreshing. This pinkish drink is served in an elegant champagne flute, making it a beautiful option if you are not into alcoholic drinks.
We also had a Golden Negroni (S./36), a drink that is usually harsh, bitter, and one that mostly men like. I have to say, I found this drink fruity and enjoyed it all the way through—perhaps it was the roasted golden pineapple mixed with the Vermouth Rosso that made all the difference.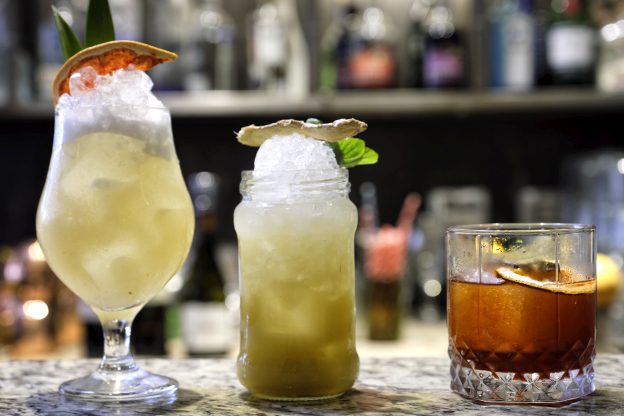 We then tried the Cardammomo Punch (S./29), a fresh cocktail made with peach liquor, spices, and balm mint leaves. It was light in flavor and quite refreshing, but I would have added some extra cardamom to duly pay tribute to its name.
Next came the Purple Mule (S./36), a purple colored cocktail with vodka, lime juice, homemade ginger beer, and roasted berries made in the magic oven of course. With mules, one can hardly go wrong and this one was no exception; it was refreshing and full of flavor.
We then tried the Ginger Julep (S./34), a cocktail made with a twelve-year-old whisky, ginger syrup, and mint. As simple as it sounds, the beverage was delightful.
Our last drink was the Amazonas (S./ 32), a pisco-based cocktail with star fruit-flavored soda, grapefruit juice, bitters, and orange slices. The drink was very refreshing, light, and full of flavor. There was not a single drink we did not like as we found them all quite good.
The Food
With so many drinks, I was glad to see some food arriving at our table.
The Starters
The very attentive waitress brought us a lovely jute pouch with some homemade Roasted Bread (S./9), which had the shape and texture of a calzone.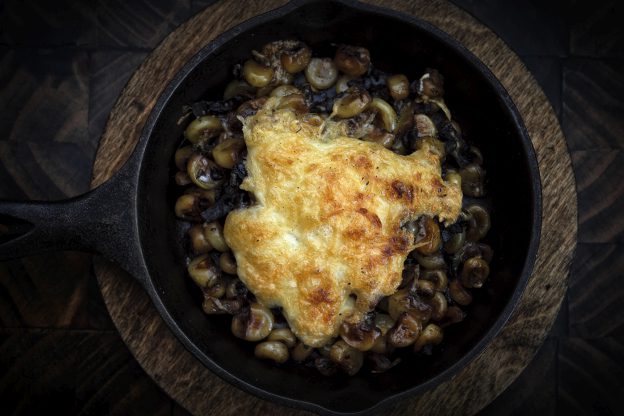 A few seconds later, our first starters arrived. There was the Choclo Diablo (S./28), a small hot pan filled with an enjoyable mix of corn kernels, Porcon mushrooms from Cajamarca, cheese, and herbs—my colleague loved this dish.
We also savored the Pulpo Tostado (S./38), a piece of grilled octopus that lies in a bed of red peppers, tomato sauce, chimichurri, and a little bit of mayonnaise. While I appreciated the texture of the octopus, the rest of the dish did not make it for me, and the mayonnaise was a killer too.
The Palta a la Brasa (S./32) consisted of half a piece of avocado generously filled with raw loin meat that meat lovers will certainly appreciate.
The Main Dishes
If the starters did not quite make it for me, the main dishes certainly won me over. We started with an Arroz Mar & Campo (S./44) that had plenty of tasty pork sausage, big pieces of shrimp, squid, zucchini, eggplant, and red peppers. The rice was cooked to perfection, as it was al dente, and was very tasteful; perhaps a little bit less moist would have been better, but we still enjoyed this Spanish classic.
We then tried the Pollito a la Leña (S./42), a large piece of chicken leg that comes with roasted potatoes, onions, brussel sprouts, cauliflower, and rosemary. The chicken was juicy and as tasty as could be, and the mix of vegetables was a great addition to this well-accomplished dish. This dish alone deserves a second visit on my part.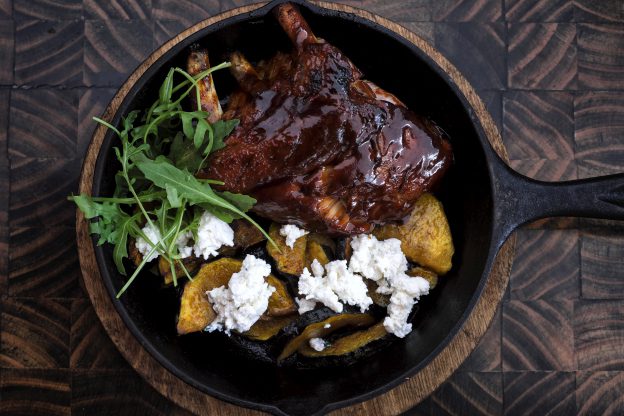 We also very much enjoyed the Pork Ribs (S./48). The meat was tender and flavorful and so were the roasted vegetables, including the wonderfully soft and creamy grilled loche (Northern squash) that we enjoyed a lot.
We also tried one of their pizzas. We ordered the Pizza Brie (S./41) that comes with a tomato base, mozzarella, Brie cheese, pears, and lots of arugula. With such a perfect mix of ingredients, I thought I would devour the pizza, but this did not happen. I found the dough to be too soft and would have liked it more crunchy; perhaps it was just a matter of asking.
The Desserts
It was then time for dessert and we had two, the first being the Chocolate Cake (S./26)—a huge piece of chocolate cake bathed in lots of chocolate sauce, scattered berries, and handmade banana ice cream on top. This cake can be easily shared between at least two or more sweet-tooth customers, as it is the biggest portion I have ever seen, and kind of turned me off.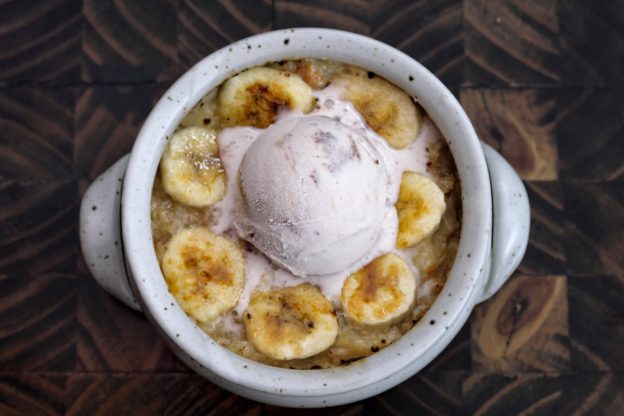 The second dessert we tried was the Arroz con Leche (S./22), which I enjoyed more. Another big dessert that differs from the classic one, this one is somehow similar to a crème brulee, as it has the crunchy custard on top along with caramelized bananas, pecans, and peanuts. It was very tasty and I think I could have this for brunch, as its contents reminded me of porridge.
We ended our lunch with an Espresso Coffee (S./6) and a very light Apple and Cinnamon Hot Tea (S./7), both served in lovely tableware.
What Else?
500 Grados has a brunch and breakfast menu every day from 7 a.m. to 12 p.m. that looks quite interesting for the variety of bread, toast, eggs, bowls, natural juices, and hot beverages it offers.
500 Grados
Av. Camino Real 1281, San Isidro
954 604 536
www.500grados.com
reservas@500grados.com
The Hours
Monday to Sunday 7 a.m. to 12 p.m.
The Prices
Refreshments – S./ 8 – 10
Cocktails – S./ 29 – 36
Wine by the Glass – S./14 – 36
Beers – S./ 14 – 28
Sandwiches – S./ 12 – 24
Salads – S./ 26 – 49
Pizzas – S./ 34 – 44
Starters – S./ 28 – 36
Main dishes – S./ 39 – 99
Desserts – S./ 18 – 26
Comments
comments