The team of Traveling and Living in Peru recently visited the popular contemporary waterfront bistro, Cala. Cala closed in November 2018 for a few months to complete 4 months of extensive renovations, not only in their decor, but also the menu. The restaurant looks fantastic inside and the food is still as terrific as I remembered.
Second floor seating

Bar

Bar details

Cala

Exterior

Details

Exterior seating

Interior

Llama plata, Tiki C, CALA julep

Lucuma ice cream sandwich

Seating

Exterior view

Hibiscus smash

Paella de camarones
Since 2006, Cala has been one of the more popular and best places to experience a unique waterfront dining experience. It's also one of my "go-to" destinations when we have people visiting us in Lima. There's not a bad view anywhere at Cala. Even on the chilly, grey winter day of our visit, the beautiful ocean views raised our spirits. The food and service are always consistently good. The restaurant continues to enjoy a good reputation under owner/chef Alfredo Aramburu and the Aramburu Matriz management group. This group also owns and manages several other restaurants in the Lima area such as Popular, Lima 27, 27 Tapas, Mangos, Armónica, Alfresco, Isidro, and Celeste, just to name a few.

Decor
The decor at Cala is a combination of subtle, contemporary and elegant. The first-floor areas are geared more for a comfortable and relaxed vibe. The second floor is more elegant and dramatic. Jordi Puig, one of the most recognized architects here in Lima, was in charge of carrying out this new Cala renovation project. He was inspired by the docks and boats of the fishermen and combined natural elements to enhance the oceanfront experience at Cala. This is evident when you observe the use of many natural materials and elements such as wood, stones, metals, plants, rattan, and of course, the ocean views are an integral part of Cala.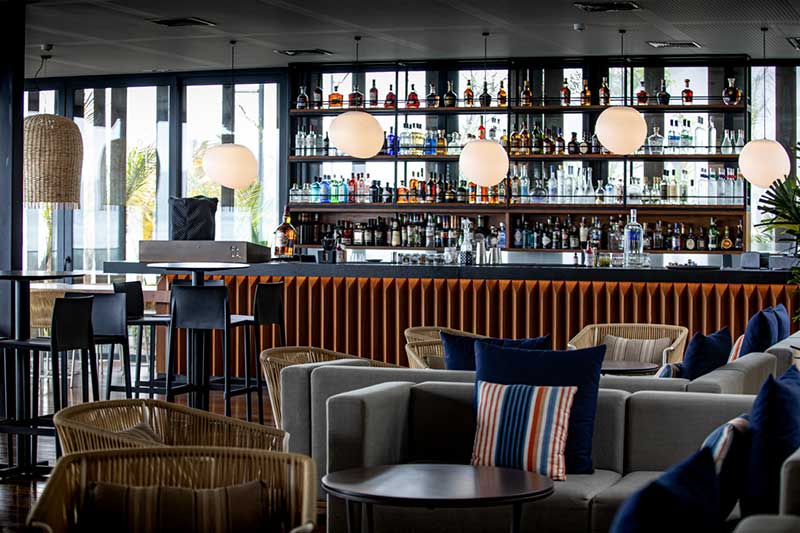 The first floor has a comfortable lounge area with several tables with teal/turquoise plush, comfortable chairs as well as other seating options. The expansive first-floor bar is made from recycled wood from artisanal fishing boats. The funky wood and iron bar stools are also made with recycled wood. There is an outdoor deck with tables and stools where you are literally sitting right on the ocean and you can feel the ocean breeze and enjoy the sound of the waves. In the past, the first floor had a very large open outdoor patio, but with the new renovations, they opted to enclose it, yet you still feel like you are sitting outside because you have unobstructed views with floor-to-ceiling windows. When the weather permits, the windows fully slide open all the way. This renovated patio area has an abundance of comfortable seating options as well as its own small bar.

The second floor holds a large dining area. It has a bit of a more formal and elegant vibe. Your eyes are immediately drawn to the very large and dramatic light fixtures made with long wooden pegs that are suspended from the ceiling. We also enjoyed the gold-hued octopus and squid images which could be observed on the entire ceiling.

The food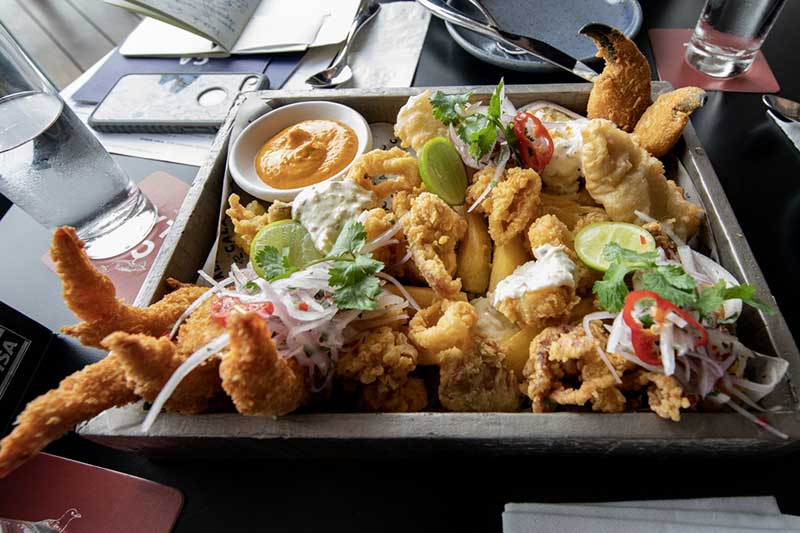 The menu at Cala is varied and the food is consistently good food. On the day of our visit, we enjoyed delicious food and drink. We began with one of the options from the sharing section, the Frituras (S/. 98). A wood serving box was filled generously with fried fish and seafood including calamari, octopus, fish of the day, shrimp, crab claws, and fried yuca. This was enough to share between 3 to 4 people. It was accompanied by a tartar sauce, aji amarillo sauce, and salsa criollo. It was delicious, satisfying and ideal especially if you prefer cooked seafood.

In my personal opinion, you can't go wrong if you order any of the ceviche or tiradito dishes at Cala. They are always ultra-fresh, delicious and first-class quality. We shared the Sobredosis (S/. 115), a platter that serves four types of ceviche. Each ceviche is in its own serving dish and is resting on a large round platter of crushed ice. Cala uses lenguado (flounder) for their fish in the ceviches. We sampled the ceviche traditional, a combination of pieces of the fresh flounder, leche de tigre, aji limo, and thin slices of red onion. The ceviche conchero included flounder, scallops, and octopus along with a scallop cream, aji limo and a touch of cilantro. This was my personal favorite. The ceviche al culantro was prepared with a very mild cilantro sauce along with pieces of flounder, octopus, and fried calamari. We thought the cilantro flavor could perhaps have been more pronounced. The fourth ceviche was the ceviche mixto tres ajies which incorporated flounder, calamari, and octopus with a liberal sauce prepared using aji amarillo, aji limo, and rocoto. All 4 ceviches were wonderful and ideal for experiencing different flavors.

We also sampled two of their main dishes. The Paiche Amazónico (S/. 66) was prepared with the famous paiche fish from the Amazon River accompanied by a tacu tacu de platano bellaco, salsa de cecina, criolla de cocona. The tacu tacu prepared with rice and banana was interesting and paired nicely with the perfectly cooked white fish. The light flavorful sauce was prepared with cecina (bacon from the jungle), fish stock, a touch of butter, and puréed onion. The accompanied exotic mixture of diced onions, cocona fruit and peppers also enhanced this delicious dish.

Our last main dish was the Paella de Camarones (S/. 115) which arrived in a large black paella pan and could easily be shared between 3 or 4 people. The camarones (river shrimp, similar to crawfish) were succulent and rich. Bomba rice was used to prepare this paella along with a generous touch of saffron, tomatoes, onions, garlic, the coral of the crawfish, white wine and herbs. There was an abundance of concolon (slightly burnt and crunchy rice). I enjoyed this crunchy texture, although one of the other TLIP team members felt there was too much. This dish requires about 35 minutes of preparation.

Dessert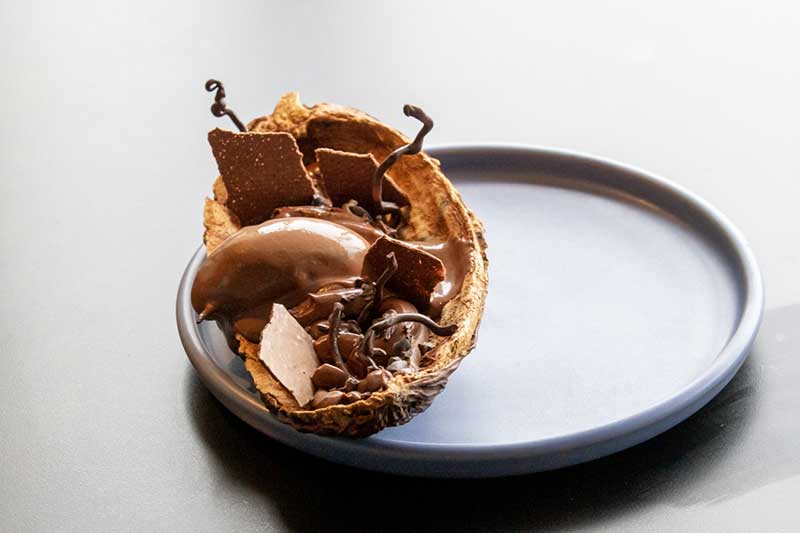 One of Cala's most popular desserts is their Cacao a la vena (S/. 29). Wow! It was a lot of chocolate. Everyone at our table was a chocolate lover so we enjoyed this. You have chocolate presented in forms of mousse, cream, ganache, nibs, merengue, chocolate "twigs", wafers and bitter chocolate ice cream and all served in a very large cacao pod. They are not kidding when they refer to this as "chocolate directly entering the vein".

Our second dessert was the Lucuma Ice Cream Sandwich (S/. 17). I happen to love lucuma ice cream so this was a nice treat. The lucuma ice cream was nestled between large crispy sable shortbread cookies with light coffee cream. I found this ice cream sandwich highly satisfying.

Drinks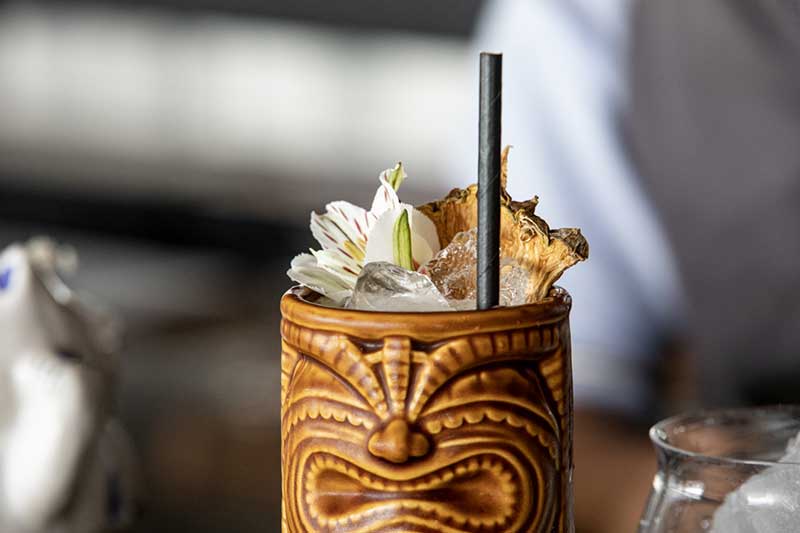 The cocktails were very satisfying and unique. One of my favorite cocktails was the Tiki C (S/. 36), a slightly creamy concoction of Beefeater's gin, Cuatro Gallos Pisco mosto verde, Plantation pineapple rum, almond horchata, Luxardo Cherry Morlacco (cherry liqueur), pineapple and orange juices all served in a tall tiki-style glass.

The Llama Plata (S/. 29) was served in a whimsical Japanese-style blue and white ceramic cat with a combination of gin, cocona fruit, granadilla, aloe vera, and rhubarb bitters just to name a few of the ingredients. Very different and unique cocktail.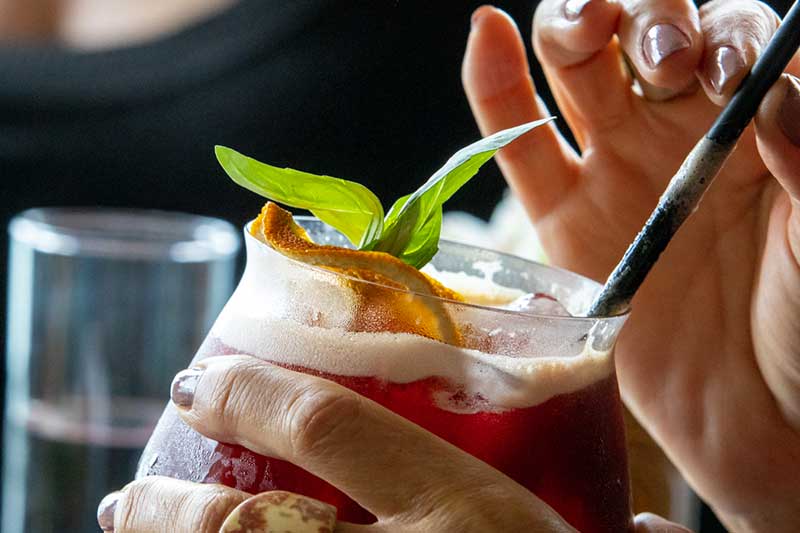 Our table favorite was the CALA Julep (S/. 34), a refreshing mixture of Cuatro Gallos Pisco Mosto Verde Torontel, Amaro Luxardo (bitter Italian herbal liqueur), pink grapefruit juice and a touch of purple corn kombucha.

We also sampled a non-alcoholic beverage named the Hibiscus Smash (S/. 24), a concoction of hibiscus syrup, Tahiti lime juice, orange bitters, and tonic water decorated with basil leaves. Lovely!

Final thoughts
The wait staff were very attentive not only to our table but also to the surrounding tables. In fact, they enhanced our experience and were very knowledgeable about the food and cocktails. Every question we asked they knew the answer. Cala takes great pride in their customer service and it shows. Many of the waiters, barmen and other staff have been working for several years at Cala.

If you come on Thursday, Friday and Saturday evenings, you can find music and deejays and Cala remains open until 3:00 a.m. on those nights.

Cala has managed to refresh its image without disrupting the integrity and reputation of the restaurant. It is still a restaurant destination.

Cala
Playa Barranquito, Espigón B-2, Circuito Vial Costa Verde, Barranco
Phone: 477-2020
Hours: Sunday- Wednesday: 12:00 p.m.-1:00 a.m.
Thursday-Saturday: 12:00 p.m.-3:00 a.m.
Parking lot on premises and Valet parking available
Premises are Handicap-accessible and an elevator available for 2nd floor access
Instagram
www.calarestaurante.com
[email protected]
Capacity: 400 people
Private salons available

Salon Menu:
Sharing Appetizers: S/. 55-115
Raw dishes: S/. 37-59
Starters: S/. 37-46
Salads: S/. 32-33
Soups: S/. 36-69
Meat: S/. 58-125
Rices/Pastas: S/. 39-115
Fish: S/. 52-72
and whole fish available, price per kilo
Beef/Chicken/Lamb/Pork: S/. 49-96
Desserts: S/. 17-32

Lounge Menu:
Snacks: S/. 19-39
Sushi Bar: S/. 21-28
Sandwiches: S/. 15-32
House Cocktails: S/. 27-36
Vintage Cocktails: S/. 26-36
Pisco cocktails: S/. 27-36
Beer: S/. 13-26
Non-alcoholic beverages: S/. 12-24
Wine list available and Full bar

Cover photo: Sobredosis/AmaraPhotos

Now that you're here:
We're asking you, our reader, to make a contribution in support of our digital guide in order to keep informing, updating and inspiring people to visit Peru. Why now? In our near 20-year journey as the leading English-language source on travel in Peru, we've had our fair share of ups and downs-but nothing quite like the challenges brought forth in the first quarter of 2020.
By adapting to the changing face of the tourism and travel industry (on both local and international levels), we have no doubt we will come out stronger-especially with the support of our community. Because you will travel again, and we will be ready to show you the best of Peru.
Your financial support means we can keep sharing the best of Peru through high-quality stories, videos and insights provided by our dedicated team of contributors and editors based in Peru. And of course, We are here to answer your questions and help whenever you need us.
As well, it makes possible our commitment to support local and small businesses that make your visit an unforgettable one. Your support will help the people working in these industries get back on their feet once the world allows us to make our dream of enjoying everything Peru has to offer a reality again-from its mouthwatering gastronomy, thriving Amazon and archaeological wonders such as Machu Picchu.
Together, we will find a way through this. As a member of our community, your contribution, however big or small, is valuable.
Support Traveling & Living in Peru from as little as $1 - and it only takes a minute. Thank you!