Having a meal in a quiet place within a busy and buzzing city like Lima is quite a privilege. Add a cozy ambiance and wonderful meal and it is a treat! Saya, a new restaurant located in a privileged corner in San Isidro is the new place to be.
Bar

Bread

Chicha

Details

Exterior seating

Exterior

Interior

Interior

Interior seating

Saya

Scallops, shrimp, and avocado causa
Décor
Recently opened as part of the Manto Hotel Lima MGallery (Accor), Saya has all the comfort you may ask for your next outing. The décor is modern, minimalistic, and classy without going overboard. There is an inviting bar with a good selection of beverages and an attractive outdoor terrace that looks like an ideal spot for an after-work cocktail with friends or colleagues while watching passers-by. I loved the coziness of their Flora Tristán salon where you can sip a glass of wine or have a cup of coffee while taking a look at the interesting collection of books they have on Lima.

Food
After a visit to the brand new and beautifully refurbished premises of this four-star hotel which we surely enjoyed, we were ready to commence our food experience. A young man with a big smile approached us and introduced himself as the chef: Diego Ortega, a Cordon Bleu fellow with a Master in Cataluña, and years of experience at the Ritz Carlton in Florida, Barcelona, and Dubai. Elaborating the menu, he said, required days of research and experimenting as the idea is to present food that Limeños used to eat during colonial times and up until the 19th century, which makes use of those products, ingredients, and recipes that immigration flows brought in. At this point, our curiosity and hunger were growing by the minute.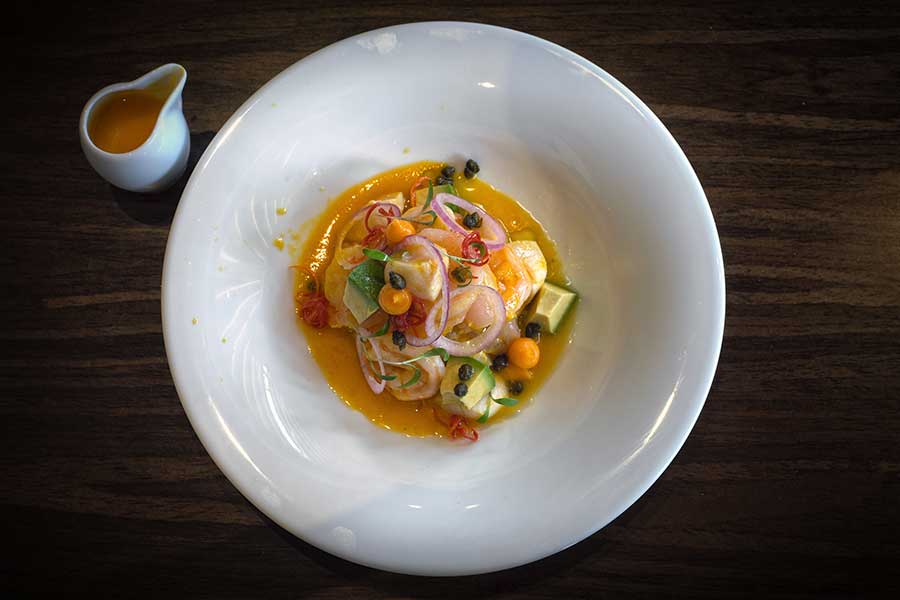 The first dish to arrive was a Ceviche in evolution phase (s./44), a well- portioned ceviche with sea-bass, scallops, capers, red onions, avocado bites, cilantro, and caramelized sweet potatoes. Some additional intensely orange tiger's milk comes in a small jar in case you want to pour more onto your plate of this wonderful sauce. The dish had plenty of fresh seafood ingredients, and I enjoyed the slightly ginger notes of this refreshing and classic starter. This was certainly a good start.

We then tried the Scallops, shrimp, and avocado causa (s./34). This was a beautifully presented classic of Peruvian cuisine that we also enjoyed very much. For this dish, mandarine oil is used in the elaboration of the puree giving it a special twist. A wonderful red chili and garlic aioli enhances the flavors of the causa while the crunchy sweet potato chips beautifully adorn this starter.

Our third and last starter was the Trip to the south XVII century (s./38). This dish consisted of a large-sized burrata cheese with fresh figs, cherry tomatoes, baby spinach, arugula, grapes, crunchy toasted almonds, and a wonderful quince-based) vinegar sauce. The burrata was of excellent quality, and the salad and sauce were just fabulous. We loved this starter and it immediately became the team's favorite.

We moved on to the main dishes and we started with the Royal Feast (s./38). Not sure if this is the right name for the dish, but I can guarantee you will love it just the same. This was a pair of canellonni filled with duck confit, gorgonzola cheese, toasted almonds, and topped with abundant black olive sand. It was amazing! And in spite of the strong ingredients used for this dish such as the duck or the gorgonzola cheese, the flavors were smooth without being invasive. It was a true delicacy and not-to-be-missed dish.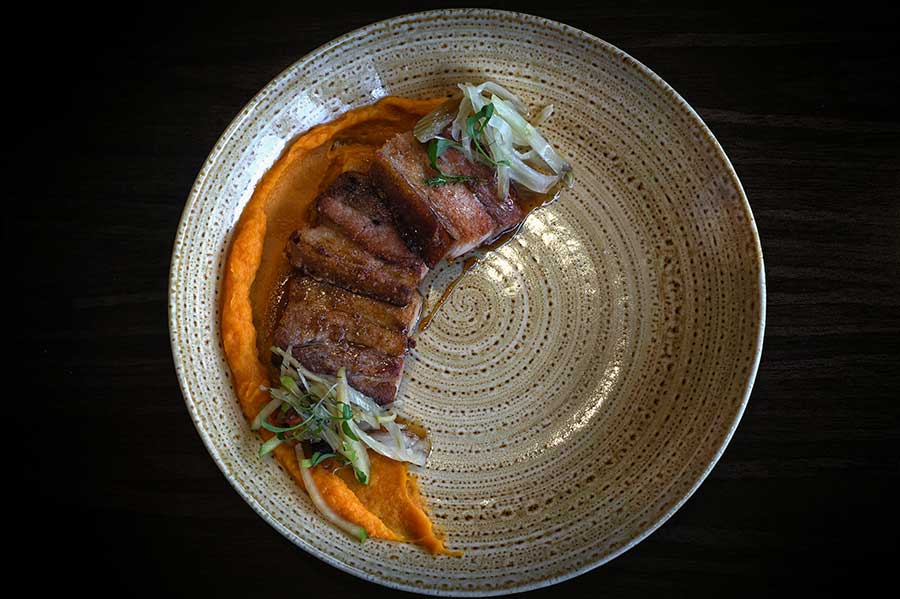 We also loved the Cuchikanka (s./36), several slices of pancetta (pork meat) cooked for eighteen hours lying in a smooth and flavorful sweet potato mousseline bed, and some criollo sarza (onion and lime based salad). The pancetta which only by the looks seemed awesome, was incredibly crunchy, tender and succulent as it could be while the mousseline was the perfect accompaniment. It was one of the best pancettas I can remember ever having.

And when we thought it could not get any better, it did. The last dish to arrive was the Pacífic Seabass (s./65), a good piece of sea bass with some muña chimichurri (a bitter flavored Andean herb) topping, and a good portion of mixed seafood rice. The sea bass was tender, delicate and flavorful; the calamari, octopus, and shrimp in the rice were fresh and tasty while the rice was moist, cooked to perfection, slightly spicy, full of flavor and superb; one of the best seafood rice dishes I have ever had, trust me. Another not-to-be-missed dish on your list.

Dessert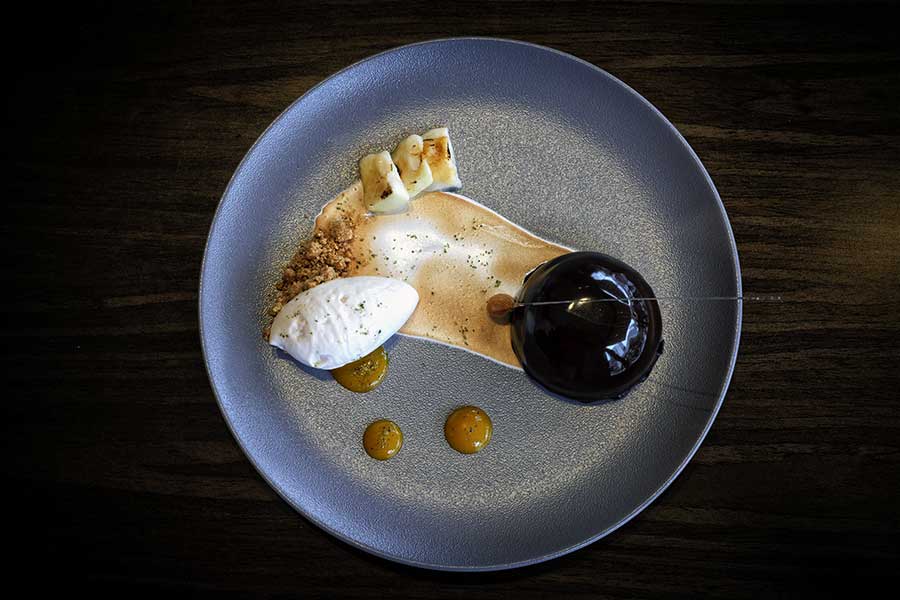 For dessert we had the Mulato (s./25), a sphere of Tres Leches covered in 70% Peruvian chocolate, an Oport wine merengue layer, mint sugar, a fresh apple custard (chirimoya) sorbet, goldenberry coulis, and dry fruit sand complete this nicely presented dish. The Tres Leches was a dream as it was moist, not overly sweet, and we simply couldn't get enough of it. The refreshing chirimoya sorbet, the dry fruit sand and the pieces of fresh chirimoya enhanced this very well -accomplished dessert. We loved it and surely, anyone would too.
We then tried Chicha (s./27), a Peruvian purple corn-based (chicha morada) zabaione with a scoop of banana passion fruit (tumbo) sorbet, decorated with dry apple bites, super crunchy quinoa and almond breadsticks, lemon merengue, pineapple jelly, and quince compote. It was quite a refreshing dessert and surely enjoyable.

Drinks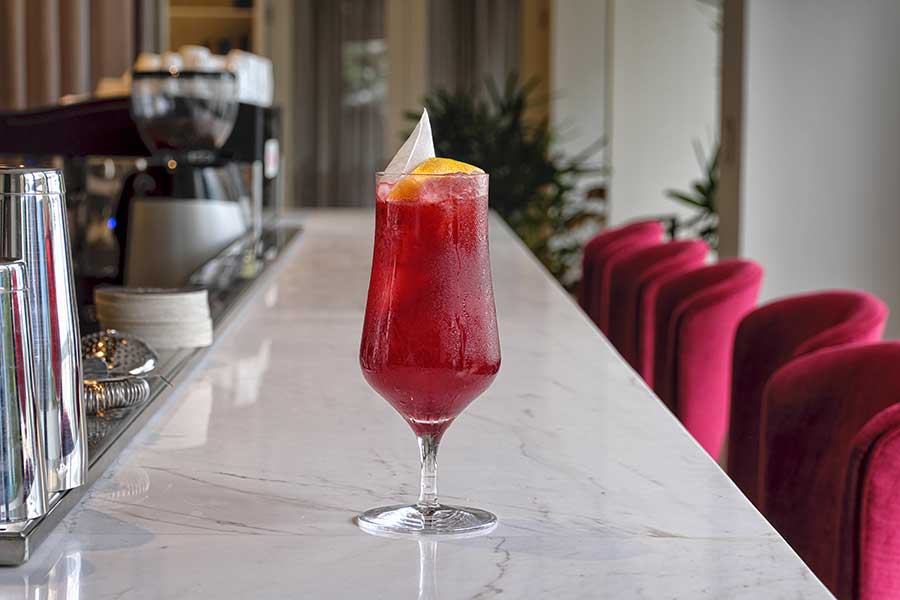 The display of liqueurs at the bar in Saya looked quite appealing and well-furbished. So we tried several drinks starting with Libertad (s./46), an intensely bourdeaux color cocktail made with pisco acholado, hibiscus, grapefruit juice, and spicy Schweppes made of three types of Peruvian chilies. A beautiful white petal adorns this drink symbolizing the sweetness and elegance of Peruvian women we were told. The drink has character, it is slightly bitter, and has a spicy touch at the end. We enjoyed it.

Our second drink was the Saya (s./42), made of Zacapa rum, sherry, coffee liqueur, chocolate bitter, lulo fruit juice, spiced honey raw cane sugar, corn beer (chicha de jora) and cinnamon. The Saya was brought in a lovely painted pumpkin round recipient, it was creamy almost like a pudding, slightly bitter and agreeable.

Our last drink was the Flora Tristán (s./36), a beautifully orangy cocktail made with French vodka, campari with jasmine tea, orange juice, star fruit, and lemongrass jelly. I loved the color as much as its delicate and smooth flavors. This was a great finale!

Bonus
From Monday to Friday during lunchtime, Saya has the 'Daily Special' that includes a refreshment for s./39, a perfect opportunity to try one of their fabulous dishes.

Final remarks
Saya was a big and highly pleasant surprise. We loved everything, every dish and every drink, and I think no one should miss a visit.

Saya
Manto Hotel Lima- Calle Los Libertadores 490, San Isidro
Parking – yes
Opening hours – 6 – 11 pm
Menu
Starters – s./ 25-42
Sandwiches – s./ 32-39
Main dishes – s./36 -45 (lunch hours)
Desserts – s./19 – 25
Glass of wine – s./22-33
Cocktails – s./30-52
Hot beverages – s./ 8 -12

Cover photo: Royal feast/ Marco Simola
Now that you're here:
We're asking you, our reader, to make a contribution in support of our digital guide in order to keep informing, updating and inspiring people to visit Peru. Why now? In our near 20-year journey as the leading English-language source on travel in Peru, we've had our fair share of ups and downs-but nothing quite like the challenges brought forth in the first quarter of 2020.
By adapting to the changing face of the tourism and travel industry (on both local and international levels), we have no doubt we will come out stronger-especially with the support of our community. Because you will travel again, and we will be ready to show you the best of Peru.
Your financial support means we can keep sharing the best of Peru through high-quality stories, videos and insights provided by our dedicated team of contributors and editors based in Peru. And of course, We are here to answer your questions and help whenever you need us.
As well, it makes possible our commitment to support local and small businesses that make your visit an unforgettable one. Your support will help the people working in these industries get back on their feet once the world allows us to make our dream of enjoying everything Peru has to offer a reality again-from its mouthwatering gastronomy, thriving Amazon and archaeological wonders such as Machu Picchu.
Together, we will find a way through this. As a member of our community, your contribution, however big or small, is valuable.
Support Traveling & Living in Peru from as little as $1 - and it only takes a minute. Thank you!