There's nothing like brunch on the weekends. Tragaluz's Brunch at the Belmond Miraflores Park Hotel will cater to your luxurious side and certainly leave you satisfied.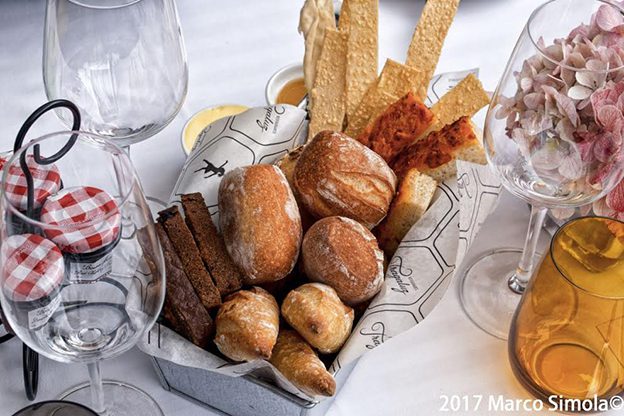 It is the weekend. You wake up late. A big yawn, a stretch and you are ready for a cup of coffee and food. As the minutes go by, you cannot wait to have a decent brunch somewhere in a nice place and where you won't have to be asked to do the dishes. Well, Tragaluz at the Belmond Miraflores Park Hotel has something for you.
The LIP Team decided to visit this elegant hotel located along the Malecón. It wasn't a sunny day but we still opted to sit down on their lovely terrace full of lush vegetation. The waiter greeted us cordially and offered us their brunch menu.

We started with an illycaffè cappuccino, a fresh hierba luisa infusion, and some detoxing fruit juices. All were fresh and rejuvenating. We were not such big fans, however, of the pineapple, orange, and papaya juices.
A basket consisting of small house made breads, Bonne Mammam marmalades that reminded me of student days in Geneva, and plain and cashew butter was brought to the table and was quite nice. The basket had small ciabattas, baguettinos, focaccias, cereal bread, brown bread with raisins -definitely my favorite- and some cheese bread sticks which my colleague liked very much.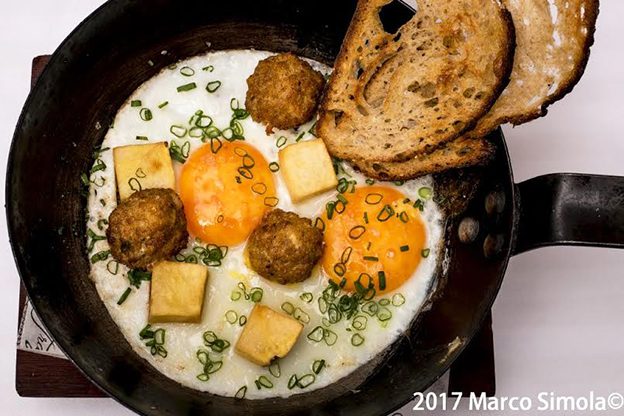 In my opinion, there is no brunch without eggs and toasts, so we ordered a couple of dishes.
We had the 'Fried eggs with porcon and white truffle oil' (s./28) and the 'Fried eggs, Huacho sausages and homemade fries' (s./28). Both dishes were tasty and nicely presented, but my favorite was the latter as probably this was the best Huacho sausage I ever had.
We also had the 'Radicchio salad with lettuce, organic tomatoes and punta type avocado filled with cottage cheese' (s./ 28) and the 'Burrata with pesto' (s./28). We liked the second one better even though the burrata was not that wiggly as we would have expected; however, the pesto sauce made it and it reminded me of the aguadito I had at this very same place on a New Year's Eve which was quite memorable.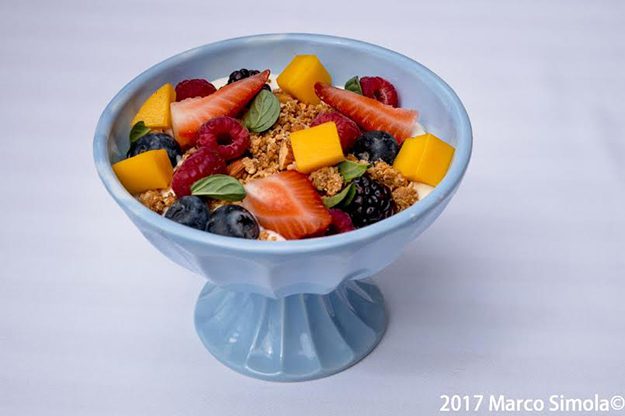 We tried the 'Panettone French toast with cream' (s./28) apparently one of their most popular dishes. These were basically two loafs of panettone made into a French toast bathed in maple syrup and decorated with some cream and wild berries on top, an interesting mix and great for people with a sweet tooth. We finished our visit with a creamy 'Greek yogurt, berries, fruits and granola' (s./ 28) that my colleague very much enjoyed.
Tragaluz has options for customers with gluten intolerance, vegetarians and even vegans as there will always be something on the menu, and if not, it is a question of simply asking. On Saturdays, live music is played while you enjoy your food.

Tragaluz Restaurante
Belmond Miraflores Park Hotel
Calle Los Carolinos 118 Miraflores
Opening hours for brunch – Saturdays and Sundays 11-3
Set brunch menu – s./ 79
Brunch menus dishes – s./ 20 -45
Hot beverages- s./ 12-24
Now that you're here:
We're asking you, our reader, to make a contribution in support of our digital guide in order to keep informing, updating and inspiring people to visit Peru. Why now? In our near 20-year journey as the leading English-language source on travel in Peru, we've had our fair share of ups and downs-but nothing quite like the challenges brought forth in the first quarter of 2020.
By adapting to the changing face of the tourism and travel industry (on both local and international levels), we have no doubt we will come out stronger-especially with the support of our community. Because you will travel again, and we will be ready to show you the best of Peru.
Your financial support means we can keep sharing the best of Peru through high-quality stories, videos and insights provided by our dedicated team of contributors and editors based in Peru. And of course, We are here to answer your questions and help whenever you need us.
As well, it makes possible our commitment to support local and small businesses that make your visit an unforgettable one. Your support will help the people working in these industries get back on their feet once the world allows us to make our dream of enjoying everything Peru has to offer a reality again-from its mouthwatering gastronomy, thriving Amazon and archaeological wonders such as Machu Picchu.
Together, we will find a way through this. As a member of our community, your contribution, however big or small, is valuable.
Support Traveling & Living in Peru from as little as $1 - and it only takes a minute. Thank you!