Located beneath the Hyatt Centric Hotel in one of Lima's most upscale neighborhoods, Isidro Bistró Limeño takes brunch to another level with an extensive spread and live music.
On a pleasant Sunday with light gentle breezes, the team of Traveling and Living in Peru arrived in the heart of San Isidro to the Isidro Bistró Limeño to experience their Sunday brunch.
Isidro Bistró Limeño opened up in November of 2018 in the capable hands of well-known chef, Carlos Testino. Testino has also been involved with restaurants Lima 27, Mangos, Al Fresco, Popular, and Cala, just to name a few. These restaurants are all part of the Aramburu Matriz gastronomic group.
Isidro Bistró Limeño is located inside the Hyatt Centric Hotel in San Isidro. The sensation I felt upon entering was of a restaurant with a fresh, modern Peruvian bistro vibe with European touches where travelers and diners alike are comfortable.
Entering Isidro Bistro

Mix of cold salads

Fruit salad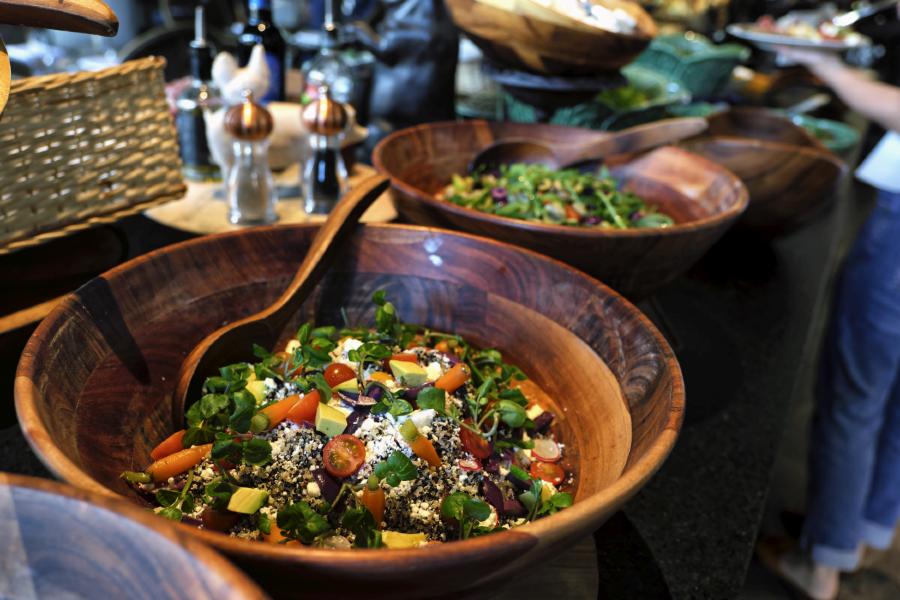 You can enter the restaurant through two entrances. The main dining area may be entered through the lobby of the hotel and the terrace is accessed by a side door.
The renowned Jordi Puig is responsible for designing the space which is informal, relaxed, and hip. It is obvious a lot of attention was paid to detail in the decor as well as the food. There are many unique details provided by various artists, such as the artwork on one wall made by the photographer, Marina Garcia Burgos.
A plus for any Sunday brunch is the live music. The day we were there it was an excellent Cuban jazz band.
The selected brunch options are of excellent quality and offer an abundance of variety. The chef provides extensive options while also thinking about the diversity of diners, be it hotel guests, foreigners or locals.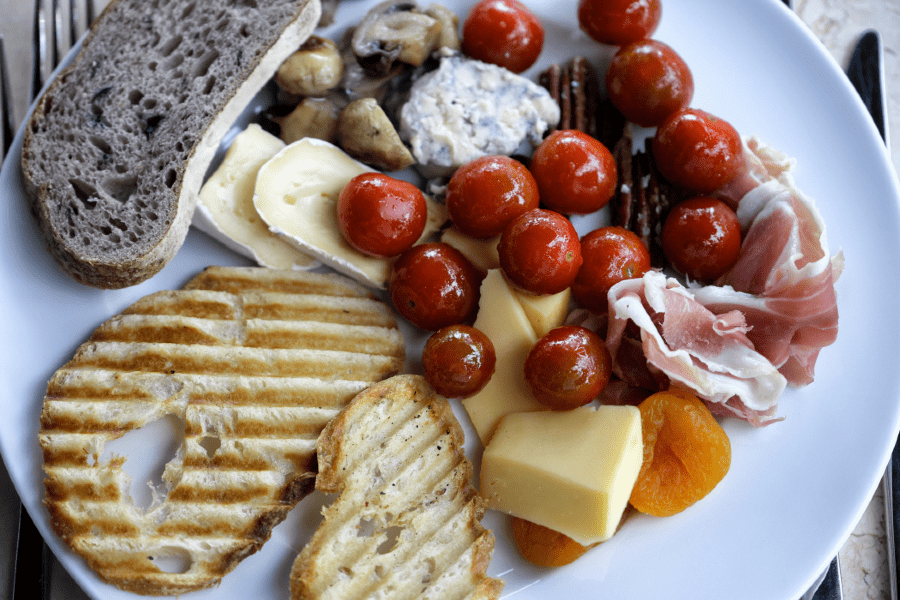 At first, when I heard that the cost of the Sunday brunch was S/120, I personally thought it was a bit too pricey for a brunch that only includes one beverage of your choice. Probably because when I dine out, I'm not only looking for a great experience, but also value for the money. But after observing the extensive spread and variety of options and taking into account the live band and activities for children and the lovely location, it is inline with other brunches that are offered in this area. And if you have a hearty appetite, this is well worth the money.
There are various food stations located at Isidro Bistró Limeño: a Grill Zone, Raw Bar, cold zone, Salad Bar, Charcuterie and cheese area, Main Plates (Hot Dish zone), and a Dessert area. You have unlimited and varied options to choose from. Besides the food, the price of the buffet includes a welcome drink. Depending on the season, the options include mimosas, Aperol spritz, Bellini, Bloody Mary, or Pisco Sour.
Every single area was pristine and all of the food was displayed beautifully. I also observed that all the dishes were replenished quickly before they got too low. One drawback I found was that there were no cards or a list discreetly placed in each of the food zones so you knew what was in each specific area. Some items were obvious, some not. Perhaps a small menu card listing the options at each of the tables could be helpful.
Mini ceviches

Sushi rolls

Causitas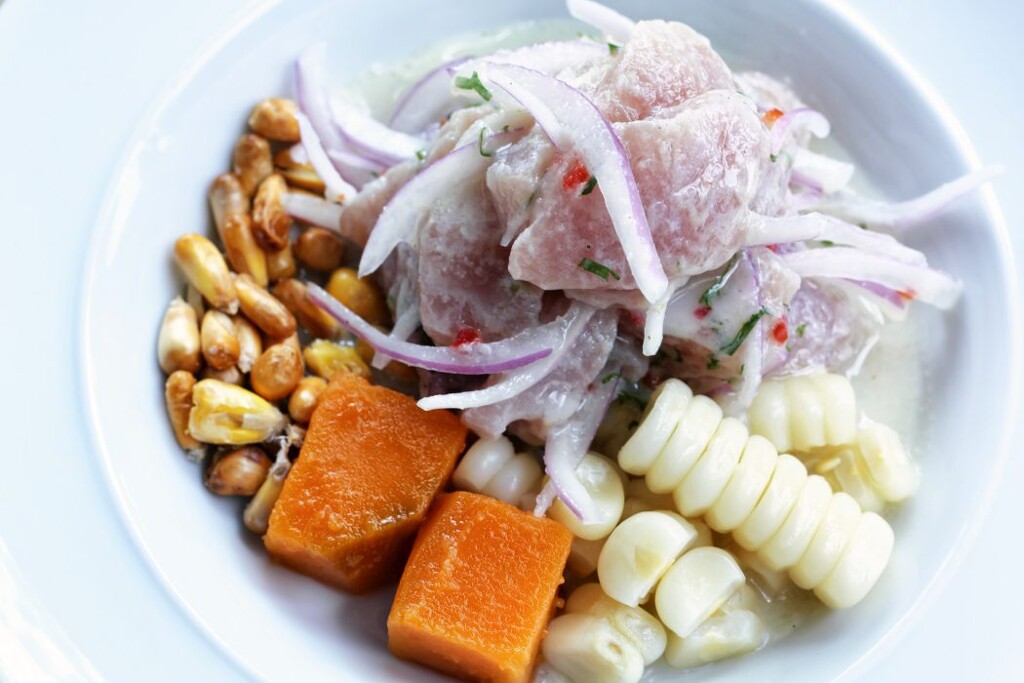 Cold and raw bar stations
At the cold bar station, located at the long marble bar area, you will find plenty of sliced fruit and fruit compote ready to make your own salad along with granola, yogurt, etc. Further down you will find options such as beef carpaccio, pulpo al olivo, various causas, and so much more. My favorites in this area were the Burrata cheese with arugula pesto and organic tomatoes accompanied by grilled bread. The mini causas were delicious: three kinds (classic, one with cilantro and one with beets with different toppings). I love the texture of the mashed potato mixture and the creamy chicken salad on top, a first class causa. The beef carpaccio with foie gras, arugula, braised pears, Manchego cheese and the extra special touch of the local pink peppercorn, Molle, was one of my absolute favorites. I also enjoyed the Pulpo Olivo with its very tender octopus with a purple olive cream sauce, pecans, a touch of togarashi and served with grilled country bread. The fresh salmon served in small glass cups with delicate slices of onion and cucumber, avocado cubes, sesame seeds and a slightly sweet sauce was a delight.
You can choose from an abundance of artisanal breads, cheeses, dried fruit, olives, salami, prosciutto, salads (pasta, asparagus, beet, quinoa, carrot, etc.) and artisanal olive oils and vinegars, all displayed in various beautiful olive wood serving trays and bowls situated at the antipasto and salad area. Our Italian photographer, Marco, arrived at our table with a plate of grilled artisanal breads, prosciutto, cherry tomatoes, dried fruit and a variety of cheeses. The quinoa salad was a table favorite with avocado, organic tomatoes, radish, glazed carrots, dried fruit and goat cheese. There was something for everyone at this specific table.
The raw bar station has several types of ceviches, tiraditos, sushi, maki rolls and poke. A chef is ready to prepare your ceviche to your specifications. The ceviche our table sampled was quite good. And the maki rolls were also a hit.
Grill station

Live music every Sunday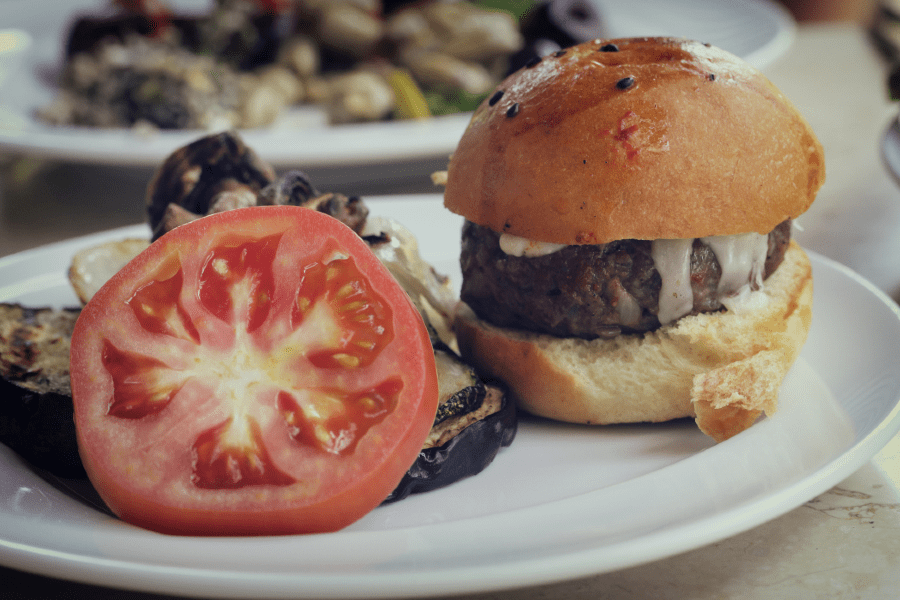 Hot food bar and grill station
The hot food station has several cooks waiting to serve Peruvian dishes such as Arroz con Pato, Aji de Gallina, Lomo Saltado, as well as shortribs, crispy chicken, and pork belly. The menu options in this area change occasionally.
There are also plenty of traditional breakfast/brunch options available such as waffles, Eggs Benedict, pancakes, French toast, omelettes, etc. We sampled their excellent French toast prepared with three slices of thick-cut homemade brioche bread and served with maple syrup, marmalade, seasonal berries and dusted with powdered sugar. The omelette we shared was ham, cheese and mushrooms accompanied by a sourdough toasts and accented with grilled vegetables. You can also order scrambled, fried or poached eggs.
There is an outdoor grill area in the back terrace area where you can find chicken, various types of sausages, hot dogs, mini burgers as well as a variety of grilled vegetables (eggplant, zucchini, onion, mushrooms, tomatoes). We enjoyed the grilled eggplant and mini burger.
Mixed dessert plate

An array of sweets for your selection
Dessert area
The dessert area has plenty to choose from as well. From traditional Peruvian desserts such as mazamorra, picarones, tres leches, suspiro de limeño, and alfajores to mini tarts, truffles, cinnamon rolls, tiramisu, and much much more. My personal favorites were the incredible alfajores, a wonderful strawberry tart, and a surprisingly delicious mini tiramisu. It is obvious that there is a talented pastry chef on the premises at Isidro.
Besides the regular Sunday brunch, a reduced a la carte menu is also available to order from as well as several options for kids.
Speaking of kids, Isidro Bistro always has a kid zone with activities as well as a fantastic balloon artist. He calls himself the Globito Tsunami. He is on another level than the ones I have seen at other parties and events. He is entertaining and talented. We fell in love with the ladybug he prepared for our editor, Agnes. The large table next to us had at least half a dozen young kids and they were thoroughly entertained and relatively quiet while interacting with him.
Besides children, Isidro Bistró has also become a pet-friendly destination. Well-behaved dogs are allowed on their outdoor terrace area.
Many thanks to Vladimir Rojas, the sous chef, and his team. A special shout-out to Sasa, the food and beverage manager who hails from Serbia. He answered many of our questions and eagerly assisted us with a smile on his face and a great attitude.
Photos: Marco Simola
Isidro Bistró Limeño (located inside the Hyatt Centric Hotel)
Calle Los Pinos 515, San Isidro
Hours: 11:30am- 3:30pm (Sunday Brunch)
Phone: (01) 611-1246
Sunday Brunch:
11:30am-3:30pm
Adults, 12+ years old: S/ 120
Kids, 5-12 years old: S/ 80
Kids under 5 years old: No charge

Now that you're here:
We're asking you, our reader, to make a contribution in support of our digital guide in order to keep informing, updating and inspiring people to visit Peru. Why now? In our near 20-year journey as the leading English-language source on travel in Peru, we've had our fair share of ups and downs-but nothing quite like the challenges brought forth in the first quarter of 2020.
By adapting to the changing face of the tourism and travel industry (on both local and international levels), we have no doubt we will come out stronger-especially with the support of our community. Because you will travel again, and we will be ready to show you the best of Peru.
Your financial support means we can keep sharing the best of Peru through high-quality stories, videos and insights provided by our dedicated team of contributors and editors based in Peru. And of course, We are here to answer your questions and help whenever you need us.
As well, it makes possible our commitment to support local and small businesses that make your visit an unforgettable one. Your support will help the people working in these industries get back on their feet once the world allows us to make our dream of enjoying everything Peru has to offer a reality again-from its mouthwatering gastronomy, thriving Amazon and archaeological wonders such as Machu Picchu.
Together, we will find a way through this. As a member of our community, your contribution, however big or small, is valuable.
Support Traveling & Living in Peru from as little as $1 - and it only takes a minute. Thank you!