La Feria is a traditional restaurant located in the historic Plaza de Armas of Cusco, Peru. Everything from the food to the restaurant's style embodies the greatest qualities of a Peruvian "Picanteria."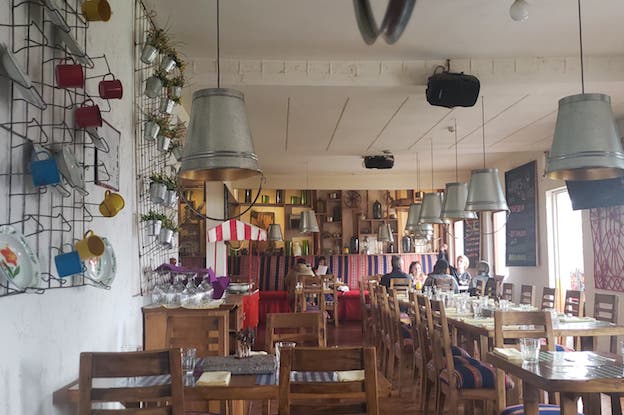 When you make a visit to La Feria, don't be surprised to find people from all walks of life gathering around the same table. The rooms are usually filled with conversation and joyful chatter, Huayno music, and the smell of dishes being cooked in a wooden stove. When you eat here, you'll probably feel as if you were stepping into the past.
Decor and setting
From La Feria's balcony, my wife and I could see it all. We watched through the windows while showers rolled across the distant mountains, and sunlight bathed the Plaza de Armas in splendor. Wood crackled in the restaurant's large wood stove, and traditional Peruvian music played through the sound system.
On each table sat a figurine of a pair of bulls with a cross rising between them. A plastic rooster perched on a cross alongside other tied-down items. Larger ceramic versions of these symbolisms are said to bring good luck, and many families place them at the highest point of their roof.
The Food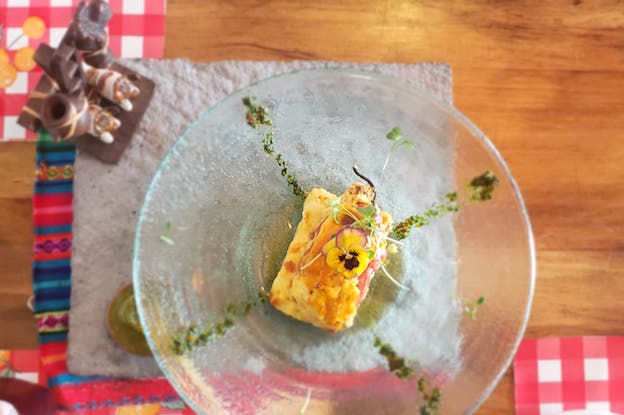 Appetizers
While we took in these pleasant sights and sounds of the restaurant, we pleased our taste buds by starting our meal off with a plate of Stuffed Rocoto Pepper Souffle and Potato Casserole.
Baked in La Feria's traditional wood stove, this dish embodied what I'd always envisioned to be Peruvian cuisine at its best. The pepper, stuffed with diced beef, carrots, and peas, was delicious without being too hot or spicy, thanks to the Peruvian way of cooking. A soufflé of Andean and Paria cheese topped the pepper, and an aniseed-sprinkled Peruvian potato casserole completed the plate.
The main course
I tried the Antichucho de Alpaca, which is a skewer of meat marinated in traditional corn beer, with dried Aji Panca peppers. Along with alpaca, you can try the anticucho with chicken, beef, or vegetables. Each of these dishes is served with Huayro potatoes, butter-sauteed corn, and a criolle salad, and aji pepper cream. Traditionally, anticuchos use cow hearts as the meat, and you can find this dish being prepared on a grill on street corners throughout the city.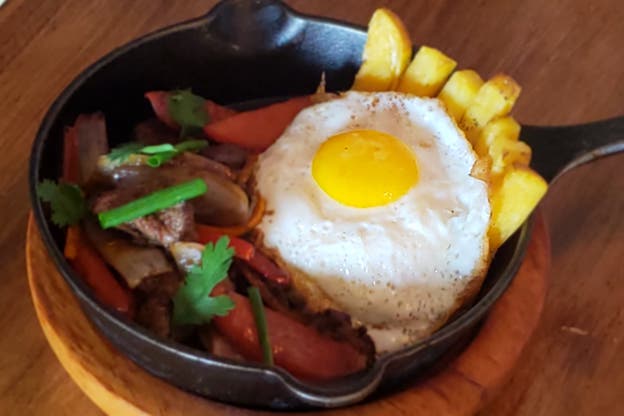 My wife ordered the Lomo Saltado. Watching the chefs prepare this dish was an unforgettable experience. Sauces swirled and pans danced. Flames taunted the ceiling. In order to prepare it, beef tenderloin strips and vegetables are seared in a wok. The dish is glazed with oyster sauce and accompanied by french fries, rice with corn, and a fried egg. I sampled a few bites (okay, many bites) from my wife's plate, and was not disappointed. Let it be known that this Peruvian staple skillet-served dish, which can be credited to cooks from China, is a must-try for those making a visit to Peru.
Dessert
We topped off our meal with a traditional dessert: picarones. They have the look of a doughnut, but they are anything but. With unique yeast, these deep-fried treats are best eaten soaked in honey.
The Drinks
All of the drinks at La Feria are handcrafted, including the prized drink of the Incas, Chicha de Jora, a corn beer. This drink is delicious, and certainly unique to Peru. A small glass of Chicha Morada also comes complimentary with each meal.
We also sampled three of the restaurant's house cocktails: Muchaway, Maq' Ta, and Peruanisimo. Each drink was refreshing, and included its own tasty blend of Pisco and fruit juices.
Second Floor, Portal de Panes 123, Cusco
Hours
Mon-Sun Noon to 11 p.m.
Menu
Starters: 25 to 35 soles
Main dishes: 38 to 50 soles
Classic Bar and Cocktails: 24 and 25 soles
Comments
comments