Hidden away in the gorgeous streets of Miraflores, are little eclectic gems that are just waiting to be discovered.
Miraflores, one of the most popular neighborhoods in Lima, has been making efforts to get people out of their cars and onto their feet. If you want to fully enjoy the neighborhood and it's buried treasures that is exactly what you should do!
The Locale
It is not all about the beautiful malecons and Parque Kennedy, but also Miraflores' streets, quintas, and hidden passageways. On such streets, one can find Saqra, a charming restaurant that serves Peruvian food employing modern techniques, with plenty to offer. With its lovely terrace and evening candlelight, Saqra's allure is almost enchanting. I always liked Saqra, not only for its decoration but primarily for its excellent food and wonderful drinks. It's been seven years since they opened, and I am pleased to note that the quality remains the same.
A good reference point for the restaurant is 'Pasaje El Suche'!
The Drinks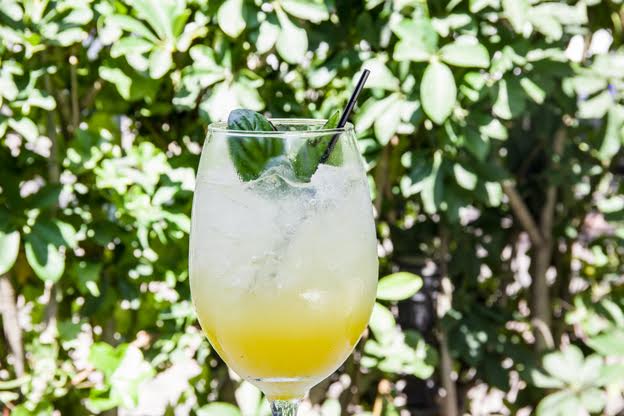 It was a hot sunny day so some refreshments were a good idea. We had a Hierbaluisa Lemonade (s./14), intensely green and always refreshing, and the house cocktail, the Saqra Albahaca (s./28), a nice pisco cocktail with tonic water, basil, cucumber and passion fruit juice. The taste was not bitter or sweet, rather mild in taste but certainly pleasant.
The Appetizers
For starters, we had the Bonito Tumbo y Palta (s./36), which consisted of fresh big slices of bonito fish mixed with finely sliced onions and sprinkled white and black seaweed, resting in a pile of avocado slices, small glazed sweet potatoes decorating the plate, and an unbeatable marvelous tumbo vinaigrette. I found this dish quite original thanks to the tumbo. Tumbo is an Andean fruit rich in minerals and with multiple therapeutic properties, not so easily found in menus around Lima. The unique addition of the Tumbo fruit certainly enhanced the flavors making it a delightful experience at every spoonful.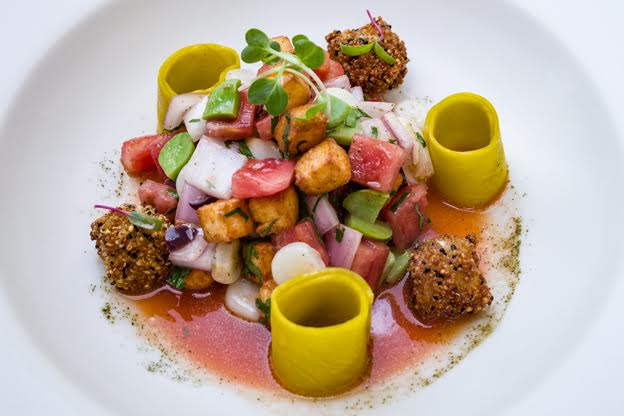 We heard the Chef was from Arequipa so we ventured into ordering a Scallop Solterito (s./36), a classic dish from the area. The solterito came with all the usual ingredients – the fava beans, corn kernels, onions, olives, tomatoes and fresh cheese, plus some quinoa breaded scallops, orange glazed pieces of squash, and a white potato as a base. Special mention goes to the tomatoes that were incredibly fresh and exquisite, the Paria cheese that was fried into small cubes that were simply fantastic, and the super tasty breaded scallops that adorned the plate. The red pepper vinaigrette that bathed the solterito was a total success making this dish incredibly refreshing and succulent. *There is a gluten-free version available.
Then came the Chicken Chicharron (s./40), several pieces of fried chicken legs and wings marinated in Chinese cinnamon, fried to perfection and full of flavor. The splendid colorful chimichurri sauce that decorates the plate was refreshing and mouth-watering.
The Dinner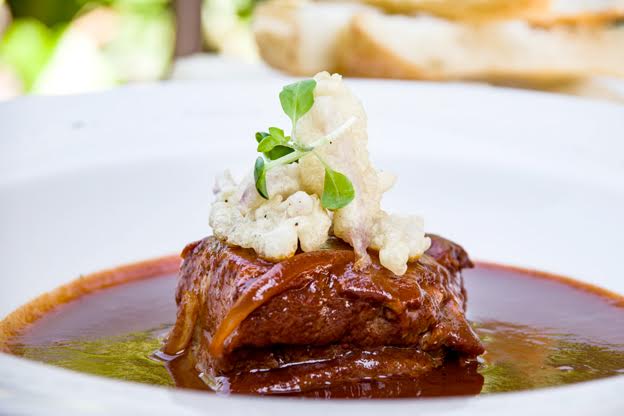 We also tried the Adobo Arequipeño (s./ 46), a good-sized piece of pork loin cooked for hours, bathed in a rich chicha de jora, ají panca and vinegar sauce, some lovely tempura onions decorating the plate, and toasted oregano bread on the side. The pork loin was tender as it could be and full of flavor, but the sauce, once again, made it. It was rich and intense, but smooth at the same time, lightly spicy and simply luscious. We could not help fantasizing about all the possible uses one could give to such a sauce.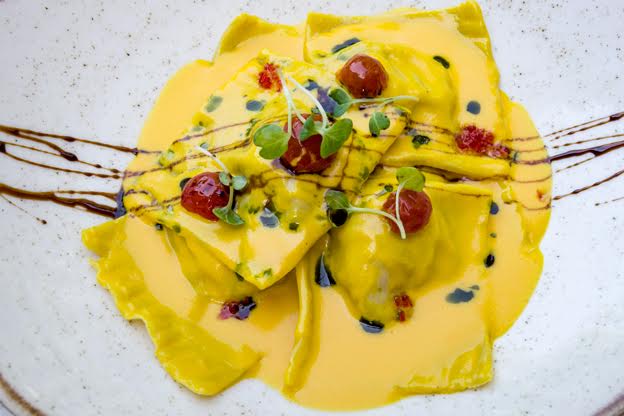 Our last dish was a new one that does not appear yet in the menu -the Ravioles al Ají Amarillo (s./39). As all the dishes in Saqra, the portion was big and very tasty. The house-made pasta was filled with corn, and the sauce which was somehow similar to the huancaína but not quite- was wonderful. We loved this dish.
The Dessert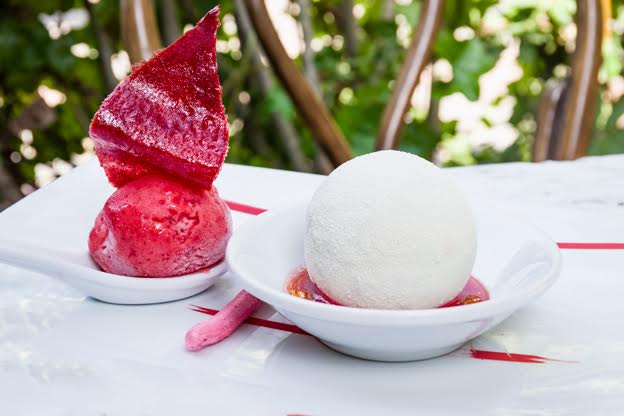 It was time for dessert and I remember always being mesmerized by the creativity displayed in each of the desserts in Saqra. This time we had the White Chocolate Ball filled with Rice Pudding (s./ 34), a classic of the Lima scene but with an interesting twist and gorgeous presentation. The creamy rice pudding was not overly sweet as it usually tends to be, and it mixed quite well with the strawberry coulis and the manjarblanco liquid center on the inside. The house-made strawberry sorbet that comes along with it was literally mouth-watering and a joy to have.
Final Thoughts
For once, it is difficult to define which dish or dishes I liked the most as all of them were splendid, let alone the ones I had in previous occasions such as the Causa with Grilled Octopus, the Milhojas de Ají de Gallina, the Steak Anticuchos, the Pineapple Picarones or the Chocolate Truffles with Banana Crème Brulee, they were all awesome.
Our host and co-owner, Corali Ormeño informed us that later this month, new dishes will be coming out although the most popular ones will remain. Portions are big, service is good, and what you pay is more than fair. The setting, the prime location, and the quality of the food make it worth a visit. You won't regret it.
Av. La Paz 646, Miraflores
Tel. 650 8884
www.saqra.pe
Opening hours – Monday to Thursday 12 -11 pm, Friday, and Saturday 12 -00
Parking – yes
Refreshments – s./ 10-14
Cocktails – s./ 24-36, wine by the glass – s./26
Starters, salads, and soups – s./ 32-40
Pastas and rice – s./ 36-48
Fish and seafood – s./46-48
Meat and poultry – s./ 46-50
Desserts – s./30-36
Hot beverages – s./5-10
Now that you're here:
We're asking you, our reader, to make a contribution in support of our digital guide in order to keep informing, updating and inspiring people to visit Peru. Why now? In our near 20-year journey as the leading English-language source on travel in Peru, we've had our fair share of ups and downs-but nothing quite like the challenges brought forth in the first quarter of 2020.
By adapting to the changing face of the tourism and travel industry (on both local and international levels), we have no doubt we will come out stronger-especially with the support of our community. Because you will travel again, and we will be ready to show you the best of Peru.
Your financial support means we can keep sharing the best of Peru through high-quality stories, videos and insights provided by our dedicated team of contributors and editors based in Peru. And of course, We are here to answer your questions and help whenever you need us.
As well, it makes possible our commitment to support local and small businesses that make your visit an unforgettable one. Your support will help the people working in these industries get back on their feet once the world allows us to make our dream of enjoying everything Peru has to offer a reality again-from its mouthwatering gastronomy, thriving Amazon and archaeological wonders such as Machu Picchu.
Together, we will find a way through this. As a member of our community, your contribution, however big or small, is valuable.
Support Traveling & Living in Peru from as little as $1 - and it only takes a minute. Thank you!