Authentic samosas, naan and so much more. Zaika is the latest Indian food restaurant to open in Lima, and we sampled a variety of plates from their extensive menu.
There is no doubt that the culinary scene in Lima has changed and evolved over the years. A decade ago, it was difficult to find food that was not Peruvian, Italian, Chinese or Japanese. Nowadays, the options have significantly multiplied making many foodies quite happy. Zaika, Indian Restaurant and Hookha bar is the most recent Indian restaurant that has opened in this big city. We were happy to discover that Zaika offers a wide selection of authentic Indian food. The owner, Pawan, is an Indian national himself, and he works with a team of trained cooks that include Indian nationals as well. Having lived in Asia for many years and a self-declared Indian food lover, my expectations were running high.
Interior

Exterior
Zaika is a two-floor restaurant located on the busy Calle Berlin in Miraflores. The first floor is occupied by the restaurant, while the second is more of a lounge and hookah bar (or hubbly bubbly as it is also known). The restaurant is spacious, luminous, and personalized with Indian decorations here and there. There is also a large TV from where Indian songs can be heard.
The menu at Zaika is extensive and you will find all the typical Indian dishes and more. For those not interested in going 'exotic,' there is a section in the menu listing a few traditional Peruvian dishes.
In India you cannot go a meal without having naan, the typical Indian flat bread baked in a tandoori (the Asian round-shaped oven). Naan goes with everything and is a staple in Indian cuisine. At Zaika, they have a number of tandooris from which wonderful naans, rotis (unleavened flat flour bread) and other delicacies are prepared. On this occasion, we tried several types of naans (S/ 6-8): plain, butter, garlic, sesame, chickpeas, carrots and cilantro, white sesame, black sesame, and lemongrass. They were all fantastic, quite crispy and flavorful. The chickpea naan deserves a special mention due to its particular texture and magnificent flavors. We also tried one of their rotis, the roti rumali (S/ 8). Similar to a crepe, it is basically used as a wrap or to help you grab your food. I recommend you try the bread basket combo (S/ 30) that gives you the chance to try a variety of their naans and rotis.
There is a good selection of appetizers and snacks at Zaika. We had the samosas (S/ 20), a well-known deep fried pastry filled with chicken, onion and spices. The samosas were crispy, very juicy, and full of flavor; they were simply delicious.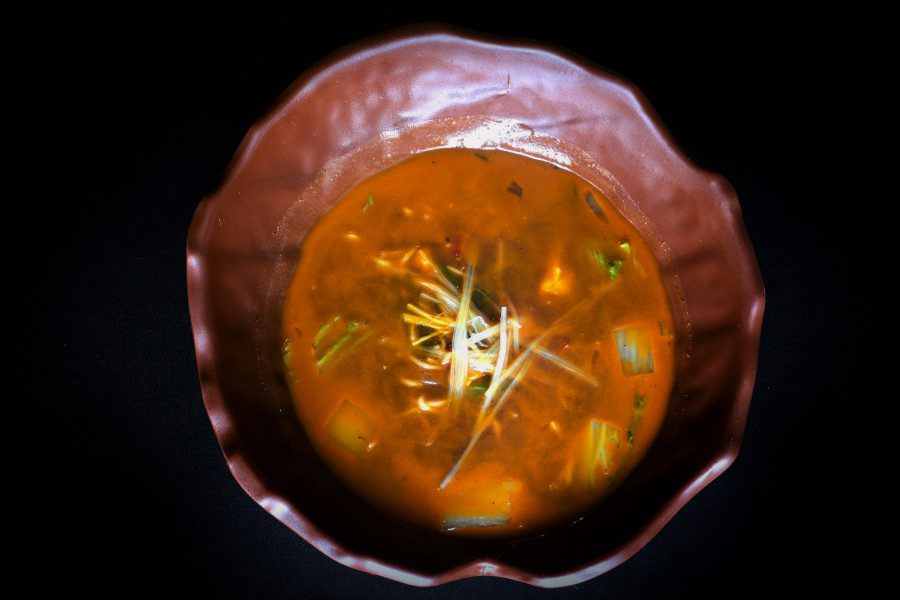 We also tried the Hot and sour soup (S/ 12). This was a big bowl filled with chicken, noodles, vegetables and red pepper. The soup was very tasty and wonderfully spicy. We loved it. We also had the Chicken tikka (S/ 25), that consisted of several spicy boneless chicken pieces roasted in a tandoori served with a green cilantro sauce on the side. The chicken had all the Indian flavors one can imagine, and it was so tasty that it needed no sauce. The Mutton seekh kabab (S/ 28), consisting of several pieces of roasted minced lamb served with onions and cucumbers, was also nice and tasty.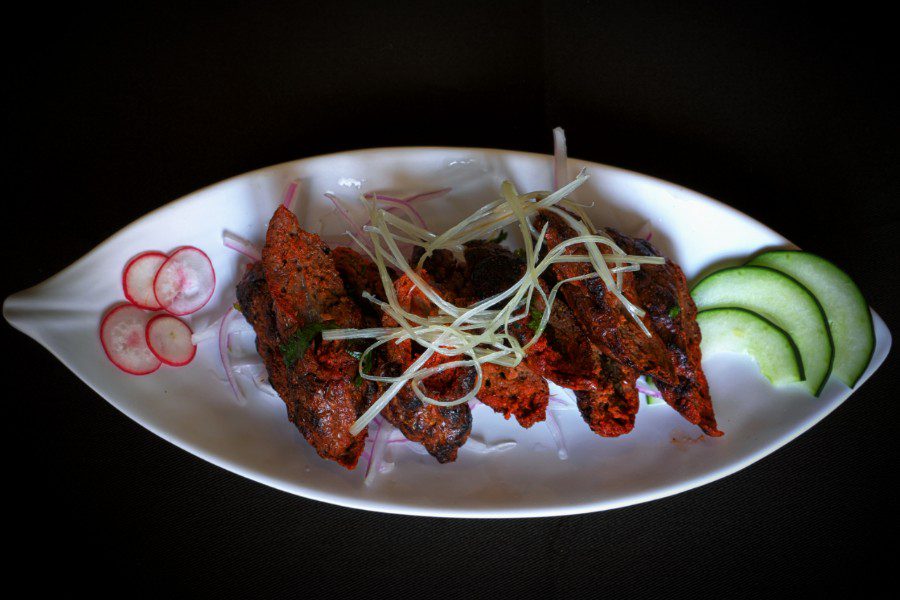 At Zaika the choice of main dishes is quite large. Here you will find grilled meat dishes, stews and vegetarian options. We tried the Chicken massala (S/ 34), a wonderful spicy stew with tender chicken pieces; Mutton rogan ghosh (S/ 36), tender lamb pieces in red chili sauce that was awesome; and Chana Massala (S/ 24), a chickpea stew cooked with onions and tomatoes that was amazingly flavorful—a dish not to be missed.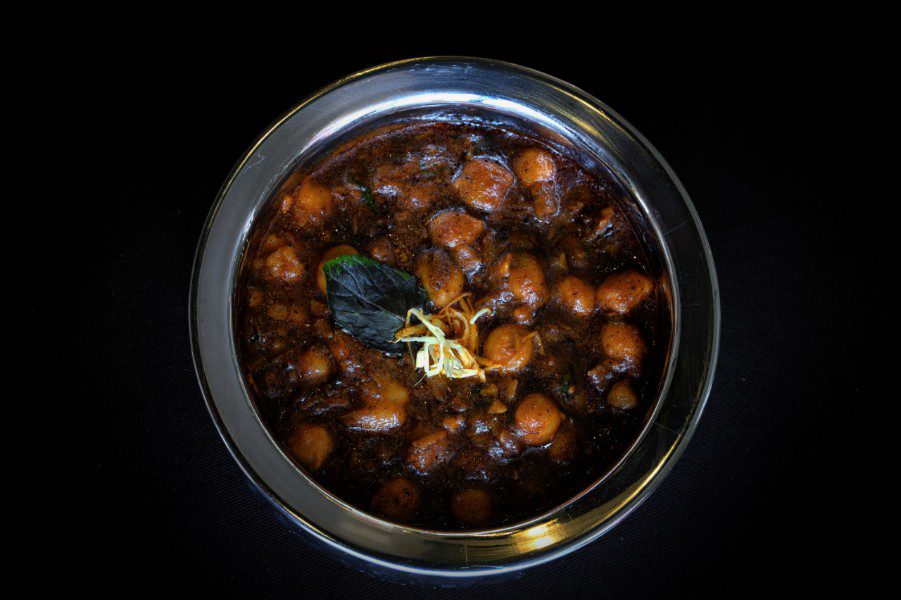 Lentils in India are another staple food and there is quite a variety of them: red, orange, yellow, black and other colors in the market. At Zaika, we tried the yellow and the black lentils, ideal dishes for our vegetarian and vegan readers.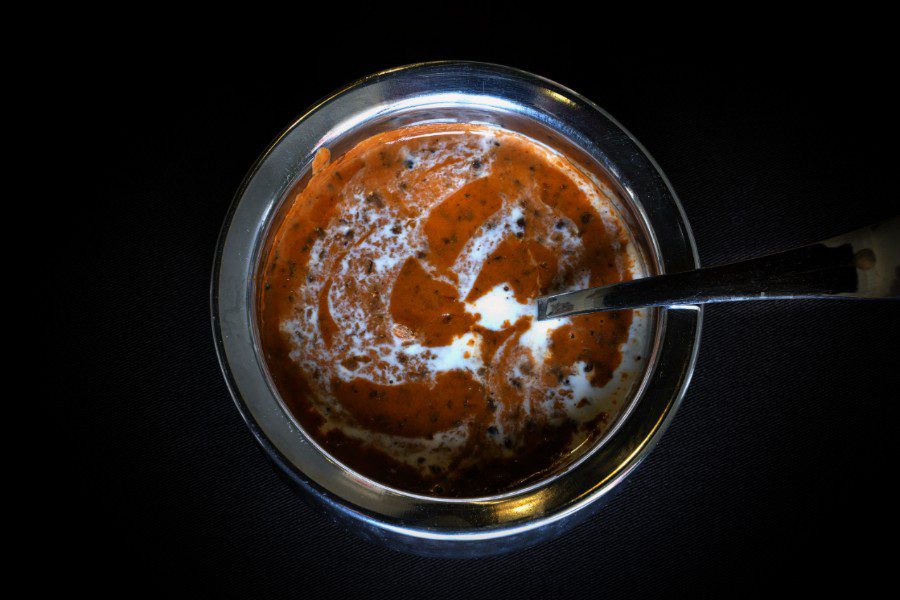 We found both versions, the Daal tadka (S/ 25) with yellow lentils and the Daal makani (S/ 28) with black lentils, to be exquisitely creamy and amazingly flavorful. We couldn't get enough of these, in particular the first one. You can eat these alone, with your favorite naan or you can also order some Jeera rice (rice with cumin), that is also a nice compliment for any of your dishes.
Dessert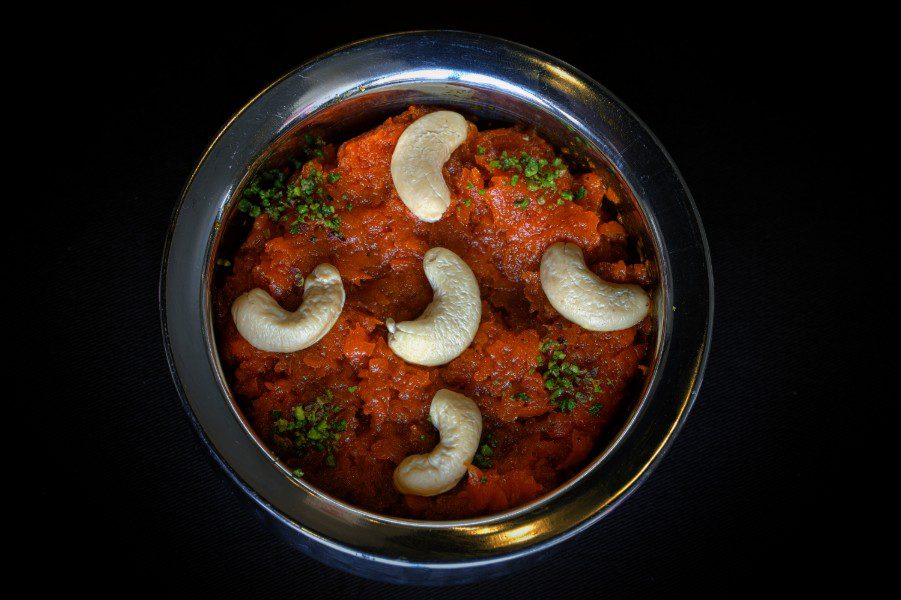 There are few available traditional Indian dessert options. On this occasion, we tried the Raj bog (S/ 12), several sweet cheese balls with saffron and pistachios soaked in rose syrup; the Fire gulab jamun (S/ 14), several small flour-based sweet balls soaked in rum or pisco; the Gajar ka halwa (S/ 16), a milk and carrot-based dessert with cashews that was deliciously creamy and flavorful, and became our favorite; and the Motichoor rabdi parfait (S/12), another milk-based creamy dessert served with rose petal syrup and nuts that was enjoyable too.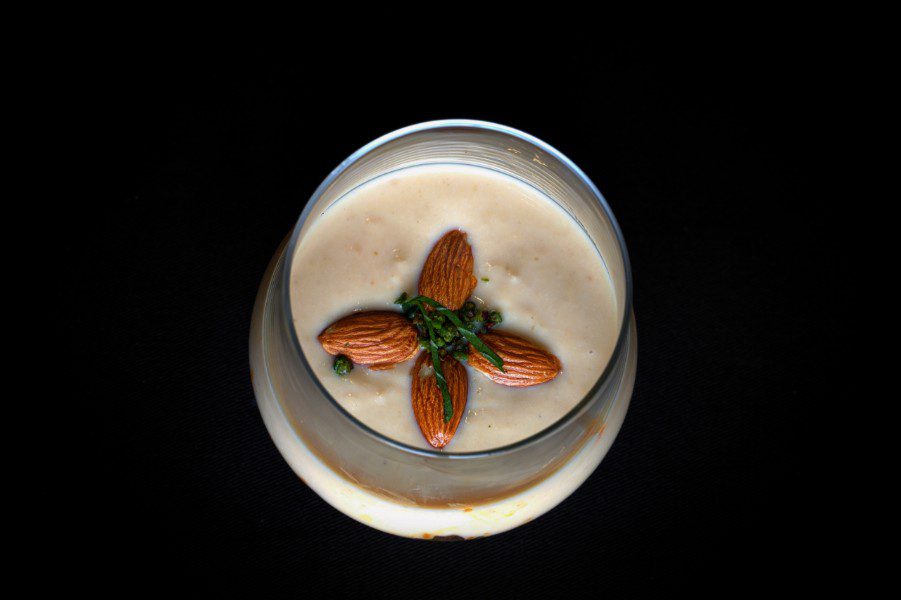 Drinks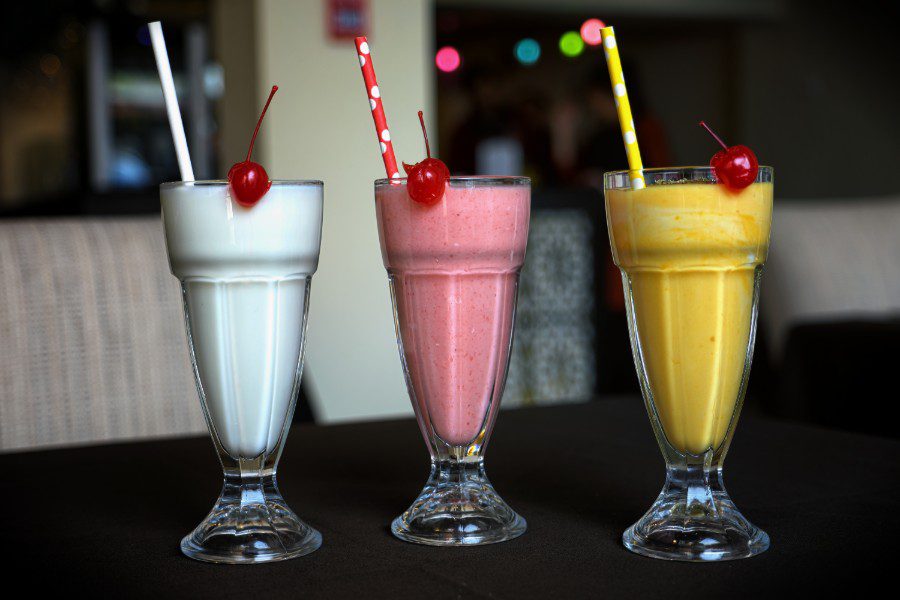 In India, you cannot go a day without a lassi, the wonderful yogurt-based refreshment. We tried three flavors: sweetened, strawberry and mango. Unfortunately, they were far from the ones I've had in Asia and even in Peru, the reason being the quality of the yogurt itself. Our host acknowledged our comment and remarked that he is working on a new yogurt provider.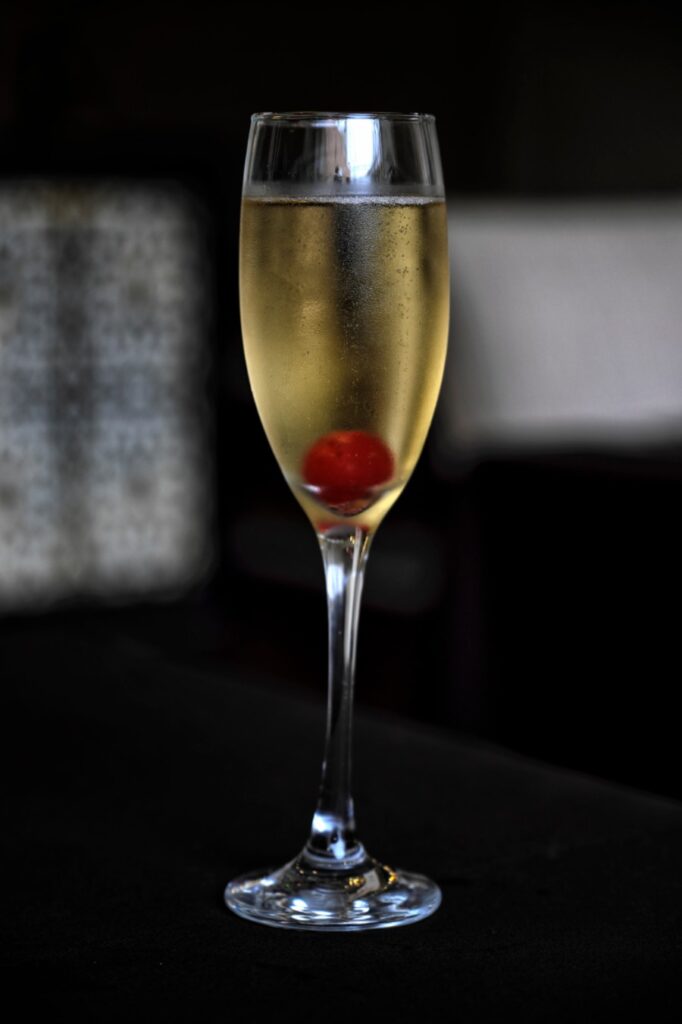 At Zaika there is also a selection of cocktails and beers. We tried some of their Indian cocktails, namely, the Pink City (S/ 35), made with Kahlua, vodka, rum, pineapple and grenadine; the Himalaya (S/ 35), a mint-based cocktail with vodka, passion fruit and pineapple (too sweet for my taste); and the Virgo Special (S/35), a drink prepared with Asti and rum that was enjoyable. Note that until the end of October, there is a 25% discount on drinks.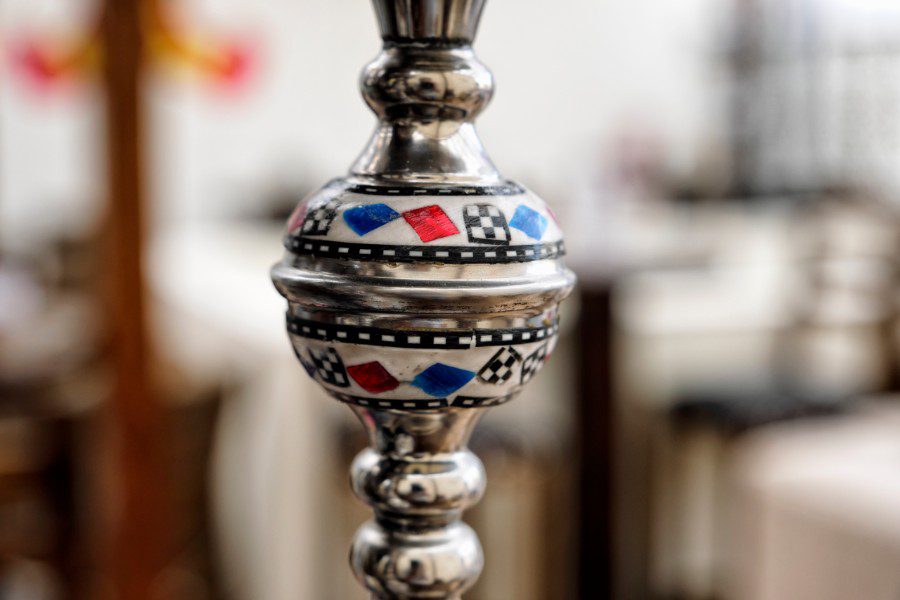 An interesting feature is the hookah bar on the second floor where you can really relax and enjoy your drinks and snacks while puffing every now and then from these long and exotic water pipes. There is a whole range of tobacco flavors that you can choose from. The rate is S/ 40 for a couple of hours.
Narguile

Fire gulab jamun

Raj bog

Details
Final remarks
Zaika was a pleasant surprise. I found the flavors to be quite authentic, pleasantly spicy and full of flavor. Portions are big and the prices are good so you cannot ask for more.
Mutton rogan ghosh

Chicken massala
Zaika
Calle Berlín 337, Miraflores
Telephone: 307-9614
Opening hours: Monday to Thursday 12pm-5pm, 6:30pm-11pm; Friday to Sunday 12pm-5pm, 7pm-12am
Parking – yes
Appetizers – S/ 15-32
Breads – S/ 4-12
Soups – S/ 12-16
Main dishes – S/ 24–36
Cocktails – S/ 18-35
Refreshments – S/ 5-14
Desserts – S/ 10-20
Delivery – yes
Photos: Marco Simola/Traveling & Living in Peru