The concept of free walking tours is very popular nowadays. In Peru, you can find free tours mostly in Cusco, Arequipa, and Lima and if you feel like it then you can give your guide a tip at the end of the tour. We made you a list of 5 free tours in Lima, Peru.
Free walking tours are getting very popular, especially among young travelers, as they offer an alternative to the prepaid guided tours. Do not confuse "free tour" with "bad quality tours": the tours offered are of various quality, and the point is that each one of the participants is free to give a tip based on how much they liked the tour. The guide is therefore probably going to try as hard as possible to offer you the best excursion possible!
It's recommended however to check on the internet before choosing a tour, and not just joining any you encounter in the streets, as their quality might be inferior to the official free tour companies. Here's the list of the 5 free tours you could join during your stay in Lima:
Visit the Historical Center Of Lima With Indigenous Peruvian Tour Guides
Inkan Milky Way is one of the numerous tour companies that propose free Lima city tours. They offer true Licensed Guides from the Peruvian government, which means that all of the guides they propose have studied a Tourism & Hospitality Career. Moreover, Inkan Milky Way assures that all of their guides are Indigenous Peruvian persons who speak English perfectly. They offer tours every day except on Sundays, one during the morning and one during the afternoon.
The meeting points for the morning tour are either in Miraflores at 10:00 am (in order to have the time to join the group in the city center) or 11:00 am in downtown Lima. For the afternoon, meet the group at 3:00 pm in the city center.
Be ready to go on a 2 hour-and-a-half long and very historical tour, where you'll stop by all of the "Must-do" attractions, such as the Rimac river, The Palace of Francisco Pizarro or the Old Train Station. You must book your tour (in English or Spanish) through their website, where you'll also find the exact pick-up place, and some more information about what Inkan Milky Way proposes!
Visit Downtown Lima And Barranco (2 in 1) With Lucuma Tours
Lucuma Tours has something unique to offer: a 2 in 1 tour that takes you not only to the city center to visit the historical part of Lima, but also to Barranco and Miraflores, to explore the little more "hipster" and artistic side of the city. Moreover, Lucuma Tours offers a van for the people that join the tour at the same price as the public transport (2,5 soles), in order to pick everyone up in the different parts of Lima. This full-day tour lasts approximately 4 hours; ends at Plaza de Armas at 2:00 pm; and takes you on a ride around Barranco, to enjoy the beautiful street art, to Miraflores, in order to explore the large Kennedy Park, and to the city center, where you finish off with all of the historical background of Lima.
If you're staying in the city center, they'll pick you up at 9:30 am at the Tourism Information desk in Hotel España. If you are in Miraflores, the meeting point is at 10:00 am at the Central Kennedy Park, and at 11:00 am at Amaru Centro Cultural if you are in Barranco (find the exact pickup places on this website). Feel free to take a look at the Free Walking tour Lucuma website, where you can book your tour, and find the contact information if you have any questions before going on their excursion around the beautiful city of Lima.
Visit Downtown Lima On Foot And Learn More About The History Of The City With Lima By Walking
Lima By Walking offer free walking tours from Monday to Saturday through the Historical Center of Lima. The tour starts at 11:30 am at the Main Square of Lima (Plaza de Armas), but if you're staying at Miraflores, you can meet the guide at 10:30 am outside of the Pariwana Hostel, at the Kennedy Park. The guide will then take you to the starting point of the tour, using public transport, which will cost you normally 2.5 soles.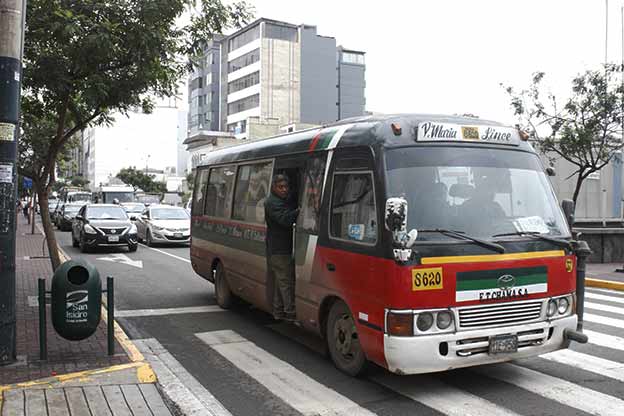 The tours are offered both in English and in Spanish, and you can book them here. If you choose this company, be ready to experience 2 hours of adventures, where you'll taste Pisco, get to know a lot about the historical background of Lima, and enjoy your time with a nice and very international group. Moreover, Lima By Walking offer a free map to everyone participating in the tour! And if you really enjoyed the downtown tour, why not join their tour of Barranco, which starts at 4:00 pm at the main square of Barranco?
Join On A Barranco By Night Tour With Strawberry Tours
Barranco is Lima's "bohemian" district, known for the numerous bars and party places it proposes. If you are a fan of nice talks around a good drink, Strawberry Tours has exactly what you need. The tour starts at 7:00 pm in front of the Museum of Electricity of Barranco, and takes you on an original excursion that mixes historical information and drinking good alcohol.
Pass by the most emblematic bars of the city, learn to make your own Chilcano Pisco and Pisco Sour, enjoy a good craft beer at the Barranco Beer Company, visit the beautiful Municipal Barranco park, and most importantly, have fun with your friends and family and the new people you'll meet on the tour. However, note that this tour is only proposed from Wednesdays to Saturdays.
Book your tour on their website, and join on one of the most unique, original and fun tours of Lima. Keep in mind also that Strawberry Tours are very special in the sense that a part of all the tips their guides receive is donated to local charities. Have fun while helping others!
Taste All Of The Delicious Food Peru Has To Offer By Joining On A Free Food Tour
Strawberry Tours has a lot of surprises to offer, and one of them is their special free food tour. Meet your guide at 3:30 pm at the Central Kennedy Park of Miraflores, and join on a few hours where you'll be able to taste various Peruvian local food and learn more about the country's fascinating food culture.
Be ready to visit the Surquillo market, where you'll be able to taste all the different unique Peruvian fruits; have the best ceviche in town; visit non-touristic cafes and restaurant; try traditional turkey and pork sandwiches; taste the delicious picarones; and enjoy a lot of other good things to eat.
This option is really good for any food-lover and foodies that want to learn about the Peruvian food culture while tasting the different things it has to offer! Also, feel free to taste whatever you want, no one will force you to taste something you don't feel comfortable with, you decide what you want to eat, and how much you want to spend on this tour. If you take a little bit of everything, the tour will probably cost you around 50 soles ($15 US dollars). Visit the website to book your tour and get more information about what's waiting for you.
By Julia Natri.
Cover Photo David Baggins.
Now that you're here:
We're asking you, our reader, to make a contribution in support of our digital guide in order to keep informing, updating and inspiring people to visit Peru. Why now? In our near 20-year journey as the leading English-language source on travel in Peru, we've had our fair share of ups and downs-but nothing quite like the challenges brought forth in the first quarter of 2020.
By adapting to the changing face of the tourism and travel industry (on both local and international levels), we have no doubt we will come out stronger-especially with the support of our community. Because you will travel again, and we will be ready to show you the best of Peru.
Your financial support means we can keep sharing the best of Peru through high-quality stories, videos and insights provided by our dedicated team of contributors and editors based in Peru. And of course, We are here to answer your questions and help whenever you need us.
As well, it makes possible our commitment to support local and small businesses that make your visit an unforgettable one. Your support will help the people working in these industries get back on their feet once the world allows us to make our dream of enjoying everything Peru has to offer a reality again-from its mouthwatering gastronomy, thriving Amazon and archaeological wonders such as Machu Picchu.
Together, we will find a way through this. As a member of our community, your contribution, however big or small, is valuable.
Support Traveling & Living in Peru from as little as $1 - and it only takes a minute. Thank you!