Those that know me, know how much I dislike the crazy car alarms that go on and on without their owners making an appearance, the honking of angry and desperate drivers, and the screaming from buses announcing their destinations. And Lima is a busy, populous, and quite a noisy city. This is why getting away from the buzz and hassle in order to have a nice lunch, coffee, or glass of wine is like finding a jewel.
Emile, which is located inside the courtyard of the Alianza Francesa in Miraflores, is a great place to go for lunch. Since a new administration has taken over within the past year, not only have there been changes to the décor but also in the menu. They've enhanced the space's relaxed bistro-like ambiance, and the terrace remains a lovely place to hang out and share a glass of wine with friends after a good French movie or theatre play. I've been told that starting in February when the Cultural Center has a range of activities scheduled, the terrace becomes a very busy place.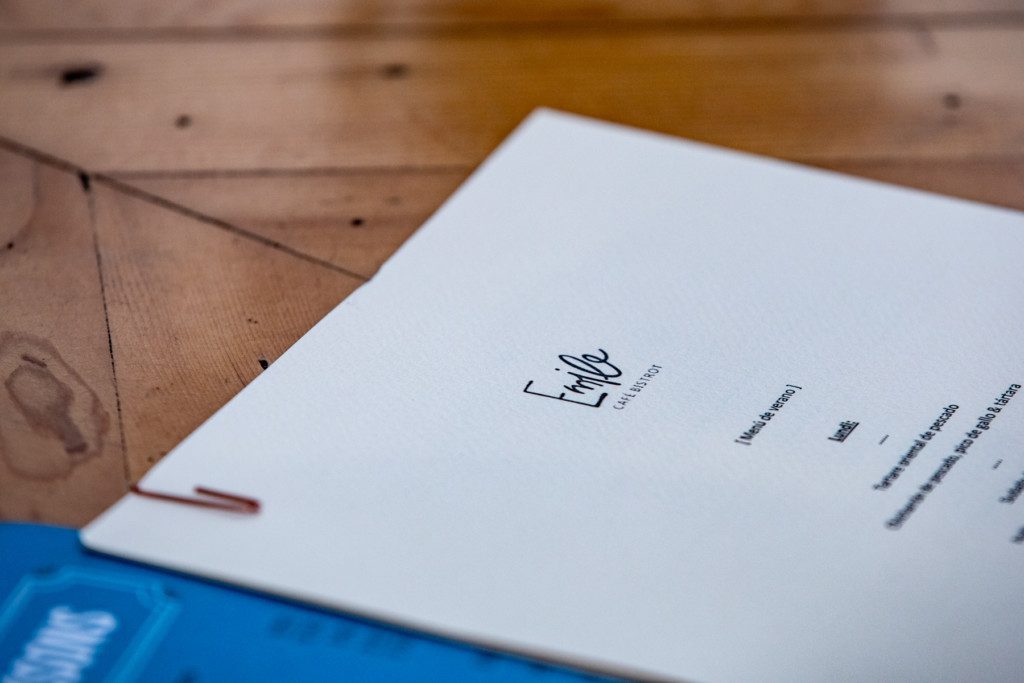 The Food
At Emile, you will find both Peruvian and French classics – the latter are clearly marked with the French flag so you know. There are a range interesting offers you will surely enjoy. They have Brunch from Monday to Saturday from 11 to 4, as well as a Day Special (s./19.90) which includes one main course, along with lemonade refills from Monday to Fridays, all day long.
A very interesting and highly recommended option is their summer Lunch menu (s./ 25) which includes a starter, a main course, dessert, and refreshment. This option is available from Monday to Friday. Every day of the week, it is a different menu which offers two starters and two main courses to choose from. On the day we visited, they offered a French Salad and a Tiradito as starters, Fish Norteño and Trigotto with meat stew as the main dish and Crema Volteada for dessert. The TLiP team went for the Tiradito and the fish.
The Tiradito de Ají Amarillo was made with perico fish, a slightly creamy spicy sauce, and some sweet potatoes. The fish was fresh and I loved the spiciness and citric flavors of the sauce which were outstanding. What a marvelous start this was!
Then came the Fish Norteño which consisted of several pieces of perico fish with cilantro rice, a classic from the north. The pepper and salt seasoned fish was extremely tasty and delicious on its own, while the rice with corn and chopped carrots was moist and full of flavor too. We were happy with our menu choices, and agreed that this was certainly good value for money: the portions were satisfying, and the food was yummy. It was one of the best lunch menus I´ve had lately.
We then ordered the Salmon Ceviche (s./28.90) that consisted of slices of piled salmon, fresh red onion slices, plenty of black sesame seeds, and avocado. The ceviche was refreshing and quite nice; we enjoyed it.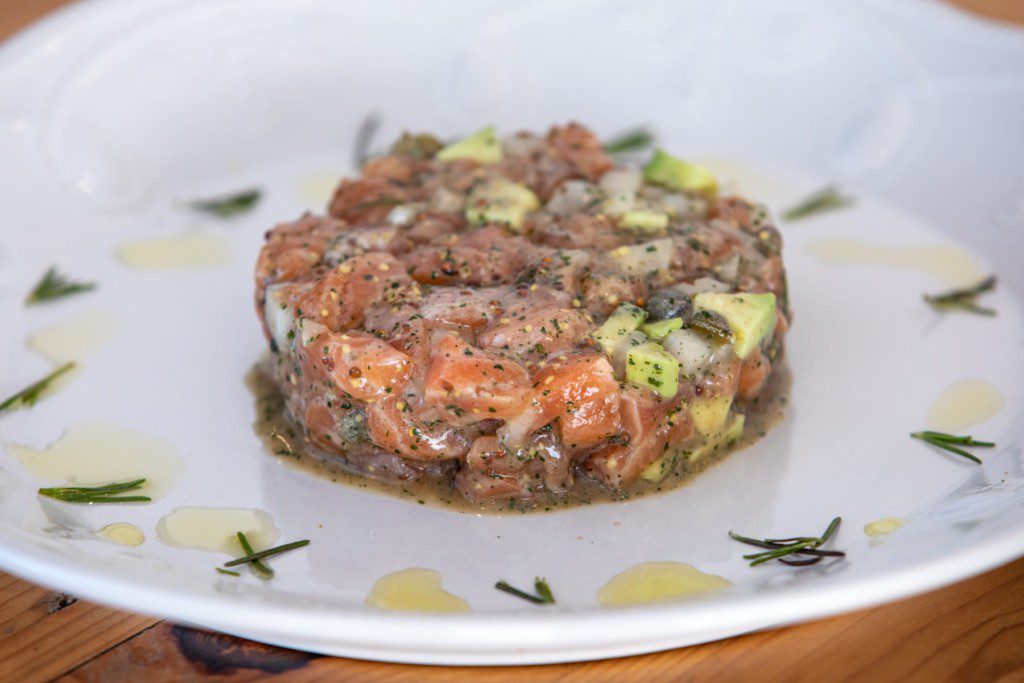 We also enjoyed the Tartare of the Day (s./27.90), which includes the choice of meat, tuna or salmon. We chose the salmon tartare. The dish is composed of small pieces of chopped salmon mixed with avocado, fresh white onions, and a fantastic herbal sauce. It also comes with a side of garlic toasts. This tartare was very fresh and savory. It was a hit among the team members, and I particularly enjoyed the sauce.
As the cheese lover that I am, I also enjoyed the grilled Provolone Cheese (s./42) that is served in a hot pan. The cheese was melted into a blend of mushrooms and fine glazed onions. The dish is also accompanied with toasted cereal bread which goes great along with the cheese. It was certainly flavorful and was a nice dish to share between two along with a bottle of nice French wine.
Another of their French dishes is the Filet mignon (s./39.50), a piece of fine sirloin that comes with fries and slightly buttered vegetables. The meat was of good quality, very tender, cooked rare as we ordered, and both, the fries and the vegetables were nice too.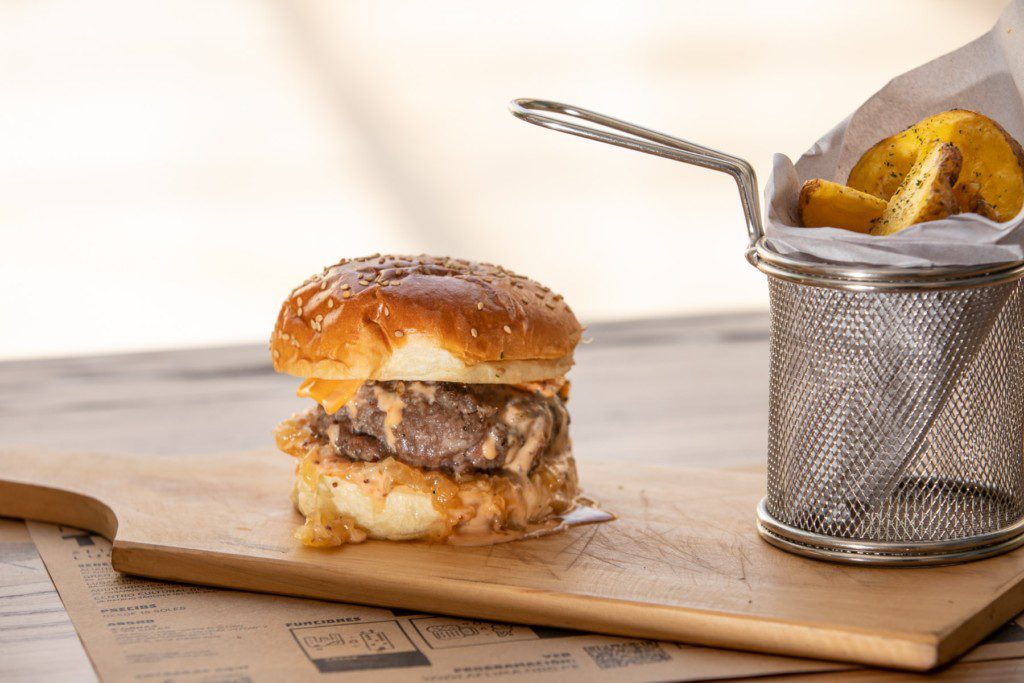 We also tried their Hamburger La Bistrot (s./ 22.90), two-hundred grams of strip steak with cheddar cheese and caramelized onions in a soft bun. It also comes with a basket with native potato fries. The hamburger was enjoyable, especially because of the sweet touch given by the caramelized onions, and the fries were great; you cannot go wrong with native potato fries. The hamburger does not look big, but it is certainly satisfying.
The Drinks
With our food, we sampled a couple of their lemonade options. We tried the Paris Lemonade (s./9.50), a beautiful bordeaux color lemonade made with lime, Jamaica, and mint, and the Berry Lemonade (s./ 9.50), slightly more dense due to the strawberries mixed with blueberries, passion fruit and lime. They were both very refreshing and wonderfully tasty. I highly recommend them.
The Dessert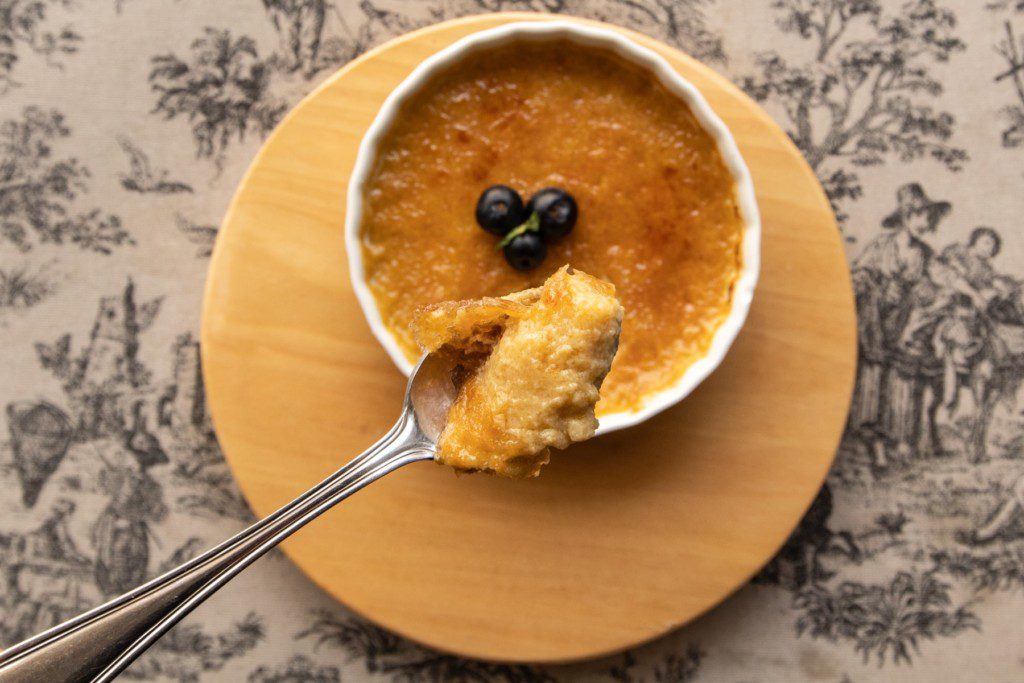 Lastly, we tried a couple of desserts, quite French both. We had the Creme Brulee (s./ 15.90) that was small in size, but nice with vanilla flavors coming out strongly, and the Tarte Tatin (s./14.90), that was even a smaller and very thin piece of apple pie that was far from the real one. This dessert also comes with ice cream. Surely, some improvements will have to be done in this regard.
All in all, we did enjoy our visit to Emile. The price and quality ratio is favorable, and remember in case you want to enjoy a nice meal in a quiet and relaxed ambiance, Emile is the place to go.
Emile Café Bistrot
Av. Arequipa 4595, Miraflores
Tel. 237 79 19
Opening hours – Monday to Saturday 7 am to 10 pm
Menu
Appetizers – s./20.50 – 42
Starters – s./27.90 – 28.90
Salads – s./23.90 – 26.90
Sandwiches – s./ 18.90 – 24.90
Main dishes – s./ 26 – 39.50
Crepes, waffles and French toasts – s./15.50 – 19.90
Cold beverages – s./9.50 – 12
Coffee, tea & hot chocolate – s./6.50 – 9.50
Comments
comments