The Skylodge in the Sacred Valley is an unbelievable adventure and one of the most memorable experiences you can have in Peru.
The Skylodge Adventure Suites hotel in the Sacred Valley just 15 minutes from Ollantaytambo. You can't miss it since the rooms are pods hanging from the side of a 400 meter cliff.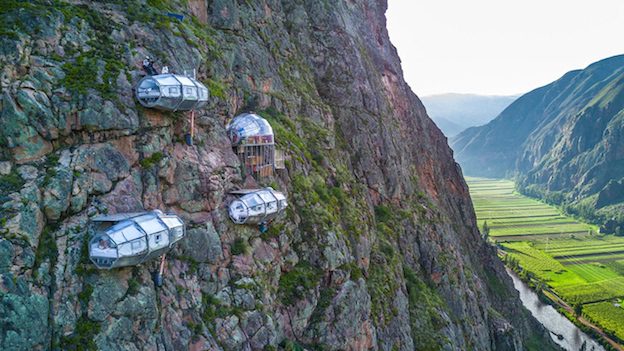 It's quite an adventure to get there. You must climb up the face of the rock, which has steel hooks embedded in it to help you and a fixed steel wire rope secures climbers for the whole ascent. This is known as a via ferrata and the climb takes almost four hours. Your reward will be to spend the night above the ground.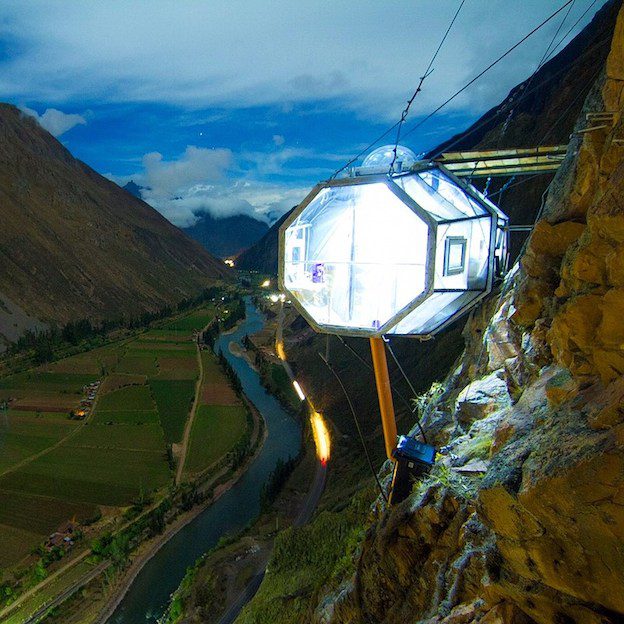 Get ready to sleep in a suspended transparent capsule that can accommodate up to four people, where you can watch the stars and admire the scenery until dawn. Note: this is not recommended for those who are afraid of heights!
Don't miss the Buzzfeed article that sparked the social media craze!
Every hanging module is made from aerospace alloy and high-strength polycarbonate. They have up to four beds with feather duvets, a dining room, and private bathroom. You enter through a hatch in the top of the capsule, which has six windows, four ventilation ducts, and lighting – all completely environmentally friendly. Once inside you can take your harness off and enjoy the hotel stay of a lifetime.
Watch the video for a closer look at the Skylodge:
Source: Ultimate Journeys
Cover photo:
Don't Miss:
THE COOLEST OR THE MOST TERRIFYING HOTEL IN THE WORLD IN PERU
INSPIRED FAMILY'S FINAL ADVENTURE
TIPS FOR HIKING THE INCA TRAIL (VIDEO)

Now that you're here:
We're asking you, our reader, to make a contribution in support of our digital guide in order to keep informing, updating and inspiring people to visit Peru. Why now? In our near 20-year journey as the leading English-language source on travel in Peru, we've had our fair share of ups and downs-but nothing quite like the challenges brought forth in the first quarter of 2020.
By adapting to the changing face of the tourism and travel industry (on both local and international levels), we have no doubt we will come out stronger-especially with the support of our community. Because you will travel again, and we will be ready to show you the best of Peru.
Your financial support means we can keep sharing the best of Peru through high-quality stories, videos and insights provided by our dedicated team of contributors and editors based in Peru. And of course, We are here to answer your questions and help whenever you need us.
As well, it makes possible our commitment to support local and small businesses that make your visit an unforgettable one. Your support will help the people working in these industries get back on their feet once the world allows us to make our dream of enjoying everything Peru has to offer a reality again-from its mouthwatering gastronomy, thriving Amazon and archaeological wonders such as Machu Picchu.
Together, we will find a way through this. As a member of our community, your contribution, however big or small, is valuable.
Support Traveling & Living in Peru from as little as $1 - and it only takes a minute. Thank you!