In the mountains above the Sacred Valley of Peru lies an expansive territory where communities live as subsistence farmers, living in the same ways that their ancestors have.
About the park
The Potato Park is a bio-cultural reserve located in the heights above the Sacred Valley of Peru. Though it has a strange name, it is a great place to visit for those who are interested in learning about Andean traditions. More than 6,000 people live within the boundaries of the park, spread between twelve different communities. Though some communities are more traditional than others, most everybody who lives in this territory are subsistence farmers, living in the same ways that their ancestors have.
My first life-changing encounter at the Potato Park

On a sunny winter morning in 2010, in an effort to meet people from some of the high Andean communities surrounding the Sacred Valley, I shared a van with local school children and village women returning from selling their produce at a local market. The journey took me into the foothills of El Parque de la Papa, the Potato Park, the end of the road for this shared van, known as a combi.
It was from the man seated across from me, a resident of the park, I learned that the Potato Park was one of Peru's most important bio-cultural reserves—an autonomous indigenous space dedicated to the cultivation of all shapes and types of the potato—1,400 varieties in this park alone.
At the time I was a traveler, in the middle of a trip I would take across a large segment of the Andes, intentionally winging it on a series of buses from town to town, trekking into the foothills without expectation of who I would meet, or what I would find. Though I was unaware of it until a few years later, I was laying the groundwork to write Just Follow the Llamas.
Three years later: returning with Backpack to the Potato Park
I arrived by myself, with my backpack and my tent, hiking to the far side of a nearby lake, lake Pumacocha, where I would camp and connect with Pachamama, mother earth. I neglected to bring my quality backpacking tent from the States when I left last August, and instead bought the cheapest one I could find here in Peru for about 15 dollars. The tent has a rain fly but the rain fly is just for looks: when it rains torrents outside, it rains torrents inside of the tent. And this happened (yet again) while I was camping in the park.

I met this gentleman, Rudolph, in the early morning after my night of sleeping in the rain. He was surprised to see a gringo like me camping in such an isolated part of the park. And by yourself? he asked me.
Why was I not staying under a roof with a family? What contacts did I have to justify my presence in the sacred indigenous land? He had come to check the health of his community´s (Paru Paru) source of potable water, the purest source you can find, arriving from a spring on the mountainside. Above our heads swirling clouds, streaming through the mountain peaks, appeared and then disappeared within the timespan of a breath.
A view of the Potato Park. The mountains are speckled with potato plots, about all that people eat around here. All of the potatoes that people farm, they eat, or trade with others in neighboring communities for other traditional crops like corn, quinoa, tarwi. They follow ancient customs to protect the landscape from overuse – for example, after potatoes are grown in a space, it must recuperate for seven years before being farmed again.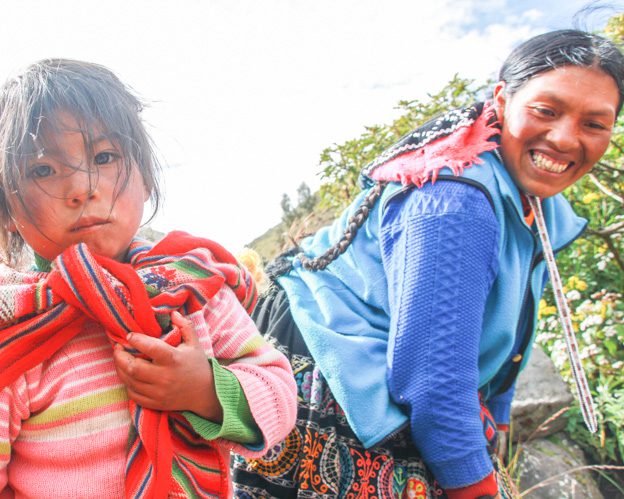 After speaking with Rudolpho, I realized the mistake I´d made by not asking for permission to venture into the park. So instead of staying another night in my rain-puddle tent, I did what I do best: I wandered around and talked to people. It was the first family I met who excitedly invited me to stay the night in their homes. Like most everybody in this area, they live off the land by herding sheep and llamas, and growing potatoes.
Fourteen-year-old Amable. She loves school and has to commit 3-4 hours of her day to travel there and back. She walks 1 hour downhill to a larger community, Pampayaqta, where the school is at, and 2 hours back uphill. On top of that, she shares with the rest of the family with responsibilities of grazing the animals, helping cultivate potatoes, and taking care of things around the house. But she seems to love it here.
Julian, the father. Like the thousands of other men in the area and through the Andes, he sometimes works as a porter for tourists take the Inca trail to Machu Picchu. What the tourists do in 5 days he does in 2. " We joke around a lot on the way there, we take our time," he told me. Julian makes 200 soles for every trek, which requires 5 days of his time with travel and all included.
Julian and the rest of the family get up at least 2 hours before sunrise every day. They made fun of me for sleeping-in incredibly late when I emerged from my sleeping quarters a half hour before sunrise. In this photo, the family works together to make a blanket — wool from their llamas that they spin into yarn, then thread strand-by-strand. It takes about a month of work to make a blanket by hand.
Cover photo: karmacamilleeon/Flickr
YOU MIGHT ALSO LIKE
POTATO RESILIENCE BUILDS IN POTATO PARK OF CUSCO
PERU DEVELOPS A NEW GMO POTATO VARIETY TO FIGHT CHILD ANEMIA
VISIT PERU'S NEW POTATO PARK IN CUSCO
Now that you're here:
We're asking you, our reader, to make a contribution in support of our digital guide in order to keep informing, updating and inspiring people to visit Peru. Why now? In our near 20-year journey as the leading English-language source on travel in Peru, we've had our fair share of ups and downs-but nothing quite like the challenges brought forth in the first quarter of 2020.
By adapting to the changing face of the tourism and travel industry (on both local and international levels), we have no doubt we will come out stronger-especially with the support of our community. Because you will travel again, and we will be ready to show you the best of Peru.
Your financial support means we can keep sharing the best of Peru through high-quality stories, videos and insights provided by our dedicated team of contributors and editors based in Peru. And of course, We are here to answer your questions and help whenever you need us.
As well, it makes possible our commitment to support local and small businesses that make your visit an unforgettable one. Your support will help the people working in these industries get back on their feet once the world allows us to make our dream of enjoying everything Peru has to offer a reality again-from its mouthwatering gastronomy, thriving Amazon and archaeological wonders such as Machu Picchu.
Together, we will find a way through this. As a member of our community, your contribution, however big or small, is valuable.
Support Traveling & Living in Peru from as little as $1 - and it only takes a minute. Thank you!