Reaching lengths of almost 70 centimeters and weights of around 11 kilos, the howler monkey is one of the largest primates in the country, as well as one of the loudest. It has a special bone in its throat that creates a resonance chamber to help it amplify its voice.
Natural History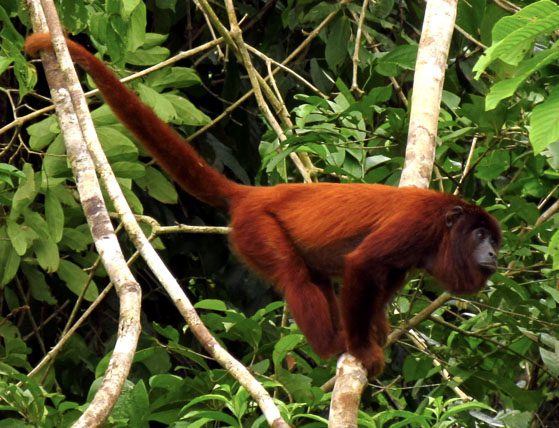 They are called howlers because of the loud screams they emit. They use the middle and upper strata of the forest where they move softly and quietly. Its powerful roars (a sound which resembles a jet in the distance) can be heard several kilometers away. When the howlers wake up at around five or six in the morning, they begin to launch their characteristic howl, which serves to announce the presence of the group to their neighbors of the same species. A dominant male can displace the dominant male of another group from his position through 'verbal' battles and physical aggression. Of gregarious habits, their herds reach can reach numbers of 30 or more. The average pack size is between 12 to 18, among which there are two or three times more females than males. They feed on leaves, buds, flowers, and fruits. They also eat nuts. Eating leaves is the cause of the apparent inactivity of the howlers, who spend much of the day sitting and eating. Births occur in all months of the year, and females give birth to only one baby at a time.
Current status
It is common and abundant species in the flood forests and the low forest. However, it is becoming scarce in areas close to man because it is hunted for its meat.
Distribution and range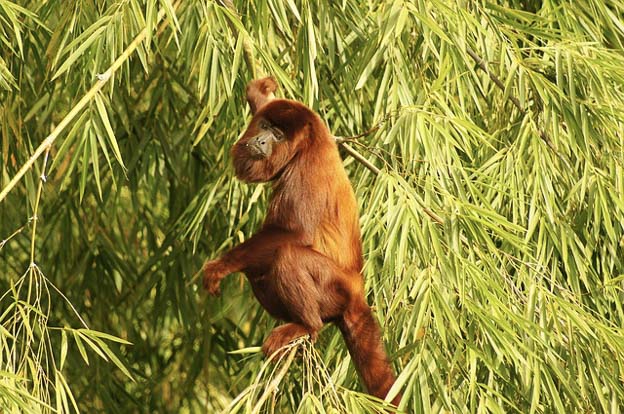 It is distributed in the rainforests of South America east of the Andes at heights of up to 1,200 meters.
Cover photo: Pixabay
Now that you're here:
We're asking you, our reader, to make a contribution in support of our digital guide in order to keep informing, updating and inspiring people to visit Peru. Why now? In our near 20-year journey as the leading English-language source on travel in Peru, we've had our fair share of ups and downs-but nothing quite like the challenges brought forth in the first quarter of 2020.
By adapting to the changing face of the tourism and travel industry (on both local and international levels), we have no doubt we will come out stronger-especially with the support of our community. Because you will travel again, and we will be ready to show you the best of Peru.
Your financial support means we can keep sharing the best of Peru through high-quality stories, videos and insights provided by our dedicated team of contributors and editors based in Peru. And of course, We are here to answer your questions and help whenever you need us.
As well, it makes possible our commitment to support local and small businesses that make your visit an unforgettable one. Your support will help the people working in these industries get back on their feet once the world allows us to make our dream of enjoying everything Peru has to offer a reality again-from its mouthwatering gastronomy, thriving Amazon and archaeological wonders such as Machu Picchu.
Together, we will find a way through this. As a member of our community, your contribution, however big or small, is valuable.
Support Traveling & Living in Peru from as little as $1 - and it only takes a minute. Thank you!