Sometimes, a single special instant can open us into lifetimes of deep contemplation, reminding us of the way that humans can bridge connection across distances. This is one of these kinds of moments, transmitted into writing.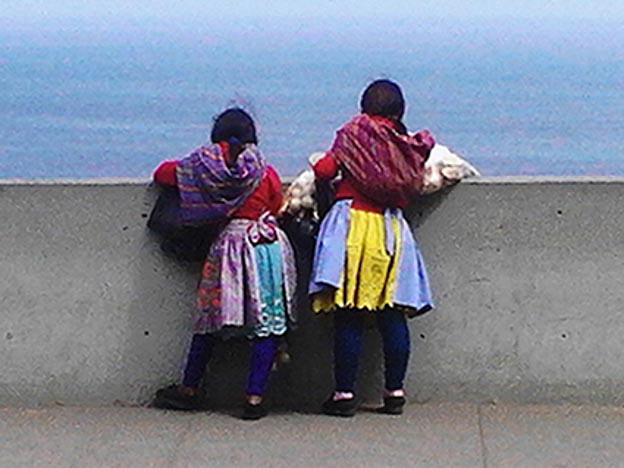 One sunny February morning, while skirting the boardwalk of Miraflores just beyond Porta Street, I found two girls who, leaning against the wall that protects pedestrians from falling off the cliff, watched the ocean that opened before their eyes: a blue-gray mantle whose immensity must have seemed impossible to them.
Presumably, the astonishment they were feeling was not gratuitous since their clothing revealed their Andean origins, a region where bodies of water, always Mediterranean, have known edges, which are surrounded by mountains, and thus small in size in comparison to the expansive ocean.
The contrast could not be greater since shortly before midday the heatwave was peaking, which is something that to them, loaded with bundles and dressed in sweater, skirt and wool stockings, seemed unimportant. I parked the car in a jiffy and got off promptly (situations like this one usually last for a few seconds), so I could take a picture with the cell phone from the opposite sidewalk. "What ideas would be going through their heads?", I wondered not without envy. But more importantly, what feelings would pervade their spirit, and what would they feel when contemplating that impossible vastness, magnificent and dwarfing at the same time?
I watched the two girls in fascination since they faced, with Pascal, the amazement of the infinite, the experience of the immeasurable, of the incomprehensible, and also, the verification of one's own limits and the inevitability of human smallness. Gray seagulls, tiny from afar, traced imaginary lines in the air, their squawks inaudible by the distance and by the noise of cars that, ceaseless, swift, irascible, ran between observer and observed. Multicolored kites crossed the sky in a trite miracle, the paraglide's acolytes affirming already their daily quota of flying pride held by invisible threads. Old and young foreigners passed behind them talking in languages ​​that would be strange to them.
Nothing, however, took them out of their reverie. The scene must have taken less than a minute, too little given the wondrous nature of what I was witnessing, but the passing of cars—their echoes magnified by the concrete wall of the buildings overwhelming our backs—soon reminded me of urgent matters and had to move on, which I did with a mix of awe and sorrow.
YOU MIGHT ALSO LIKE
MARTIN CHAMBI: THE MAN WHO REVOLUTIONIZED PERUVIAN PHOTOGRAPHY
THE MAGIC AND INFLUENCE OF A FAVORITE PERUVIAN SONG: THE CONDOR PASA
CÉSAR VALLEJO AND THE IMMORTAL POETRY HE LEFT BEHIND
Now that you're here:
We're asking you, our reader, to make a contribution in support of our digital guide in order to keep informing, updating and inspiring people to visit Peru. Why now? In our near 20-year journey as the leading English-language source on travel in Peru, we've had our fair share of ups and downs-but nothing quite like the challenges brought forth in the first quarter of 2020.
By adapting to the changing face of the tourism and travel industry (on both local and international levels), we have no doubt we will come out stronger-especially with the support of our community. Because you will travel again, and we will be ready to show you the best of Peru.
Your financial support means we can keep sharing the best of Peru through high-quality stories, videos and insights provided by our dedicated team of contributors and editors based in Peru. And of course, We are here to answer your questions and help whenever you need us.
As well, it makes possible our commitment to support local and small businesses that make your visit an unforgettable one. Your support will help the people working in these industries get back on their feet once the world allows us to make our dream of enjoying everything Peru has to offer a reality again-from its mouthwatering gastronomy, thriving Amazon and archaeological wonders such as Machu Picchu.
Together, we will find a way through this. As a member of our community, your contribution, however big or small, is valuable.
Support Traveling & Living in Peru from as little as $1 - and it only takes a minute. Thank you!