Pollo a la brasa, also known as rotisserie chicken, is a common dish of Peruvian cuisine and is one of the most consumed in Peru. It is one of those dishes that Peru is proud to claim as its own, Roger Schuler and Frank Ulrich, two Swiss residents who lived in Peru back in 1950, first created it. Preparing the dish involves taking a whole chicken and marinating it for several hours in various herbs and spices before putting it on the rotisserie spit. Pollo a la brasa is usually served with a large portion of french fries, a homemade salad with dressing, and with a variety of other sauces and ajíes, depending on the restaurant.
About the owners
Primos Chicken Bar opened in 2016. Many know of Marilú Madueño, the renowned Peruvian chef, who has also been the executive chef at Huaca Pucllana restaurant for well over 15 years. Marilú, along with her brother, Arturo, and cousins Rafael and Lucho, are the primary owners at Primos. There is quite a bit of restaurant experience between the Madueño family members.

The restaurant's history
This location has been dedicated to pollo a la brasa for several decades. Prior to Primos Chicken Bar, this corner spot was in the hands of Grill Conquistadores and previous to that it was the home of the popular Mediterranean Chicken. The rotisserie chicken here is a mainstay, and it's probably one of the better pollo a la brasa spots in town. And after living here for 12 years I can say that it's definitely one of my favorite restaurants to enjoy rotisserie. About 8 years ago I wrote a review for Traveling and Living in Peru when this restaurant was named Grill Conquistadores and had different owners.

A traditional recipe that's stood the test of time
The original chicken recipe used here is more than 30 years old. I also discovered the original ovens went through a total renovation before Primos opened. Primos Chicken Bar has taken the original recipe and preserved the seasoning and marinade (same herbs, spices, beer, etc.), but updated it by adding a few new flavors and secret touches. The marinade has an emphasis on pepper and cumin along with other ingredients. I was happy to learn that they do not use any Ajinomoto (MSG) in their marinade. They have maintained the integrity of the original recipe. Their whole chickens are 1.4 kilos (a bit over 3 lbs.) in weight, the skin is crispy and golden, and the meat juicy and succulent.
Restaurant setting and decor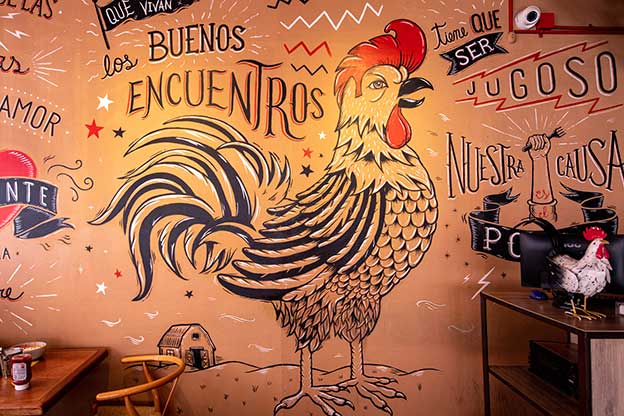 Primos has not only improved upon the chicken, but I found the premises and decor much fresher and brighter. The previous decor was a bit on the dark side. It definitely needed to be refreshed. The color scheme is now red, yellow, and tan. You can find the theme of chickens everywhere, in all shapes and sizes….ceramic chickens inside decorative cages suspended from the ceiling in the spacious bar area, on the red paper towel holders on the tables, on the walls in the artwork, and tucked into various shelves and other spaces. We also enjoyed the rock and roll posters and vintage beer posters as well as the memorabilia on their walls. The space is still very large but feels more cozy, intimate, and cohesive. You have many seating options, including at the bar, near the front windows, all the way in the back of the restaurant, at the booths in the middle, and in the large dining area to the side that has a couple of large-screen televisions for watching sporting events. Besides Primos original 2nd floor location, they now offer a separate street-level location entrance located to the right of the original entrance.

Starters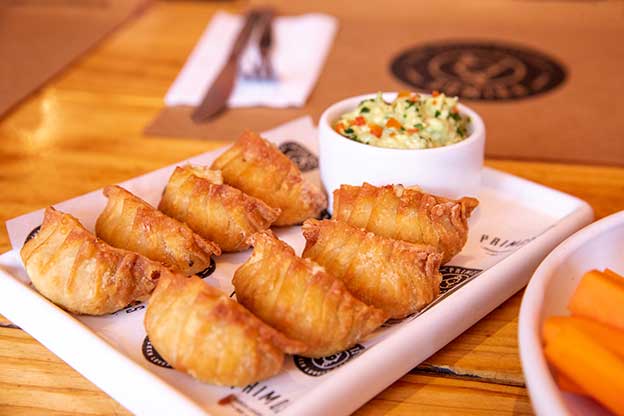 We began our culinary experience at Primos Chicken Bar with a few starters. Our first one was the Empanaditas de Queso y Pollo con Guacamole (S/. 24). These miniature chicken empanadas were most definitely the favorite of the four starters we shared. We loved both the dough for its flavor and crunch factor, as well as the delicious filling of chicken, mozzarella, and onion inside. The 8 mini empanadas were accompanied by a very good guacamole for dipping. Definitely, a "must order" starter!

We enjoyed the Alitas de Pollo BBQ (S/. 26), chicken wings which were served bathed in a sweet barbecue sauce. When I think of wings I think spicy, but these sweet ones weren't too shabby. The 8 plump wings were served with both carrot and celery sticks and an excellent homemade blue cheese dressing.

We also sampled the Anticuchos de Corazón and the Anticuchos de Hígado de Pollo (both S/. 24). We found the skewers of grilled beef hearts and chicken livers to be delicious. I actually preferred the chicken livers. These were served with roasted Peruvian potato slices and corn (choclo) as well as a fantastic aji sauce.

The main courses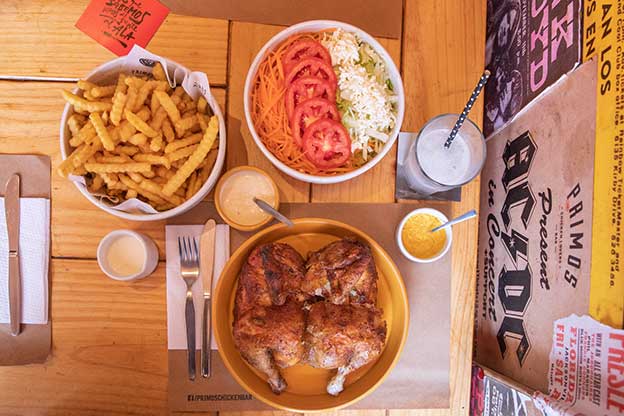 Then on to the main draw of the restaurant…..the pollo a la brasa! An entire rotisserie chicken arrived at our table with a generous basket of French fries and a large tossed salad with lettuce, tomatoes, shredded carrots, and crumbled queso fresco (fresh cheese). The chicken was conveniently cut in fourths and the 4 of us proceeded to enjoy this feast. As usual, the chicken was delectable and succulent. The crinkle-style french fries were crispy, amazing and slightly addictive. You may be surprised to know that these french fries are from Switzerland. We were told that they hold up better in the cooking process than the Peruvian potatoes. The aji pollero (Peruvian peppers sauce with aji amarillo) was excellent, creamy and spicy. Their homemade mayonnaise was also very good. I have become accustomed to dipping my french fries here in Peru with aji and mayo instead of ketchup and I don't miss the ketchup at all.

One of the surprise dishes at our table was the Salchipapas (S/. 25). Salchipapas is a fast food dish commonly consumed as street food here in Peru. The dish's name is a combination of the Spanish words "salchicha" (sausage) and "papa" (potato). Salchipapas typically consist of sliced hot dogs or sliced beef sausages and French fries mixed together. The dish is served with different sauces, typically with some kind of aji (chili peppers) sauce or ketchup and mustard. Occasionally a fried egg or cheese is added on top. Primo's Chicken Bar version consisted of crispy french fries along with good quality slices of hotdog, all tossed with the addition of grilled small pieces of the rotisserie chicken with the skin on. We all agreed this was definitely one of the better versions of Salchipapas we've tasted. This dish could easily be shared between 3 people as a starter.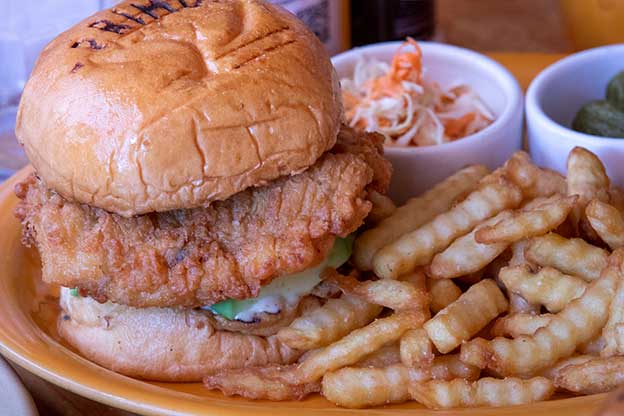 I requested the Fried Chicken Sandwich (S/. 26) because I can't pass up a good fried chicken sandwich. I was not disappointed. The chicken was plump, perfectly crispy, along with slices of avocado and served on a bun with the Primos logo branded onto it. This sandwich was accompanied by french fries, a honey mustard coleslaw, and cornichons.

While we were at it we also sampled Primo's Hamburguesa Wagyu Clásica (S/. 32) This Wagyu beef patty was served along with lettuce, tomato, and melted cheddar cheese on a Primos-branded bun and I found it to be delicious and a nice option if you don't want to eat chicken.

Dessert
By this point, the four of us could not even think about eating another bite, but once a milkshake and two desserts arrived at our table, we managed to muddle through.

The Caramel Pretzel Milkshake (S/. 16) was decadent, creamy and totally satisfying on every level. The rim of the glass had a hardened crust composed of crushed pretzels and caramel. The milkshake had a combination of vanilla ice cream infused with small pieces of pretzel and a generous amount of caramel sauce, all topped off with a generous amount of whipping cream, a drizzle of caramel and a couple of pretzel sticks as an accent.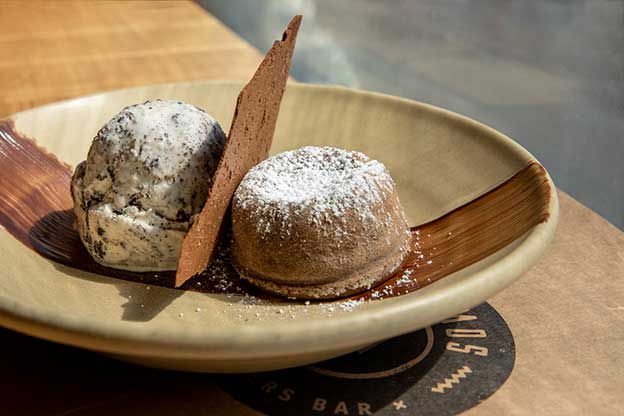 The Lava Cake (S/. 17) was truly incredible! The chocolate molten lava cake was served warm and accompanied by homemade cookies and cream ice cream. After the first fork broke into the cake and the rich chocolate oozed out, we gracefully devoured the cake. The presentation of this dessert was executed perfectly as well.

For those in the Miraflores and Barranco areas, Primos Chicken Bar opened up a smaller location in Miraflores about a year ago at Av. Armendariz 546.

Overall impressions
We were all very pleased with our experience at Primos Chicken Bar. The rotisserie chicken is still delectable as ever, the portions are generous, and there are a variety of menu options. The food is not fancy here, but it's always solid and good.

Long live pollo a la brasa!

Primos Chicken Bar
Av. Conquistadores 201, San Isidro
Phone: 441-5522
Hours: Sunday-Wednesday: 12:00 p.m.-10:00 p.m.
Thursday-Saturday: 12:00 p.m.-11:00 p.m.
Reservations accepted
www.primoschickenbar.pe
[email protected]
Capacity: 150
Parking spaces (limited)
Family-friendly
Menus available in English & Spanish
Delivery and Carryout available
Instagram

Chicken/Pollo a la Brasa (including french fries and salad):
1 whole: S/. 74
½ chicken: S/. 39
¼ chicken (breast): S/. 25
¼ chicken (leg): S/. 22

Starters/Piqueos: S/. 18-29
Salads: S/. 9-34
Beef & Chicken dishes: S/. 22-44
Side dishes: S/. 9-16
Desserts: S/. 5-19
Cold Beverages (non-alcoholic): S/. 6-24
Tea/Coffee: S/. 5-7
Milkshakes: S/. 15-16
Beer: S/. 10-17
Wine: S/. 19-99
Cocktails: S/. 19-29

Now that you're here:
We're asking you, our reader, to make a contribution in support of our digital guide in order to keep informing, updating and inspiring people to visit Peru. Why now? In our near 20-year journey as the leading English-language source on travel in Peru, we've had our fair share of ups and downs-but nothing quite like the challenges brought forth in the first quarter of 2020.
By adapting to the changing face of the tourism and travel industry (on both local and international levels), we have no doubt we will come out stronger-especially with the support of our community. Because you will travel again, and we will be ready to show you the best of Peru.
Your financial support means we can keep sharing the best of Peru through high-quality stories, videos and insights provided by our dedicated team of contributors and editors based in Peru. And of course, We are here to answer your questions and help whenever you need us.
As well, it makes possible our commitment to support local and small businesses that make your visit an unforgettable one. Your support will help the people working in these industries get back on their feet once the world allows us to make our dream of enjoying everything Peru has to offer a reality again-from its mouthwatering gastronomy, thriving Amazon and archaeological wonders such as Machu Picchu.
Together, we will find a way through this. As a member of our community, your contribution, however big or small, is valuable.
Support Traveling & Living in Peru from as little as $1 - and it only takes a minute. Thank you!