Our local guide, Aurilio, showed us the way to the special site, which was located a stone's throw away from the tiny village of Viacha, where he'd grown up. This is a story about exploration and relationship building in indigenous communities.
Aurilio, a local friend with a motortaxi who was constantly beckoning to come with him to see newly discovered ruins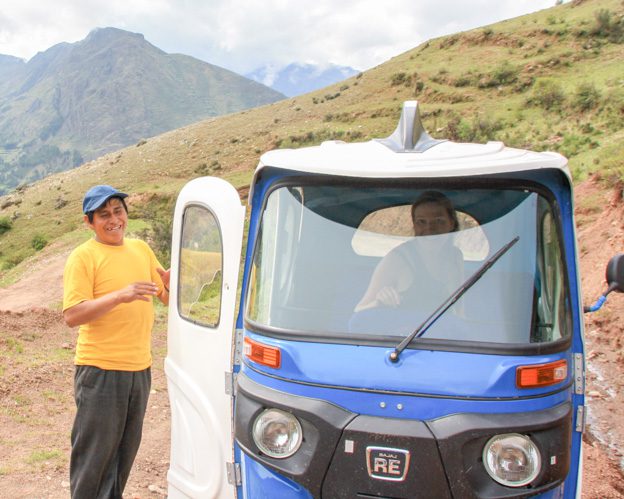 I went up to Viacha with Aurelio after a string of weeks when I'd see him in the streets of Pisac, a town in the Sacred Valley where we both lived. Each time, he'd send me the same invitation: "come to Viacha. I've got a new motortaxi, and it's got juice to get us into the mountains."
Aurelio and his excavating crew had apparently discovered a new site of ruins. He claimed that they'd uncovered an entire village, but I didn't yet know him very well, and I was skeptical. I think this is why it took me so long to take him up on his offer to explore the ruins.
Building relationships with Aurilio and his family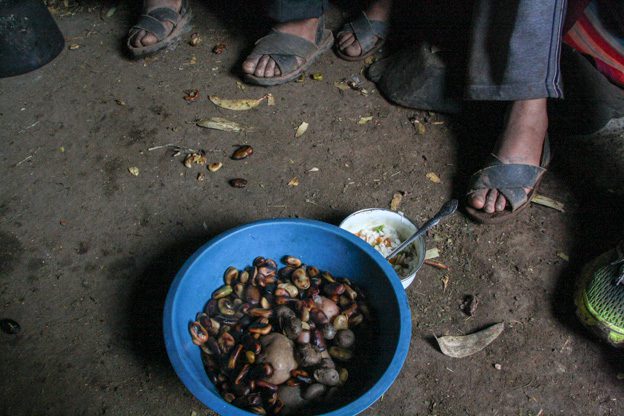 My plans to volunteer at their house as an English teacher for their children fell through after my first class with his children. I found his three kids to be uncontrollable, and their house inadequate for what I considered to be a proper English class. The uneven mud floors partly covered with puddles didn't bother me, nor did the new years decorations still strung along the walls two months after the day had passed, nor the mounds of empty liquor bottles, or the pile of unsifted junk spread along all corners and across the walking path from one end of the room.
After assessing the area and finding the cleanest area that I could, I set up chairs, took out my whiteboard, and started writing the first and most basic words down, but nobody wanted to listen. Instead, the youngest two scrambled upstairs to the terrace above my head and proceeded pee above my head, arcing their streams just enough to not spray me. It landed instead on the floor above me, on what would be classified as their living room. Based on their casualness of carrying out the action, I concluded that this was a regular thing.
After the class, it was sometimes easier to avoid Aurelio than to come up with another excuse for myself why I couldn't come back to their home to teach English. On a nearly weekly basis for a handful of months, Aurelio would pass by me on his motortaxi and offer a ride. And every time he would extend the offer: "tomorrow morning I'll take off work and we'll go to Viacha. There are some ruins we just discovered, still mostly covered in brush, and I want you to see it."
Discovering new ruins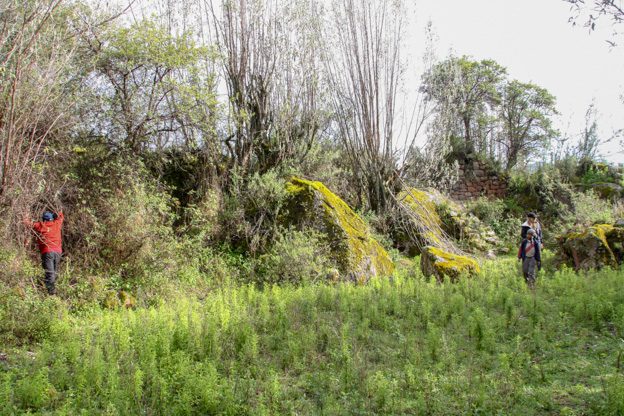 This visit to see the ruins he'd discovered was nothing short of impressive. The ruins were located in an area of land that people in his village had been using to farm. And it was clear that the ruins weren't necessarily newly discovered. People had obviously known about them for quite some time but just had never given them notice for what they were. Ever since locals could remember, they'd been hidden under a thick mess of vines and foliage. It seems that nobody had ever thought to explore what was underneath until Aurilio decided to check it out.
The complex consisted of about 10 different buildings, several magnificent staircases, intricately designed walls, and several courtyards. Considering that the tiny community of Viacha was located in the heights above Inti Huatana, a mountain which was also full of ruins, it might not come as a surprise that ruins such as these ones existed as well.
YOU MIGHT ALSO LIKE
LIMA: 19TH-CENTURY CHINESE CEMETERY FOUND IN PRE-COLUMBIAN RUINS
ARCHAEOLOGISTS DISCOVER INCA RUINS IN NAZCA, PERU
ARCHAEOLOGISTS FIND REMAINS OF SACRIFICED WOMAN IN PERUVIAN RUINS
Comments
comments