If you find yourself in the Chachapoyas area, don't miss out on the opportunity to visit Gocta waterfall.
Without a doubt, this natural wonder is sure to leave your head swarming with sights, sounds and smells that can only be appreciated in person.
Join us on a quick tour of Gocta as we let you in on the most essential details you need to know before visiting.
A recent discovery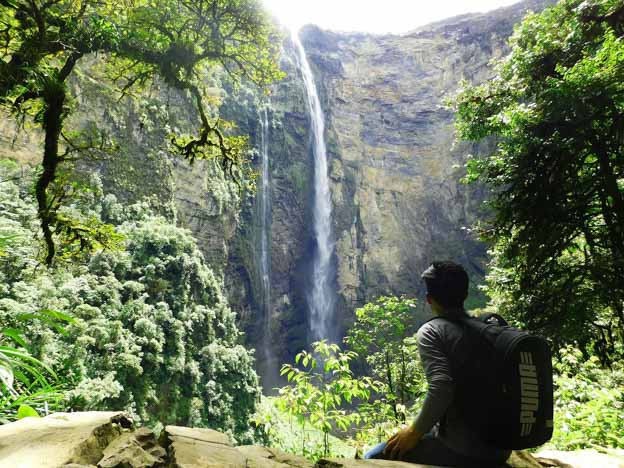 In 2006, a group of explorers led by the German Stefan Ziemendorf discovered that Gocta was one of the tallest waterfalls in the world.
At over 770 meters high, this perennial waterfall with two drops is located in the Amazonas in northwestern Peru.
Getting to Gocta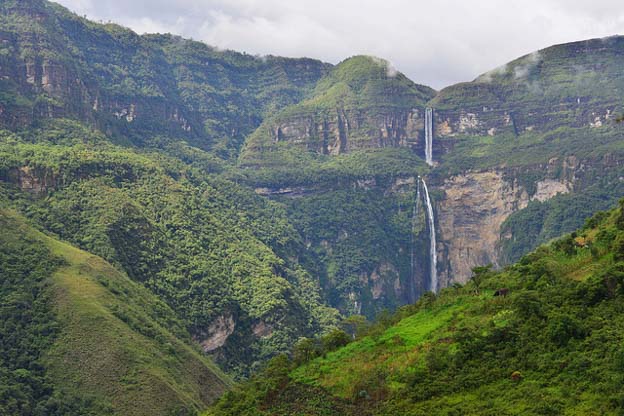 The journey to reach Gocta begins at the city of Chachapoyas, which is just outside of the village of Cocachimba.
From there, a local guide takes over.
As visitors make their way through the humid rainforest, the sound of water pounding against the rocks at the bottom reaches the ears of the hikers long before they see the falls.
Completion of the experience occurs with the view of the majestic falls from up close. Although the water and winds are intense, you will be encouraged to indulge in nature even more by taking a refreshing bath.
Rising tourism at Gocta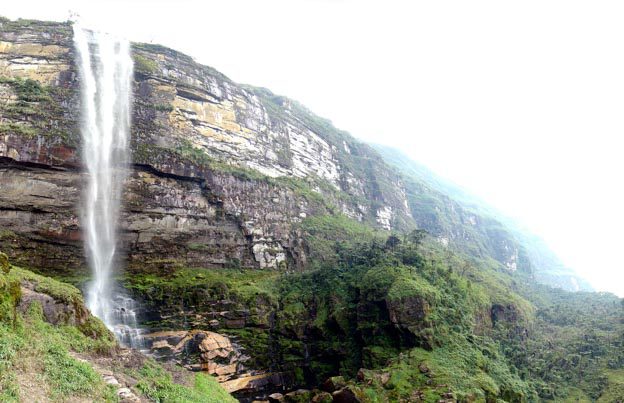 During the last decade, Gocta waterfalls has exploded in popularity, thanks in part to the arrival of the cable car at nearby Kuelap ruins.
With the rise in tourism, it's always a good idea to arrive to Gocta as early as you possibly can so that you can enjoy them without large groups.
As another option, there are other waterfalls nearby that are equally impressive and less popular with tourists. One such waterfall includes nearby Yumbilla, which is located about an hour away.
This article has been revised and updated from its original publication on April 1, 2019.
Cover photo: orientalizing/Flickr
Credit: Ultimate Journeys Peru
Now that you're here:
We're asking you, our reader, to make a contribution in support of our digital guide in order to keep informing, updating and inspiring people to visit Peru. Why now? In our near 20-year journey as the leading English-language source on travel in Peru, we've had our fair share of ups and downs-but nothing quite like the challenges brought forth in the first quarter of 2020.
By adapting to the changing face of the tourism and travel industry (on both local and international levels), we have no doubt we will come out stronger-especially with the support of our community. Because you will travel again, and we will be ready to show you the best of Peru.
Your financial support means we can keep sharing the best of Peru through high-quality stories, videos and insights provided by our dedicated team of contributors and editors based in Peru. And of course, We are here to answer your questions and help whenever you need us.
As well, it makes possible our commitment to support local and small businesses that make your visit an unforgettable one. Your support will help the people working in these industries get back on their feet once the world allows us to make our dream of enjoying everything Peru has to offer a reality again-from its mouthwatering gastronomy, thriving Amazon and archaeological wonders such as Machu Picchu.
Together, we will find a way through this. As a member of our community, your contribution, however big or small, is valuable.
Support Traveling & Living in Peru from as little as $1 - and it only takes a minute. Thank you!