"According to Peter Landerman, a specialist in historical linguistics at the University of California in Los Angeles, USA, the Jesuits who soon after settled in the country translated documents of up to 150 indigenous languages of the Peruvian Amazon", said BBC.
Besides Spanish, there are dozens more languages spoken in Peru, some of them even spoken in neighboring countries.
It was the Spanish who, through the teaching of Catholicism, imposed their language as the main one of the region.
That is why today, Spanish is the mother tongue of more than 80% of Peruvians.
"In Peru, according to official figures, there are approximately 47 native or indigenous languages," explained César Moreno-Triana, Unesco's specialist for Latin America on cultural heritage issues, according to BBC, adding that of all of those, four are spoken in the Andes regions, and 43 in the Amazon.
Quechua stands out as the most spoken indigenous language in the country, with more than 3.3 million native speakers. Aymara is the second most common indigenous language, with over 440,000 speakers.
Among the 43 from the Amazon, the most important one is the Ashaninka, the mother tongue of 97,477 people in the regions of Junín, Pasco, Ucayali, Apurímac, Ayacucho, Huánuco, Cusco, and Loreto.
But there are also languages such as Sharanahua, which barely have 600 speakers, according to the Unesco specialist's estimates.
Several of the original languages already have their own alphabets, such as Awajún, Jaqaru, Shawi or Yanesha.
Languages without borders
Of course, many indigenous languages from Peru are also prominent in other regions.
In fact, Quechua, in its different variants, has about 14 million speakers throughout Latin America.
This makes it the most spoken native language of the entire continent.
Aside from Peru, the Quechua language is also spoken in Ecuador, Bolivia and in the northwest of Argentina.
Aymara, on the other hand, is also spoken in Bolivia, Argentina, and northern Chile.
The lost languages
According to a report that Peruvian Ministry of Culture shared with the BBC, close to 35 indigenous languages have disappeared in the last 40 years.
"The languages that are currently spoken are languages that have resisted centuries of discrimination because their inhabitants have continued to use them in their family environments, in their communities and in their daily lives", they told BBC.
To stop this major cultural loss, the government has taken important steps to ensure their recognition, protection and promotion.
One of these is the normalization process, which, according to the Ministry of Education "contributes to the improvement of the quality of life of speakers of native languages within the framework of the provision and consolidation of a unified writing system."
The normalization process starts by registering each language's alphabet because "an official alphabet allows us to develop educational materials for all areas and grades of children and adolescents of indigenous peoples. In addition, to promote the educational development of languages through intercultural bilingual education in approximately 26,000 educational institutions in the country."
Among other measures, in August of 2017, the government approved Supreme Decree N° 005-2017-MC, which approves the National Policy of Original Languages, Oral Tradition and Interculturality.
Where to find the indigenous languages spoken in Peru
Here's a map that shows Peru's linguistic diversity. It identifies the distribution of indigenous languages in the Peruvian territory and their language families: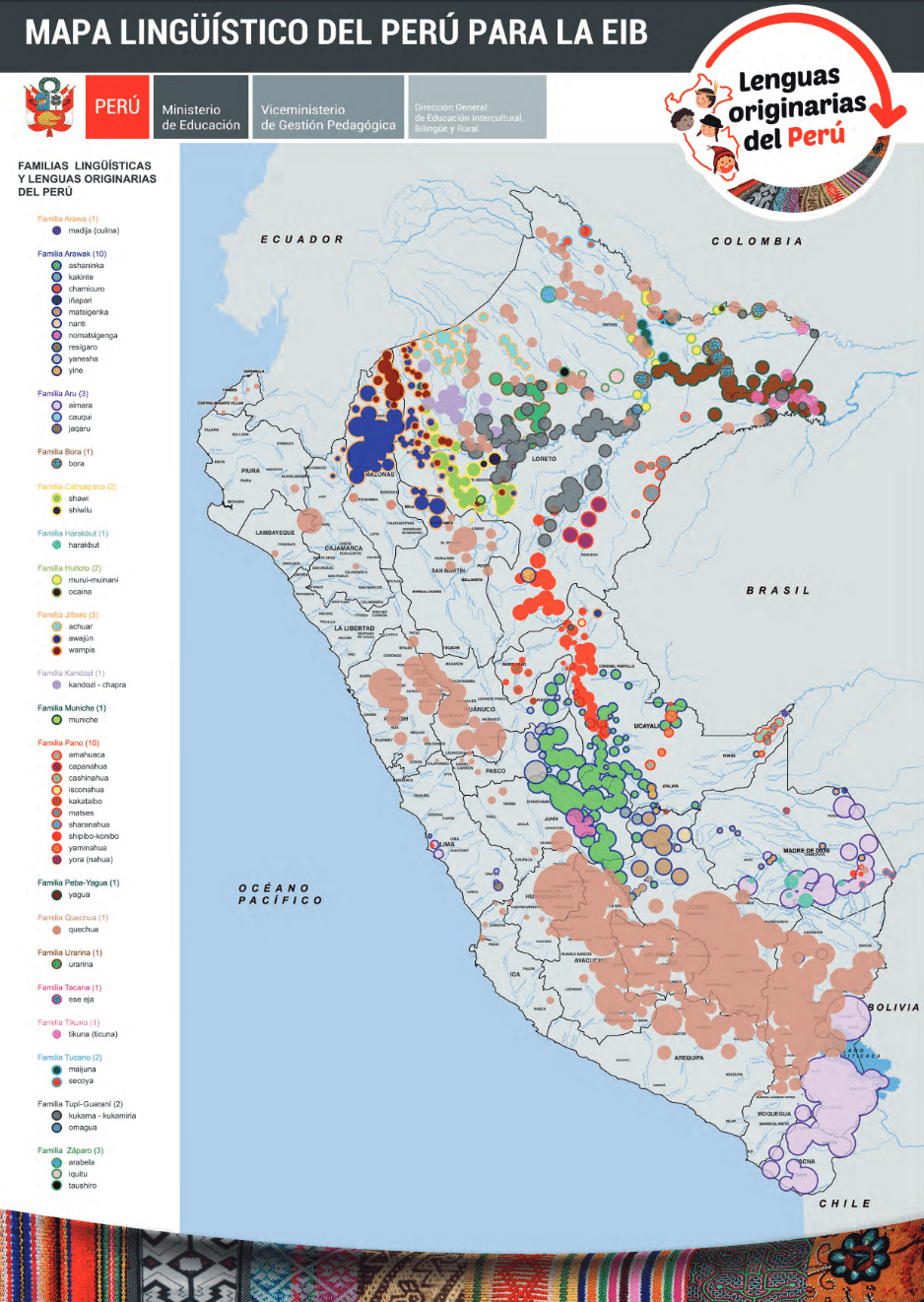 Cover Photo Flickr
Don't Miss:
9 Quechua Words All Travelers Coming to Peru Should Know
Woman Defends PhD Dissertation in Quechua
Now that you're here:
We're asking you, our reader, to make a contribution in support of our digital guide in order to keep informing, updating and inspiring people to visit Peru. Why now? In our near 20-year journey as the leading English-language source on travel in Peru, we've had our fair share of ups and downs-but nothing quite like the challenges brought forth in the first quarter of 2020.
By adapting to the changing face of the tourism and travel industry (on both local and international levels), we have no doubt we will come out stronger-especially with the support of our community. Because you will travel again, and we will be ready to show you the best of Peru.
Your financial support means we can keep sharing the best of Peru through high-quality stories, videos and insights provided by our dedicated team of contributors and editors based in Peru. And of course, We are here to answer your questions and help whenever you need us.
As well, it makes possible our commitment to support local and small businesses that make your visit an unforgettable one. Your support will help the people working in these industries get back on their feet once the world allows us to make our dream of enjoying everything Peru has to offer a reality again-from its mouthwatering gastronomy, thriving Amazon and archaeological wonders such as Machu Picchu.
Together, we will find a way through this. As a member of our community, your contribution, however big or small, is valuable.
Support Traveling & Living in Peru from as little as $1 - and it only takes a minute. Thank you!